NHL World Cup Teams Need an Anthem in a Hurry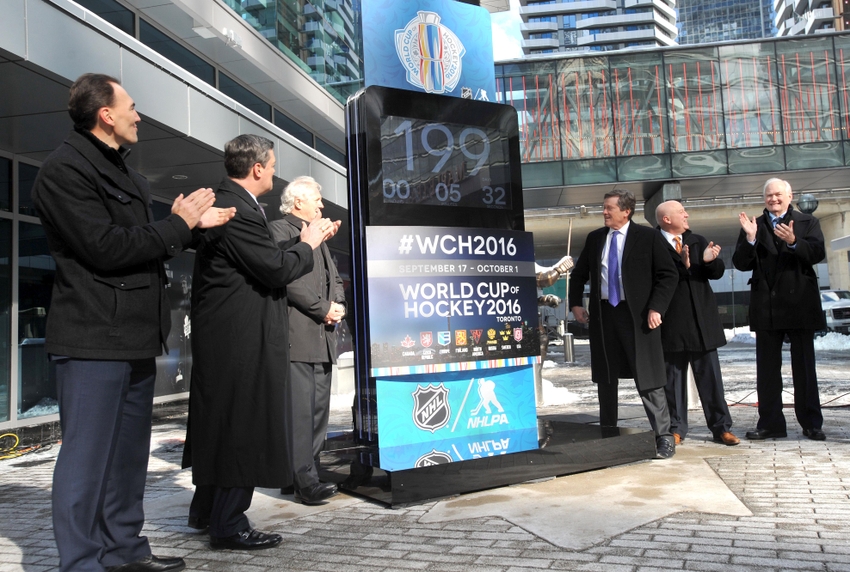 NHL World Cup Brings About Problems That You Never Thought About Before
NHL World Cup of Hockey is bigger than it's ever been and with that brings its own set of quandaries for participants and management of the eight-team tournament.
They came up with new teams in Team North America and Team Europe.  They came up with new uniforms and logos for the participating teams.   But one thing that they are still working on is "National" Anthems for a couple of the teams.
That's right, neither Team North America or Team Europe came with a ready to go National Anthem.  This isn't a problem for the other teams as they are all representing a nation that has had an anthem that's already been around for quite a while.
Way back in March, Bill Daly, the NHL's Deputy Commissioner told Hockey Central that the team's anthems wouldn't be played before or after the games but that they are going to play anthems, "When something is won from a tournament perspective."
Team Europe
Team Europe seems to be about ready to go with and anthem.  According to this tweet by Chris Johnston yesterday:
Team Europe is expected to have an "anthem" at the World Cup. Something instrumental with no words. The team's players span eight countries.

— Chris Johnston (@reporterchris) September 5, 2016
It hasn't been announced or anything,  but we sure wouldn't be surprised if their anthem was "Ode to Joy".  After all, it was the original anthem of the European Union and the Council of Europe and they both call it the European Anthem.  It was originally composed by Beethoven in 1823.
With players coming from Austria, Denmark, France, Germany, Norway, Slovakia, Slovenia, and Switzerland, what would be more suiting?  It represents all of those countries and has that European "feel" to it.
Want your voice heard? Join the Puck Prose team!
Team North America
Team North America is an entirely different story.  The players are from both the United States and Canada which have their own anthems.  
Get the FanSided App
The players are all 23 and under as of October 1st of this year and you would think that something a little fresher and more hip than a song from 1823 might work a little better. Connor McDavid, Jack Eichel and Auston Matthews might appreciate that.
One idea was to use the words to O Canada, sung to the tune of the Star Spangled Banner like Michael Buble and Stephen Colbert did in this video:
That might actually work, but we are sure that there could be some major complaints from those countries that their anthem was being taken lightly.
How about "America the Beautiful"?  Some have wished the United States National Anthem was actually changed to this. It's a beautiful song and based more on "America" than the United States so that might really work.
Probably a better idea is something new and fresh from someone like Drake, Rihanna, or even Justin Timberlake who is definitely into sports. They could easily throw something together that would work for this team.
In the end, the way that the oddsmakers and media outlets are giving either of these teams virtually no chance to win anything at the tournament anyway, perhaps a win by either team should just be greeted by "stunned silence".  Or maybe the youthful troop from Team North America could all just break into a quick version of Queen's "We Are the Champions". Now that would be something to see.
The games are just around the corner so these two teams had better get their anthems ready just in case.
This article originally appeared on