NHL Winners and losers, Week 9: Jack Eichel lifts Sabres; Coyotes leave Smith out to dry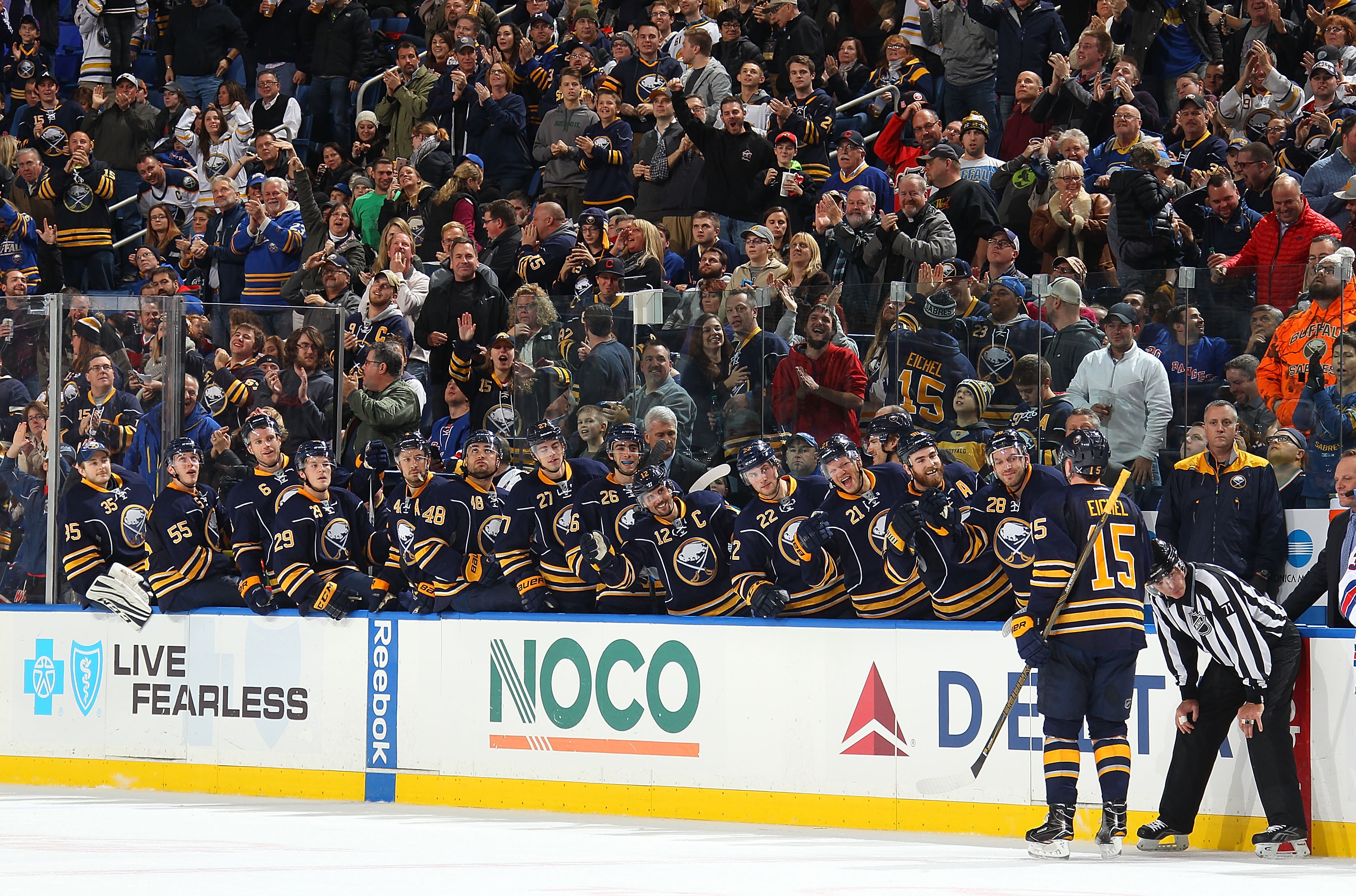 This week in hockey, the NHL gave us another excellent rookie, a slew of injuries, and a number of risers and fallers.
Let's begin with a riser.
Rising: Jack Eichel
Jack Eichel's outstanding return to the ice is really no surprise. After months of being sidelined due to an ankle injury, the Buffalo Sabres 2015 first-round pick is proving he's worth all the hype.
In his first game back, Eichel scored both a goal and assist. He then tacked on a pair of goals two nights later. Through four games, the 20-year-old has already tallied four points. His return has clearly boosted the previously slumping Sabres, who have won four of their last six games. Not only have they won, but they've beaten some pretty impressive teams, including the New York Rangers.
The NHL has an exceptional crop of rookies this year, and it seems Eichel fits right in.
Falling: Jonathon Toews
The Buffalo Sabres got their superstar back, but the Chicago Blackhawks are still missing theirs.
Blackhawks captain Jonathon Toews remains sidelined with a back injury suffered during a game against the San Jose Sharks back on November 23. Despite sitting out six games, Toews' injury is reportedly not showing signs of improvement. The 28-year-old is Chicago's best face-off man and has 12 points through 21 games.
Toews' injury probably isn't going to sink the Hawks' season, but it's certainly not going to help. Chicago also has to deal with the temporary absence of goaltender Corey Crawford, so it's safe to say injuries haven't been kind to the Blackhawks this week.
Rising: Mike Smith
The Blackhawks might be suffering a bit of a goaltender crisis, but the Arizona Coyotes are far from having the same problem.
Goaltender Mike Smith has been a bright spot in the Coyotes' dreadful first quarter of hockey. Smith shone especially bright Saturday night against the Columbus Blue Jackets. The Coyotes' goalie stopped 57 shots, breaking a franchise record for most saves in the process. Smith has made 40 or more saves in three of the Coyotes' past four games.
Falling: Arizona Coyotes
Smith is on the rise. His team — not so much.
The Coyotes' goaltender practically stood on his head Saturday night. He made every save possible, attempting to keep his team in the game. And despite the Blue Jackets recording 60 shots throughout 60 minutes, the game still went to a shootout (the Coyotes lost, if you couldn't guess).
This team completely left its goaltender out to dry. Smith had the performance of a lifetime, and the rest of his teammates did nothing to support him. If the Coyotes have a goalie like this, and the team still can't manage to win a game, I don't know if it's possible to turn the season around.
Rising: Mikko Koivu
Mike Smith put his team on his back this week. The Minnesota Wild captain did the same.
While Minnesota didn't exactly have a great week (the Wild lost to both Vancouver and Calgary this past week), that didn't stop Mikko Koivu from tallying up the points. Koivu recorded at least a point in six of the past seven games. One of those points came in the form of an overtime goal against the Edmonton Oilers, giving Minnesota a 2-1 win, and ending the Wild's three-game losing steak.
Koivu isn't typically known for his offensive abilities, but the captain clearly knows how to turn it on when his team is in need.
Falling: Colorado Avalanche
Speaking of being in need, the Colorado Avalanche definitely fall into that category.
This team desperately needs some help. Fast. I mean, the Avs are really, really bad. I'm not trying to be mean. I'm just being honest. This has not been a good first quarter for Colorado.
The Avalanche are currently on a three-game losing streak after failing to win a game during their recent home stand. During this time, the team was also shut out for the fifth time in 23 games. That's not a great stat for Colorado. To make matters worse, the team is still missing its captain, Gabriel Landeskog, and just suffered another big blow by losing defenseman Erik Johnson for six to eight weeks to a broken leg.
After this abysmal week, the Avalanche now own the last spot on the league with 19 points. The future doesn't look bright.
Rising: Vladimir Tarasenko
Tarasenko is on fire this season. The St. Louis Blues' right wing was recently named on of the NHL's three stars of the week and rightfully so.
Over the past week, Tarasenko scored four goals in three games — two of those being game-winning goals. Tarasenko's outstanding play helped his team collect five of six possible points over the past three games and maintain a spot near the top of the Central Division.
After his impressive week, Taraseno now has the third-most goals in the league (13), and leads his team in both goals and assists (14).
Additionally, Tarasenko was recently named the Missouri Athletic Club's "Sports Personality of the Year," so that's pretty neat.
Falling: Alex Galchenyuk & The Montreal Canadiens
If you're reading that heading and asking yourself how the Montreal Canadiens could possibly be fallers this week, just hear me out.
The Canadiens are no doubt the best team in hockey right now, but they suffered a huge loss this week. Not a 10-0 kind of loss, but the loss of one of their best players. Alex Galchenyuk, specifically.
Galchenyuk, Montreal's top scorer (23 points in 25 games so far this season) is out indefinitely after suffering a lower body injury. The team recently placed him on the IR and hasn't provided many additional details about the injury. While Galchenyuk is not the only player on the team, and the Canadiens certainly have offense coming from other players, this injury is undoubtedly going to have an impact on Montreal. I'm not saying the Canadiens are suddenly going to drop to the bottom of the league, but losing this kind of player and his offensive capabilities hurts no matter how good a team is.
Rising: Micha the Mite
If that's not the best goal celebration you've ever seen, I don't know what is.
Micha, the jubilant goal scorer, scored his breakaway in a youth hockey game during the first intermission of a Washington Capitals game Monday night. This guy is clearly a superstar on the rise. Look out, Ovechkin.
Falling: These Jersey-Stealing Parents
@penguins Young one has her priorities in line!! #crosby #87 #jersey #notyoursmine #sidneycrosby pic.twitter.com/Y4emK00dIb

— Cory Hill (@CoryMichaelHill) December 6, 2016
When this tiny Pittsburgh Penguins' fan had her jersey taken away, she didn't stay quiet about her dissatisfaction. Her parents clearly have yet to learn it's a crime to take away a fan's favorite jersey.
This little girl might not be too happy, but she clearly has her priorities straight.
This article originally appeared on