NHL Waivers: Zbynek Michalek to AHL; Mason Raymond Demoted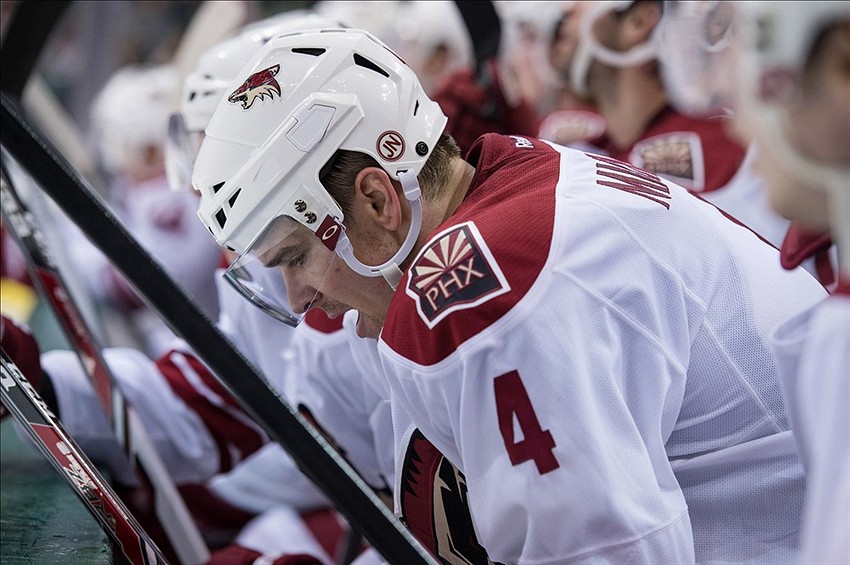 NHL Waivers: Arizona Coyotes send D Zbynek Michalek down to AHL Tucson, Anaheim Ducks place F Mason Raymond on waivers.  Will this be the end of their NHL careers?
NHL waivers are beginning to see movement again as teams make early adjustments a week into the new season.  The Anaheim Ducks placed F Mason Raymond on waivers, giving them a little over $1.3 million dollars in cap space to make room for RFA Hampus Lindholm.
In other news, the Arizona Coyotes sent veteran defender Zbynek Michalek down to AHL Tucson, which should spark speculation about keeping rookie Jakob Chychrun around past the nine-game threshold.
Michalek To Tucson
On Monday, the Arizona Coyotes announced that veteran defenseman Zbynek Michálek will be sent to their AHL affiliate, the Tucson Roadrunners. The decision to send Michalek to the AHL squad likely solidifies 18-year-old defensive prospect, Jakob Chychrun's spot in the lineup.
The 33-year-old defenseman, Michalek, has a style of play that has likely outgrown the young squad. Currently, the Coyotes are transitioning to an analytical approach to the game. Michálek has 178 points in 781 career NHL games, 7 points in 70 games during the 2015-16 season
Anaheim Ducks Place Raymond on Waivers
Also on Monday, Anaheim Ducks forward Mason Raymond was placed on waivers. The 31-year-old signed a 1-year contract with Anaheim in the offseason, after being bought out from his contract with the Calgary Flames.
Since leaving the Vancouver Canucks in 2013, Raymond has been unable to find consistent traction with an NHL squad. In that time, Raymond has played 168 NHL games for the Toronto Maple Leafs, Calgary Flames, and the Anaheim Ducks. Raymond has combined for 73 points in those 168 games, 45 of which came from his 82 game season in Toronto.
If Mason goes unclaimed (as expected) on NHL waivers, he could once again be looking at time in the AHL. In the 2015-16 season, Raymond played 15 games with the Calgary Flames' minor league affiliate, the Stockton Heat, where he registered 6 goals and 15 points.
With the NHL trending toward a fast and skilled style of play, more players like Raymond and Michalek could likely see themselves as players of the past. Though both of these players could be used as mentors, in a salary cap era and a time where 18-19-year-old players are sometimes NHL ready, General Managers can opt to invest their money elsewhere. Michalek and Raymond could very well be looking at time in European Leagues sooner than later.
This article originally appeared on