NHL Trade Rumors: Three teams who should trade for Jaroslav Halak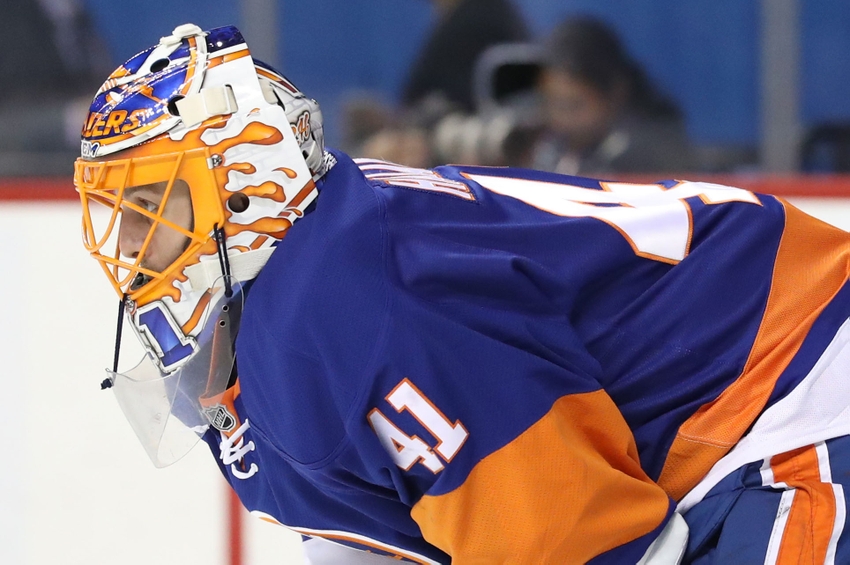 Someone is going to need a goaltender this season, which means Jaroslav Halak might be on the move from New York.
The New York Islanders are in an awkward situation with their goaltenders. Most teams have two goalies on their NHL roster. Occasionally an injury or extended road trip might temporarily force a team to carry three goalies, but rarely does a team carry three goalies long-term. The Islanders are not most teams. They have three goaltenders in Jaroslav Halak, Thomas Greiss, and Jean-Francois Berube. It was only a matter of time before one of their agents complained.
Halak's agent (who also represents Berube) complained about the Islanders on Twitter. Now the Islanders are reportedly shopping the goaltender. In a league defined by goaltending, teams will show interest in Halak. However, his contract is a bit of an issue. While his cap hit of $4.5 million is 20th among goalies, teams usually have their budgets set by their first game.
A trade to the Los Angeles Kings makes very little sense considering Halak's agent's concerns and cap hit. However, there are still teams out there who should be interested in him. Here are three of them.
3. Carolina Hurricanes
Trading for Jaroslav Halak makes a lot of sense for the Carolina Hurricanes. They desperately need goaltending because Cam Ward and Eddie Lack simply aren't getting the job done. While Halak has struggled in five starts this year, his past suggests he is a solid upgrade over both goaltenders. Should the Hurricanes trade for Halak, they'd need to send down or get rid of either Ward or Lack.
It would be worth it for them because a solid goaltender would allow them to let their goaltending prospects develop. They have some impressive ones and Halak could be the guy who acts as a bridge until they are ready. The only question is whether or not the Islanders would trade a good goalie to a division rival.
2. Arizona Coyotes
Depending on how the Arizona Coyotes plan to proceed following the injury to Mike Smith, trading for Jaroslav Halak could make some sense. The Coyotes have not gotten good goaltending in recent years. While Halak won't be confused for a Vezina Trophy contender any time soon, he's still a very solid goaltender.
One thing to keep in mind is Arizona already has young goalie Louis Domingue. With Smith out, he has gotten most of the starts. The Coyotes seem to want to see what they have in Domingue. But considering they've been waiting for two seasons and he hasn't shown much improvement, Arizona might be ready to explore other options.
The Coyotes can't keep rebuilding. Time is running out in the desert, as they signed Alex Goligoski this offseason. Perhaps Arizona is ready to make the moves necessary to contend. Halak could help the Coyotes rebound and serve as a mentor to Domingue. Of course, they'd have to deal with Smith's contract and would likely have to send over some salary to the Islanders. But it makes sense for both sides. The Islanders would get to trade Halak to a non-Eastern Conference team while the Coyotes would finally get a solution in net.
1. Dallas Stars
It would be hard for the Dallas Stars to find the cap space necessary to trade for Jaroslav Halak. Trading for Halak might not happen unless the Stars can buyout or trade Kari Lehtonen or Antti Niemi. However, the Stars are a desperate team looking to win a Stanley Cup. Halak would stop the bleeding from their goaltending.
While the Stars have a much more pressing issue (not staying healthy), goaltending has once again let them down so far this season. Their 92.00 percent even strength save percentage looks good on paper, but the Stars can't assume that trend will continue.
The primary issue with Halak is the Stars would need to clear at least $2 million of cap space to trade for him. Maybe they can talk the Islanders into eating some of his salary, but the Islanders are close to the salary cap ceiling.
General Manager Jim Nill tends to get what he wants. Does he trade for Halak knowing Lehtonen and Niemi aren't performing terrible? Would he risk continuing to go with them despite having their failures last season fresh in his memory? These questions are going to be very tough for the Stars to answer. But Halak would make a lot of sense for the Stars if they can find a way to do it.
This article originally appeared on