NHL Trade Rumors: Tampa Bay Lightning G Ben Bishop
Ryan Ritchie/FanSided via Puck Prose

Fansided
NHL Trade Rumors: With the trade of Nikita Nesterov, it seems GM Steve Yzerman may be ready to pack it in for the season. If that's the case, Tampa Bay could be very active leading up to the deadline. One player long expected to move is goaltender Ben Bishop, who is currently on an expiring deal, and stands to be left exposed to Las Vegas if the Lightning don't move him. Here are five hypothetical deals for Tampa Bay Lightning G Ben Bishop:
Expect NHL trade rumors surrounding the Tampa Bay Lightning to heat up as we near closer to the March 1st deadline. Following the departure of defenseman Nikita Nesterov, in a deal that sent him to Montreal last week, it seems GM Steve Yzerman has declared his club sellers following a disappointing 50 or so games.
As of today, Tampa Bay is tied for last in the Atlantic Division and Eastern Conference with a record of 22-24-6 (50 points). Numerous factors are to blame for the disastrous campaign: injuries to key players (Bishop, Stamkos, Callahan, etc.) played a major role, but a lousy blue line is also to blame. For a while now, the Lightning have managed to mask their defensive woes by packing an offensive punch that found them amongst the league lead in goals for several years. So, look for Yzerman to have his sights set on adding another defender to the mix – preferably a number 3/4 RHD.
NHL Trade Rumors: 5 Hypothetical Deals for Ben Bishop
Finding a home for Ben Bishop won't be easy. After all, there aren't many teams looking for a 30-year-old veteran netminder, even with his elite status. Plus, the fact that he's on an expiring deal makes things even more difficult since any team acquiring him would surely have long-term plans to keep him. All of that being said, we've managed to find five potential trade partners that could make sense.
You'll notice the inclusion of quality forwards such as Vladislav Namestnikov and J.T. Brown. That list could also be extended to Alex Killorn ($4.45m/yr) since all three players stand to be prime targets for Vegas in the expansion draft. Don't be surprised if Yzerman looks to package at least one of these guys with Bishop in order to help get a deal done.
Tampa Bay trades G Ben Bishop and F Vladislav Namestnikov to Arizona Coyotes in exchange for D Michael Stone, D Kyle Wood, and 2018 1st Round Pick (lottery protected), 2017 2nd Round Pick
In this deal, the Coyotes fix their goaltending issue and add a quality center/winger that can grow with the young core. The Lightning add pending UFA Stone, so they'd obviously be looking to re-sign him. He's a quality RH shot that can log north of 20 minutes/night. Wood is having a monster rookie year on the back end in the AHL, so let's call this replacing Anthony DeAngelo, who they basically gave to Arizona for nothing last summer.
*Regarding the lottery protected draft picks in these hypothetical deals: If Arizona were to land in the draft lottery again, the pick rolls back to 2019. If they're still picking in the lottery the next year, TB would get ARZ's 2nd round selection in 2019 – similar to the Phil Kessel deal between TOR/PIT.
Tampa Bay trades G Ben Bishop and F Vladislav Namestnikov to Buffalo Sabres in exchange for D Dmitry Kulikov, D Brycen Martin, G Robin Lehner, and 2017 2nd Round Pick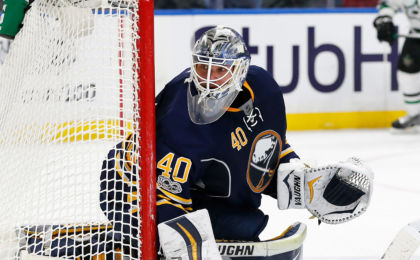 Here's a hypothetical you probably haven't seen before. Fact is, the Buffalo Sabres were expected to take the next step in 2016-17, but that hasn't been the case. It's tough to blame the goaltenders since both Robin Lehner and Anders Nilsson have looked very sharp at times, but there's some major inconsistency. Just look at the difference in their home/road numbers and you'll see what I mean. The Sabres still need to make a few adjustments to improve the blue line, but perhaps an upgrade between the pipes is a better place to start?
You might be wondering, why would Buffalo give up two defensemen if the position is a weak spot already? Well, Kulikov has been a terrible disappointment battling to stay healthy and Martin hasn't even made an NHL appearance, so what are you really losing anyways? The Sabres still have guys like Casey Nelson and Brendan Guhle in the system and could add a few more in June.
Tampa Bay trades G Ben Bishop and F J.T. Brown to Calgary Flames in exchange for D Oliver Kylington, G Brian Elliott, and 2017 1st Round Pick (lottery protected), 2017 2nd Round Pick
This one might look familiar. In fact, the two clubs had discussed this very deal back at the Draft, but reports suggest a new contract is where things fell apart. Instead, Calgary chose to acquire Brian Elliott. Well, 50 or so games later and the Flames may be re-considering their options.
In this deal, Calgary gets a dependable starter just in time for a tough final stretch, and add a promising right winger in J.T. Brown. For the Lightning, they add a highly touted defensive prospect that could be ready for full-time duties in the Fall, a new backup netminder in Elliott, and a pair of draft picks.
Tampa Bay trades G Ben Bishop and F Vladislav Namestnikov to Dallas Stars in exchange for D Stephen Johns, G Antti Niemi, and 2017 1st Round Pick (lottery protected), 2017 2nd Round Pick
The Stars defensive group takes most of the heat for this team's woes. But there's something to be said for the inconsistency of Antti Niemi and Kari Lehtonen. Sure, either of these guys can reel off a few solid outings in a row, but eventually, they'll get chased out of the crease – usually in pretty ugly fashion. It's time for Dallas to find a true starter.
In this scenario, Dallas finally gets that no.1 netminder and adds a quality Russian to help replace the void left by Valeri Nichushkin.
The Lightning would take on Niemi's contract (through 2017-18) and he could serve as a quality veteran presence (Cup winner by the way) behind Andrei Vasilevskiy. TB also adds Stephen Johns, a player Dallas would probably prefer to keep. Given the amount of similar age/quality defenders in the mix, the Stars could technically afford to lose Johns if it means adding an elite goaltender.
Tampa Bay trades G Ben Bishop and F Vladislav Namestnikov to Philadelphia Flyers in exchange for D Michael Del Zotto, D Travis Sanheim, G Steve Mason, and 2018 1st Round Pick (lottery protected)
Perhaps there are some Flyers fans out there who believe Steve Mason or Michal Neuvirth can still be the long-term answer. Unfortunately, that's just not the case. For far too long now, the Flyers have struggled to properly address the position. Adding Bishop would give Philly a decent window for drafting and developing – something they've already started doing.
So, the Flyers obviously fix an issue that has long plagued the franchise. They also add a quality C/LW with the versatility to slide up and down the lineup.
TB adds a pending UFA in Michael Del Zotto. The Lightning wouldn't necessarily have to re-sign the defenseman, but they could definitely use the remaining games to see if he's worth retaining. The key in this deal is top defensive prospect Travis Sanheim. Philly fans won't love this, but fact is, they've got plenty of quality LHD. Between the likes of Shayne Gostisbehere, Ivan Provorov, and Samuel Morin, the Flyers can afford to lose Sanheim if it means adding a true no.1 between the pipes.
This article originally appeared on