NHL Trade Rumors: Marc-Andre Fleury, Colorado Avalanche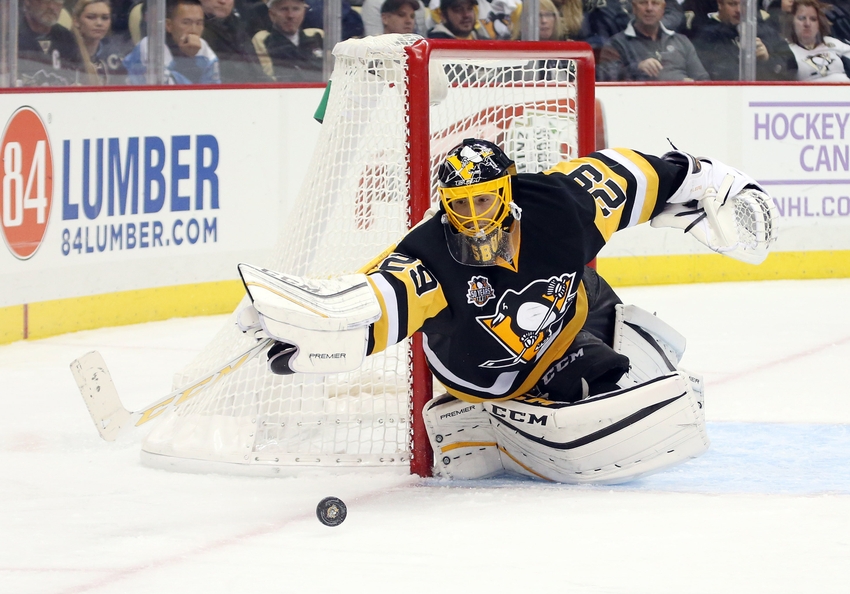 NHL Trade Rumors: 5 Bold Predictions (Marc-Andre Fleury, Colorado Avalanche, New York Islanders, and More)
While there has been no shortage of NHL trade rumors over the past couple of months, we've seen very little movement of significance. It might have something to do with the looming expansion draft and the need to make careful decisions. Money also plays a major role with so many teams pressed up against the salary cap.
There is one other factor that could be at play here. It might also explain why we haven't seen any coaches relieved of their duties yet. Parity in the NHL has never been stronger than it is right now. We're talking about a 6-7 point difference from Conference basement dwellers to that final Wild-Card spot. A team can easily play themselves out of contention after 15-16 games, but instead, it's difficult to say any club is out of reach at this point.
It's only a matter of time before the floodgates open on the trade market. Fans have been waiting eagerly for what everyone knows to be inevitable trades. GMs such as Steve Yzerman and Jim Rutherford say all the right things (i.e. inferring they could keep their tandems together) to preserve the trade value. When it comes down to mathematics though, the numbers simply don't work for an expansion protection list.
Sure, you could offer Las Vegas a quality player, prospects, or maybe even draft picks. But it's a pipe dream to believe that George McPhee would be satisfied accepting a bunch of unknowns to allow TB or PIT to protect both of their goalies. Yzerman and Rutherford are simply doing their part to ensure they don't get hosed and thrown into a corner the way Edmonton was with Taylor Hall.
As our regular readers know, every now and then, I like to throw out segment called five bold predictions. In today's edition, the focus will be NHL trade rumors since it feels as though the ice is cracking in what could be an eventful flurry of trades leading all the way up to the trade deadline.
NHL Trade Rumors: 5 Bold Predictions
Marc-Andre Fleury will be one of the first big names off the board
Since the return of Matt Murray, he's been lights out for the Pens. Rumors have quickly swirled that Fleury is being pushed out, and that may indeed be true. It's a sticky situation because you've got two guys that warrant excessive playing time.
We've assumed all along that Fluery and Jim Rutherford are likely working closely on a deal given MAF's no-move clause. Considering everything that Marc-Andre Fleury has done for this organization, it's only fitting that Pittsburgh do what they can to accommodate him.
Potential Trade Destinations:
Arizona Coyotes – would take some tweaking with the salary cap to make this work.
Carolina Hurricanes – possible depending how much time Alex Nedeljkovic needs in the AHL.
Dallas Stars – the Lehtonen/Niemi experiment looks alright now, but give it time. History tends to be repeat itself.
Colorado Avalanche make a move of significance to shake up their roster
The Avs are beginning to revert to old ways and currently sit in the basement of the Central Division. It should come as no surprise. GM Joe Sakic made a rookie mistake thinking he could fix his problems via free agency. Joe Colborne, Fedor Tyutin, and Patrick Wiercioch were actually expected to be guys who might help turn this team around.
Well, Colborne disappeared after his opening night hat-trick and Tyutin was bought out by the worst team in the NHL. I thought the Sens made a mistake letting Wiercioch walk, but they just didn't have room. That being said, he's nothing more than a solid no.5 who can fill in as a no.4 temporarily if needed.
Truth be told, Colorado isn't that far off from being a decent team. They have several solid building blocks in place. Unfortunately, they're blessed with a little too much depth at a couple of spots. The first is a relatively new development that began to unfold in 2015-16 between the pipes. The other is something the Avs have been dealing with for a while now.
Perhaps the tandem can stick together long-term, although it's more likely that Las Vegas targets whichever netminder is left exposed in the expansion draft. Pickard is currently outdueling his teammate and is the younger option on a $1 million dollar cap hit. This might suggest that Varlamov could be available next June.
Now, Colorado could always look to make a trade. If they believe in Semyon Varlamov, teams would be lining up to acquire Calvin Pickard. However, if the Avs believe in their young netminder (which is the logical path), finding a trade partner for 28-year-old Russian could prove difficult given his $5.9 million dollar cap hit.
Either way, Joe Sakic would be wise to declare a starter. They could look for a backup as part of the return package or look to the open market (i.e. Karri Ramo). The bulk of the return value could address a few pressing needs on the back end or up front.
Log Jam up the Middle
I've beaten my head over a desk the past two years talking about this. The dynamic between Nathan MacKinnon/Matt Duchene simply doesn't work. You've got two guys that need to playing 20+ minutes/night up the middle against the opposition's best, and instead, they basically share duties. Duchene took the bulk of it for many years as MacKinnon was forced to the wing, but that has changed a bit since the start of 2015-16.
Don't get me wrong, it's not that a team can't win with two no.1 center's. But in Colorado's case, it's an unnecessary luxury that could help fill other major needs.
Solution: Trade Matt Duchene
This won't be a popular idea among Avs fans. After all, why trade your leading goal scorer and team point leader? If it's not working, something needs to change. And Colorado mid as well sell high on Duchene while his value is still peaking. The return package is where things get interesting.
1) Duchene could certainly fetch a few players that could help right now if the Avs still feel they can compete in 2016-17.
2) Sometimes taking a step back is the best way to take a giant leap forwards. Maybe the answer is a ransom of younger players and top-notch prospects expected to be NHL ready in the near future.
Here's a couple of hypothetical deals using both approaches:
1) Colorado trades F Matt Duchene to Arizona in exchange for F Martin Hanzal, F Tobias Rieder, D Connor Murphy, and prospect/or draft pick
2) Colorado trades F Matt Duchene to Carolina in exchange for D Haydn Fleury, D Roland McKeown, F Sergey Tolchinsky, F Clark Bishop, and F Brock McGinn
Jacob Trouba finds a new home, despite rescinding trade request
Don't let the rescinded trade request fool you. That's simply the Jets doing their due diligence after a messy situation. If anything, that new $3 million dollar cap hit makes Trouba an even more attractive trade piece.
While, it certainly should spark a little more interest, there's no guarantees another GM is willing to pay Kevin Cheveldayoff's lofty asking price.
As it usually works in a trade, one side must bend a little and compromise. In this case, the Jets GM may need to creative to get what he seeks. If he truly wants a similar quality/age defenseman, he needs to add a sweetener in the deal.
That could be done in a range of ways: if a team is looking for some rental help, Stafford and a prospect could be included as part of a bigger multi-player deal. Maybe a team that needs help between the pipes would be interested in Ondrej Pavelec's services? Something tells me we could be in store for one of those 8-9 player deals.
Want your voice heard? Join the Puck Prose team!
New York Islanders cave under pressure of early struggles
Say what you want about coach Jack Capuano being on the hot seat. Truth be told though, GM Garth Snow hasn't exactly given him much to work with. When you have to resort to putting Cal Clutterbuck on your top line, you have to wonder if the bench boss is trying to send a message that he needs a little help.
Prospect such as Michael Dal Colle, Josh Ho-Sang, and Mathew Barzal should eventually be impact forwards for the Isles, but it became clear that Anthony Beauvillier was only the only prospect ready to make an impact in 2016-17. The addition of free agent Andrew Ladd and Jason Chimera plus prospects was supposed to be enough to help replace Kyle Okposo, Frans Nielsen, and Matt Martin. But with the kids failed in fulfilling their part of the deal and the Isles are left scrambling looking for answers.
Get the FanSided App
GM Garth Snow is running out of time. He can keep waiting for these prospects to emerge, perhaps John Tavares eventually finds a top line winger or two. That's an awfully big gamble to take with Johnny T set to become a free agent in 2018. The New York Islanders haven't exactly done anything to convince him to stay.
It might be time to invest in a quality top six winger. I'm talking about an upgrade on Kyle Okposo. The Islanders have more than enough blueliners to sacrifice one that will likely be lost in expansion anyways. They've also got a boatload of premium prospects that could help fetch a quality player.
If the Isles are lucky, maybe that team will have a need between the pipes as well. Although, it may be difficult to find a taker for that $4.5 million dollar cap hit of Jaroslav Halak.
Ben Bishop finds a new home
This situation varies a bit from the Pittsburgh Penguins goaltending conundrum. After all, Bishop doesn't own a no-move clause and currently sits on an expiring contract ($5.95 million dollar cap hit through 2016-17). Technically speaking, the Lightning could leave him exposed in the expansion draft and let him walk into free agency. They obviously won't let that happen, but won't allow themselves to be backed into a corner either.
The only way Steve Yzerman and company can screw this up is by allowing the 29-year-old elite start to walk for absolutely nothing.
There is only one situation in which it could actually make sense to hold on to Ben Bishop and hear me out on this one: Use Bishop as expansion bait.
Here's why: imagine the return haul for Ben Bishop in a trade. Maybe they get a quality forward or defenseman to add to the mix. Their protection list is locked down up front for those seven spots. Even if Tampa saved Hedman, Nesterov, and Sustr on the back end (for example), it still leaves Braydon Coburn, Jason Garrison, Slater Koekkoek available on the blue line. Up front, names like Alex Killorn, Vladislav Namestnikov, and J.T. Brown are on the outside looking in.
Fact is, if you trade Ben Bishop and add another quality piece that helps in their Stanley Cup run this year. TB still stands to lose something similar to what's coming back in a deal. So if Vegas selects Killorn, they've basically replaced Killorn with the return haul for Bishop. However, if you leave Bishop exposed, you're losing a guy that was already on his way out, while at the same time preserving the rest of your roster (assuming Bishop would sign with the expansion club, of course).
So, it's certainly not a slam dunk that Tampa Bay moves Ben Bishop. In fact, if the American goaltender is still in the mix beyond the trade deadline, it might give us a little more insight into GM Steve Yzerman's thought process.
Even with these remote possibilities, finding a trade partner should still be priority number one. For those teams interested in Bishop, the key would be ensuring the two sides could come to an agreement on a new contract.
Potential Fits:
Arizona Coyotes, Dallas Stars, Philadelphia Flyers
This article originally appeared on