NHL Trade Rumors: Hypothetical Blockbuster Trades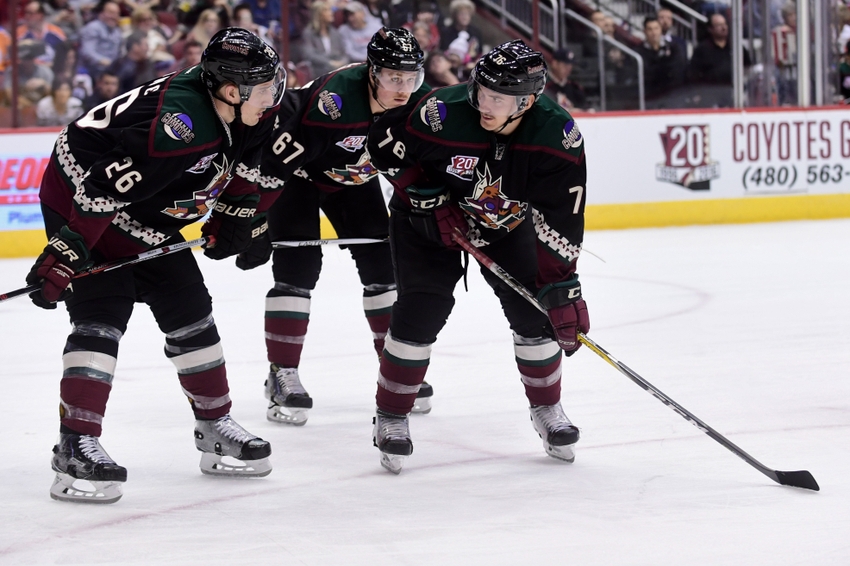 NHL Trade Rumors: Four Hypothetical Blockbuster Trades Based On The Latest Speculation From Around the League
As we near the quarter mark of the 2016-17 season, NHL trade rumors are beginning to heat up. We haven't seen much action thus far, which could be attributed to both the expansion draft and unbelievable parity in the standings.  Still, with so many pending UFAs and inevitable moves to make room for protection lists, it's only a matter of time before the dominoes fall.
You've heard all the recent buzz surrounding names such as Dougie Hamilton, Anthony Duclair, and Peter Holland. So, which teams are potential fits for those players, and who would those teams have to give up in return? Let's have a look:
Dougie Hamilton to the Leafs for William Nylander and a 1st Round Pick
Speculation: Hamilton has been the hottest name in NHL trade rumors ever since it was reported the Flames might be willing to move him. Insider Aivis Kalnins reports there are 'rumblings' that the Leafs and Flames were talking a Hamilton trade, and Flames GM Brad Trevling was seen taking in a Maple Leafs game over the weekend.
Analysis: The idea of trading Nylander may seem unrealistic at first, but if you actually think about it, it's a good deal for both teams. The Leafs are pretty stacked at the center/forward position right now and have plenty more prospects in the pipeline. Defenders like Hamilton don't come around every day, and when someone like him becomes available, you have to capitalize.
Before you run off to the comments saying that the Leafs don't have the cap space to afford Hamilton's $5.75M AAV, they do if they put one of Joffrey Lupul  or Nathan Horton on long-term injured reserve.
Michael Stone to the Bruins for Ryan Spooner
Speculation: Jim Matheson of the Edmonton Journal reports the Coyotes are shopping Michael Stone. Spooner's name has come up in the rumor mill multiple times this season, as he has been significantly underused by the Bruins, leading to trade speculation.
Analysis: The Bruins could desperately use a top four defender, especially with Zdeno Chara injured. Stone put up quality numbers last season (36 points in 82 games), but it doesn't seem he intends to stay in Arizona when he becomes a free agent this summer, and struggling to start the season hasn't helped the 27-year-old's negotiations with the Yotes.
On the other side of the spectrum, there's Ryan Spooner. Spooner showed promise with 50 points last season, but seems to have fallen out of favor in Boston playing fourth line minutes, and even being scratched at times this season. In Spooner, Arizona gets a player who could replace Martin Hanzal in the long run.
John Klingberg and Valeri Nichushkin to the Coyotes for Anthony Duclair, Anthony DeAngelo, and a 2nd round pick
Speculation: Darren Dreger of TSN reported that the Coyotes are willing to deal the 22-year-old Duclair (only 4 points in 20 games) for the right price. Dallas is faced with a plethora of young defenders coming up the pipeline right now and is going to be forced to move one or two of them out at some point sooner rather than later.
Analysis: What a trade this would be. Although it seems unrealistic, Klingberg (just like Duclair) has been struggling as of late, being a healthy scratch twice in the past 10 days.  With the Stars off to a shaky 9-9-6 start (and there's also the fact that the Stars have been unable to get over the playoff hump), maybe it's time to shake things up?
The Stars are basically getting a poor man's Klingberg in DeAngelo, who has impressed with the Yotes a quarter way through the season. I know Arizona GM John Chayka is saying he wants a center back for Duclair, but how can you say no to a talent like Klingberg? And can you imagine; A Benn-Seguin-Duclair first line? Holy mama!
Peter Holland to the Coyotes for a 5th round pick
Speculation: Holland is basically a lock to either get traded or waived. It was announced Holland is not traveling with the Leafs on their upcoming road trip as GM Lou Lamoriello is trying to move the 25-year-old. There is simply no room for Holland on a Leafs squad that is getting better by the day.
Analysis: With Coyotes forward Brad Richardson out for likely the whole season, Holland would fit nicely into the Yotes top nine, especially if Anthony Duclair gets moved out. It's a meager return for the Leafs, but better than nothing.
This article originally appeared on