NHL Trade Rumors: Five names to watch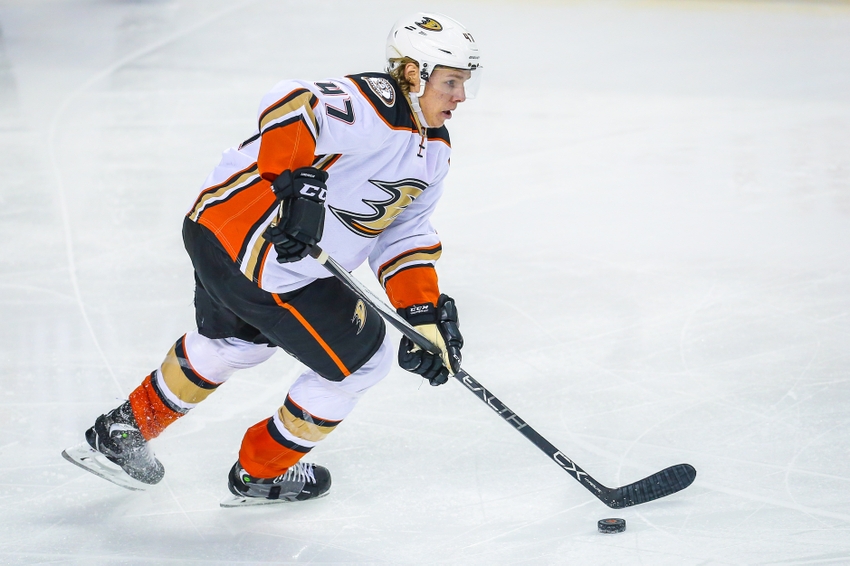 Here are five names to keep an eye on this week as NHL trade rumors season is upon us. 
Even though it is only week 2 of the 2016-17 NHL season, trade rumors have already started. Teams are beginning to see their needs and some of them are being very aggressive to try to solve them. While the 2017 free agent market is weak, there are still some very good players available who could help some contenders.
Jacob Trouba is still holding out and demanding a trade. There are two surprising suitors for him, but do either of them have what it takes to get him? The Los Angeles Kings are up the creek without a paddle following the injury to Jonathan Quick. Might this motivate them to get a bit creative to solve the problem?
Teams are very reluctant to use offer sheets. However, with the Anaheim Ducks in a less than optimal cap situation, could someone offer sheet unsigned defenseman Hampus Lindholm? Which teams could strike? Could the Arizona Coyotes add a right-handed shot to their lineup?
5. Coyotes looking to add a right-handed shot?
Despite adding Alex Goligoski this offseason, the Coyotes aren't done adding to their blue line. They've called about Jacob Trouba and Kevin Shattenkirk. Which one of these is a better fit for the Coyotes? The answer isn't as obvious as it may seem.
While Trouba would be a significant addition to the Coyotes, the Coyotes don't have what the Jets are seeking for. Now, if the Jets change what they want in a return for Trouba, the Coyotes are back in the picture. But trading for Trouba likely means trading either Max Domi or Anthony Duclair. The Coyotes love both, so Trouba simply isn't a realistic option.
Kevin Shattenkirk, however, makes a bit of sense. While the St. Louis Blues might not be interested in trading the soon to be free agent, if they put him on the market, he makes a lot of sense for the Coyotes. Of course, the Coyotes could just wait until he becomes a free agent. But a few extra months of negotiating might be worth it for the Coyotes.
4. Could Hampus Lindholm get an offer sheet?
The offer sheet in the NHL is like Bigfoot – often talked about, but rarely seen. For whatever reason, general managers almost never sign restricted free agents to offer sheets. The last time an offer sheet wasn't matched? 2007, when the Oilers got Dustin Penner from the Anaheim Ducks. Of course, there's the infamous Shea Weber offer sheet the Flyers offered, but the Predators matched.
If there ever was a time to use an offer sheet, now's the time to use it with star defenseman Hampus Lindholm unsigned. The Ducks are in a terrible position with just $380,000 of cap space left. In order to sign Lindholm, the Ducks are going to have to do some fancy cap maneuvering. So why not force them to do it very quickly?
The Ducks would have to trade defenseman Cam Fowler and a forward to match pretty much any offer sheet for Lindholm. A wise idea would be to sign him to a six-year deal worth $36 million. This keeps the compensation reasonable (a first, second, and third round pick) while also forcing the Ducks to sell very low on Fowler and a forward.
Which NHL teams would this benefit the most? Obviously, the Edmonton Oilers and the Arizona Coyotes. Both teams can afford the offer sheet and it makes sense for both teams. Also, it would be a way for a Pacific Division rival to force the Ducks into making some potentially bad decisions. NHL teams never use offer sheets. That said, it couldn't make more sense for someone to do it with Lindholm.
3. Will the Kings trade for a goalie?
The Los Angeles Kings are in a bit of a pickle with Jonathan Quick out potentially long-term with a lower-body injury. They have to realize their Stanley Cup window is closing with their current group of players. With their future cap situation looking dire, they need to win now. Jeff Zatkoff hasn't gotten the job done so far. Could the Kings make a move for a goaltender?
They have reportedly discussed Ondrej Pavelec with the Winnipeg Jets although Pavelec isn't a very good goaltender, but he's a proven starter who is an upgrade over Zatkoff. The Jets would love to get rid of Pavelec, but the Kings have very little cap space left. So in order to facilitate a trade, assuming the Jets retain 50 percent of his salary, the Kings would need to send over someone with salary.
Pavelec is hardly the only option available. Once the Penguins get Matt Murray back, they will likely waive Mike Condon. Condon's an upgrade over Zatkoff, but it might not be a meaningful upgrade. One possibility – the New York Rangers could offer the Kings Antti Raanta. Sure, it would be risky for the Rangers, but if the Kings make it worth their while, it's a decent gamble to take.
Goalies are voodoo, so the Kings could hope to find their 2014-15 Devan Dubnyk. But is one out there in this market?
2. Dark horses for Jacob Trouba
Just about every NHL team has expressed at least some interest in trading for Winnipeg Jets defenseman Jacob Trouba. He has shown a lot of potential and has solid results despite not getting optimal playing time. Many consider him one of the best defensemen under 25. He wants a long-term deal, but it's clear he doesn't want it in Winnipeg because he wants to be on the right side.
Two interesting teams who have emerged as potential dark horses for Trouba are the Detroit Red Wings and New York Rangers. The Red Wings have an obvious need for Trouba. Trouba would immediately become the Red Wings best or at worst second best right-handed defensemen. But Detroit's cap situation would require some kind of salary relief. Also, their farm system is rather barren of elite prospects. This is similar to everyone wanting a Ferrari. Sure, everyone would love to have one. But not everyone can afford it.
The Rangers are a team who might be able to get something worked out. Their only young defenseman of Trouba's caliber is Ryan McDonagh. But he's not going anywhere because he's their captain. However, Brady Skjei is the same age as Trouba and is left-handed. The Rangers have a variety of NHL forwards to offer the Jets as well. As the December 1 deadline for players to sign comes closer, expect the Rangers to become more aggressive.
1. Will Ben Bishop be traded?
The Tampa Bay Lightning have an interesting goaltending dilemma. They have both the present (Ben Bishop) and the future (Andrei Vasilevskiy). Due to Vasilevskiy's extension which will pay him an average of $3.5 million a season, Bishop's time in Tampa Bay is almost over. He will be a free agent after this season. But will the Lightning trade him?
Most likely, they won't. The Lightning have to be looking at the Penguins right now. Imagine how grateful Pittsburgh is that they didn't trade Marc-Andre Fleury just because they have Matt Murray. Even if Vasilevskiy unseats Bishop as the starter this season, it's very wise to have two capable goalies in case one goes down. Plus, most contenders are pretty well set in net.
However, one contender desperately needs a goalie – the Dallas Stars. While the Stars have other options, general manager Jim Nill likely wants no part of reclamation projects because he wants a clear upgrade over Kari Lehtonen and Antti Niemi. If Bishop stays healthy, he could be the guy who puts the Stars over the top. The Stars are the one team who have the assets to trade for Bishop and a need for him as well.
Nill has a history of getting what he wants no matter what the cost. Lightning general manager Steve Yzerman is a brutally efficient general manager. One has to think the two are playing a game of chicken, waiting to see who moves first. This should be fun.
More from FanSided
This article originally appeared on