NHL Trade Rumors: Detroit Red Wings Anthony Mantha Headed to Anaheim, Jimmy Howard to Toronto?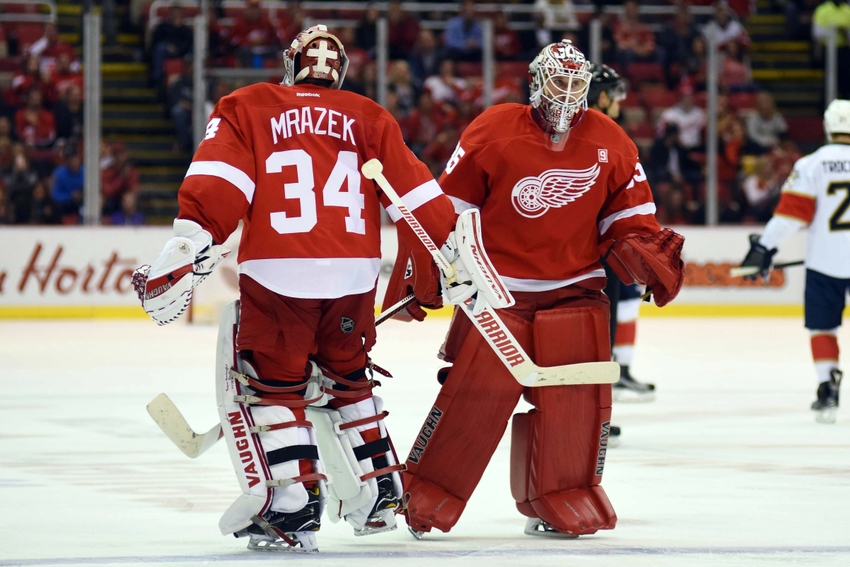 Are the Detroit Red Wings planning to make some moves soon?
The NHL trade deadline for the 2016-17 season is still three months away, however, that doesn't mean that teams aren't ready to pull the trigger on deals already, including the Detroit Red Wings.
According to My NHL Trade Rumors.com, the Anaheim Ducks are reportedly interested in making a deal for Anthony Mantha. Mantha, who was drafted 20th overall by the Detroit Red Wings in the 2013 NHL Entry Draft, was a 50 goal plus scoring machine two years in a row for the Val d'Or Foreurs junior hockey team in 2012 and 2013.
Mantha has seven goals in nine games so far this season with the Grand Rapids Griffins, Detroit's AHL team.
The Ducks reportedly had three members of their management team scheduled to take in a Grand Rapids Griffins game over the past weekend to check out Mantha.  The 22-year-old 6′ 4″ forward from Longueuil, Canada is supposed to be a part of the Red Wings future, so it will be interesting to see if the Wings really try to move him. In 10 career NHL games with the Red Wings, Mantha has two goals and one assist.
On other NHL rumor fronts, are the Wings willing to deal Jimmy Howard?
With Petr Mrazek seemingly taking over as the starter, it is always a good thing to have a back-up as good as Howard. The problem is you can't have two goals that get paid a combined $8-10 million per season – or more.
It seems inevitable that the Wings are going to deal Howard, before they could possibly lose him next June in the NHL expansion draft for the new Las Vegas team.  That draft is scheduled for June 20th, 2017.
Howard has been rumored to be on the trading block for months now, with Calgary and Toronto seemingly being the top two teams mentioned. The Maple Leafs may have a bit of interest as it would reunite Howard with former Wings coach Mike Babcock.
This article originally appeared on