NHL Trade Rumors: 5 names to watch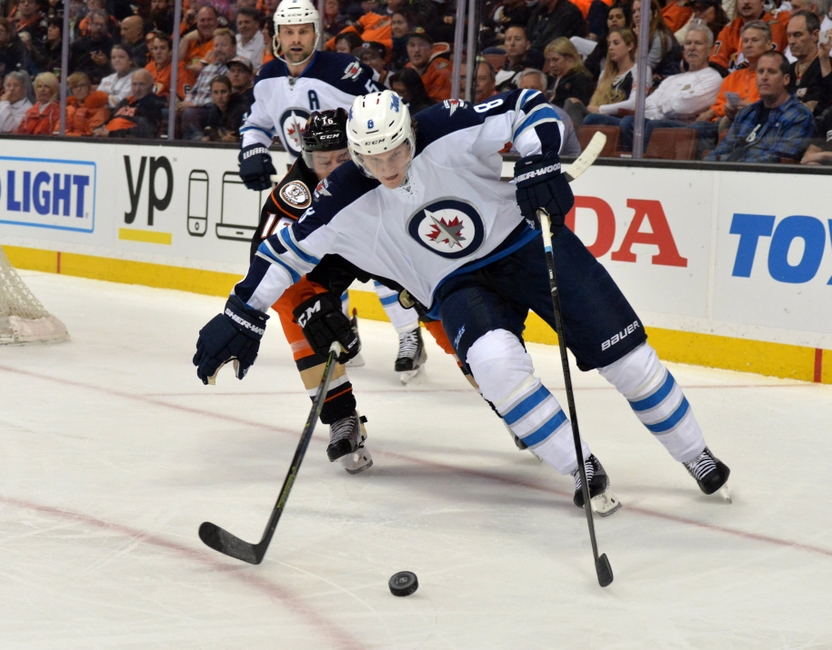 Here are five NHL trade rumors to keep an eye on as the 2016-17 season begins. 
The 2016-17 NHL season might be just underway, but trade rumors are already starting to be passed around. Teams have previously unexpected needs and a few teams still need to clear some cap space. This could make for an interesting month of October, as teams might be willing to make moves early.
Jacob Trouba of the Winnipeg Jets is still holding out following his trade request. He could be headed out sooner rather than later, especially with the Jets having an eye on contending in the 2016-17 season. Cam Fowler of the Anaheim Ducks has had trade rumors following him for what seems like an eternity.
With the expansion draft in the not so distant future, might the Ducks move on from him? What will happen with Ondrej Pavelec? With Jonathan Huberdeau and Nick Bjugstad out, could the Florida Panthers make an early move? What about the New York Rangers and their crowded blue line?
5. New York Rangers trading Dylan McIlrath?
According to Larry Brooks, the Rangers are hoping to trade young defenseman Dylan McIlrath. He is a bit surplus with Adam Clendening impressing the Rangers and potentially taking his roster spot. Now, don't expect the Rangers to field any calls until the health of defenseman Kevin Klein is known. He has missed several practices and won't be playing in Thursday's opener against the New York Islanders.
More NHL coverage from FanSided
Team North America gives hope for Team USA
25 richest NHL players of all-time
27 greatest American hockey players of all-time
McIlrath isn't proven but has a bit of potential. His skating has improved quite a bit over the past two seasons and his size all but ensures he'll get a shot somewhere else. The Edmonton Oilers are an obvious fit, as they need right-handed defensemen. So are the New Jersey Devils, but would the Rangers be willing to deal within the division?
4. Cam Fowler to Bruins?
The Boston Bruins already had a questionable blue line even before a recent string of injuries. Kevan Miller and Adam McQuaid are both going to miss some time. The Bruins also have over $4 million of cap space. Could this lead to the Bruins making a trade for Anaheim Ducks defenseman Cam Fowler?
Fowler is a left-handed shot. Zdeno Chara is very close to the end of his glorious NHL career. While the Bruins already have Torey Krug, Fowler would give them another solid lefty defenseman as they look to replace Chara in the future. Brandon Carlo is the type of defenseman who Ducks head coach Randy Carlyle would love. Forward Brandon Heinen is a highly thought of mid-level prospect. The package would likely include a high draft pick, but the Bruins are desperate. Perhaps desperate enough to give the Ducks what they want.
Trading Fowler also makes sense for the Ducks. He's a good defenseman, but the primary issue is he might be keeping them from re-signing Hampus Lindholm. Lindholm probably wants a no-movement clause so he won't be claimed in next summer's expansion draft. Kevin Bieksa has a no movement clause and the Ducks love Sami Vatanen. The Ducks would love to find a way to keep Lindholm. Giving him a no movement clause is one way to do so. Trading Fowler would let them get something for a defenseman they might have to expose in the expansion draft.
3. Future of Ondrej Pavelec
The Winnipeg Jets placed long-time goaltender Ondrej Pavelec on waivers earlier this week. While Pavelec isn't as terrible as some people think, it's a move which makes a lot of sense. The move was made with one thing in mind – the expansion draft. Winnipeg didn't want to expose young goaltender Connor Hellebuyck on waivers. With Pavelec hitting free agency after this season, he wasn't going to be an option. Michael Hutchinson, however, will likely be exposed for the expansion draft since he will hopefully have the games played requirement fulfilled.
What does his future look like? For now, it looks very bleak. Nobody wants a backup goaltender with a cap hit of $3.9 million. However, all it takes is for one goalie to suffer an injury and Pavelec might become a commodity. Granted, the Jets would likely have to eat some of his cap hit. But they would love to be able to get something for him rather than lose him for nothing.
Keep an eye on the San Jose Sharks. While Martin Jones is a quality starting goaltender, they are currently relying on a rookie backup goalie in Aaron Dell. If Dell doesn't work out, the Sharks could be open to trading for Pavelec later on in the season.
2. Will the Panthers panic?
The Florida Panthers are set to contend for the franchise's first Stanley Cup. After winning the Atlantic Division last season, the Panthers drastically improved their team this offseason. However, the hockey gods aren't giving them any breaks so far. Both Jonathan Huberdeau and Nick Bjugstad will be out for a substantial period of time.
For now, the Panthers are looking at options within their organization. It appears Jared McCann and Jonathan Marchessault might get the first crack at Huberdeau's first line left wing spot. Rookie center Denis Malgin impressed in training camp enough to warrant a trial as the Panthers' third line center.
But what if neither of the options are capable? Will the Panthers aggressively pursue a replacement? Don't put it past the new and bold Panthers front office. They're serious about winning this year. If the Panthers need a center, they might pursue a lesser option since Bjugstad will be back relatively soon. Someone like Gregory Campbell of the Blue Jackets would make sense.
They could make a significant move at wing, however. Even with Huberdeau back, their wing depth is a little sketchy. Look for them to pursue someone like Jarome Iginla if the Avalanche get off to a slow start. The Panthers have had luck with older forwards and Iginla is still one of the finest shooters in the NHL.
1. Jacob Trouba Update
To quote the incomparable Taylor Swift, the Winnipeg Jets and Jacob Trouba are never ever getting back together. Trouba has requested a trade from the Jets because he wants to play more on the right side. He is stuck behind Dustin Byfuglien and Tyler Myers on the Jets' depth chart on the right side. Trouba and his agent have made it clear it has nothing to do with money. So how quickly do the Jets trade Trouba?
First of all, in order to trade him, they must be a little more open regarding their asking price. Reportedly, the Jets want a left-handed NHL defenseman of approximate caliber and age. There are very few teams who have what the Jets want. The Toronto Maple Leafs and the Anaheim Ducks might the lone two teams who could pull off the trade. Sure, the New York Rangers and Boston Bruins would love to have him, but they don't have what the Jets currently want.
A variety of NHL teams have expressed interest in him and a three-team trade might be needed to get Trouba. Cam Fowler could make a lot of sense in such a trade. He's a left-handed defenseman capable of playing over 20 minutes a nice. My guess? The Jets remain patient and wait for a team to impress them with an offer. No reason to sell Trouba for anything less than market value.
This article originally appeared on