NHL Trade Deadline: Dallas Stars Outlook, Fits, Trade Candidates
Ryan Ritchie/FanSided via Puck Prose

Fansided
With a 5-2 win over Carolina on Saturday, the Dallas Stars sit tied for 5th with Winnipeg in the Central Division with a record of 22-24-10 (54 points). The Preds sit six points ahead in the final Wild-Card spot with a game in hand, and Nashville/Dallas will meet-up on Sunday as the Stars look to cut into the Predators lead.
Following Saturday's 5-2 win at home to Carolina, the Dallas Stars now sit tied for 5th in the Central Division with the Winnipeg Jets heading into Sunday's action. They boast a record of 22-24-10 (54 points) and currently sit six points outside of a Wild-Card spot in the Western Conference.
The Nashville Predators are six points ahead of the Stars with a game in hand. The two clubs are set to face-off against one another on Sunday in Music City as Dallas looks to cut into the Preds lead.
It's been a tough year for the Dallas Stars following an impressive 2015-16 campaign. Injuries mounted early on and haven't seemed to let up. Of the 55 games played, Patrick Sharp has only appeared in 29, Jiri Hudler 24, Johnny Oduya 36, Cody Eakin 33, and Ales Hemsky 1 (among others). Jason Spezza is the latest victim and it's unclear exactly how long he will be out.
Couple the adversity with a less than mediocre defensive group and goaltending tandem, it helps explain the Dallas Stars struggles. One year removed from being a juggernaut offense, the Stars sit tied for 11th with 155 goals for. Doesn't seem too bad until you realize they rank 29th with 176 goals against.
Recent Deadline History
The Dallas Stars aren't known for being overly active in recent years. In 2013-14, they barely squeezed into the playoffs and didn't make any late additions. In fact, they unloaded D Stephane Robidas to Toronto for a draft pick.
Moving to 2014-15, Dallas did most of their work in the offseason signing F Ales Hemsky, F Patrick Eaves, and G Anders Lindback. They also acquired Jason Spezza in a deal that saw the likes of Nick Paul and Alex Chiasson head to Ottawa. Lindback was traded to Buffalo in Feb.2015, and if you remember, went on a nice run for the Sabres. Jhonas Enroth came back the other way. Unfortunately, it was all for not as the Stars found themselves outside of a playoff spot late in the season. Because of that, they unloaded veteran Erik Cole in a deal at the deadline that saw Mattias Janmark join the squad from Detroit.
Looking to Dallas' dominant 2015-16 campaign. They began by adding G Antti Niemi via trade just before July 1. The Stars would later sign D Johnny Oduya. Then came the big deal with Chicago as they were looking to unload salary; enter Patrick Sharp and Stephen Johns. Some thought GM Jim Nill would be active at the deadline following an outstanding start to the year. He remained fairly quiet overall, simply adding a bit of defensive rental depth in Kris Russell.
Biggest Need: Bona fide Starter
While most folks like to point the finger at the Dallas Stars defense group, I choose to blame the goaltending above all else. Don't get me wrong, their blue line has some issues, but an elite netminder can help mask those weaknesses.
Here's the problem with Kari Lehtonen and Antti Niemi; both of these guys are fully capable of delivering a nice stretch of outings. But at some point, that good run tends to blow up in their face. I'm talking about allowing three or four goals on less than 10 shots to start a game. It might not seem like much, but even if we're talking about a low number such as 8-10 games of the 82-game schedule, that's still 8-10 games the Stars have zero chance of winning because they're so far out of it early on. Plus, let's not forget when one of those games falls at the worst possible time, like game seven versus St. Louis.
Adding an elite starter doesn't necessarily fix the issue, but as mentioned, it helps mask the problem. With the likes of Esa Lindell, Stephen Johns, and Julius Honka all in the mix moving forward, I don't personally have too many concerns with the defensive group led by John Klingberg. If they can see where they stand with a decent netminder between the pipes, perhaps the back end won't need as much work as some people think.
NHL Trade Deadline Prediction: Time to Reset for 2017-18
You're going to find a lot of teams such as this sitting in limbo. With parity reigning king in 2016-17, there are simply too many clubs in the playoff mix. With so few sellers, it should drive the price up for those who actually have cap space to add rentals.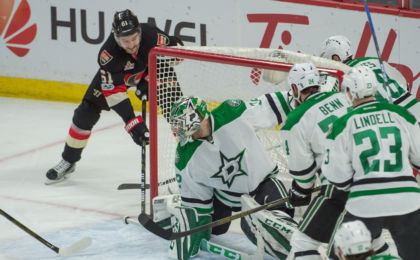 The Stars are obviously nowhere near the position they were last year, so it would make little sense to add for a playoff run. At this point, if they make it, that's great, the young guys can learn from the experience. But if Jim Nill is going to do anything, it would be in anticipation for next season. If the Dallas Stars hammer on the reset button, make a few subtle moves, they could once again align themselves for a strong year in 2017-18.
Now, I realize they have over $7 million dollars in cap space at the moment. That will be money well saved for a small market team that could perhaps be put towards re-signing a few key free agents. UFA's include Patrick Sharp, Patrick Eaves, and Johnny Oduya. Notable RFA's include Brett Ritchie, Devin Shore, Radek Faksa, Mattias Janmark, Curtis McKenzie, Jamie Oleksiak, Patrik Nemeth, and Esa Lindell.
Hypothetical Deals
Given the overabundance of defenders that are of similar quality, the Stars could be looking to unload a blueliner. I'd say Nemeth is the most likely candidate to be moved, but others could include Jamie Oleksiak or maybe even Stephen Johns – although I'd keep both and move Patrik.
Dallas Stars trade D Patrik Nemeth and F Jiri Hudler to Ottawa Senators in exchange for D Patrick Sieloff and G Matt O'Connor
If Jim Nill could find the right deal to address his goaltending issue, a deal might look a little something like this:
Dallas Stars trade F Patrick Sharp ($1.4m retained), D Patrik Nemeth, and F Jason Dickinson to Pittsburgh Penguins in exchange for G Marc-Andre Fleury
This article originally appeared on