NHL Trade Deadline 2017: Minnesota Wild Outlook, Fits, Trade Candidates
Ryan Ritchie/FanSided via Puck Prose

Fansided
Through 55 games, the Minnesota Wild sit atop the Central Division and Western Conference with a record of 37-12-6 (80 points). They have a five-point lead on the Blackhawks with a pair of games in hand. The big question now with the Wild proving to be a serious threat is what will they do ahead of the deadline?
As of today (Feb.13), the Minnesota Wild sit atop the Central Division and Western Conference with an impressive record of 37-12-6 (80 points). They have a five-point lead on Chicago (75 points) in the Central with a pair of games in hand and sit seven points ahead of Pacific Leader San Jose (73 points), again with two contests in hand.
With the Wild emerging as a serious threat in 2016-17, many in the fan base and all across the hockey world are curious what GM Chuck Fletcher is thinking. He faces a pair of daunting tasks which could somewhat contradict one another. On the one hand, he's got an expansion draft in June to worry about. The defensive heavy Wild almost certainly promise to hand Las Vegas a premium blueliner. On the other, if Minnesota is a serious threat to compete for a Cup, he might worry about disrupting the chemistry too much that has got them to this point – which by the way has a lot to do with Devan Dubnyk and this defensive group.
So, where does that leave us? Well, he could trade someone like Marco Scandella or Jonas Brodin to help align themselves for the expansion draft, perhaps look to bring in another offensive piece and some depth on the blue line. Or, they could leave the blue line alone, maybe sacrifice a prospect or a draft pick to get a bit of rental help down the stretch. The only problem taking the latter route is that you leave yourself at the mercy of other GMs who will look to get the upper hand in deals post-Playoffs as other clubs are desperate to get something before losing a guy for nothing.
Recent Deadline History
Looking back to 2013-14, the Minnesota Wild made a couple moves ahead of the trade deadline. They acquired netminder Ilya Bryzgalov in the days leading up and grabbed Matt Moulson a couple of days later. The Wild wound up knocking off Colorado in the opening round in 2014 as a Wild-Card, but fell in the second to Chicago after just six games.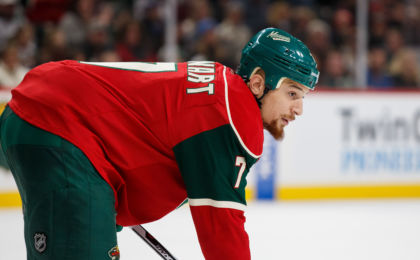 In 2014-15, Minnesota acquired F Sean Bergenheim roughly a week before the deadline. On Mar.2, they added F Chris Stewart, F Jared Knight, and D Jordan Leopold. For a second year in a row, the Wild escaped the opening round as a Wild-Card team defeating St. Louis in six games. Unfortunately, they were defeated once again by the Blackhawks, this time being swept.
The Wild weren't overly active leading up to last year's trade deadline. David Jones was the only addition of significance and that didn't exactly turn out too well considering he only put up four points in 22 games (regular season and playoffs). We haven't even mentioned the fact that he's not even playing in 2016-17. Anyways, the Wild made a couple other minor league moves at the deadline, but remained fairly quiet. After capturing the second Wild-Card spot, Minnesota fell to an offensive juggernaut (Dallas) in six games in the opening round of the playoffs.
Biggest Need: Top-9 Forward
While it's nice to see top prospect Alex Tuch get a look with the big club, it may still be a season premature to expect anything from the 20-year-old. It's important for guys like Alex Tuch, Mario Lucia, and Christoph Bertschy to get a bit of NHL experience before they're ready for full-time duties. That being said, they may need to look elsewhere for offensive help for their playoff run. They don't necessarily need to acquire a top-six forward, but an ideal fit would be a third-liner that has the versatility to slide into the top-six and contribute for short periods of time while filling in for injuries.
NHL Trade Deadline Prediction: Wild Shed a Blueliner
I know it goes against logic. Some argue it would disrupt chemistry, which is a fair concern. Others will say the defensive group is largely responsible for the team's success, so it would make little sense, another good point.
Look at it from my point of view: If you decide to keep Brodin, Scandella, etc, you might as well wrap a nice little bow on one of them addressed to Las Vegas. I think GMs are fooling themselves if they think they'll get anything worthwhile after the playoffs for players as other clubs smell the desperation. The offers will be so lousy, you're almost better off sacrificing one of these guys to keep Vegas' hands off other individuals.
In most cases, teams aren't well enough equipped to handle such a significant loss on the back end. Minnesota isn't most cases though. No, they've got defenders such as Mike Reilly, Gustav Olofsson, and Zach Palmquist all scratching and clawing for a chance at full-time NHL duties – Olofsson is currently with the big club.
Long story short, they've got the pieces in-house to fill the void left by departing defenseman. I fully expect Chuck Fletcher to both solve his expansion issue, while at the same time making some additions to help with the stretch run into the playoffs. In fact, I wouldn't be surprised if the Wild are among the busiest of teams leading up to and on March 1st.
Hypothetical Deals
Minnesota Wild trade D Marco Scandella to Buffalo Sabres in exchange for F Brian Gionta ($1.25m retained) and F Zemgus Girgensons
Minnesota Wild trade D Marco Scandella to Boston Bruins in exchange for F Ryan Spooner
Minnesota Wild trade D Marco Scandella to Dallas Stars in exchange for F Patrick Sharp ($2.8m retained) and D Patrik Nemeth
Minnesota Wild trade D Jonas Brodin to New Jersey Devils in exchange for F Adam Henrique
Minnesota Wild trade D Marco Scandella to Tampa Bay Lightning in exchange for F Alex Killorn
This article originally appeared on