NHL Star Defensemen: Impact of Brent Burns vs Shea Weber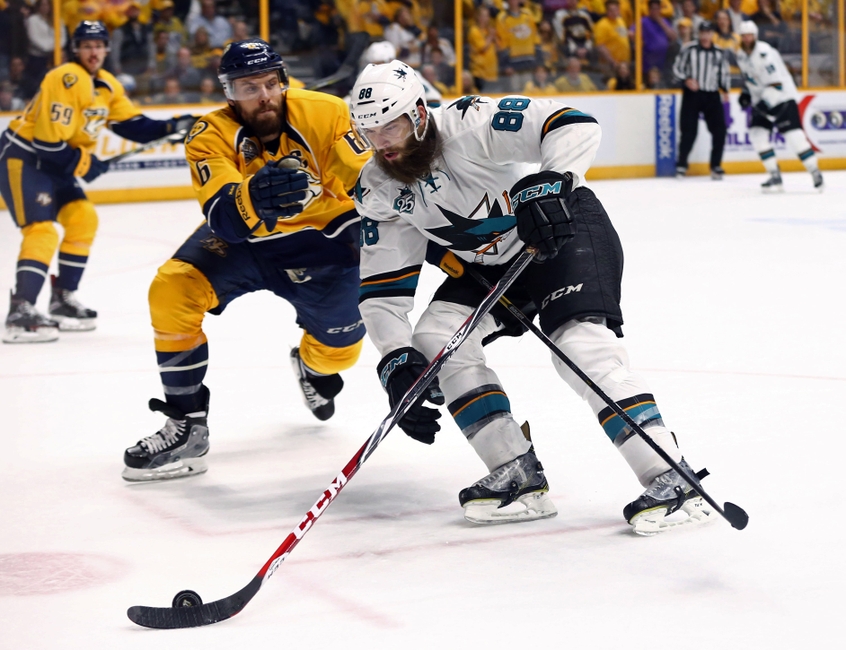 Two NHL Star Defensemen Are Clear-Cut Favorites for the Norris Trophy as We Just Pass the Quarter Mark of the 2016-17 Season. Brent Burns and Shea Weber Are Doing as They Have Been for Many Years and Are Still Helping Their Teams Win. Both Rank in the Top Five in Points Among Defensemen and Neither Plan on Slowing Down.
There are two NHL star defensemen in the running for the Norris Trophy so far this season. The Sharks' Brent Burns and the Canadiens' Shea Weber are both making excellent campaigns of why they would be the best Norris candidates.
The San Jose Sharks and Nashville Predators met in the Western Conference Semi-Finals last postseason and the focus was on number one d-men, Burns, and Weber. Burns' Sharks came out on top and would go on to the Stanley Cup Finals to face the Pittsburgh Penguins.
The dynamic nature of both defensemen, able to jump into any play and be an offensive threat while also remaining incredibly responsible, makes their value incredible to any team.
During the offseason, Weber was traded to the Montreal Canadians and has been thriving for them as he plays the same important role he did in Nashville.
Burns was just rewarded for his achievements with an eight-year contract extension. For all these d-men do for their respective clubs, it's clear to critics that these are your front-runners for the 2016-17 Norris trophy, which is awarded to the NHL's best defenseman.
Norris Candidate: Brent Burns
Burns is a fan-favorite in San Jose. Not only is he a great personality on the ice, but it carries  over into his off-ice interactions.
It doesn't hurt that Burns has a blistering shot that he isn't afraid to use; this accounts for his 107 shots on goal through 25 games played. In fact, Burns ranks 17th among all scorers in the NHL. This puts him 20 places above Ottawa Senator Erik Karlsson, another prominent scoring defenseman.

Burns ranks first in both points earned and goals scored by a defenseman. So far, he has only taken two penalties in 25 games. He is often available and willing to face the toughest competition the opposing team has to throw at him.
Further, Burns is also averaging just about 24 minutes on ice-per-game, taking pressure away from his teammates. Burns has certainly helped lead the Sharks to a Pacific Division-leading record of 15-9-1.
Norris Candidate: Shea Weber
Weber was captain of the Nashville Predators for six seasons and was a Predator for a total of 11 seasons.
From the beginning, Weber established himself as one of the most outstanding d-men in the League. Now, coming into his fifth season Weber has at least 40 point seasons, barring the lockout-shortened season of 2012-13.
At the age of 31, Weber has continued to pile on the points and shut down the opposition even as he ages. Currently at fifth in points by defensemen, Weber has continued to be an on-ice threat. Weber currently has the best plus-minus among defensemen and ranks second in the NHL behind New York Ranger Michael Grabner.
This ability gives Weber a slight advantage over Burns in the fact that his plus-minus is 14 points higher than Burns, though many have questioned the validity of plus-minus analytics. On top of this, Weber ranks seventh for average time-on-ice with nearly 26 minutes per game.
Weber plays almost 2 minutes more than Burns and has nearly as many goals, eight goals compared to Burns' 10, with only 64 shots on net, compared to Burns' 107.
Eyes On The Norris
As we continue from the quarter mark of the season to the half-way point, we'll continue to watch the impact of Burns and Weber on their respective teams.
One d-man may finish with higher offensive numbers, but one's overall play might be enough to take home the trophy. One thing is clear, neither of these defensemen plans on slowing down anytime soon, barring time missed due to injury.
Every standout game these d-men have gets them closer to the Norris Trophy, but there will only be one winner.
This article originally appeared on