NHL rumors: Panthers close to extension with Jonathan Huberdeau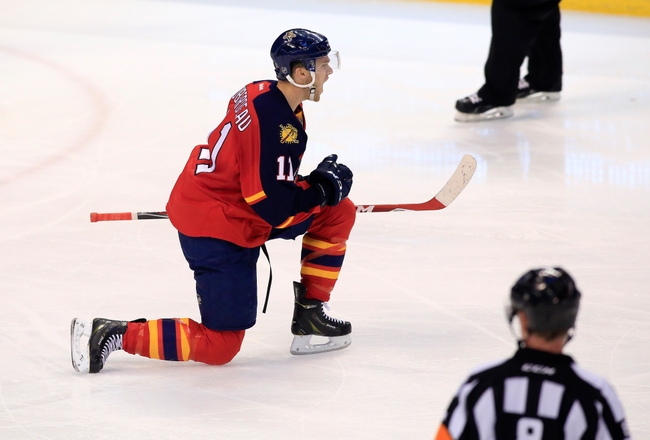 Bob McKenzie is reporting that the Florida Panthers are close to signing Jonathan Huberdeau to a six-year extension. 
The Florida Panthers have been one of the busiest teams in the NHL this offsseason — and they might not be done yet.
They will enter the 2016-17 season with a blue line that features three new members, and now they are reportedly close to a six-year extension with Jonathan Huberdeau that could be worth just under $6 million a year. Huberdeau is in the last year of a deal that has a $3.25 million cap hit and will make him a restricted free agent after the 2016-17 season.
Florida has been aggressive in locking up its young players this off-season. So far, the Panthers have given extensions to Aaron Ekblad, Vincent Trocheck and Reilly Smith, committing $17.25 million of cap space to those three players after the 2016-17 season. Factor in Aleksander Barkov's well-deserved extension during the season and the Panthers have $23.15 million committed to four players. At this point, any extension given has to be for a reasonable amount of money.
Is Huberdeau worth $5.9 million a year? That number would place him tied for 10th among left wings. Conveniently, Huberdeau tied for 12th in points for left wings last season. However, his shooting percentage of 11.5 percent in 2015-16 certainly helped him set his career high of 59 points and 20 goals. Is that sustainable? It might be, as his career shooting percentage before the 2015-16 was 10.23 percent.
Huberdeau's shooting percentage might not matter too much. The Panthers blue line has drastically improved from last season, when the Panthers relied very heavily on Brian Campbell and Ekblad to move the puck.
This season, the Panthers potentially could have five above average puck movers in Keith Yandle, Ekblad, Jason Demers, Mike Matheson and Mark Pysyk. The Panthers won't have a high shooting percentage like last season, but their blue line should help them create more scoring chances to offset that.
This article originally appeared on