NHL Rumors: Nikita Kucherov signs with Tampa Bay Lightning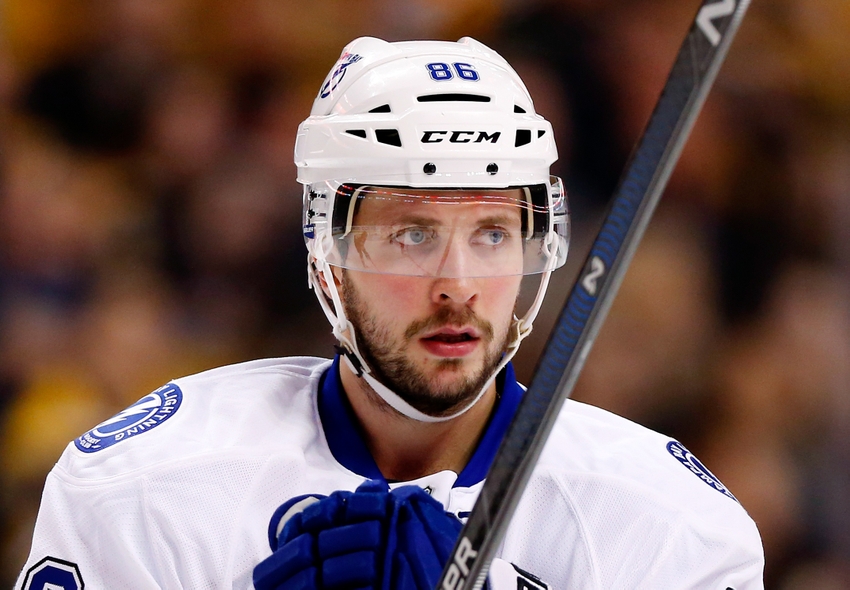 Nikita Kucherov has agreed to a three-year deal with the Tampa Bay Lightning. 
The Tampa Bay Lightning and Nikita Kucherov have been working to get a deal done for quite some time. Perhaps Wednesday's start of the NHL season motivated both sides to get something done. But just ahead of the roster deadline, the Lightning have agreed to a three-year deal worth $4.766 million per season with Kucherov.
BREAKING: #TBLightning and Nikita Kucherov agree to three year deal worth $4.766 million annually.

— Joe Smith (@TBTimes_JSmith) October 11, 2016
This is an outstanding deal for the Lighting. While signing him long-term would have been better, it simply wasn't an option because of the Lightning's cap situation. Give credit to Lightning general manager Steve Yzerman. He found a way to keep his star forward for a very reasonable price.
Moreover, Kucherov is one of the best bargains in the NHL. In the 2015-16 season, he finished fourth among all right wings with 66 points and tied for sixth with 30 goals (both career highs). Kucherov will have the 20th highest cap hit among all right wings next season, which makes him a terrific bargain.
Meanwhile, Kucherov gets three more years to prove he is deserving of a huge contract. Moreover, he gets a great chance to win a Stanley Cup in Tampa Bay. Keeping him long-term in Tampa will be very hard for the Lightning, but they can cross that bride when they come to it. For now, Kucherov is one of the best bargains in the NHL.
Kucherov has 149 points in his first three NHL seasons. 131 of those points have come in the past two seasons. Additionally, Kucherov has 41 points in his last 43 playoff games. He led the Lightning in postseason points in 2015-16 while finishing second to Tyler Johnson in 2014-15. Kucherov still has room to grow since he is just 23 years old, making this one of the best value deals in the NHL. Yzerman has done it again.
This article originally appeared on