NHL Predictions for 2016-17 Regular Season – Atlantic Division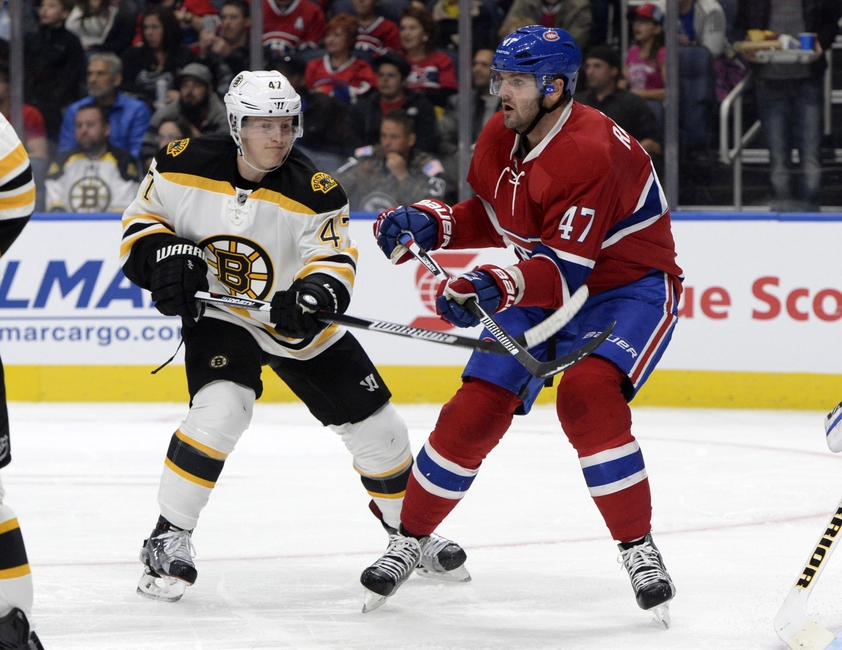 Preseason has come to an end, which means it's time for more NHL predictions for the 2016-17 regular season. This is a divisional preview moving on to the Eastern Conference, starting with the Atlantic Division. Expect the 2 Teams From Florida to battle it out atop the standings.
The Florida Panthers came out of the woodwork to surprise many fans in winning the Atlantic last season. While they were unable to replicate their success in the playoffs – it bodes well for the future.
Meanwhile, at the bottom of the league, Toronto Maple Leafs finished dead last and their reward was superstar-in-the-making Auston Matthews.
The Panthers and Floridian rivals Tampa Bay are two teams with a genuine chance of a deep run in the playoffs. Buffalo and Toronto are two teams rebuilding and, while they may offer a surprise or two, will more likely be a threat in the next few years.
In the middle of the pack are the Boston Bruins, Montreal Canadiens, Ottawa Senators and Detroit Red Wings. Four teams in a state of flux at the moment. All on the edge of the playoffs – albeit with a slim chance of a deep run, should they scrape in – yet refusing to rebuild.
Toronto Maple Leafs, 8th – 76 points
28th in goals scored, 24th in goals conceded. 29th ranked power-play, 13th ranked penalty-kill (actually not that bad). Toronto was a terrible team last year and more than earned their right to snag Auston Matthews.
It's not all doom and gloom though, Maple Leafs fans. While this season is too soon for a massive rebound, within the next few years the pieces are in place to become contenders.
With Matthews, Mitch Marner, William Nylander and Morgan Reilly, they have an extremely impressive young core. They finally have a quality goalie tandem of Frederik Andersen and Jhonas Enroth – Enroth recorded a career-high .922 save percentage last season (with a better possession team in front of him). World-class coach Mike Babcock is the perfect man to take the Leafs back to the top and make them contenders again – the future looks bright.
With such a young team, the important thing this season is to not get into slumps. They are more than capable of surprising a team or two. However, they are just as likely to go several games without a win. Babcock will have to make sure they keep fighting, even if things get bumpy.
Buffalo Sabres, 7th – 78 points
One of the toughest decisions with these predictions is figuring out the Sabres. I genuinely considered putting them as high as fourth in the Atlantic, but there are too many holes in this team.
Then this happened.
Buffalo Sabres Get A Slap In The Face Courtesy Of EA Sports NHL 2016-17 Simulation
Sure, Buffalo's hopes didn't lie solely in the palms of Jack Eichel, but he is their young star. Losing him will be a massive blow.
Up front, they have the scoring ability on their first two lines, even without Eichel. With Tyler Ennis, Evander Kane, Ryan O'Reilly, Kyle Okposo and Sam Reinhart. Okposo, in particular, was a huge offseason addition and will add a bruising sniper to the group. The organization will just have to hope that Kane stays out of trouble off the ice.
The defense is questionable, Rasmus Ristolainen has just been handed a huge new contract but has yet to prove himself amongst the elite. But he is still young and could have a breakout season.
In goal, Robin Lehner had a .924 save percentage and 2.47 goals allowed on a team with bad defense and looked particularly good upon returning from long-term injury. He is just 25 years old and can be a useful netminder heading forwards.
Buffalo has a good coach and a promising young forward line, with a decent goalie. If they can find a player or two to add on defense they could be a threat in the next couple of years.
Ottawa Senators, 6th – 84 points
The trade they made to bring in Derick Brassard, who is six years older than the outgoing Mika Zbanejad, signaled their intent to make a playoff push now.  Yet the rest of their team says otherwise.
Erik Karlsson may not put up 82 points, like last season, but he is in his prime and is the best defenseman on the planet. Wingers Mike Hoffman and Mark Stone are massively underrated, and the Sens will hope Kyle Turris can stay healthy. Bobby Ryan should be a lock to score 20 goals and the signing of Chris Kelly provides leadership and a penalty killer.
Ottawa's special teams were dreadful last year. They had the fifth-worst power play and the second worst penalty kill. New coach Guy Boucher will hope to fix these ASAP – with captain Karlsson a prominent feature on the PP (26 power-play points last season).
The biggest problem lies with their defense – conceding the fifth most goals in the league. A position they've failed to add to. They will have to hope Cody Ceci keeps improving and rookie Thomas Chabot fits in seamlessly.
Detroit Red Wings, 5th – 85 points
The Red Wings are the most "in flux" team of the lot in the Atlantic. As a result, no one can quite pin where they stand. Last season they squeaked into the playoffs through the tiebreaker, as the Bruins lost 7 of their last 10 games.
NHL Daily: Oliver Bjorkstrand, Mikko Rantanen, Arizona Coyotes
Dylan Larkin had a terrific start to last season, and despite having a rough end to the campaign he looks set to be a terrific player.
As expected, Petr Mrazek had a breakout season and has overtaken Jimmy Howard as Detroit's undisputed number one heading forward.
Andreas Athanasiou played well at the end of the season and will be a key cog to the team this year. Larkin, Gustav Nyquist, and Tomas Tatar could make up an electric line.
But the bottom six forwards they look set to start the season with are worrying for any kind of playoff push. Meanwhile, legendary centerman Pavel Datsyuk has returned to Russia and Henrik Zetterberg had his lowest points total since 2003-04 (when playing over 50 games).
With some promising youngsters and a rapid release of Datsyuk's large contract – the Red Wings could have a quick rebuild if they chose to. They seem more worried about hanging on to the remarkable playoff streak than losing it for a season or two for a shot at the Cup.
That will end this season.
Montreal Canadiens, 4th – 92 points
Oh, the joys of having the best goaltender in the world.
Get the FanSided App
Last season Carey Price won 10 of the 12 games he played before getting injured. After that, the wheels came off for the Canadiens and they finished 6th in the Atlantic.  Despite only playing in 15 percent of the games, Price represented 26 percent of total Canadiens wins.
Al Montoya was a serviceable backup in Florida last season, with a save percentage of .919 in 25 games played. Despite this, if Montreal stands a chance of making the playoffs – Price must be healthy enough to play in more than 60 games.
The blockbuster trade the sent P.K. Subban to Nashville and brought back Shea Weber in his place was mostly due to personality. It had very little to do with hockey ability. The Canadiens may not regret the trade in the next season or two, but it will hurt them further down the line.
Weber joins a relatively balanced defensive group with the hope that rookie Mikhail Sergachev can make an impact straight away.
Alexander Radulov could be a beast for them and will complement a forward group built around speed. If they make it into the playoffs, the Montreal Canadiens could be a serious dark horse.
Boston Bruins, 3rd – 98 points
98 points may seem a tad optimistic for a team that struggled to make 93 points last season. But it relies on two big things to lead them back to the elite in the Atlantic.
Broad Street Buzz 1 d
Philadelphia Flyers Buzz: Gone Gudas, Kony2016
Firstly, Tuukka Rask needs to have a bounce-back season. While he was hung out to dry for the majority of the year by his defense, he needs to improve on his .915 save percentage – which was the lowest since he became a starter. This will be helped with Anton Khudobin returning as his backup.
Secondly, the youth – particularly on defense – need to step up to the plate. Rob O'Gara and Brandon Carlo looked promising in pre-season and start the year in Boston due to injuries. Colin Miller and Joe Morrow are two other defenders expected to make the jump from previous years and help out a struggling back end.
Up front, the Bruins know what they have. Patrice Bergeron and Brad Marchand are elite and with David Pastrnak on their wing (ready to have a breakout season) they will dominate again. The signing of David Backes will only help, for the first two years of his contract at least. If David Krejci can stay healthy all season he could break 70 points.
The Bruins are a threat to the top teams in the Atlantic. They are also one of the teams most likely to make a blockbuster trade, needing help on their blue line.
Florida Panthers, 2nd – 104 points
The Panthers could easily have been prime candidates in the Atlantic for a large regression this season. They lost captain Brian Campbell through free agency and recently Jonathan Huberdeau for 3-4 months due to injury.
Both players will be big losses to a team going all in to win the Stanley Cup now. Unfortunately, they still aren't the best team in the state – simply because of how strong Tampa Bay is all through their lineup.
On defense, the Panthers added Jason Demers, Keith Yandle, and Mark Pysyk – all will make them much better. Meanwhile, Roberto Luongo remains as impressive in goal as he is on social media. His window to win the Cup is decreasing rapidly (same goes for Jaromir Jagr), but the men in front of him will help lighten the workload. Also, James Reimer is a very good backup.
They lack speed up front and the brilliance of Aleksander Barkov won't be enough to cover for both Huberdeau and Nick Bjugstad. Both start the season on the injured reserve.
Any Panthers fans out there able to help me understand why Derek MacKenzie was made captain? I'm assuming he's a stop-gap until Aaron Ekblad has a year or two more experience and takes over. But why not just four alternates, or even Jagr?
Tampa Bay Lightning, 1st – 112 points
The Lightning will be the cream of the crop in the Atlantic. They are stacked at every position. General Manager Steve Yzerman has even got Steven Stamkos, Victor Hedman, and Nikita Kucherov to take 'hometown discounts'. Unfortunately, it's more than likely they will have to trade Ben Bishop at some point in the season. But they seem confident that Andrei Vasilevskiy can fill the void.
Hedman and Anton Stralman are a brilliant, fluid top pairing on defense. The Lightning will be hoping youngsters Nikita Nesterov and Slater Koekkoek (what a name by the way) can develop into reliable bottom six defensemen.
Speed and sniping are the game of the forwards group. Steven Stamkos has had time to recover from the blot clot that ended his season and will be aiming for over 40 goals. Jonathan Drouin seems to be over the trade request and can focus on refining his game in the NHL.
I project Nikita Kucherov will score 47 goals this season.
What do you guys think, will the Lightning win the Presidents trophy? Can the Maple Leafs creep up the Atlantic Division? Let us know in the comments below.
More from Puck Prose
This article originally appeared on