NHL Power Rankings Week 9: Blue Jackets move up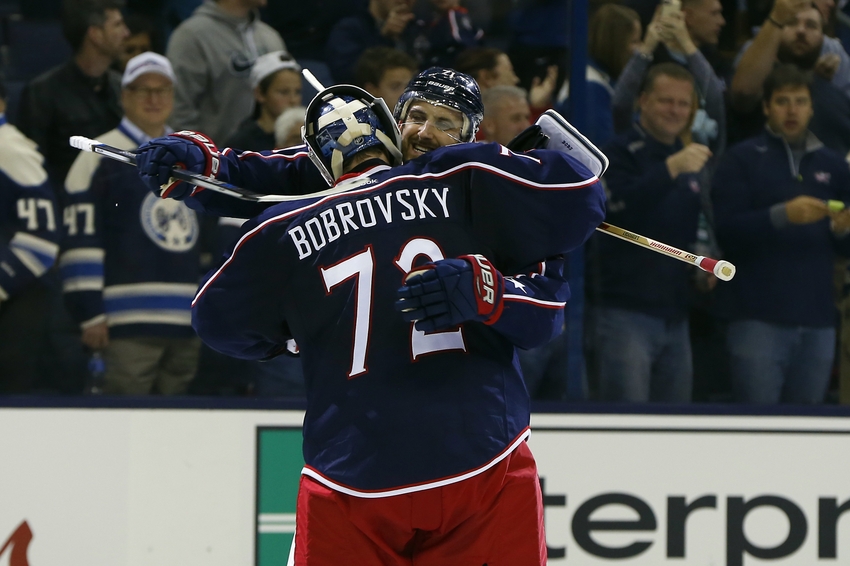 The Columbus Blue Jackets accent up the standings continues in this week's NHL Power Rankings. 
Once the month of December comes around, it's officially hockey season. The 2016-17 NHL season is already over 25% over. Therefore, teams have been able to assess how good or how bad they are. It's right around this time the buyers start looking for what they need while the sellers start trying to build up the value of guys they want to trade.
While the Western Conference has made some progress, the Eastern Conference still has the slight upper hand. 10 of the top 16 teams in terms of points are from the east. Namely, the Metropolitan Division will probably have five playoff teams. Sure, it's just the first week of December, but right now, it's looking like the best division in the NHL.
Recently, the Columbus Blue Jackets have been a huge surprise. Coming off an extremely impressive month of November, they're healthy for once and they're looking great. But how high has their recent accent taken them? Are they a legitimate Stanley Cup contender? How low have the Colorado Avalanche stumbled?
These rankings will be compiled by a team's record, who they have beaten, and how they have looked in games. A tough loss to a very good team isn't the worst thing in the world if you play well. The team's record certainly counts, but so do a lot of other things. All stats, unless otherwise noted, are courtesy of Corsica and are at even strength (five on five). They are also score, venue, and zone adjusted unless otherwise noted. If you're curious about expected goals for percentage (xGF percentage), which will be referenced throughout the rankings, here's a good reading.
In case you would like to reference last week's rankings, you can check them out here. Without further ado, let's start this week's NHL power rankings.
30
Colorado
Avalanche
(9-13-1)
Last week:
0-2-0 record
Last rank:
29th
The Colorado Avalanche are officially spiraling out of control. Things appeared to be getting better with the sudden resignation of head coach Patrick Roy and the hiring of Calder Cup winning head coach Jared Bednar. However, the Avalanche find themselves in last place in the NHL. Colorado has already tried firing the coach. Next up is usually either a front office shakeup or a major trade. Matt Duchene is a possibility, as is captain Gabriel Landeskog.
29
Arizona
Coyotes
(8-12-14)
Last week:
0-2-1 record
Last rank:
28th
Perhaps the Arizona Coyotes should serve as a lesson to hockey fans. It's not about the headlines you make in the offseason. What truly matters is winning during the regular season. The Coyotes made a significant splash by acquiring Alex Goligoski from the Dallas Stars. However, he has been one of the worst free agent signings of the offseason. A horrifying season like this one is the last thing Arizona needs, as they're trying to secure a lease.
28
Buffalo
Sabres
(9-10-6)
Last week:
1-1-1 record
Last rank:
27th
Even with Jack Eichel back, the Buffalo Sabres have a lot of work to do. Their defense is still a mess. Previously, their goaltending had been masking the issue somewhat. However, recently, they haven't been getting stellar play from their goaltenders. Plus, even with Eichel back, their offense isn't overly impressive. They say you need three scoring lines to be set in today's NHL. Buffalo barely has one.
27
New York
Islanders
(9-10-5)
Last week:
2-0-1 record
Last rank:
30th
Maybe the New York Islanders aren't quite dead yet. After wins over the Pittsburgh Penguins and the Washington Capitals on consecutive nights, they lost to the Detroit Red Wings in overtime. Granted, the Islanders are still six points out of a playoff spot, so if they want to keep advancing in the standings, they'll have to keep winning. A trade is most likely needed if New York wants to make the NHL postseason.
26
Vancouver
Canucks
(11-12-2)
Last week:
1-1-0 record
Last rank:
26th
Going into this season, many didn't think the Vancouver Canucks would be a contender. After a strong start, they were a surprise. However, they have fallen back to being one of the worst teams in the league. Perhaps no hockey team needs a rebuild more than the Canucks. Vancouver had a pretty darn nice run, but the 2011-12 Stanley Cup Finals destroyed them, much like the 2006 Finals destroyed the Edmonton Oilers.
25
Dallas
Stars
(10-10-6)
Last week:
1-1-0 record
Last rank:
23rd
Things aren't looking good for the Dallas Stars. This almost feels like the 2015-16 Montreal Canadiens, where absolutely everything which can go wrong goes haywire. Injuries have left them scrambling for replacements. After showing a lot of faith in their young defensemen by letting Kris Russell, Jason Demers, and Alex Goligoski go, they've done very little to justify said faith. However, they find themselves merely two points out of a potential playoff spot.
24
Carolina
Hurricanes
(10-10-5)
Last week:
1-1-1 record
Last rank:
21st
Don't sleep on the Carolina Hurricanes. They're a team much better than their record suggests. Carolina has a plethora of young players who are quickly improving. They already have Victor Rask for dirt cheap for the next five seasons after this one, so have fun with that, Metropolitan Division. Bill Peters has them playing inspired hockey. Carolina has a xGF percentage of 53.09, one of the best in the NHL. However, their goaltending is absolutely dreadful at worst and inconsistent at best. It's a testament to how bad their goalies are that it drags them down this much.
23
Winnipeg
Jets
(13-13-2)
Last week:
2-1-0 record
Last rank:
25th
Does anyone really know who the Winnipeg Jets are? Are they a contender? Every time it feels like the Jets could make the postseason, they slip. Right now, they're climbing out of a fairly deep hole. Credit Winnipeg for doing so. However, in order to make the playoffs, they have to be more consistent. On the bright side, Mark Scheifele and Patrik Laine give the Jets a very bright future. Also, as agonizing as Connor Hellebuyck's growing pains have been at times, they'll be worth it in the end.
22
Calgary
Flames
(13-13-2)
Last week:
3-0-0 record
Last rank:
24th
The Calgary Flames are finally starting to resemble the borderline playoff team everyone thought they would be. While Brian Elliott continues to be horrible, Chad Johnson is quickly rising in the "athletes named Chad Johnson" power rankings. Moreover, Calgary got Johnny Gaudreau back far sooner than anticipated, which is exciting. While their xGF percentage of 47.63 suggests this isn't sustainable, the Flames are no strangers to overcoming it. At the very least, Calgary is a fun team to watch.
21
Detroit
Red Wings
(12-11-3)
Last week:
1-1-1 record
Last rank:
20th
It's looking more likely each week this could be the year the Detroit Red Wings' infamous playoff streak ends. This is the end of an impressive era. However, maybe this is what the Red Wings really need. Rather than trying to extend the streak, Detroit should accept it's over and undergo a much needed rebuild. Get rid of as many of their bad contracts as possible. It will be rough for a few years, but it will be worth it in the end.
20
Toronto
Maple Leafs
(10-9-5)
Last week:
0-1-1 record
Last rank:
17th
The Toronto Maple Leafs future is very bright. However, perhaps it's time for them to take the next significant step in their rebuild and shore up their blue line. Sure, it will involve having to part with a very good forward (most likely James van Riemsdyk), but they need a top NHL defenseman. Morgan Rielly is their only true top pairing defenseman. While Toronto has legitimate second and third pairing options, only having one first pairing caliber blue liner is showing.
19
Florida
Panthers
(12-11-3)
Last week:
1-1-1 record
Last rank:
22nd
Has there been a more disappointing team this season than the Florida Panthers? At least the Dallas Stars have a clear issue – staying healthy. However, the Panthers issues are much more of a surprise. While they can still make a turn around because they're just four points out of a playoff spot, this is a huge step backwards for Florida. Not having Jonathan Huberdeau certainly hurts and is an undeniable factor in their struggles. But, as their xGF percentage of 48.12 shows, the Panthers' issues run much deeper.
18
Tampa Bay
Lightning
(14-11-2)
Last week:
1-1-1 record
Last rank:
15th
The Tampa Bay Lightning have been going down hill for the past two weeks. At one point, they ranked as high as fourth in these weekly NHL power rankings. Now Tampa Bay finds themselves out of a playoff spot. Obviously, losing their captain Steven Stamkos has been crippling. But the Lightning haven't been getting the depth scoring they've gotten in recent years. Also, their defense is struggling because Victor Hedman and Anton Stralman have been their only two good defensemen this season. Tampa Bay's xGF percentage of 49.28 is concerning.
17
New Jersey
Devils
(11-7-6)
Last week:
1-0-1 record
Last rank:
16th
Credit the New Jersey Devils for being a borderline playoff team this year. Despite losing a top defenseman in Adam Larsson, they've been able to be very competitive. Damon Severson is showing some promise as a future replacement for him. Taylor Hall has shown why he's one of the best forwards in the NHL by giving New Jersey some much needed offense. However, the Devils still need to get more scoring depth and improve their blue line to make things easier for Cory Schneider.
16
Nashville
Predators
(11-9-4)
Last week:
0-1-1 record
Last rank:
13th
After an incredibly strong November, the Nashville Predators haven't been able to carry that momentum in December. However, they're still looking much better than they did in October. And Nashville's xGF percentage suggests that's true. At the end of October, it was at 49.16. Now it's at 53.50 (fifth best in the NHL). Pekka Rinne must continue to be solid for them if they want to win the Stanley Cup. It would also help if Filip Forsberg started scoring goals again.
15
Philadelphia
Flyers
(14-10-3)
Last week:
3-0-0 record
Last rank:
19th
Despite losing several key players, including Sean Couturier, the Philadelphia Flyers are playing much better hockey as of late. A lot of it is due to the reemergence of Steve Mason. After struggling for most of the first two months of the 2016-17 NHL season, he has found himself. Mason closely resembles his form from last season when he helped carry the Flyers to a surprising playoff spot. Of course, having the second best power play in the league helps too.
14
Anaheim
Ducks
(12-9-5)
Last week:
1-1-1 record
Last rank:
12th
It appears Randy Carlyle has become a better head coach since leaving the Toronto Maple Leafs. Of course, he also has far more talent with the Anaheim Ducks than he did there. But give Carlyle some credit. A prevalent issue with the Ducks is they don't having scoring depth. Sure, Ryan Getzlaf and Corey Perry are once again two of the most productive forwards in the NHL. But outside of those two, Ryan Kesler, and Jakob Silfverberg, Anaheim isn't getting enough scoring from their lineup.
13
Boston
Bruins
(15-10-1)
Last week:
3-0-0 record
Last rank:
18th
The Boston Bruins offense is finally starting to show up. Moreover, Tuukka Rask is playing like a Vezina Trophy candidate. A very strong week puts the Bruins back in the top three in the Atlantic Division. However, they have been inconsistent this season, so they must sustain what they're doing right now. Boston's in a very good place with their depth scoring finally producing.
12
Los Angeles
Kings
(13-10-2)
Last week:
1-1-1 record
Last rank:
10th
Maybe people shouldn't have written off the Los Angeles Kings so early. Despite not having Jonathan Quick, their defense has been great enough to overcome it. More importantly, their offense is starting to show up. Los Angeles has eight players with at least 10 points with Jeff Carter (21 points) leading the way. The Jeff Zatkoff and Peter Budaj goaltending tandem hasn't been fantastic, but they've been good enough to help the Kings tread water without Quick.
11
Edmonton
Oilers
(14-10-3)
Last week:
2-0-1 record
Last rank:
14th
The Edmonton Oilers are right on schedule with their rebuild. Of course, getting Connor McDavid significantly speeds up a rebuild. Just ask the Pittsburgh Penguins and Washington Capitals. However, the Oilers are perhaps a bit too dependent on the young star. Sure, he's leading the league in points, but Edmonton isn't putting up much depth behind him. What's telling is only five of their players have even one third of McDavid's 34 points. Two of those players happen to be his wings.
10
Minnesota
Wild
(12-8-4)
Last week:
1-0-1 record
Last rank:
11th
Bruce Boudreau has the Minnesota Wild looking like a legitimate Stanley Cup contender. Their offense is starting to come alive, which is a huge help to their defense. Devan Dubnyk might be the goalie who breaks Boudreau's curse of never having great goaltending. The Wild might not have any go to scorer, but they have nine players with over 10 points. If you don't have a go to guy in the NHL, you better have scoring depth and Minnesota does. Expect them to pursue a wing at the NHL trade deadline.
9
Ottawa
Senators
(15-9-2)
Last week:
1-1-1 record
Last rank:
7th
The Ottawa Senators have been one of the best stories in the NHL this season. Led by goaltender Craig Anderson, they currently sit in second place in the Atlantic Division. While the Senators aren't getting much scoring, Anderson and their defense have been strong defensively. However, their goal differential is now negative at -3. Granted, a blowout loss to the Pittsburgh Penguins will do that. But still, it shows Ottawa needs to support their goalie way more.
8
St. Louis
Blues
(14-7-4)
Last week:
1-0-1 record
Last rank:
6th
While the St. Louis Blues have been a very good team this season, they still have some legitimate concerns. And they aren't what everyone anticipated them to be. Going into the 2016-17 NHL season, people thought the Blues' issue would be on offense. That hasn't been the case. They rank 11th in goals per game. However, defensively, they haven't been up to par because they rank 11th in most goals allowed per game as well. This is largely due to their goaltending. With very few quality goalies available, the Blues might be stuck with their current options.
7
San Jose
Sharks
(15-9-1)
Last week:
2-0-0 record
Last rank:
9th
The San Jose Sharks are playing excellent hockey right now. Despite being snakebitten on offense, their defense is playing so well, they've overcome it. San Jose's power play is steadily improving, as it's now at 18.7 percent, good for 13th in the NHL. Once they start scoring, they're going to be a very difficult team to beat. Martin Jones has been playing surprisingly well for the Sharks and might be the best goaltender in the Pacific Division.
6
Chicago
Blackhawks
(16-8-3)
Last week:
1-2-0 record
Last rank:
3rd
It's not hard to see why the Chicago Blackhawks have been struggling. That's what tends to happen when you lose someone like Jonathan Toews. Without their captain, Chicago has seemed lost at times. They desperately need him back. However, at the same time, rushing him back could risk another injury to Toews. They absolutely can't afford to lose him long-term. Expect the Blackhawks to pursue a forward at the NHL trade deadline.
5
Washington
Capitals
(14-7-3)
Last week:
1-1-1 record
Last rank:
4th
Even though the Washington Capitals had a very rough week, they were able to pull out an overtime win against the Buffalo Sabres. However, it's up to Barry Trotz and the players to figure out why they aren't scoring. On the bright side, their defense has been playing well enough to win despite scoring just 2.54 goals per game (16th in the NHL). But if the Capitals want to win the Stanley Cup, Washington has to start firing on all cylinders. Getting T.J. Oshie back should help stabilize their lineup somewhat.
4
New York
Rangers
(17-8-1)
Last week:
1-1-0 record
Last rank:
2nd
It might be time for New York Rangers fans to start getting concerned. Over the past few weeks, they've resembled the team from last season, allowing scoring chances against at an alarming rate. Luckily, Henrik Lundqvist has been there to bail them out. Without Mika Zibanejad, the offense has gone cold as of late. Their defense is still a significant issue, and it's one New York has to figure out to win the Stanley Cup.
3
Montreal
Canadiens
(17-6-2)
Last week:
1-1-0 record
Last rank:
1st
After a historic start to their season, the Canadiens are starting to come back down to earth. Montreal went 9-0-1 in their first 10 games. Since then, they have gone a much more mediocre 8-6-1. What's worse, the Canadiens will be without Alex Galchenyuk, their team leader in points (23) and goals (nine), for an extended period of time. Without him, Montreal lacks a number one center. Depending on how long Galchenyuk is out, the Canadiens could pursue a center in a trade. But no one available is going to be able to replace him.
2
Pittsburgh
Penguins
(16-7-3)
Last week:
3-1-0 record
Last rank:
5th
The Pittsburgh Penguins are starting to look a lot like the team that won the Stanley Cup last season. Sidney Crosby is out on a mission, leading the league in goals despite missing the first few games. Matt Murray is proving last year was not a fluke. Meanwhile, Marc-Andre Fleury couldn't be making the goaltending controversy any easier to solve with his struggles. After struggling earlier this season to suppress shot attempts, they've done an excellent job cleaning up in their own zone.
1
Columbus
Blue Jackets
(15-5-4)
Last week:
3-0-0 record
Last rank:
8th
There has been no bigger surprise in the NHL this season than the Columbus Blue Jackets. Not only are they staying hot, their possession numbers are quite encouraging. For a while, Columbus had terrible numbers. But with their recent impressive play, they have gotten much better. The Blue Jackets xGF percentage is now among the best in the NHL, which is very encouraging. Columbus also has the league's best power play. They have at least one point in nine of their last 10 games. Everything is going right for them right now.
This article originally appeared on