NHL Power Rankings Week 7: Blue Jackets rising, Islanders at rock bottom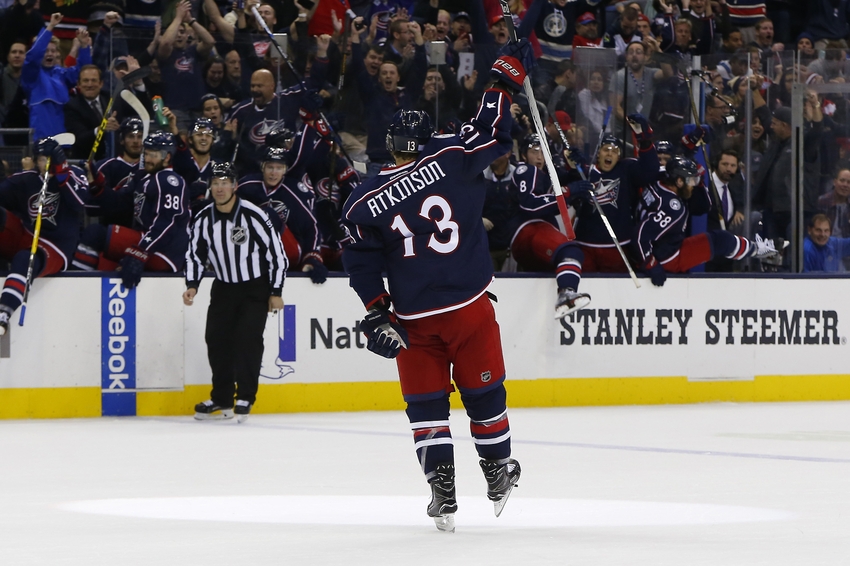 In this week's NHL Power Rankings, each team has something to be thankful for. Especially the Columbus Blue Jackets. 
A good barometer for whether or not your favorite NHL team is a contender is to look at how they're doing on the fourth Thursday of November. American Thanksgiving is a good point to stop viewing things as small sample sizes and start looking at the bigger picture.
Is that always the case? Of course not. Last season's Philadelphia Flyers and Anaheim Ducks proved you can overcome a very slow start and still make the playoffs. However, neither of those two teams advanced past the first round. And they are exceptions to the rule, not the norm.
With the addition of the point teams get if they go into overtime, overcoming a standings deficit is far harder than you think. It's still only November, but now's the time when contenders separate themselves from the pack.
That time has yet to occur for the Eastern Conference. Looking at point percentage, 11 of the top 16 teams in the NHL are from the east. The Western Conference has been weak so far this season, but history suggests this won't be the case for the rest of the season. To be fair, it has been dragged down significantly by the weakness of the Pacific Division.
These rankings will be compiled by a team's record, who they have beaten, and how they have looked in games. A tough loss to a very good team isn't the worst thing in the world if you play well. The team's record certainly counts, but so do a lot of other things. All stats, unless otherwise noted, are courtesy of Corsica. If you're curious about expected goals, which will be referenced throughout the rankings, here's a good reading.
In case you'd like to reference last week's power rankings, you can find them here. To honor Thanksgiving and to spread some positivity, these rankings will include something each team should be thankful for this season.
30
New York
Islanders
(5-8-4)
Last week:
0-0-1 record
Last rank:
26th
This has to be rock bottom for the Islanders. If it isn't, what could possibly be worse than this? General manager Garth Snow has given head coach Jack Capuano a vote of confidence, but he might not have much of a choice if things don't get better fast. Islanders fans should be very thankful for John Tavares, who is one of the NHL's few elite centers. Without him, they would be a much worse team than they currently are.
The Vancouver Canucks could be the worst team in the NHL, as they have the worst goal differential (-20) in the league. However, the Islanders have been so abysmal lately, even the slumping Canucks are better than them. Even a team that blew a three goal lead to the Chicago Blackhawks is better than the Islanders. Despite what appears to be yet another disappointing season, Canucks fans should be thankful for Brock Boeser. He's tearing it up in college this year with seven goals and 16 points. And, of course, you can never be thankful enough for the Sedin twins. Truly the most special duo in the history of hockey, there might never be another set of twins like them.
Yes, the Arizona Coyotes are terrible again. But cheer up Coyotes fans, you have a lot to be thankful for. Oliver Ekman-Larsson is still one of the NHL's best defensemen. Just like beautiful pottery can't be made beautiful without going through an intense fire, Max Domi and Anthony Duclair will be better for their struggles this season.
The Detroit Red Wings have lost four straight. Perhaps their two most embarrassing losses came during the weekend. Despite the Capitals losing three of their top forwards on Friday, Washington beat them 1-0. They lost to the Calgary Flames 3-2 on Sunday. There isn't too much to be thankful for in Detroit, but at least Gustav Nyquist seems to be rebounding from a tough season. Also, Jimmy Howard has been outstanding this season.
Thanks to injuries to Ryan O'Reilly and Jack Eichel, the Buffalo Sabres haven't had the season they were hoping for. Understandably, their offense has struggled to score. Considering Kyle Okposo and Sam Reinhart are their only two top six caliber forwards, that's predictable. Still, lots to be thankful for in Buffalo. Matt Moulson seems to be back to being a good scorer again. At worst, maybe they can move him for some prospects at the NHL trade deadline. Knock on wood, but Robin Lehner has been healthy so far.
Shockingly, the Calgary Flames have been playing quite well since Johnny Gaudreau's injury. Is it a cause? Clearly not, since he's one of the best players in the NHL. So no Ewing Theory discussions with Gaudreau, alright? What should Calgary fans be thankful for? How about Sam Bennett, who is showing that he could be a top center in the near future?
At some point, the Flyers have to address their goaltending. Perhaps a trade for Jaroslav Halak could make sense for them? Since Steve Mason and Michal Neuvirth are both free agents, Halak would at least give them an option for next season. Despite their goaltending, Flyers fans have a lot to be thankful for. Claude Giroux and Jakub Voracek have combined for 34 points this season. Ivan Provorov and Shayne Gostisbehere are the pillars for their blue line. Also, it's quite easy to overlook Travis Konecny in a historically deep rookie class, but he's pretty darn good.
The Colorado Avalanche are rebuilding, so this season isn't going so well for them record wise. However, they still have a lot to be thankful for. Nathan MacKinnon and Matt Duchene have proven they are franchise building blocks. You could do far worse than building around that duo. Patrick Wiercioch have been very solid for them with eight points. He could prove to be a nice defenseman for them in the future. At worst, he'll fetch them something at the NHL trade deadline. Calvin Pickard is making the decision of which goalie should be exposed in the expansion draft quite easy.
Don't let their third place spot in the Central Division fool you. It's more due to them playing more games than the Dallas Stars, Minnesota Wild, and Nashville Predators than anything else. They aren't even averaging a standing point per game. Connor Hellebuyck hasn't been outstanding, but he's doing well and young goalies need to endure these pains to be better. Jets fans should be extremely thankful for Mark Scheifele, Nikolaj Ehlers, and Patrik Laine. Three of the top players in the NHL. Also, be thankful that maybe Paul Maurice gets fired for a better coach!
The Nashville Predators are still an enigma. Are they Stanley Cup contenders or not? It's still a bit too early to write them off completely, as the NHL can be a bit nuts at times, but what's wrong with them? Filip Forsberg only has one goal, so there's a good starting point. Even with their struggles this season, the Predators still have a bit to be thankful for. Nashville has Roman Josi and Forsberg locked up long-term for a dirt cheap price. P.K. Subban is still the man.
Unlike the Predators, it's far easier to determine why the Dallas Stars haven't lived up to their Stanley Cup aspirations. They have had two primary issues. First, they can't stay healthy. Although they're getting healthy and that should help, it doesn't fix their second issue. Dallas put a lot of faith in their young defensemen by getting rid of Jason Demers and Alex Goligoski. So far, it's not working out at all. Stars fans should still be quite thankful for Tyler Seguin and John Klingberg. Both are signed to very cheap deals.
Despite a tough 2-1 loss to the Montreal Canadiens on Saturday, the Toronto Maple Leafs are a very good team. Are they a playoff team? They darn well might be, especially if Frederik Andersen continues to play well. He had a rough start to his Toronto tenure, but lately he's been much closer to what he was in Anaheim. Lots to be thankful for in Toronto, but let's start with Mitch Marner. Leafs fans should obviously be thankful for Matthews and Nylander as well, but the first round pick of the 2015 NHL Draft has quietly been extremely good this season.
Carolina is surging upwards. For a while, they were playing excellent hockey, but it wasn't showing in their results. Lately, the Hurricanes have finally begun to reap the benefits for their impressive play. Carolina has a xGF percentage of 53.20 percent, one of the best in the NHL. So maybe this surge is a sign of things to come. Hurricanes fans should be thankful for Jeff Skinner. He's very unappreciated outside of Carolina, but he's been impressive this season.
The Ottawa Senators have struggled to score goals so far this season. Until last week, their defense was doing a good enough job to overcome it. Two bad losses to the Panthers and Predators have them out of a playoff spot. Ottawa scores just 2.06 goals per game, second worst in the NHL. Moreover, their even strength expected goals for percentage (xGF percentage) of 49.08 percent isn't promising. Ottawa should be thankful for their phenomenal goaltending, which has stolen points for them all season long. And of course, Erik Karlsson is always worth giving thanks for.
Yes, the Panthers have a worse record than the Senators. However, keep in mind they've been without Nick Bjugstad and Jonathan Huberdeau all season. It's kind of amazing they've been hanging in there despite so many struggles. Their 48.67 percent xGF percentage isn't good, but once they get healthy, there's no reason it shouldn't improve. Aaron Ekblad has been disappointing and is perhaps missing Brian Campbell. They had a very impressive 3-2 win over the New York Rangers on Sunday. Florida fans should be extremely thankful for Jonathan Marchessault, who has been arguably the biggest bargain of the offseason.
Just as the New Jersey Devils were hitting cruise control, they hit a significant speed bump when they lost Taylor Hall for the next few weeks. Even without him, they barely got a win over the Dallas Stars. However, their lack of offense has shown in recent losses to the Anaheim Ducks and Los Angeles Kings. Losing someone of Hall's caliber is heartbreaking, but it's been especially tough on the Devils. Still, Cory Schneider is a phenomenal goaltender. Maybe phenomenal enough to help them tread water without him. Devils fans should be thankful for a lot of things, but especially Hall and Schneider.
The San Jose Sharks have struggled so far this season. Pretty much nobody on their team is scoring outside of Brent Burns, Joe Pavelski, and Joe Thornton. And even then, Thornton isn't producing points at his usual level. Luckily, San Jose has been phenomenal defensively. So they certainly have a bit of a leash to get their offense going. Their xGF percentage (54.29 percent) and expected goals per 60 minutes (xGF60) of 2.74 suggests things will get better. But these are the Sharks, so no one would be surprised if they're terribly unlucky for the whole season. San Jose fans, as always, should be thankful for the glorious beards of Thornton and Burns. Best two beards in the NHL.
Minnesota has to find a way to get more goals. Devan Dubnyk has been outstanding in goal for the Wild, but they simply aren't scoring. Eric Staal and Ryan Suter are the team's two leaders in points with 13 points a piece. However, only Charlie Coyle has double digit points other than those two. That has to change. Getting Zach Parise back (six points in 10 games) should help. But the Wild will likely have to go into the trade market if they want to improve their offense. Luckily, their defense has been one of the best in the NHL. Also, the Central Division hasn't exactly been a powerhouse this year. Wild fans should be thankful for new head coach Bruce Boudreau.
The Edmonton Oilers are starting to look a bit like the old Oilers. And not in a good way. They have struggled mightily in the month of November with a 4-6-1 record. Moreover, four of those three wins have come against the Islanders and Red Wings. And they needed a shootout to beat the lowly Islanders. The Pacific Division is terrible, so perhaps the Oilers can stay a playoff team, but they've been playing quite poorly as of late. Edmonton fans should be thankful for Connor McDavid not just this week, but every week.
For all the talk of how hard it is to make up standing points in the NHL, just look at the Los Angeles Kings. While most of their rise is due to how terrible the Pacific Division has been, perhaps they aren't quite dead yet. Peter Budaj has been hot as of late, helping the Kings overcome the loss of Jonathan Quick. Jeff Carter and Tyler Toffoli have been leading the charge on offense. They don't score a lot, but then again, they never give up many goals. Yup, the Kings are still the Kings. Los Angeles should be thankful for Budaj, who has been a great bandage for their goalie issues.
As bad as the bottom part of the Pacific Division has been, the top has been extremely exciting. Each of its top three teams have 21 points. The Ducks get the nod for the top team because of their overall record and how they've been playing. Edmonton has been slumping while Anaheim has been playing quite well. Moreover, the Ducks have been much better defensively. Sure, Randy Carlyle still has to work some bugs out of their offense. But their defense has been stepping up huge, which has taken a lot of pressure off the offense. Ducks fans are eternally thankful for Ryan Getzlaf and Corey Perry, so there's no need to tell them to be thankful for them.
The Boston Bruins are clearly a better team than they were last season. Most of this is due to Tuukka Rask being arguably the second best goalie in the NHL behind Carey Price. And there's no shame in being second to him. After struggling to score early on, they're starting to normalize, rising to 2.44 goals per game. That's still the ninth lowest mark in the NHL, but it's an improvement. Brad Marchand and David Pastrnak have been doing most of the heavy lifting on offense. Eventually, someone else has to start providing some secondary scoring. Boston fans should be thankful for the little ball of hate Marchand and Rask.
After a very rough week two weeks ago, the Blues have rebounded with a very strong week, winning three straight. Granted, they did only beat the Sabres, Predators, and Sharks. But it's definitely something and they looked impressive in each of those wins. Vladimir Tarasenko keeps doing ridiculous things and has 19 points so far. Kevin Shattenkirk is raising the value of his next contract with 14 points. The Blues have very good forward depth and it's certainly showing. About the only thing you could complain about is their goaltending. Blues fans should be thankful for Tarasenko and Shattenkirk, as well as the underrated contributions from David Perron and Paul Stastny.
After three straight wins over the Washington Capitals (twice) and the New York Rangers last week, it's time to start taking the Columbus Blue Jackets seriously. They have one of the best power plays in the NHL, which has helped them overcome relatively unimpressive even strength play (47.43 xGF percentage). Sergei Bobrovsky and Curtis McElhinney have been phenomenal in goal, helping them overcome some flaws as well. Their PDO (shooting percentage plus save percentage) is high, for sure. It probably will come down a bit. But maybe Columbus is this season's 2013-14 Colorado Avalanche, who make the playoffs despite terrible possession numbers. Blue Jackets fans have a lot to be thankful for, but they should be most thankful for star rookie defenseman Zach Werenski.
The Pittsburgh Penguins are coming off a very tough week that saw them get blown out by the Capitals, barely beat the worst team in the NHL in overtime, and lose to the Sabres in a shootout. Still, they are a very good team. However, they must take care of their defense. Sure, their offense is good enough to win most games. Any time you have Sidney Crosby and Evgeni Malkin as your top two centers, your offense is going to be fine. But they've been bleeding shot attempts against so far this season. And they don't have much cap space to make a trade. Penguins fans should be thankful their franchise has two of the best centers ever – Mario Lemieux and Sidney Crosby. Those two centers have accounted for their four Stanley Cup championships.
The Washington Capitals week was saved by a huge 7-1 blowout of their archrival Pittsburgh Penguins. Pretty much nothing else went the Caps' way last week. They had a potential game winning goal overturned in Columbus only to see the Blue Jackets win in overtime on Tuesday. Moreover, on Friday, even though the Capitals won 1-0, they lost T.J. Oshie, who is now week to week with an upper body injury. Finally, Sunday saw Washington fall once again to the Blue Jackets, this time in regulation.
Say anything you want about Alex Ovechkin, but man is he consistent. As usual, he's off to a "slow start". However, please keep in mind his slow start is something a lot of players would love to have.
Every year it seems people get worried about Ovechkin around this time of year. Around February, they're questioning why they ever doubted him. So let's remove the doubting from the equation because Ovi deserves the benefit of a doubt.
What's encouraging for the Capitals? Well, Nicklas Backstrom is scoring like a mad man. That's always a good sign. Perhaps being away from Ovechkin forces him to take charge? Backstrom's an integral part of this team, so it's always good to see him scoring.
The Caps should be thankful for Backstrom, Ovechkin, and Braden Holtby.
The Tampa Bay Lightning, just like last season, have been thriving without captain Steven Stamkos. That's a testament to just how deep this team is rather than an indictment on Stamkos. Tampa Bay's +15 goal differential is one of the best in the NHL.
Last week, they feasted on the Islanders, Red Wings, Sabres, and Flyers. Their xGF percentage of 49.52 isn't ideal, but it's certainly not terrible. The Lightning have the elite goaltending and skill necessary to potentially overcome it long-term.
Tampa Bay has Nikita Kurcherov, who has been a huge reason they have won without Stamkos. This was true in the playoffs last season, and with him leading the team in points, it's true this year as well. Andrei Vasilevskiy has been great in goal and serves as insurance in case Ben Bishop gets injured.
Even other than Kucherov and Stamkos, they have pretty great scoring depth. Victor Hedman is one of the top scoring blue liners in the NHL. Tyler Johnson and Alex Killorn have been steady with 11 points. Tampa Bay has 11 players with at least six points. If they can get a healthy Stamkos back in March or April, watch out.
Tampa Bay should be thankful for Jon Cooper, an excellent head coach, and Kucherov.
Once again, it appears everyone (myself included) underestimated the Chicago Blackhawks a bit. After a slow start, they have rebounded and are 8-1-1 in the month of November. Not only that, the Blackhawks power play is finally above average (14th in the NHL) and their penalty kill is steadily getting better (up to 69.5 percent but still worst in the league). Chicago is scoring 3.16 goals a game (fifth) and allowing 2.47 (12th). Marian Hossa is aging like a fine wine. So everything's great, right?
Well, not so much. Sure, the Blackhawks have been winning lately. At the end of the day, this is what matters the most. But there's a saying – winning ugly is a good sign a losing streak might start soon. Their score-adjusted possession numbers in November are a bit concerning. Chicago's even strength CF percentage is at 48.16 percent entering Monday's game against the Edmonton Oilers. Their SCF percentage isn't much better at 48.52 percent.
Corey Crawford has been outstanding so far this season. That has been huge for the Blackhawks. If it wasn't for Carey Price, Crawford would likely be the unanimous Vezina Trophy pick. This Thanksgiving, Blackhawks fans should be thankful for a team that is always competitive and for their core group of guys. The salary cap has claimed many victims, but Chicago isn't going down without a fight.
Despite a rough week which featured a shootout loss to the Florida Panthers on Sunday, the Rangers are in pretty good shape. Even factoring in Mika Zibanejad's unfortunate injury, New York has very good forward depth, so they should be able to overcome it. It appears Kevin Hayes will get first dibs to replace Zibanejad on the second forward line. Brandon Pirri is another option. This is what happens when you have forward depth – when someone goes down, you have multiple guys ready to replace them.
The Rangers are a fascinating team. They have been subpar as far as score-adjusted CorsiFor percentage (CF percentage) at even strength. In November, they have a 46.32 percent score-adjusted CF percentage). However, their even strength score-adjusted scoring chance for percentage (SCF percentage) is at an impressive 53.46 percent in November. This might not be sustainable over a full season, but the Rangers are a very fun team to watch right now. More importantly, they're very good.
Yes, they have flaws. But they also have arguably the second best goalie in the NHL in Henrik Lundqvist. If the Rangers offense keeps giving him leads, he'll keep most of them. Lundqvist, much like Carey Price, is an ultimate equalizer. All of this said, losing someone of Zibanejad's caliber would hurt just about any team. Hayes and Pirri are both very good, but they aren't of his caliber.
Rangers fans should be thankful for a very wise front office and for King Henrik. Also, for the reemergence of Rick Nash.
Give some credit to the Montreal Canadiens. They're playing a lot better in front of Carey Price as of late. This reflects in their possession numbers, as the Habs have a 50.94 percent score-adjusted CF percentage in November, as well as a 51.1 percent score-adjusted SCF percentage. it's not fantastic, but with the best goalie in the NHL (and some might argue best player), it doesn't need to be.
What's impressive about the Canadiens is they've built an impressive group of forwards. You know things are going well when Max Pacioretty's shot rate is down and nobody's panicking. Alexander Radulov (three goals and 16 points) was a significant gamble by Montreal. Thus far, giving the forward a one-year "prove it" deal has been a huge success.
Alex Galchenyuk (19 points) has turned into one of the most exciting players in the NHL. Shea Weber has been quite productive and is a perfect fit in their system. For now, the Weber trade looks good. Paul Byron has been a huge surprise, contributing seven goals and 12 points.
Whatever faults this team has, Price can cover up a lot of them. So can their surprisingly deep forward group. I shouldn't need to tell Canadiens fans to be thankful for Price. He might not be the most valuable player in the NHL, but that's telling of how good the Habs have become.
This article originally appeared on