NHL Power Rankings Week 6: Devils rising, Coyotes falling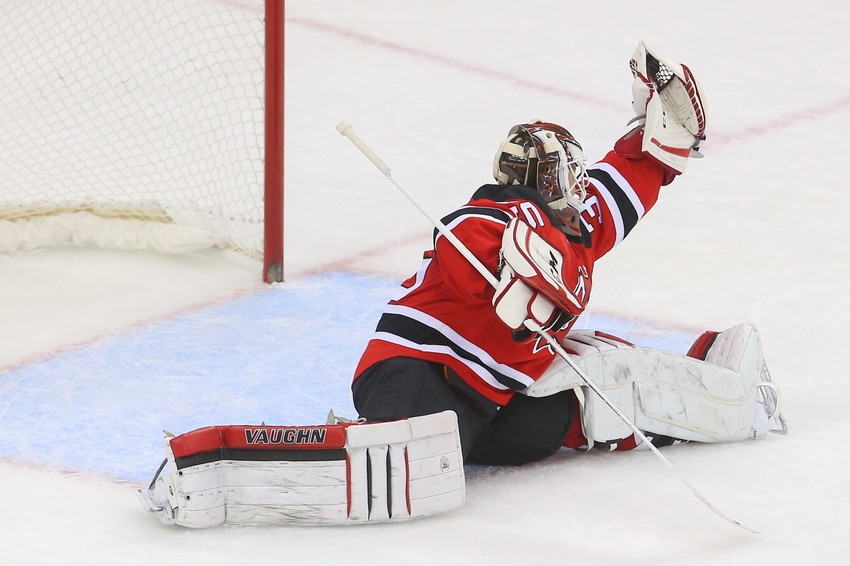 Are the New Jersey Devils for real? Just how terrible are the Arizona Coyotes? That and more in this week's NHL Power Rankings. 
As the 2016-17 NHL season gets underway in November, fans can finally see how good or how bad certain teams are. By this point, just about every team is who they will be for the rest of the year. Teams are either contenders or pretenders. While an anomaly like the 2015-16 Anaheim Ducks sometimes sneak through, generally if you're not in playoff contention by mid-November, you won't be in the playoffs.
The Pacific Division has been especially terrible. People thought the Arizona Coyotes and Calgary Flames would improve from last season. This hasn't been the case, as they have been competing with the Vancouver Canucks for the worst record in the league. Because of this, the rest of the Pacific Division probably looks better than they actually are.
On the other hand, the Metropolitan Division has been extremely good. It boasts arguably three of the top five teams in the NHL. The New York Rangers have been far better than expected despite everyone believing they were a playoff team before the season. Combined with the unsurprising greatness of the Washington Capitals and Pittsburgh Penguins, and whoever emerges on top of the division will be battle tested for the Stanley Cup playoffs. The entire Eastern Conference has been impressive. Of the 12 top teams in point percentage, nine of them are from the East.
These rankings will be compiled by a team's record, who they have beaten, and how they have looked in games. A tough loss to a very good team isn't the worst thing in the world if you play well. All stats, unless otherwise noted, are courtesy of Corsica. If you're curious about expected goals, which will be referenced throughout the rankings, here's a good reading.
In case you'd like to reference last week's power rankings, you can find them here.
30
Calgary
Flames
(5-10-1)
Last week:
0-2-0 record
Last rank:
27th
Everybody's trendy dark horse playoff pick has let them down. The Calgary Flames have many issues, but the largest of them revolves around their depth. Sure, Johnny Gaudreau, Sean Monahan, Mark Giordano, and T.J. Brodie are among the best players at their respective positions. However, their talent quickly drops off from there. Sam Bennett has been a bright spot for them, but until they get more talent, they won't be reaching the playoffs.
The Arizona Coyotes admittedly got a little bit lucky last season. After improving their team this offseason, many thought they could be the next Western Conference team on the rise. So far, their new front office has failed, though they certainly deserve far longer than a few months to be adequately judged. Arizona needs goaltending and defense. Their offense hasn't been great, but at least they have promising young forwards.
While the Vancouver Canucks were bound to win some games eventually, it doesn't change much. They're still averaging just two goals per game, third lowest in the NHL. Also, they have been allowing goals at an alarming rate. Vancouver's 2.94 goals allowed per game are the ninth most in the league entering Tuesday. General manager Jim Benning deserves to be held accountable for believing the Canucks were playoff contenders when they clearly weren't. However, it's likely head coach Willie Desjardins will be the scapegoat.
The Carolina Hurricanes remain one of the NHL's leaders in even strength expected goals for per sixty minutes (xGF percentage). However, their issue has been their goaltending. That's one way to be this bad despite having strong underlying numbers. It remains to be seen how long it will take until the Hurricanes try something different. Eddie Lack and Cam Ward simply aren't working out for them. Teuvo Teravainen and Sebastian Aho are giving Carolina a lot to be happy about.
How much longer will the New York Islanders stick with head coach Jack Capuano? His job was in question even before the season began. With a slow start, his seat might finally be getting hot. Not only would firing Capuano likely be good for the Islanders short-term, it might help them long-term. John Tavares will be a free agent in the not so distant future. With lots of NHL teams salivating at the chance to add him, he has little motivation to sign a long-term deal. New York must improve to give him incentive to do so, and that includes firing Capuano.
Rome wasn't build in a day. Likewise, the Avalanche aren't going to see immediate improvement following the damage Patrick Roy did. Jared Bednar will hopefully get the long leash he deserves as a young coach. That said, not much is going right for Colorado right now. They have the league's worst offense and are allowing the 10th most goals in the NHL. Once the Avalanche fix their defense, things should get better. Their defensemen can't move the puck and it's showing.
The Buffalo Sabres have been treading water without Jack Eichel, but it's slowly starting to add up. They have the second worst offense in the NHL, averaging just 1.93 goals per game. On the bright side, they allow the fifth fewest goals per game. So perhaps when Eichel returns, they'll be ready to compete. Kyle Okposo and Ryan O'Reilly have been carrying the load without him, but they're starting to get a bit tired. Rasmus Ristolainen has eight points, but the Sabres aren't getting much else out of their defense.
Peter Budaj has done a lot to help stop the bleeding, but the Los Angeles Kings still miss Jonathan Quick. While their defense has been fine and has allowed them to continue to stay competitive, their offense has been concerning. The Kings are scoring just 2.38 goals per game, seventh worst in the NHL. Luckily for Los Angeles, three of the other members of the Pacific Division are terrible. That might be enough to let them sneak into the playoffs. But long-term, the Kings should be quite concerned.
The Toronto Maple Leafs are nearly at a .500 record, but they have a terrible goal differential. Their goal differential is -11, though some of this is due to a few blowouts. However, bright days are ahead for Toronto. This season was always more about development and getting Frederik Andersen adjusted to a new system than winning. So far, those two objectives have been accomplished.
It's difficult to make up ground when you only play two games in a week. Still, the Florida Panthers, despite their suboptimal start, are still in pretty good position. They've treaded water without two of their top players. Once Jonathan Huberdeau and Nick Bjugstad return and stabilize the lineup, Florida should start rolling. Their xGF percentage at even strength is still one of the best in the NHL, so expect them to improve moving forward.
The Philadelphia Flyers need to get their goaltending situation solved as soon as possible. While their offense has been one of the best in the NHL, neither Steve Mason nor Michal Neuvirth have been able to repeat their success from last season. A trade might be a solution, since both are free agents after this season. Trading for someone with term would give them an option for next season rather than having to scramble for options later on. The Flyers might waste one of Claude Giroux's finest seasons unless their goaltending steps up.
It's time for Detroit Red Wings to come to terms with an inconvenient truth. There's a darn good chance this is the year the playoff streak ends. To break it, they'll either have to stop being a terrible possession team or continue to rely on stellar goaltending that likely won't continue. It has been said it's worse to be a slightly below average team than a terrible team because at least the terrible team has the promise of a high draft pick. Detroit's stuck between mediocrity and contending and the future doesn't look too bright.
Finally, the Nashville Predators have more wins than regulation losses. This is largely due to a three game winning streak, during which they have beaten the Ottawa Senators, St. Louis Blues, and Anaheim Ducks. Nashville's offense is finally scoring like people expected them to. Likewise, their defense has been excellent as of late. They're slowly climbing out of the hole they dug themselves into. Considering everything that has gone wrong for them so far, being just outside of a playoff spot isn't so bad.
The Columbus Blue Jackets are the only Eastern Conference team that has played 13 games. Every other team has played in at least 14. Columbus owns one of the best point percentages in the NHL. However, their numbers are a bit concerning. The Blue Jackets aren't a very good team at even strength, as their 46.29 percent xGF percentage reflects. Most of their dominance has come on the power play. Granted, this isn't the worst way to have success in the NHL. The Capitals' success, if you want to call it that, under Adam Oates followed a similar blueprint. Sergei Bobrovsky will have to continue to be stellar for Columbus to have a shot at the playoffs.
The Dallas Stars didn't have a pretty week, but it was an efficient one. They are decimated by injuries to their forwards and inexperience on their blue line, but they find themselves in a relatively good position. Dallas has the cap space necessary to make a deadline acquisition or two to upgrade their defense. Their forwards should be healthy pretty soon. The Stars are finally getting production from more guys than Tyler Seguin and Jamie Benn. Dallas hasn't been one of the best NHL teams as anticipated, but they're hanging in there.
The St. Louis Blues are feeling kind of blue as of late. They have lost each of their last three games, including two of them in regulation. That isn't all. The Blues have only won one game in the month of November with a 1-4-2 record. Their only November win has come against the struggling Colorado Avalanche. However, their 52.12 percent even strength xGF percentage is somewhat encouraging. So are their special team numbers, as their power play and penalty kill are both top 10 in the NHL. Jake Allen and Carter Hutton haven't impressed in goal. It's up to them to do a better job because they are not doing the Blues any favors.
Getting Jacob Trouba back has done wonders for the Winnipeg Jets. Their goaltending is still an issue, but their offense might be just good enough to overcome it. Trouba returning certainly helps improve their defense, which could help offset their mediocre goaltending. Patrik Laine was advertised as the next Alex Ovechkin. This gave him lofty expectations, but he has lived up to them so far. Mark Scheifele is out to prove he's underpaid. And he's succeeding so far as one of the NHL's breakout stars this season. If Connor Hellebuyck can start playing like he did last season, the Jets might be a playoff team.
The Anaheim Ducks have benefitted a bit from the mediocrity of the Pacific Division. Therefore, their numbers aren't overly impressive. Anaheim ranks 12th in the NHL in goals scored and 15th in goals allowed. Not only that, their even strength xGF percentage is just below 50 percent. John Gibson hasn't been doing well, but his backup Jonathan Bernier has been very good in five games. Cam Fowler has been huge for them with 10 points entering the week. In order to have sustained success, they must get more production from their blue line. With Hampus Lindholm healthy, that might not be such a far fetched concept.
While the Tampa Bay Lightning have been getting solid results as of late, fans have some reasons to be concerned. Most of them revolve around their play at even strength. Their even strength xGF percentage has fallen below 50 percent, which is not encouraging. Tampa Bay is just 4-5-1 over their last 10 games. Ben Bishop hasn't been himself with just a .902 save percentage in 10 games. One of the Vezina Trophy finalists last year, Bishop has been outdone by his backup Andrei Vasilevskiy thus far.
The Minnesota Wild didn't have a pretty week, but they got the job done. Minnesota beat one of the best teams in the NHL, the Pittsburgh Penguins, and the Ottawa Senators as well. A 3-2 loss to the Philadelphia Flyers were their only blemish. Still, with virtually every other team above them doing well, their week doesn't get them very far in this week's power rankings. But don't think it goes unnoticed. The Wild should move up if they keep playing like they did last week. Eric Staal leads them with 13 points and is having a resurgence under Bruce Boudreau, just like most of the Wild players.
As expected, the San Jose Sharks results have gotten better after a slow start. Their even strength xGF percentage is still very impressive. San Jose is quickly catching up to the Edmonton Oilers in the Pacific Division, especially with the Oilers struggling. The secret to their success? Their offense has finally woken up. San Jose averages 2.33 goals per game, the 10th fewest in the NHL. But it's definitely an improvement from what it was earlier this season. Martin Jones has been playing much better for them as well.
The Edmonton Oilers are spiraling downward after a strong start. They have won just two games in November, with wins over the New York Islanders and Detroit Red Wings. Along the way, they have lost to the Toronto Maple Leafs, New York Rangers (twice), Pittsburgh Penguins, and Dallas Stars. Edmonton has allowed at least three goals in six of their seven November games. The Oilers' defense has been failing them as of late. Cam Talbot has returned to earth after an extremely impressive start. Now it's up to Edmonton to adjust and see if they can salvage their season.
Hear me out everyone. This might sound insane, but isn't it possible that both the Oilers and the New Jersey Devils "won" the Taylor Hall trade? Sure, the Devils lost a darn good defenseman in Adam Larsson. But remember, they got an elite wing in Hall. Right now, the trade is paying dividends for the Devils. They have won four straight games and, believe it or not, are tied with the Washington Capitals in the standings. However, is their play sustainable? Unless Cory Schneider can continue to play like a Vezina Trophy nominee (certainly possible but not probable), the answer is no. But the Devils are clearly a better team than they were last year.
The Ottawa Senators are playing some very encouraging hockey under Guy Boucher. Boucher is a brilliant coach who has done a great job utilizing his roster so far. Of course, a healthy Kyle Turris helps. Last season's Senators dearly missed him. Also, having a perennial Norris Trophy candidate in Erik Karlsson makes a coach's job so much easier. But Ottawa deserves a ton of credit. Craig Anderson has been inspiring, playing for his wife who has cancer. The team is rallying behind him, even going as far to allow him to care for his ailing wife as much as possible. Ottawa's underlying numbers all suggest this season might have a storybook ending.
The Boston Bruins offense has awoken from its slumber. After relying so heavily on Brad Marchand, and David Pastrnak for scoring, the rest of the team has finally followed suit. David Krejci has 10 points. While Patrice Bergeron only has four points, that's not going to continue and his value to the Bruins cannot be measured in points. David Backes has seven points in 11 games. While Ryan Spooner has been attached to trade rumors, he's doing his part to either build up his value or make sure he stays with seven points in 15 games. Tuukka Rask is playing like the Vezina caliber goaltender the Bruins signed several years ago.
A little bit of complacency is to be expected from the Washington Capitals. After all, the regular season doesn't mean too much to a team that has dominated it. Perhaps they are starting to listen to that message a bit too much. Head coach Barry Trotz is making sure they don't get too comfortable. Some line changes were made in the practice following their 5-1 loss to the Carolina Hurricanes.
To be fair, this loss was on the second end of a doubleheader. But Washington's offense needs to wake up. Maybe giving the guys who are hustling more playing time is a way to do this. It doesn't get easier for them, as they have to play the surging Blue Jackets and Penguins on consecutive evenings this week.
John Carlson hasn't been doing much for the Capitals this season. Luckily, other players have stepped up. But the Caps have to get him going because he's an important cog to their offense. Once Washington's power play starts getting the goals they ought to be getting, his point total should start resembling what people expected from him.
The Capitals weren't going to be as successful during the regular season this year as as last year.  But Trotz is still going to make sure this team is motivated. And the regular season does count for something – an easier path to the franchise's first Stanley Cup.
The Pittsburgh Penguins are finally starting to resemble the team that won the Stanley Cup last season. While they're still bleeding shot attempts against, which is a bit concerning, they have the offense necessary to overcome just about anything. Sidney Crosby took all this "Connor McDavid is the best player in the world" talk personally, and has proven that he's still the king of the NHL. Evgeni Malkin leads the team with 15 points in 15 games, which should be a surprise to no one. He's probably the best number two center in the NHL.
Patric Hornqvist is finally getting some well-deserved attention. It's easy to overlook him because he doesn't play a flashy game like many of his teammates. Hornqvist plays a more physical game that isn't always pretty. But with 13 points in 15 games, people are starting to realize that he's perhaps more than just a complementary player.
Last season, Malkin and Phil Kessel didn't have the best chemistry. This led to the HBK line being formed. So far this season, Kessel has impressive chemistry with Malkin. It took them a while to adjust to each other, but they complement each other quite well.
The Penguins are far from a perfect team. They realize this. But as they proved last season, they can adjust very efficiently.
The Montreal Canadiens success so far this season has been incredible. They certainly haven't always looked like a historically good team, but they've won 13 of their first 16 games. That can't be ignored. But the Canadiens still have some issues they need to look at if they want to bring home the Stanley Cup for the first time since 1993.
Carey Price masks a lot of their flaws. This makes it difficult to examine exactly what's wrong with their blue line. Still, as terrific as Price is, they can't rely on him to be the best goaltender in the NHL on a nightly basis. Every goaltender goes through hot streaks and cold streaks. Right now, Price is having a hot streak. What happens if he hits a cold streak during the playoffs? Granted, a cold Price is still one heck of a goalie, but that's not good enough to win a Stanley Cup with this team.
Montreal needs to add a puck mover to their blue line. Shea Weber is one of the best defensemen in the NHL, but one thing he doesn't excel at is mobility. The Canadiens need to find a partner for him. Perhaps if the Flyers continue to underperform, they'd be more willing to trade Michael Del Zotto? Del Zotto has his flaws, but his strengths help cover for Weber's. Likewise, Weber's strengths cover the Flyers defenseman's weaknesses. Montreal's a darn good team, but they need to be better to ensure a deep playoff run. As last season proved, the Canadiens are an injury away from disaster. They need to make sure they're prepared.
Want to know why the Chicago Blackhawks are consistently a very good team? Look no further than behind the bench. Head coach Joel Quenneville is one of the brightest minds in the NHL. No coach in the NHL adjusts and tinkers better than Coach Q. The Blackhawks have yet to lose in regulation in the month of November with a 6-0-1 record and haven't lost in regulation in their last 11 games (9-0-2 record).
Corey Crawford has been phenomenal this season for the Blackhawks. He's playing the best hockey he's played in his career. While Carey Price is the Vezina Trophy favorite, don't sleep on Crawford because he's not too far behind him. Will he continue to play this well? Probably not, but even a bad Crawford is still a very good goalie.
The biggest adjustment the Blackhawks have made has been on their penalty kill. It's still the worst in the NHL at 66.7 percent, but that's much better than it was as recently as three weeks ago. Chicago's also not taking a lot of penalties, which is always a great idea. The Blackhawks have been more aggressive on their penalty kills, not letting teams set up like they did earlier in the season.
It'll be hard for them to find the cap space needed for upgrades, but Chicago's front office always finds a way.
Credit the New York Rangers for putting together an offense that has helped them to overcome a less than ideal defense. Many people believed the Rangers should have pursued defensive upgrades, but they simply weren't available this offseason. Rather than panic and overpay for someone, the Rangers went to Plan B by addressing their forward depth. Now they have four lines of skill, something no other NHL team can boast.
They've gotten terrific goaltending as of late. Henrik Lundqvist had one of his trademark slow starts, but has been much better in the month of November. Antti Raanta has been fabulous as his backup. Give the Rangers credit for not pushing the panic button when King Henrik struggled early. If he keeps playing this well and his offense keeps scoring, New York's going to be a very hard team to beat in the playoffs.
The scary part? They have the cap space necessary to make some big upgrades. Granted, it remains to be seen exactly who will be available on the trade market. But if the Rangers can find a way to swing a trade for Kevin Shattenkirk, they should do it. However, they've emptied their prospect pool in recent years. Between prospects graduating to the NHL and trades, the Rangers don't have much to offer. With a surplus of NHL caliber forwards, perhaps they deal from that surplus to address their blue line.
This article originally appeared on