NHL Power Rankings Week 5: Rangers rise, Canucks are terrible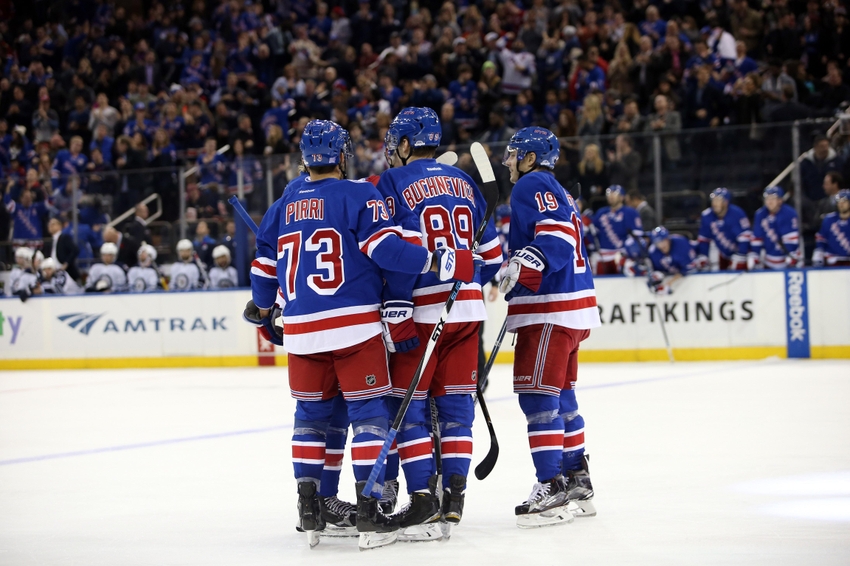 Have the New York Rangers done enough to grab the top spot in Week 5's NHL power rankings? 
As Week 5 of the 2016-17 NHL season begins, fans and teams alike are starting to realize who the contenders and pretenders are. It might seem like it's early in the season, but many teams who get off to slow starts don't recover from them.
One of the hottest teams entering this week are the New York Rangers. They have surprised many people with their high scoring offense. New York leads the league in goals scored while also playing tight defense. But are they a better team than the Montreal Canadiens?
The Washington Capitals are also hot, having won five straight just like the Rangers. Despite not getting anything from their power play, they're dominating teams. Just how good are they and will their rise continue?
On the other hand, the Vancouver Canucks have quickly become the worst team in the league. After getting off to a 4-0-0 start, they have now lost seven straight regulation games. Have they hit rock bottom, or will they continue to fall?
The Nashville Predators have been quite disappointing so far this season. Many had them as Stanley Cup favorites, but they are stuck near the bottom of the NHL standings. Will they be able to claw their way out of a deep hole, much like the Anaheim Ducks did last season?
These rankings will be compiled by a team's record, who they have beaten, and how they have looked in games. A tough loss to a very good team isn't the worst thing in the world if you play well. All stats, unless otherwise noted, are courtesy of Corsica.
If you missed last week's power rankings or would like to compare them to this week's, you can find them here.
30
Vancouver
Canucks
(4-8-1)
Last week:
0-4-0 record
Last rank:
16th
The rise and fall of the Vancouver Canucks happened even quicker than that of the Roman Empire. Their 4-0-0 start to the season seems so long ago. Since winning their first four games, they have lost nine straight. What's worse is they have scored an NHL low 20 goals in their first 12 games. Loui Eriksson has been a disaster with just four points entering Week 5. Jannik Hansen is out for a while, so things probably aren't getting much better. Many believe the Canucks have hit rock bottom, but it's very possible they haven't. Willie Desjardins shouldn't get the blame for this because he has a terrible roster, but he might be general manager Jim Benning's scape goat.
While the Coyotes are still a poor team, at least they can rest knowing the Canucks are even worse. They're coming off a strong week which saw them win games against the San Jose Sharks and Nashville Predators. Defense continues to be a huge issue for them, as their 42 goals allowed are the third most in the NHL. However, their offense has been at least somewhat encouraging with 31 goals in 11 games. Arizona has an exciting team, but they still have a ways to go before they contend.
For a while, the Nashville Predators have been given a bit of a leash considering the talent on their team. However, that leash is over. Nashville has some work to do if they want to make the playoffs. Luckily, they can borrow the blueprint of the Anaheim Ducks from last season. The Predators can be a little encouraged because they've been playing better than their record suggests. While their expected goals for percentage (xGF percentage) at even strength is 50.52, their actual goals for percentage (GF percentage) at even strength is 44.12. Their offense has been the primary offender, snakebitten with a low shooting percentage. Things have to get better in Nashville, but they at least have something to be optimistic about.
The Calgary Flames have been very inconsistent this season. In last week's power rankings, they were holding down the last spot in the Western Conference. Last week, they lost three of their four games while being outscored 16-5. After many believed they could be on the verge of the playoffs this season, the same issues plaguing them last season continue to do so. While they no longer have the worst goaltending in the NHL, it's still in the bottom 10. Calgary isn't scoring and they are allowing a ton of goals. That's a recipe for disaster.
The Carolina Hurricanes have a very impressive even strength xGF percentage of 53.60, fourth best in the NHL. So why are they so bad? Does this means expected goals isn't predictive? Nope, it doesn't. Here's why. The Hurricanes are playing impressive hockey, led by a young forward core and a very underrated blue line. However, their biggest issue is one so huge, it overcomes most of the great things the team does. That issue is their goaltending. Carolina continues to get terrible goaltending, as Cam Ward and Eddie Lack have stopped just 90.05 percent of the even strength shots against them. It's baffling why the Hurricanes aren't exploring every available goaltending option because it's what's keeping them from being a contender.
To be fair, the Winnipeg Jets had to face the Washington Capitals twice and the New York Rangers last week. Still, their issues are starting to cost them a lot of games. Most of their issues lie on their blue line and in net. Their mishandling of Jacob Trouba is nothing short of inexcusable and it will most likely cost them an excellent young defenseman. Connor Hellebuyck and Michael Hutchinson haven't been getting the job done as the goalies, though Hellebuyck has at least shown some potential. On the bright side, Patrik Laine has been exciting and should be a huge part of their team for the foreseeable future.
The New York Islanders are spiraling out of control. Even though they were projected to be a fringe playoff team this season, they have managed to disappoint. While it's fair or not, a lot of this falls on head coach Jack Capuano. When an NHL team struggles, the easiest person to blame is usually the head coach. Capuano can't be blamed for everything, but critics have every right to point to how he has handled his lineup. He hasn't found a way to optimize it and it's not like this is a new problem. Most of the blame probably falls on Garth Snow for not adequately replacing Kyle Okposo. But Capuano isn't innocent either.
It's going to take the Colorado Avalanche a little bit to undo the damage Patrick Roy did to the team. While head coach Jared Bednar is likely the guy to lead them for the foreseeable future, he has his work cut out for him. His forwards aren't scoring (averaging two goals per game, 29th in the NHL)  and his defense isn't stopping anything. To be fair to Bednar, Roy left the blue line mighty bare. Tyson Barrie and Erik Johnson are his only viable defensemen.
Following a huge winning streak, the Detroit Red Wings have lost five straight games, including four of them in regulation. Don't expect this roller coaster to change any time soon. The Red Wings are a fringe NHL playoff team at best, even in a relatively weak Atlantic Division. Their xGF percentage reflects this, as they have dipped below 50 percent for the season at even strength. Even though they recently got Nicklas Kronwall back, their defense is still a huge concern. What's worse, the Red Wings are back to having a goaltending controversy with Petr Mrazek struggling. Things aren't going well for anyone in Detroit right now.
The Florida Panthers, after making up for the losses of Jonathan Huberdeau and Nick Bjugstad in October, have started to miss them in November. However, they should be encouraged that they are playing rather well even without them. Their 53.71 xGF percentage at even strength is one of the best in the NHL. Things should get better for them and they aren't in too deep a hole. However, at some point, the Panthers have to start playing like the reigning Atlantic Division champions. They could be without Jaromir Jagr for a short while after he suffered a groin injury against the Capitals.
Look at the Columbus Blue Jackets. While their victory over the Montreal Canadiens should be taken with a grain of salt, they've been playing better as of late. However, this is largely due to some trends which might not continue. The first is the incredible play of goaltender Sergei Bobrovsky. He's been nothing short of brilliant this season, ranking fifth among goalies with at least 150 minutes in even strength save percentage (94.58 percent). While Bobrovsky has a Vezina Trophy on his resume, this probably isn't going to continue because Columbus is one of the worst possession teams in the NHL. Secondly, they rely a bit too much on their power play. You can have success like this (see: Washington Capitals), but you also need to be at least solid at even strength. Columbus doesn't have that going for them.
Due to injuries to Jack Eichel and Evander Kane, the Buffalo Sabres have been a bit shorthanded so far. Despite that, they've been playing very well as of late. Their even strength xGF percentage of 52.56 reflects this. This is largely due to the impressive play of Ryan O'Reilly and Kyle Okposo. It's been up to them to produce consistently and carry a significant load on a nightly basis. They've been up to the task. Robin Lehner has been extraordinary for them, proving to be a quality NHL starting goaltender.
The Boston Bruins have scored just 30 goals in 12 games. Ironically, their offense wasn't supposed to be an issue. In fact, it was allegedly going to be their strong point. Conversely, their defense, expected to be terrible, has been quite good. Take away their bad games while Tuukka Rask was out and it's been one of the better defenses in the NHL. David Backes has been off to a terrible start to his Bruins career. Jimmy Hayes and Matt Beleskey have been significant liabilities. But thanks to Patrice Bergeron, Brad Marchand, and Rask, the Bruins are still in a good place.
The Philadelphia Flyers have some issues that they need to fix, but their offense has done an efficient job of stepping up. Their biggest issue is their goaltending and solving it could be very hard. Currently, they have a tandem of Michal Neuvirth and Steve Mason. In the 2015-16 season, they were very good as the Flyers had some of the best goaltending in the NHL. That has not been the case so far this season. With both goaltenders set to hit free agency after 2016-17, Philadelphia could trade one of their goalies for an upgrade with more term on his deal. But they'd likely have to sweeten the pot a bit. Their salary cap situation complicates things as well. If Mason or Neuvirth can grab the starting job and play better, Philly could be a hard team to beat in the playoffs.
The Dallas Stars have been one of the NHL's most disappointing teams. However, they have the talent necessary to fight back from their slow start. In order for this to happen, the Stars have to get healthy and they have to play better. Expected by many to contend for the Stanley Cup, Dallas has been undone by injuries and their lack of depth. They are relying way too much on Tyler Seguin, Jamie Benn, and John Klingberg to produce. If they can get healthy, they could still live up to their Stanley Cup hype. As bad as the Stars have been, they're currently in the second wild card spot and they're slowly getting healthy.
Peter Budaj has been a huge surprise for the Los Angeles Kings. He has effectively replaced Jonathan Quick with a .912 save percentage and a 2.06 GAA. Of course, the defense has helped him out quite a bit. But the Kings system is designed to be goaltender friendly. If they can keep suppressing shots and their offense can keep scoring, maybe the demise of Los Angeles was written prematurely. The Kings have a tough road trip coming. At the end of it, for better or for worse, fans should know more about the Kings' playoff chances.
The New Jersey Devils have been better than expected this season. Credit them for being able to capably replace Adam Larsson. However, their offense is still one of the worst in the NHL. They have scored just 26 goals this season, the fourth fewest in the league. Their 2.36 goals per game rank sixth in the NHL. On the other hand, their defense has been great, allowing just 2.27 goals per game. Cory Schneider has been fantastic in goal for them. He'll need to keep that up to give the Devils a chance at making the playoffs.
The NHL's youngest team is proving they belong. After a 6-3 win over the Vancouver Canucks, the Maple Leafs have now won three straight games. They also got wins last week over Edmonton Oilers and Buffalo Sabres. William Nylander leads the team with 12 points and Toronto has four players with at least 10 points. Frederik Andersen has looked much better recently, suggesting his slow start was due to getting adjusted to a new team. With their offense already doing a great job (37 goals scored), expect them to start winning more now that Andersen finally looks comfortable in net. Mike Babcock is doing a great job with this young group.
Despite having a terrible week, the San Jose Sharks are still a good team. However, they must get better play from their goaltender Martin Jones. San Jose got outscored last week 11-4, including a 5-0 loss to the Pittsburgh Penguins. While Jones wasn't the only person to blame for the bad week, his subpar performances certainly didn't help. He only stopped 19 of 22 shots on Thursday against the Calgary Flames. Their offense is bound to wake up soon, as their 54.15 percent even strength xGF percentage suggests. However, with the Los Angeles Kings not far behind them, they've got to wake up soon.
The Anaheim Ducks have been playing better as of late. Their expected goals for percentage of 50.40 is a good barometer of that. As expected, they've been a middle of the pack team on offense. Their 2.69 goals per game puts them 15th in the NHL. However, they've been excellent defensively under new head coach Randy Carlyle, allowing just 2.31 goals per game (seventh). Last week, they beat up on their division foes, beating the Kings, Flames, and Coyotes by a combined score of 13-2. However, their 4-1 loss to the Penguins suggests they still have to improve if they want to bring home a Stanley Cup.
Even though the Minnesota Wild had a winless week, it isn't nearly as bad as it sounds. Their defense is still playing extremely well, allowing just three goals in their two losses. However, the offense simply went cold, scoring just one goal. Minnesota's offense is too talented to stay cold for an extended period of time. Bruce Boudreau is too good of a coach to allow a blip on the radar affect how he does business. Their 49.66 even strength xGF percentage is a bit concerning, but looking at Boudreau's resume, it's safe to say that will change. As long as they continue to play sound defense, their offense should be able to score enough to win.
What a difference a week makes. Last week, the Tampa Bay Lightning were on life support after losing three straight games. They rebounded by beating the New York Islanders 6-1 and getting a point in three of their four games last week. However, the Lightning's defense is a bit concerning. While their offense has been fine, scoring over three goals per game, Tampa Bay has allowed 2.85 goals per game, the 11th most in the NHL. They have to play better than that if they want to beat the Capitals, Penguins, and Rangers in the playoffs.
The St. Louis Blues, to quote Forrest Gump, have been like a box of chocolates this season – you never know what you're going to get. When they've been great, few teams have been better than them. However, when they've been bad, few teams have looked worse. St. Louis showed both sides of this last week. Though they lost to the New York Rangers 5-0 and the Dallas Stars 6-2, they also beat the Columbus Blue Jackets 2-1 and got a 5-1 win over the Colorado Avalanche. The Blues' inconsistency is starting to become a red flag. However, they have enough talent that they should be fine. But things need to get better if the Blues want to bring home a Stanley Cup.
Led by new head coach Guy Boucher, the Ottawa Senators have been a huge surprise this season. Erik Karlsson is playing as well as he's ever played and Kyle Turris has flourished under Boucher. The team is rallying behind goaltender Craig Anderson, whose wife is battling cancer. Ottawa has been a feel good story so far this season. Perhaps it will end with a storybook ending. The Senators' offense is still not scoring enough, but their defense might be good enough to offset it.
After a huge start to their season, fans have seen the Edmonton Oilers start to come down to earth a little bit. They simply weren't going to continue their start. While Edmonton lost to the New York Rangers and Toronto Maple Leafs last week, the Oilers also got consecutive wins over the Islanders and Red Wings over the weekend. Cam Talbot has still been doing very well in net. They have enough elite talent to perhaps make the playoffs and be a great team in spite of having flaws. Edmonton needs to improve defensively, as the main difference defensively between last year and this year has been their goaltending.
The Pittsburgh Penguins are rolling now that they have their captain Sidney Crosby back. Crosby leads the NHL in goals with eight despite only playing in six games so far. He's still the best player in the world, though Connor McDavid is quickly closing the gap. They lost ground in the power rankings because they had the audacity to lose, something that the top four teams haven't been doing much of lately. While Pittsburgh won't continue to get this level of production from Crosby, they're a very good team. The Penguins need to improve their penalty kill if they want to repeat as Stanley Cup champions.
The Montreal Canadiens' historic start to their season ended in about the worst way possible – a 10-0 loss to the Columbus Blue Jackets. They didn't fare too much better on Saturday, though they beat the Philadelphia Flyers 5-4. Last week, the Canadiens started to show their flaws. Carey Price and Al Montoya have perhaps spoiled Montreal by masking some issues. Every one of those issues reared its ugly head last week. Price is the main reason why they beat the Canucks 3-0. Their defense and penalty kill were abysmal against the Blue Jackets and Flyers. Montreal has not been playing nearly as well as their record suggests. That's concerning considering this is what happened to them last season. The difference? This year they have Price.
Give credit to the Chicago Blackhawks. Head coach Joel Quenneville and the players realized they had issues. They worked them out and enter the week with a six game winning streak. During the streak, they have outscored opponents 22-8. Chicago's penalty kill has been improving after being historically bad. This is why the Blackhawks are consistently good. They adapt better than any other NHL team and know how to solve issues.
The Washington Capitals are entering this week on a five game winning streak following their first two game losing streak since the 2014-15 season. Washington is playing extremely well despite having one of the worst power plays in the NHL. Their penalty kill has been playing a lot better recently and they're dominating at even strength. Everyone knows the Capitals power play will eventually get going. When it does, watch out. Braden Holtby is showing very little rust and Alex Ovechkin is a man on a mission to win the Stanley Cup. They rank third in the NHL in even strength xGF percentage (53.87). It might be hard for Capitals fans to get excited about a team that has consistently let them down, but this is definitely a Stanley Cup caliber team.
New York has been a phenomenal team this season. So far, they've been getting a lot of bounces to go their way. Even when those bounces inevitably stop going their way, they're a good enough team that they'll still win games. The Rangers have the NHL's top offense and they have four skilled forward lines. This makes it very difficult, if not impossible, to stop them. Their defense still has some issues (most of them involve Dan Girardi and Marc Staal), but Henrik Lundqvist is an elite goaltender who can mask those flaws. The combination of New York's offense and defense has been lethal so far.
This article originally appeared on