NHL Power Rankings Week 4: Canadiens historic start continues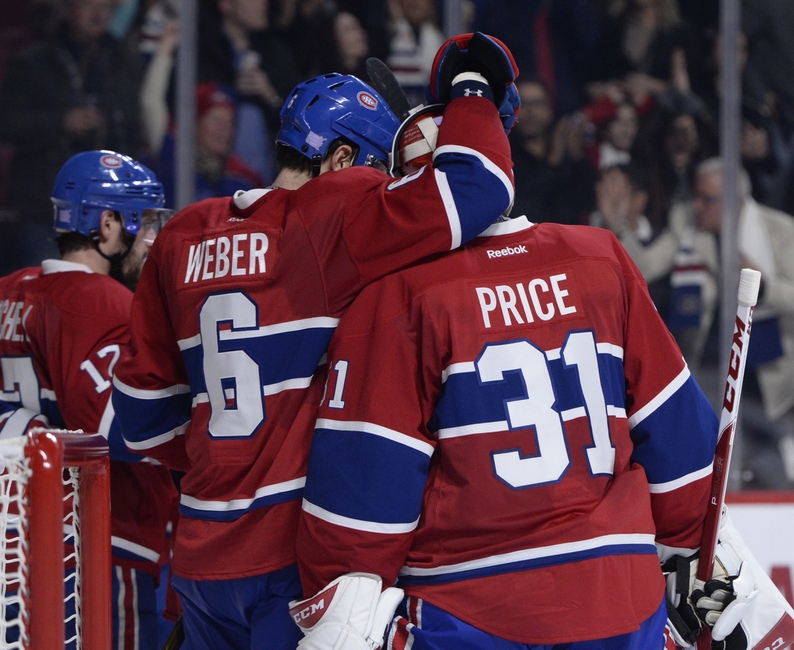 The Montreal Canadiens are still at the top of the NHL Power Rankings. Here's how the league looks going into Week 4.
As the first month of the 2016-17 NHL season draws to a close, teams are starting to realize precisely who they are. Slow starts have plagued certain teams and it's going to be a lot harder for them to overcome them than most people think.
According to Down Goes Brown, just six teams since the 2004-05 lockout have made it to the playoffs after being four or more points out of a playoff spot on Nov. 1. Four points might not sound like much, but it's always hard to play catchup. Since teams can now get a point while losing (if it's in overtime), climbing the standings is much harder than in previous years.
Teams are starting to show what they are. For example, remember when everyone thought the Vancouver Canucks were going to be among the league's worst? Even though they won their first four games, they have lost five straight, including four in regulation. The opposite can be said of the Detroit Red Wings. After a terrible start to their season, they find themselves in second place in the Atlantic Division. But at this point, if you're still slumping, there should be some red flags.
These rankings will be compiled by a team's record, who they have beaten, and how they have looked in games. A tough loss to a very good team isn't the worst thing in the world if you play well. Sure, one month of play is a small sample size, but as history shows, slow starts can be extremely difficult to overcome. Last year's Anaheim Ducks are the exception, not the rule.
If you'd like to take a look at last week's NHL power rankings, you can find them here.
Expected goals statistics courtesy of Corsica.hockey
30
Arizona
Coyotes
(2-6-0)
Last week:
1-4-0 record
Last rank:
30th
There's no way around it – this Arizona Coyotes team is bad. So what's been wrong with the Coyotes, a team expected to at least contend for a playoff spot? Their offense hasn't been great, but their 24 goals rank 15th in the NHL. Arizona could stand to be better offensively, but their primary issue is their defense. Mike Smith got injured and Louis Domingue hasn't been able to replace him. Even league average goaltending could help the team. Their 33 goals allowed is the fourth most in the league. This team is going to be very good one day. That day probably isn't happening in the 2016-17 NHL season.
This was a tough one to decide. There has been some parity in the NHL this year, with the Coyotes being the only terrible team. While the Hurricanes should be encouraged by their possession numbers and development of young players, their goaltending negates most of it. If Carolina's trying to bake a Stanley Cup recipe, they have lots of fresh ingredients. Their goaltending is like adding moldy gym socks and toenail clippings to the recipe. Doesn't matter how good the rest of the ingredients are if you still add rotten ingredients. On the bright side, Jeff Skinner is back to being a very dominant hockey player.
The Toronto Maple Leafs future is quite bright. It's very encouraging that Auston Matthews and William Nylander might keep each other from winning the Calder Trophy because both have been impressive. However, the Maple Leafs still have some painful growing to do. Their struggles so far can be directed at their defense. It's quite easy to point the finger at new goaltender Frederik Andersen, but he's adjusting to Toronto's system. Much like Cam Talbot, expect Andersen to improve as he gets more comfortable. Talbot, by the way, has been sensational since December of 2015. Morgan Rielly is a great defenseman, but it's telling he's the Leafs number one defenseman. He's ideally a number two or number three.
The Nashville Predators likely won't remain this bad. They have far too much talent to not improve from here on out. In fact, they'll enter November just three points out of a playoff spot. But their struggles can't be ignored. Viktor Arvidsson is one of the most entertaining players in the NHL to watch, but he shouldn't be leading your team in points. Ryan Johansen has four assists, but has been virtually invisible at even strength with zero points at five on five play this season. Goaltender Pekka Rinne has cooled off after a hot start.
Sergei Bobrovsky entered this season as a question mark. While the Columbus Blue Jackets haven't had much success this season, the success they've had is largely due to him. He's much more comfortable in the net than he was last season. Zach Werenski has been a huge bright spot on an otherwise unimpressive blue line. He has a real chance to win the Calder. Brandon Saad continues to be a bright spot as well. Things are getting better in Columbus, but they won't get too much better until they fire John Tortorella. Just ask the New York Rangers.
Goaltender Peter Budaj has done a pretty good job replacing Jonathan Quick, but it's not wise to judge a goalie based on a very small sample size. The larger and more significant body of work suggests he's a replacement level goaltender. Their offense has been unimpressive so far with 20 goals (eight fewest in the NHL). It gets worse once you realize they've played nine games and the only team below them who has played nine games are the Vancouver Canucks. Their defense hasn't been as strong as fans are used to.
The Dallas Stars struggles this season can be attributed to horrible injury luck. They have lost a number of talented players due to injuries and their best player (Jamie Benn) is probably still recovering from an offseason surgery. It's certainly not time to panic for the Stars. They only sit a point back from a playoff spot and their goaltending has been better than expected. If their struggles continue, general manager Jim Nill has what it takes to make a huge trade. Once they get their players back, they should be a playoff team. But their blue line struggles are a bit concerning.
It has been a tale of two seasons for the New York Islanders. At home, they have four wins in six games. However, they have lost each of their three road games. The only current playoff team they have beaten is the Minnesota Wild. To top it all off, they have a goaltending controversy with one of the goalies demanding a trade. Things aren't looking good in Brooklyn for head coach Jack Capuano. If this keeps up, he won't get the chance to fix it. And it might be enough to scare John Tavares away from a long-term extension.
So far, it looks like hiring Randy Carlyle isn't working out for the Ducks. They're off to a pretty poor start to the 2016-17 NHL season. However, the ineptitude of the Pacific Division has them just one point outside of third place in the division. With the Vancouver Canucks quickly crashing down the standings, the Ducks are still in relatively good shape. But it sure isn't because they deserve it. On the bright side, Cam Fowler has played well for them so far and they managed to get Hampus Lindholm signed long-term.
You've got to give the Buffalo Sabres a lot of credit. They've exited a month where nothing went right for them with a point percentage of .500. Despite losing their second best center (Jack Eichel) and one of their best wings (Evander Kane), the Sabres are just two points out of a playoff spot. Robin Lehner has been huge for them. Kyle Okposo has been extraordinary as of late. Along with Ryan O'Reilly, he's helped the Sabres overcome the loss of Eichel and Kane. Considering how it started, the Sabres are in darn good shape entering November.
The Winnipeg Jets offense is not getting the job done. While Connor Hellebuyck and Michael Hutchinson have been at worst average in net, their offense is really struggling. They have been a bottom three team in terms of shots on goal per 60 minutes at even strength. However, not all hope is lost. Patrik Laine has been as fantastic as advertised. Their defense has been encouraging as of late, especially at even strength. Another issue is their special teams are both below average and their power play is the sixth worst in the NHL. At what point do the Jets fire Paul Maurice and bring in a fresh face behind the bench?
The Philadelphia Flyers have been an exciting team so far in the 2016-17 NHL season. That's both a good thing and a bad thing. It's a good thing because their offense has been one of the best in the league, averaging 3.6 goals per game. However, it's a bad thing because they have allowed nearly four goals per game. If they want to rebound from a less than ideal start, they'll need better goaltending. Steve Mason was stellar last season, but has been abysmal so far in a contract year.
The Florida Panthers are coming off a rough week which saw a three game losing streak. However, they ended it on Sunday with an impressive 5-2 win over the Detroit Red Wings. Still, perhaps losing Jonathan Huberdeau and Nick Bjugstad has finally caught up to them. They've gotten unexpected production from Jonathan Marchessault and Colton Sceviour. However, they haven't gotten too much production from their expected sources. Combined, Marchessault and Sceviour have 18 points. That's as many as Vincent Trocheck, Aleksander Barkov, Jaromir Jagr, and Michael Matheson. Despite their terrible week, they're still a good team.
The Boston Bruins have really struggled without Tuukka Rask. They need him to get healthy ASAP. Ironically, going into the season, their offense was one of their strengths. However, through nine NHL  games, they have just 18 goals. They have a 1-2-0 record at home, but a 3-2-0 record on the road. The San Jose Sharks were similar last season, so that's something to keep an eye on going forward. They ended a two game losing streak by beating the Red Wings 1-0 on Oct. 29. Once Rask and David Backes get healthy, they should be good to go.
The Vancouver Canucks are spiraling out of control. After starting their season with four consecutive wins, they have now lost five straight. Despite that, the Canucks are still barely a playoff team. They currently sit in third place in the Pacific Division. So what has happened to the Canucks? Their offense is arguably the worst in the NHL. Following their first four wins, the Canucks have scored just seven goals, getting shut out twice. It's not like their offense was great even during their winning streak – they had just 10 goals in their first four games. Maybe Vancouver is finally starting to show their true colors.
After a nightmare start to their 2016-17 NHL season, the Calgary Flames occupy the first wild card spot in the Western Conference entering November. However, it's worth noting they have played 10 games and have nine points. Meanwhile, the Colorado Avalanche have eight points in just seven games. Their three goals scored per game is tied for seventh in the league. However, their defense needs to be better if they want to make the playoffs. Their 3.4 goals allowed per game is the fifth most in the NHL.
The Colorado Avalanche are currently hanging onto the second wild card spot in the Western Conference. While this is more due to the failures of other teams, credit must be given to the Avalanche. Through seven games, they have a zero goal differential, allowing and scoring 19 goals. As expected, they're being led by Matt Duchene, Nathan MacKinnon, and Tyson Barrie. New addition Patrick Wiercioch has been surprising, with five points on the season. Their goaltending needs to be better for them to stay in a playoff spot. But for now, give credit to Jared Bednar. He's already proven to be a more capable head coach than Patrick Roy.
After winning five of their first six games, the Tampa Bay Lightning have lost three games in a row. Sunday's 6-1 loss to the New York Rangers was especially humiliating. Their offense is ranked 12th in the league with 2.89 goals per game. However, their defense is the eighth worst in the league with 3.22 goals allowed per game. Tampa Bay can look at their special teams play and be happy, as they are in the top 11 in the NHL in both power play percentage and penalty kill percentage.
The New Jersey Devils had a terrific week and to show for it, they're in the first wild card spot in the Eastern Conference. However, is their success sustainable? As always, New Jersey's offense has been unimpressive with an even strength expected goals for per 60 minutes (xGF60) rate of 2.05, the second lowest mark in the NHL. Credit the Devils for still being very good defensively despite losing Adam Larsson. Their expected goals against per 60 minutes at even strength (xGA60) of 2.23 is the sixth lowest in the league. While their offense is still terrible, even with Taylor Hall, their defense has been extremely good. That might be enough for them to sneak into the playoffs.
The Detroit Red Wings are in second place in the Atlantic Division. However, that's by virtue of having played 10 games. The Ottawa Senators are just two points behind them despite playing two fewer games. They are a middle of the pack team in expected goals. So far, their defense has been stealing the show, as their 2.40 goals against per game ranks eighth in the NHL. Detroit's offense must be more consistent if they want to keep their playoff streak alive.
Corey Crawford has been Vezina caliber great for the Chicago Blackhawks this season. While he has not been great on the penalty kill, this is more of a team issue than a Crawford issue. At even strength, Crawford has been stellar, leading the NHL with a 97.55 percent save percentage. Chicago's offense has woken up, as their 3.33 goals scored per game ranks fifth in the league. Their defense still has some issues and their penalty kill is still killing just 53.7 percent of penalties. But if Crawford keeps playing like this, he might be able to mask their flaws enough to carry them into the postseason.
It's hard not to root for the Ottawa Senators. Goaltender Craig Anderson's wife has cancer, but he's pushing through it and staying with the team. However, the Senators are also allowing Anderson to spend time with his wife. His Sunday shutout against the Edmonton Oilers was truly remarkable and unforgettable. Erik Karlsson is playing like a Norris Trophy candidate. Kyle Turris has bounced back very strong after a 2015-16 NHL season defined by injuries. Their 53.79 percent even strength xGF percentage ranks sixth in the league. There's a lot to like about the Senators both on and off the ice.
The St. Louis Blues have cooled off a little bit from their hot start, but they're still one of the best teams in the NHL. Vladimir Tarasenko, Alex Steen, and Paul Stastny have each been significant contributors on offense. Defenseman Kevin Shattenkirk is setting himself up for a huge contract next offseason with six points in nine games. Their xGF percentage of 53.56 percent ranks eighth in the NHL. Meanwhile, their even strength xGA60 rate of 2.27 is the eighth lowest mark. The Blues are doing all of this despite playing in a very competitive Central Division. Jake Allen needs to be more consistent for St. Louis to mirror their playoff run from last season.
The San Jose Sharks enter the month of November with a three game winning streak. In the past week, they have wins over the Anaheim Ducks, Columbus Blue Jackets, and Nashville Predators. As expected, defenseman Brent Burns (10 points), forward Joe Pavelski (11 points), and center Joe Thornton (eight points) have led a very powerful Sharks attack. San Jose's power play is still one of the best in the NHL and their penalty kill has been efficient, ranked 11th in the league. They also have the third highest even strength xGF percentage.
So far, the Washington Capitals are as good as advertised. Even with their offense slumping, their defense has been nearly flawless. Washington has too much talent on offense to not get things going at some point and their xGF60 of 2.85 (all situations) reflects that. Braden Holtby, save for a bad game against the Edmonton Oilers, has been borderline Vezina Trophy great. Their power play has really been struggling, but that's not too important. What's important is they're dominating at even strength despite their offense being snake bitten. Their only losses have come to teams in either first or second place in their respective division.
The New York Rangers are looking brilliant so far. This offseason, they improved their forwards by trading for Mika Zibanejad and signing Michael Grabner and Brandon Pirri. So far, all three moves are looking great. Zibanejad is second on the team with eight points. Grabner just got a hat trick on Sunday against the Lightning and leads the team with five goals. Pirri has four goals on the season, second on the team. Henrik Lundqvist is starting to look like his usual self after one of his typical slow starts. He has a .901 save percentage and nobody's complaining. That's a good sign things are going well on Broadway.
The Minnesota Wild are getting one of Bruce Boudreau's patented "Boudreau boosts". All the head coach has done since joining the NHL is make the playoffs. He has the Wild in a very good position to do so early. Boudreau has been cursed in his career by mediocre goaltending, but perhaps Devan Dubnyk is the guy who can break the curse. He has three straight shutouts and has allowed just four goals over his last five games. Their 32 goals rank third in the league while their 19 goals against are the fifth fewest. Eric Staal has been a great pickup for the Wild. Ryan Suter looks like he's in his 20s again.
The Pittsburgh Penguins are back to being an excellent hockey team. Funny how getting the best player in the NHL back will do that to you. Sidney Crosby is still the best, even with the emergence of Connor McDavid. While he has some climbing to do to catch up to McDavid in points, it wouldn't surprise anyone if he manages to do it. Their even strength xGF percentage of 47.90 is a tad bit concerning, but the Penguins have the elite talent necessary to perhaps outperform it.
Even with a Sunday loss to the Ottawa Senators, the Edmonton Oilers couldn't have scripted a better October. They proved themselves by beating the Washington Capitals 4-1. Connor McDavid leads the NHL in points with 12. Through nine games, they have 29 goals. Their 3.22 goals per game are sixth in the league. Goaltender Cam Talbot is playing the best hockey of his career. He has settled in nicely after a rough first few months last season. The Oilers likely aren't going to sustain their current pace, but they have the elite talent necessary to overcome pretty much anything. Adam Larsson has been solid defensively and could be their number one defenseman for the next few years.
Everything has been coming up Montreal Canadiens so far this NHL season. Shea Weber has been fantastic and is currently among the league's point leaders. Alex Radulov has been as dominant as advertised. Their shooting percentage is still comically high and simply isn't sustainable. However, their stingy defense could be sustainable thanks to Carey Price. Price hasn't missed a beat since returning from injury, posting the second best even strength save percentage in the NHL this season. Last year's Canadiens started off strong too, but this year's team feels different.
This article originally appeared on