NHL Power Rankings Heading Into Week 5 of 2016-17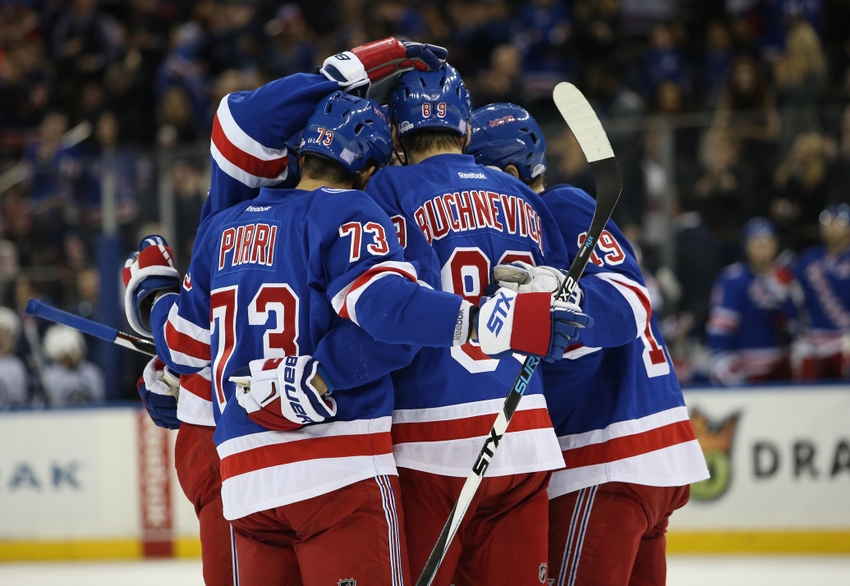 NHL Power Rankings (Week 5) – New York Rangers Surpass Montreal for Top Spot Scoring at an Astounding Rate, Los Angeles Kings Make a Huge Jump After a Solid Week
Welcome back to our NHL power rankings heading into week five of the season. As it stands heading into action Thursday night, teams have played anywhere between 11 to 14 games. We've seen a bit of shuffling in our rankings over the past week due to different factors. The Minnesota Wild for example played just one game (and lost), leading to a dip from their 6th place ranking in week 4. Our biggest mover of all was the Los Angeles Kings as Peter Budaj shut the door on the opposition. They moved up a long way from 29th place.
We had a ton of notable performances over the last seven days. Pens captain Sidney Crosby posted back-to-back two goal games. Jets center Mark Scheifele put up three points in Detroit, two more on Broadway, and another four at home versus Dallas two nights later. Winnipeg rookie Patrik Laine stole the headlines though after racking up three goals, one assist in that 8-2 thrashing of the Dallas Stars. Chicago's forwards also made some noise on the scoresheet as Artemi Panarin, Patrick Kane, Jonathan Toews, and Marian Hossa each had five points.
Top 5 Scorers
1. Mark Scheifele, WPG – 14gp 9g 9a 18pts
2. Artem Anisimov, CHI – 14gp 8g 9a 17pts
3. Patrick Kane, CHI – 14gp 5g 12a 17pts
4. Connor McDavid, EDM – 14gp 5g 12a 17pts
T-5. Patrik Laine, WPG – 14gp 11g 4a 15pts
T-5. Jakub Voracek, PHI – 14gp 6g 9a 15pts
T-5. Artemi Panarin, CHI – 14gp 6g 9a 15pts
T-5. Brad Marchand, BOS – 13gp 5g 10a 15pts
T-5. Nikita Kucherov, TB – 12gp 4g 11a 15pts
T-5. Claude Giroux, PHI – 14gp 4g 11a 15pts
Top 5 Defense Scoring
1. Brent Burns, SJ – 13gp 5g 7a 12pts
2. Shea Weber, MTL – 13gp 5g 6a 11pts
T3. Zach Werenski, CLB – 11gp 3g 8a 11pts
T3. Duncan Keith, CHI – 14gp 0g 11a 11pts
T5. Mike Green, DET – 14gp 3g 7a 10pts
T5. Erik Karlsson, OTT – 13gp 3g 7a 10pts
T5. Kevin Shattenkirk, STL – 14gp 3g 7a 10pts
T5. Ryan Suter, MIN – 11gp 3g 7a 10pts
T5. Victor Hedman, TB – 13gp 3g 7a 10pts
T5. Mark Streit, PHI – 14gp 3g 7a 10pts
T5. Brent Seabrook, CHI – 14gp 1g 9a 10pts
Top 5 Rookie Scoring
1. Patrik Laine, WPG – 14gp 11g 4a 15pts
2. William Nylander, TOR – 13gp 4g 8a 12pts
T3. Auston Matthews, TOR – 13gp 6g 5a 11pts
T3. Zach Werenski (D), CLB – 11gp 3g 8a 11pts
T5. Jimmy Vesey, NYR – 14gp 6g 4a 10pts
T5. Mitch Marner, TOR – 13gp 4g 6a 10pts
Previous Ranking: 3 (+2)
Team Record: (10-4-0)
Player of the Week: F Kevin Hayes (4gp 3g 3a 6pts)
Special Teams
PP: 11-for-49 (22.4 percent) (8th)
PK: 6-for-38 (84.2 percent) (12th)
Another great week on Broadway going 3-1. The Rangers scored five goals in each of their first three games before being limited to just three in their loss to Vancouver. Is there a hotter team in the NHL right now? Montreal might have a better record, but that 10-0 blemish tells you more about the impact Carey Price has. At this point, New York could be considered among the favorites for the Presidents' Trophy and a deep Stanley Cup push.
At 58 goals for, the NYR are dominating the NHL with an astounding 4.14 goals-per-game average. While it's difficult to imagine that impressive pace to hold over the course of 82 games, there is no reason to believe that the well-rounded scoring their receiving is about to dry up anytime soon. GM Jeff Gorton did an excellent job bringing in just the right players which allows the team to spread out the scoring effectively. It also doesn't hurt that veteran Rick Nash has bounced back from a dreadful 2015-16 with 10 points in 13 games already. Even if New York is hoping to shed the salary via expansion draft, a performance such as this makes freeing up that $7-plus million dollars more likely.
Even the blue line has stepped up to contribute in the offense and one might argue it's a driving force to their success. After all, the more effectively you can move the puck and play in the offensive zone, the less they have to worry about defending. I imagine some fans might be upset over the recent trade of Dylan McIlrath, and that's understandable given his potential. It just seemed there was no room in the equation, which wasn't fair to the player who deserves an opportunity. Instead, Jeff Gorton adds another draft pick to the cupboard (much needed) and a reliable depth defender in Steven Kampfer. This is a surprisingly good deal when you break it down.
The statistics up front are unreal through 14 games. Kevin Hayes hot-week brought him up to 13 points, while J.T. Miller also has 13. Rick Nash, Jimmy Vesey, Michael Grabner, Derek Stepan, Mika Zibanejad, and Chris Kreider all have 10 points (all have played the full 14 games aside from Kreider at 10gp). Both Mats Zuccarello and Brandon Pirri sit with nine points (tied with defenders Ryan McDonagh and Brady Skjei). Then lastly, we've got Jesper Fast with seven points in 14 games and Pavel Buchnevich also with seven points, but in nine games.
Previous Ranking: 1 (-1)
Team Record: (10-1-1)
Player of the Week: F Alex Galchenyuk (2gp 2g 1a 3pts)
Special Teams
PP: 7-for-39 (17.9 percent) (18th)
PK: 11-for-52 (78.8 percent) (23rd)
If you still think the Montreal Canadiens are a powerhouse team, think again. That 10-0 embarrasment should have opened a lot of eyes for a fan base that largely believes they're a Cup contender every year.
You've got to feel for Al Montoya being left in net for all 10 goals. Now, we know the coaching staff spoke to him between periods and everything is hunky doory on the surface, but that's absolutely demoralizing for a netminder.
The problem is this: Montreal is still relying far too heavily on the best goaltender in the world to carry them. That might work for a round or two in the playoffs, maybe even three, but this roster of skaters stands little chance of matching up against the NHL's best. To be fair though, several of their top guys are getting the job done (i.e. Alex Galchenyuk, Shea Weber, Alex Radulov, and Brendan Gallagher).
Despite having eight points in 13 games, you could even point the finger at captain Max Pacioretty in terms of players who need to be better. Arguably the biggest weakness though; their secondary forwards. Not all hope is lost though. The Habs have a number of quality prospects down in the AHL that could give this team a massive boost. Names such as Sven Andrighetto (recently called-up), Charles Hudon, Michael McCarron, Nikita Scherbak, and Jacob de La Rose all come to mind. Montreal might consider giving a few of these guys a long look, it could wind up giving this team a significant boost.
Previous Ranking: 7 (+4)
Team Record: (10-3-1)
Player of the Week: F Jonathan Toews (4gp 3g 2a 5pts)
Special Teams
PP: 11-for-59 (18.6 percent) (15th)
PK: 16-for-49 (67.3 percent) (30th)
Is there any hotter team in the NHL right now than Chicago? Trying to pick a POW winner over the last seven days is almost unfair. The Blackhawks are showing improvement on both sides of special teams, although that nasty start on the PK will be tough to erase. All in all, it's not overly surprising they now sit at the top of the Central Division with 21 points. Could history be repeating itself? Chicago does love to take a year off in between Stanley Cup wins.
Among those other notable players who were vying for Player of the Week honors: Starter Corey Crawford has strung together seven straight quality starts allowing two or less goals. He racked up three wins over the last seven days and had a 1.00GAA and .970 save percentage over that span. He now ranks among the best netminders in the league with a 1.91GAA and .939 save percentage on the seson. Three other players aside from Toews had a five-point week as well. Patrick Kane and Artemi Panarin each had two goals, three assists; Marian Hossa scored four goals, one assist. Even the Hawks top defenders found a way to be productive as Duncan Keith had four assists and Brent Seabrook added three.
Last note will be on the recent injury of rookie Tyler Motte. He's expected to miss 2-to-3 weeks which is a tough blow for a kid who was getting a big opportunity on the top line. You've gotta commend Joel Quenneville for turning to another rookie in Nick Schmaltz to fill the void. He didn't do a whole lot on Wednesday, nor has he all season long with just three points in 14 games. But it's a great way to try and get the talented forward going. It would have been too easy to turn to a guy like Richard Panik, but Chicago has the right idea by spreading their scoring around. Schmaltz figures to be a major piece of the future core anyways, so you've gotta give him these looks.
Previous Ranking: 2 (-2)
Team Record: (9-2-2)
Player of the Week: F Sidney Crosby (3gp 4g 0a 4pts)
Special Teams
PP: 10-for-44 (22.7 percent) (7th)
PK: 9-for-51 (82.3 percent) (14th)
Pittsburgh had another good week picking up points in all three games. They fell short 3-2 in OT to Los Angeles, shutout the Sharks 5-0, and clawed back for a 4-3 win against Edmonton on Tuesday night.
They now sit tied for 1st in the Metropolitan Division with the New York Rangers with a game in hand.
Between the pipes, Fleury got the nod versus LA. Unfortunately, his recent trend of rough outings continued after a fairly solid start to the year. He sacrificed three goals on 27 shots and now has a stat line with an ugly 3.07GAA and .908 save percentage. Matt Murray faired a little better recording a shutout in his second start since returning from injury, but allowed three goals on 28 shots in a close fought win against Edmonton.
As a team overall, the only real criticism thus far is their penalty kill. It's still early, and an 82.3 percent effeciency rate isn't terrible, but there's lots of room for improvement. Part of that is on guys like Trevor Daley who eat up the majority of those minutes, but there's something to be said for Kris Letang's absence. He only averages 1:39/game on the PK, but the team struggled over those five games he was out.
Honorable mention to Conor Sheary in Player of the Week candidates. After missing the previous seven games, Sheary had a pair of assists vs. San Jose and a pair of goals against Edmonton.
On the list of Penguins players who need to find the score sheet with a little more frequency: Nick Bonino (four points), Bryan Rust (two points in 10 games), and Olli Maatta (one assist).
Previous Ranking: 5 (-)
Team Record: (9-4-1)
Player of the Week: F Patrick Maroon (4gp 3g 2a 5pts)
Special Teams
PP: 8-for-40 (20.0 percent) (10th)
PK: 4-for-41 (90.2 percent) (4th)
11 days ago, the Edmonton Oilers were getting ready to play host to the Ottawa Senators after piling up a 7-1-0 record to start the year. They were shutout by Craig Anderson in an emotional win, then two nights later dropped another in extra time against Toronto. The losing trend continued against the Rangers before the Oilers finally snapped the streak in Brooklyn on Saturday. With a win versus Detroit and loss to Pittsburgh, Edmonton now sits at 9-4-1.
The hot start was truly impressive, but no one expected the domination to continue. Instead, it seems Edmonton is starting to level out. They should continue to collect wins and be in the playoff hunt, but by the time April rolls around, we expect them to be hovering around 3rd in the division or fighting for one of those Wild-Card spots. Worst case scenario, they just narrowly miss out, but that would more than likely take some type of devastating injury (i.e. Cam Talbot).
Speaking of Talbot, the poor guy took a beating over the last seven days. He collected a win with a 3.59GAA and .883 save percentage. His stat lines dropped to 2.49GAA and .921 save percentage on the year. On a side note, backup Jonas Gustavsson got his first start of the season in Detroit. He looked solid stopping 23 of 24 shots for the win.
Looking up front for a quick second. Connor McDavid continues to keep the hockey world buzzing with his point-per-game play. Add three more assists on Tuesday night versus Pittsburgh and McDavid now has 17 points in 14 games. 100+ points is looking more and more plausible as the season goes on.
Previous Ranking: 4 (-2)
Team Record: (8-3-1)
Player of the Week: F Alex Ovechkin (3gp 3g 2a 5pts)
Special Teams
PP: 5-for-38 (13.2 percent) (24th)
PK: 6-for-33 (81.8 percent) (15th)
Washington's 2-1 record over the last seven days helps keep them in the mix of Metropolitan Division leaders. The Caps sit just three points behind the NY Rangers (two games in hand) and Pittsburgh (one game in hand).
You've gotta be feeling fairly confident if you're a Capitals fan. They've got an 8-3-1 record and can still improve in a lot of areas. Consider this as well, defenseman John Carlson revealed he's been battling an injury since the World Cup of Hockey and is just now beginning to feel a little better – his recent play would support the notion.
Braden Holtby continues his dominant play, and Grubauer has certainly stepped up when asked. The solid play between the pipes has them hovering near the top in goals against with only 27 allowed through 12 games.
Ranking 17th in goals for with 33 isn't anywhere close to this teams capabilities. The defense core is partially to blame on that front with Karl Alzner scoring the only two goals. It also doesn't help that Andre Burakovsky has two goals, and playmakers Nicklas Backstrom and Evgeny Kuznetsov with one – we don't expect them to score too many obviously, but if they're not going to rack up a higher volume of asssists, they better find the back of the net.
Previous Ranking: 9 (+2)
Team Record: (7-4-3)
Player of the Week:  D Kevin Shattenkirk (4gp 0g 4a 4pts)
Special Teams
PP: 8-for-51 (15.7 percent) (20th)
PK: 5-for-57 (91.2 percent) (3rd)
St. Louis had a decent four-game stretch over the last seven days. They collected a pair of wins and dropped a couple versus a tough Chicago squad and an injury-riddled Stars team. Luckily, the Blues still have a firm hold for the time being (three points lead) on that second spot in the Central Division.
It's odd how things can turn around in a hurry. Less than a year ago, St. Louis was struggling to keep bodies healthy and were constantly scrambling to call-up bodies from AHL Chicago. Fast forward to today, the Blues are being forced to make Nail Yakupov a healthy scratch (will be his 4th straight on Thursday night).
Looking to the blue line, it seems Kevin Shattenkirk is still in the mix. At this point, you have to wonder if the Blues are planning to keep him for their Stanley Cup run. That would be a mistake. This happens for too often. For example, last year, it was Keith Yandle and the New York Rangers. Colton Parayko and Jordan Schmaltz can fill the void (and frankly are making Kevin more and more expendable), so there's really no sense in keeping someone who will certainly walk into free agency and sign with another team.
Up front, the Blues could use a little more production for their top duo of Vladimir Tarasenko and Jaden Schwartz. Don't get me wrong, it's tough to complain about 12 points in 14 games for the Tarasenk-show, but personally, I'd prefer to see the stat line leaning the other way (meaning more goals than assists). It's been a bit of a slow start for Jaden Schwartz since returning from injury. He has four points in 10 games, but he may have just needed some time to shake the rust off. The duel special-teams threat broke a four-game slump versus Colorado and looks ready to help elevate the Blues PP that is currently ranked 20th.
Previous Ranking: 8 (-)
Team Record: (7-5-1)
Player of the Week: F Nikita Kucherov (3gp 1g 2a 3pts)
Special Teams
PP: 13-for-51 (25.5 percent) (5th)
PK: 5-for-41 (87.8 percent) (7th)
A tough three-game stretch going 1-2 over the past week narrowed the gap from 2nd to 8th by a mere two points. The Canadiens are now eight points ahead of Tampa Bay with 23, while the Lightning sit tied with Detroit, but have a game in hand.
There is still plenty of reason to believe TB can be a Stanley Cup contender in 2016-17. Their special teams look great early on, they're starting to score a lot more goals – like that Lightning team of past years that led the NHL. Even the defense as a whole has exceeded expectations.
Those 38 goals against are a bit of problem, though. And truth be told, the blame lays squarely on Ben Bishop's shoulders. In four starts, Vasilevskiy has two wins, a 2.24 GAA, and .922 save percentage. Bishop has started nine games, with five wins, a 2.90 GAA, and .907 save percentage. Blemishes such as allowing six goals vs. NYR and four goals (on 16 shots) vs. COL certainly don't help. If you're an optimist, take comfort in the fact that Ben has delivered three straight solid performances allowing just four goals on 92 shots.
Previous Ranking: 11 (+2)
Team Record: (8-5-0)
Player of the Week: G Mike Condon (2 wins 0.48GAA .983 save percentage)
Special Teams
PP: 4-for-36 (11.1 percent) (25th)
PK: 6-for-39 (84.6 percent) (11th)
To be honest, the Ottawa Senators are very fortunate to have squeezed out a pair of wins over the last seven days (four-game stretch). They could only manage a single goal in three straight games before edging the Sabres 2-1 on Tuesday. Five goals in four games in unacceptable. Thankfully, GM Pierre Dorion made a genius move in acquiring G Mike Condon from Pittsburgh. He closed the door for a 1-0 shutout in his first start and stopped 31 of 32 shots for the win vs. BUF. Had it not been for Condon, the Sens could have easily dropped all four games.
Last week when I addressed the Sens, it was an emotional time following the news of Nicholle Anderson. This terribly sad incident seemed like something that could really help unify the team and bring them together. So far, that doesn't seem to be the case. There's no better driving force in sports than motivation. It's time for the Senators to use some of that fuel.
We can point the finger at a few individuals who need to be more productive. Their driving force on the back end, Erik Karlsson, was on fire at the very beginning in mid-October. He has since trailed off with three points over his last nine contests. While I wouldn't typically complain about a defender having 10 points in 13 games, this is a constant Norris Trophy candidate coming off an 82-point campaign in 2015-16.
Winger Bobby Ryan is wiriting a very similar script with three point over his last nine games. Mark Stone has been left off the scoresheet in six straight games. Kyle Turris is doing just slightly better than all the rest with four points in nine games. Lastly, Derick Brassard has just three points in his last 10 contests. Point being? The Senators need a lot more from their frontline to break this scoring slump.
Previous Ranking: 6 (-4)
Team Record: (6-4-1)
Player of the Week: G Devan Dubnyk (1gp, stopped 31 of 32 shots in loss)
Special Teams
PP: 5-for-34 (14.7 percent) (22nd)
PK: 2-for-31 (93.5 percent) (1st)
One game over the last seven days doesn't do a whole lot to help Minnesota in the power rankings. They played a lone game against Colorado, falling short 1-0 after another impressive performance between the pipes. Just imagine if the Wild can start to find the back of the net with a little more frequency? We could be looking at a serious Central Division contender.
They'll need their starter to continue his strong play if Minnesota wants to make noise in 2016-17. At this point, one could easily argue that Devan Dubnyk would be a Vezina Trophy finalist if everything ended today. He has five wins, a 1.46GAA, and .951 save percentage, which included three shutouts in a row.
Dubnyk isn't Minnesota's only early NHL award nominee. Defender Ryan Suter is an absolute beast through 11 games. 10 points in 11 games with a +5 plus/minus rating is so impressive when you consider the fact that he's logging top minutes against the opposition's best. If he can keep up the solid all-around play, it'll be difficult to ignore Suter when it comes to Norris Trophy consideration.
Looking up front, there's one player who stands out above the rest. A year after posting a career-low 39 points, Eric Staal is proving there's still a lot left in the tank. He's already up to eight points in 11 games and is being heavily depended upon by coach Bruce Boudreau having surpassed 20 minutes of ice-time in the previous two games. Thought to be a guy who might be able to entice Las Vegas to stay away from Marco Scandella or Jonas Brodin in expansion, it's beginning to look like Minnesota might need to make room on their protection list for the former longtime Canes captain.
Previous Ranking: 13 (+2)
Team Record: (5-3-3)
Player of the Week: F Travis Zajac (4gp 1g 3a 4pts)
Special Teams
PP: 7-for-39 (17.9 percent) (18th)
PK: 8-for-41 (80.5 percent) (17th)
The Devils picked up a pair of wins over the last four games this past week. We're only a fraction of the way through the season, but New Jersey sits firmly in a Wild-Card spot, which is about where we expect them to be in April. NJ is actually very fortunate to have a 6-3-3 record given their inability to score early on. They sit near the NHL's basement with 29 goals for through 12 games. If you're not going to find the back of the net though, you mid as well be amongst the top teams in goals against, and with just 29, that's exactly where New Jersey sits.
Much of the credit early on goes to starter Cory Schneider. If it weren't for him, the Devils could very well have a flip-flopped record (3-6-3). He hit his first snag of the year this past week with a couple rough outings that resulted in losses, but fortunately he bounced back nicely versus Carolina. Cory has five wins so far with a 2.27GAA and .928 save percentage. We expect his dominate play to continue between the pipes, but he'll definitely need a little more goal support moving forward. NJ has been lucky thus far coming out on top in close one goal games, but as soon as those bounces start going the other way, losses can quickly pile up.
So, who needs to be better and find the score sheet with more frequency? Several names come to mind. Kyle Palmieri only has five points in 12 games, a respectable total, but expectations were high after his 2015-16 campaign. Adam Henrique has two goals, two assists in 12 games – that's a sub-30 point season pace. One might even argue that Mike Cammalleri needs to pick it up. Here's a guy that was scoring at a point-per-game pace in 2015-16 before going down with an injury.
Two forwards seem to stand out above the rest though; Pavel Zacha and Devante Smith-Pelly. Both stepped in with bigger expectations. Zacha is a top prospect that had a solid showing in a brief stint between the NHL/AHL late last year, and Smith-Pelly looked to have found a new home following the deadline deal. So far, Zacha has one goal, three assists in 12 games, while Smith-Pelly has one goal, two assists in 10 games. Both of these guys will need to turn it on if New Jersey hopes to secure a playoff spot.
Previous Ranking: 18 (+6)
Team Record: (6-5-3)
Player of the Week: F Rickard Rakell (3gp 3g 1a 4pts)
Special Teams
PP: 12-for-46 (26.1 percent) (4th)
PK: 8-for-52 (84.6 percent) (10th)
Despite dropping that third game to Columbus on Tuesday night, it was still a solid week for the Ducks. They outscored their opponents 11-5 over the past seven days and collected five out of a six possible points. The return of Rickard Rakell has certainly had a big impact, and although he was left off the scoresheet with a -1 on Tuesday, Hampus Lindholm's return should give this team a further boost. Both facets of special teams already rank in the top 10 and there's no reason to believe they can't improve upon those numbers moving forward.
Touching on our Player of the Week for a moment. Although veteran Corey Perry had the most productive week at five assists, there's something to be said for Rickell potting three goals and a helper given the circumstances. Having just returned from injury, the Swede looked in mid-season form immediately. He racked up three points in his very first game and had another three-point effort versus Arizona last Friday. Rickard has three goals, four assists (seven points) in five games already.
I'd like to point out a couple of players who deserve a lot of credit for their recent play. Defenseman Josh Manson had three assists over the past week, something we don't see a lot of from the stay-at-home d-man. He's quickly developing into one of the NHL's best kept secrets on the back end. As well, Nick Ritchie is looking much better of late. He had a tough start to 2016-17, which was eventually met by injury. In those two short games since his return, I get the impression this a guy ready to have a breakout performance.
Previous Ranking: 10 (-3)
Team Record: (7-6-1)
Player of the Week: F Tomas Tatar (3gp 1g 3a 4pts)
Special Teams
PP: 9-for-50 (18.0 percent) (17th)
PK: 9-for-43 (79.1 percent) (T-21st)
Despite some concerns, there are a few reasons to be optimistic if you're a Red Wings fan. The team just got Niklas Kronwall back who made his season debut last week and this team still has a winning record even with a struggling Petr Mrazek. His play hit rock bottom of late after allowing four goals in three straight games. It was no surprise that Jeff Blashill turned to Jimmy Howard for the next two contests.
The problem isn't between the pipes. Even when Petr Mrazek returns to form, there's only so much he can do. And while Mrazek or Howard might find a way to steal a game or two every now and again, this team needs to be better defensively. A lot of that blame can be put on the defense core (which hopefully starts to come together a little more now that Kronwall is back), but some of that also falls upon the forwards who need to play a better two-way game. Truth be told, GM Ken Holland might be best suited to dip his foot into the trade market. Even if it means acquiring a number four type defenseman that logs between 18-20 minutes/night, that might be all this team needs. It seems they're asking a little too much out of some guys.
Looking up front, it seemingly feels as though the Red Wings are going through an identity crisis since losing Thomas Vanek. There was a nice flow to the forward lines in the first couple of weeks, but ever since, it's been a struggle to find the right chemistry. However, Detroit is having some recent luck with their trio of Tomas Tatar, Henrik Zetterberg, and Justin Abdelkader.
On a bit of a side note, top prospect Anthony Mantha received a bit of a slap in the face recently. He was overlooked for Tyler Bertuzzi, who wound up skating on the top line with Frans Nielsen and Dylan Larkin. You have to wonder if the Red Wings made a mistake in the development process here. When you the consider the type of success he had in the CHL, a lot of those guys are having immediate impacts as the league trends younger.
Previous Ranking: 14 (-)
Team Record: (6-3-2)
Player of the Week: G Sergei Bobrovsky (2 wins 0.99GAA .968 save percentage)
Special Teams
PP: 11-for-31 (35.5 percent) (1st)
PK: 3-for-35 (91.4 percent) (2nd)
A lot of recent articles regarding coaches on the hot seat have John Tortorella's name squarely at the top of the list. I've got a hard time believing that given the way the last two weeks have transpired. Yes, they were sitting in the NHL's basement to start the year, but they also had a whack of games in hand on nearly everyone else. They racked up two more wins over the past week and now have a decent 6-3-2 record that places them right in the middle of a Wild-Card race. Plus, just look at the special teams rankings. Does this look like a team ready to fire their coach?
Much of the credit early on goes to starter Sergei Bobrovsky. He managed to carry over his stellar play from the World Cup of Hockey and right now ranks among the top goaltenders in the league. He had a sub 1.00GAA over his last three starts and now has a season stat line of six wins, 1.81GAA, and a .946 save percentage. At this point, the Russian netminder could challenge for the Vezina Trophy.
Looking to the blue line. The loss of Seth Jones was devastating, but how about that Zach Werenski? His 11 points (in 11 games) is tied for third in rookie scoring with Maple Leafs F Auston Matthews. Zach stepped up in a big way on Wednesday scoring the game-winner in overtime versus Anaheim. With five of 11 points coming on the PP already, expect to see more of the same as he continues to log big minutes on the man-advantage. Say what you want about Patrik Laine, Auston Matthews, or William Nylander, but one might argue that Zach Werenski is the clear Calder favorite at this point.
Previous Ranking: 12 (-3)
Team Record: (7-6-0)
Player of the Week: F Joe Thornton (3gp 1g 2a 3pts)
Special Teams
PP: 8-for-48 (18.6 percent) (T-15th)
PK: 4-for-34 (88.2 percent) (6th)
San Jose had a rough start to the week dropping their first two games against Calgary (3-2) and Pittsburgh (5-0). Fortunately, the Western Conference champs bounced back with a stellar 3-0 performance versus the Presidents' Trophy winning Capitals on Tuesday night.
The Sharks 7-6-0 record is hardly something to brag about, but it's worth noting the Pacific Division has an early lead over the Central, which dominated in 2015-16. Edmonton still sits atop the standings, but it shouldn't take long for teams like San Jose and Anaheim to narrow and gap and surpass the Oilers.
Hand it to the Sharks defense core and goaltending (particularly Martin Jones). Both have combined to be among league leaders allowing just 32 goals in 13 games. Unfortunately, a ranking of 26th in goals for with 30 isn't nearly good enough. Scoring an average 2.3 goals-per-game is a tough way to rack up points in the standings.
Some of those forwards that need to step up include Melker Karlsson (two goals, three points), Mikkel Boedker (two goals), Joel Ward (one goal, one assist), and Chris Tierney (two assists), among a few others.
Previous Ranking: 29 (+13)
Team Record: (6-6-0)
Player of the Week: G Peter Budaj (3 wins 0.66GAA .970 save percentage)
Special Teams
PP: 4-for-39 (10.3 percent) (28th)
PK: 10-for-45 (77.8 percent) (24th)
How about three convincing wins to bring yourself back up to .500? That's exactly what the Los Angeles Kings did over the past week, and in impressive fashion to say the least. We're talking about two shutout wins and 3-2 victory over the Stanley Cup Champion Pittsburgh Penguins.
This is more than what GM Dean Lombardi could have hoped for when he lost starter Jonathan Quick. Peter Budaj flew under the radar in recent years still kicking the can down at the minor league level after having NHL success for several years. His numbers were particularly impressive since joining the Kings organization and now seems to be translating into success with the big club. After stumbling out of the gates initially, Budaj is now 7-3-0 with a 1.86GAA and .919 save percentage. Who knows if the 34-year-old veteran can maintain his play, but you can bet the Kings will ride the hot hand as long as possible. They'll just have to hope that Budaj doesn't hit a wall the way Mike Condon did for Montreal in 2015-16.
Part of the reason Budaj has been able to perform so well is because of the Kings blue line. They had a sloppy start over the first couple of weeks, but are really starting to come together recently. Surprisingly, they've found success in mixing up their defensive pairings. In doing so, they've got their top three (Doughty, Muzzin, Martinez) rolling, along with Derek Forbort, who has long been looked at as a potential top four defenseman (if he could reach his potential). He went from averaging around 13-14 minutes/game at the beginning to 19-20 of late. If he can begin to find his way onto the score sheet, it could go a long way to helping secure a top-four spot moving forward.
Looking up front, the usual suspects are starting to get rolling (i.e. Kopitar, Toffoli, Carter, Pearson), and LA is even getting an unexpected boost from Dustin Brown and Nic Dowd. But if the Kings want to challenge for a Pacific title, they'll need a few more secondary forwards to step up and produce. Purcell has 0 points in five games, King and Setoguchi have four points, Lewis has 3, and Shore has two. This is a team that won two Stanley Cup's largely because of four lines of depth scoring (and some grit), so they'll need to figure out how to get that formula working again.
Previous Ranking: 15 (-2)
Team Record: (6-6-2)
Player of the Week: F Jakub Voracek (3gp 0g 4a 4pts)
Special Teams
PP: 15-for-53 (28.3 percent) (2nd)
PK: 9-for-43 (79.1 percent) (T-21st)
After dropping two games over the last seven days, the Flyers are now floundering at a .500 record. They've certainly had no issue scoring goals rankings 2nd with 49, but keeping the puck out is a complete different story. 51 goals against has them in the NHL's basement allowing 3.64 goals-per-game on average.
Trends seem to continue in the City of Brotherly Love. They insisted on keeping their tandem of Steve Mason and Michal Neuvirth together, which made sense with both on expiring deals. But they're middle of road goaltenders that simply aren't good enough. Can Mason or Neuvirth get a roll and steal a few games? Sure, but where's the consistency? It might be time for Flyers fans to come to the realization this team needs a new goalie. That's a bit of delicate subject to be honest given the struggles for so many years in the crease. You have to wonder if it's time for Philadelphia to bite the bullet and pay up for a guy like Ben Bishop?
Looking up front, the usual suspects are still getting the job done. Guys like Claude Giroux, Wayne Simmonds, and Jakub Voracek are consistent producers. The player I'd like to point out is rookie Travis Konecny. He had two goals over the past week, bringing his season total up to three goals, six assists (nine points) in 14 games. Travis is logging north of 15 minutes/game on average and seems to be giving the PP a bit of a boost. Don't be surprised if you hear the name Konecny in the same breath as Matthews, Laine, or Werenski in Calder Trophy conversations come April.
Previous Ranking: 17 (-1)
Team Record: (7-5-0)
Player of the Week: F David Pastrnak (4gp 4g 1a 5pts)
Special Teams
PP: 7-for-48 (14.6 percent) (23rd)
PK: 9-for-53 (83.0 percent) (13th)
Boston picked up a pair of wins over the last seven days and now find themselves in the middle of a tight Atlantic Division race. Despite a winning record, you won't find too many Bruins fans feeling too optimistic about the rest of the season. Those two games against Tampa Bay and New York brought forth a ton of criticism on starter Tuukka Rask. And even though he responded with a shutout versus Buffalo, the B's turned to Zane McIntyre against a tough Canadiens team on Tuesday.
It's a bit of a strange situation. If we look at the blue line for example. Some guys are exceeding expectations, while others fall short. At the top, Zdeno Chara has played well defensively, but three points in 13 games is a concern (considering that translates to 15-20 by the time 82 rolls around). The biggest disappointment of all is Torey Krug though. With two assists and a -8 rating, you've gotta wonder if he rushed back too soon from injury to be ready in time for the season. He was supposed to give the Bruins a major boost on the man advantage, which might help explain why they sit a 13 percent effeciency. The only real bright spot on the back is rookie Brandon Carlo. He was a +5 in the season opener and now has a stat line of two goals, two assists and a +7 rating in 13 games, while averaging 22:23 in ice-time.
Aside from the top line up front, and a couple of secondary forwards, there are a number of disappointing starts in the Bruins offensive group. That 7th protection slot up front in expansion was expected to be a duel between Matt Beleskey (one point in 12 games) and Jimmy Hayes (0 points in 11 games), but at this point, it's might be a free for all for another secondary player. If you're GM Don Sweeney, you'd be happy shedding either of those contracts at this point. Hopefully these guys can start to turn things around.
On a bit of a side note, Danton Heinen struggled in the seven games he played early on (leading to a demotion). This came as a bit of a surprise given the way he performed in training camp/preseason. There's still time for him to turn things around in 2016-17, and make his way back up to the big club, but for now that extra-time down in Providence is exactly what he needs to build his confidence back up.
Previous Ranking: 19 (-)
Team Record: (6-6-1)
Player of the Week: Reilly Smith (3gp 2g 1a 3pts)
Special Teams
PP: 9-for-48 (18.8 percent) (14th)
PK: 7-for-37 (81.1 percent) (16th)
Florida's 2-1 record over the last seven days helps keep them in the mix in a very tight Atlantic Division race. It's certainly not the start the Panthers were looking for when they spent over a quarter-billion dollars in the summer, but then again, they weren't expecting to be without Nick Bjugstad or Jonathan Huberdeau. So, give Florida credit for managing to keep their heads above water without a pair of key pieces.
The good news, it sounds as though Bjugstad is nearing a return. We had him pegged as the perfect linemate down on the third with Jonathan Marchessault, but apparently the free agent signing is doing his best to prove he can be a top-six forward. It looks like he came back down to earth the past couple of weeks though with three points over his last six games.
We have an honorable mention in POW honors. He didn't have as productive a week as Smith, but Denis Malgin has looked impressive of late. His ice-time is up over the last four games, and four of his five points on the season came over the last six-game stretch. This could get very interesting with Bjugstad set to return. Does one of them slide to the wing, or is Malgin set to lose a lot of ice-time/possibly an AHL demotion? It might be wise for Florida to try and make room for both.
Last note, we've got a couple of slow starters on the score sheet. Stud defenseman Aaron Ekblad has two goals in 13 games, while offseason acquistion Jared McCann has one goal playing fairly limited minutes on most nights. If Florida hopes to contend for Lord Stanley, these are two players who will need to have a bigger impact moving forward.
Previous Ranking: 16 (-4)
Team Record: (5-5-3)
Player of the Week: G Robin Lehner (1 win 1.97GAA .940 save percentage)
Special Teams
PP: 8-for-41 (19.5 percent) (T-11th)
PK: 9-for-46 (80.4 percent) (18th)
Before delving into the stats, let's address one thing: You've gotta feel for the Buffalo Sabres after the extended loss of Tyler Ennis. Here's a team that has looked a lot better of late and finally got Evander Kane back in the lineup. It's another tough blow for the Sabres, but the good news is that Jack Eichel is progressing nicely in his recovery. That will be the most welcomed back addition of all. Even with all this turmoil folks, don't count out Buffalo in 2016-17. Too many folks have overlooked Robin Lehner between the pipes, and something tells me that attitude is going change this year.
Speaking of Lehner. I've long been a supporter of the Finnish netminder since his acquisition from Ottawa. I watched the way he was mentally abused and tortured in the Sens organization and the lousy results were as expected. He hit a serious snag in 2015-16 going down early with injury, which didn't help those who already had a lack of confidence. Well, for the first time since joining this team, Robin Lehner might be fully healthy and is starting to look like that goalie that had the potential to be an elite NHL starter. So, relax Sabres fans. You've got a quality netminder.
Looking at the Sabres four-game stretch over the last seven days, things didn't go overly well. They won a single game and picked up three out of a possible eight points. That can be directly attributed to their lack of goal scoring. Four goals in four games in a tough way to pick up two points. The Sabres could use a boost from guys like Sam Reinhart, Marcus Foligno, Johan Larsson, and Zemgus Girgensons.
Previous Ranking: 26 (+5)
Team Record: (5-7-1)
Player of the Week: F Mark Scheifele (4gp 4g 5a 9pts)
Special Teams
PP: 8-for-53 (15.1 percent) (21st)
PK: 10-for-49 (79.6 percent) (19th)
Given the Jets scoring potency early on (42 goals for), their 15.1 percent PP effeciency is fairly shocking (it went up almost five percent vs. Dallas). Winnipeg has the right idea deploying Patrik Laine in a similar fashion as Ovie on the point, but the results haven't been there until this past Tuesday night. Once the Finn starts finding the back of the net on the man advantage a little more, that PP should be a lot better. He will be a driving force on special teams moving forward.
Mark Scheifele was arguably the best player in the NHL over the last seven days. He had three multi-point games over four contests for a total nine points. Two other players trailed closely behind Sheifele as standout performers. Rookie Patrik Laine had five goals, two assists over four games, including four goals, one assist on Tuesday to take the league lead in scoring (as of Wednesday). Lastly, Nikolaj Ehlers also collected seven points over the past week. This comes as a pleasant surprise for a guy who had a slow start with just four points on the year heading into Detroit last Friday.
Touching on the Jacob Trouba situation for a moment. Patrick O'Sullivan said it best on Jets Lunch wednesday; it wasn't a typical holdout, there was a trade request. And that request said I don't want to be here, I'd rather be somewhere else. So, while the organization has gone about saying the right things to the media (i.e. Jacob rescinding his trade request and Wheeler saying there was no hard feelings in the dressing room). This a guy who basically said "I think I'm better than the two guys you have ahead of me on the depth chart". What am I trying to say? Don't believe everything you hear. If anything, this two-year $3 million dollar contract makes him a more attractive trade piece. At least that way, teams have an additional window before he's due for that next big deal.
Previous Ranking: 21 (-1)
Team Record: (3-5-3)
Player of the Week: G Pekka Rinne (1 win 1.58GAA .943 save percentage)
Special Teams
PP: 12-for-45 (26.7 percent) (3rd)
PK: 9-for-39 (76.9 percent) (26th)
The Nashville Predators are among one of the biggest disappointments early on in 2016-17. Some of that blame fell on the shoulders of Pekka Rinne at the very beginning, but he's now put together six straight solid outings. No, if you want to point the finger anywhere, you mid as well look at the defense core. Perhaps we had too lofty of expectations heading into the season, not realizing it might take some time for this group to come together the way GM David Poile had hoped. One things's for sure, if they can't be better collectively as a whole, there's a distinct possbility of someone like Mattias Ekholm being moved (somewhat of an expansion saving move as well). If fans are truly hoping for a guy like Matt Irwin to continue having an impact, don't hold your breath. He's a quality depth defender, but that's all he is. P.K. Subban and Roman Josi need to evolve into that elite defensive pairing we projected them to be.
Now, there are still a few concerns up front as well. Eight points in 12 games for Filip Forsberg is difficult to complain about, but zero goals? We're talking about a guy coming a 33-goal season and 59 over the past two years. Another sore spot is Calle Jarnkrok. He had all the makings of a breakout star that could be on Las Vegas' radar, but it's been a slow start thus far with two points in 13 games. The most disappointing of all forwards might be top rookie Kevin Fiala. All signs pointed to an impact top-six forward, but his struggles led to a recent AHL demotion.
Previous Ranking: 24 (+1)
Team Record: (4-5-3)
Player of the Week: F Tyler Seguin (4gp 2g 4a 6pts)
Special Teams
PP: 9-for-49 (16.7 percent) (19th)
PK: 13-for-52 (75.0 percent) (27th)
You've gotta feel apathy for the Stars fan base right now. It's almost a tale of two teams with the rash of injuries. At one point, it looks like they've got control over this tire fire, the next, they sacrifice eight goals and we're left scratching our heads.
Perhaps the poorous goaltending is hardly a surprise after the way things ended in the playoffs, but this defensive group had all the makings of being better overall even without Alex Goligoski. Instead, they've seemingly taken a step back. How do you leave a sniper like Patrik Laine wide open with no pressure on so many occassions? At that point, it's hard to point the finger at the goaltenders when you're defenders can't do something as simple as close the gap and make things difficult.
We might even have to point the finger at John Klingberg as Dallas' top defender. He had a fairly solid start to 2016-17 defensively depsite struggling to find the scoresheet, but a -5 plus/minus rating over the last seven days gives you an idea of the way things went on the blue line. Another guy we can center out is Esa Lindell. He's been a -7 over his last seven games, which is unfortunately the growing pains fans need to expect with young defenders. Lindell will make mistakes, it's going to happen. What's important is that he learns from them so to avoid those errors in the future.
While prospects such as Gemel Smith and Devin Shore continue to make their mark. There is one player in particular that needs be much better moving forward. Radek Faksa broke into the league in 2015-16 and had a major impact down the stretch into the playoffs. So far, Faksa has one goal, one assist in 13 games. No one expects the talented two-way center to light up the score sheet, but you're looking for a little more from a guy who logs an average 15:51/game in ice-time.
Previous Ranking: 22 (-2)
Team Record: (5-8-1)
Player of the Week: F Michael Frolik (3gp 0g 2a 2pts)
Special Teams
PP: 4-for-43 (8.3 percent) (30th)
PK: 16-for-58 (72.4 percent) (29th)
Well, this is hardly the way fans or management envisioned the season going in 2016-17, but there's no reason to panic just yet. At first glance, you see a 5-8-1 record with 36 goals for and 51 goals against and it doesn't look good. Believe it or not though, the Flames continue to show signs of being that solid team everyone expected them to be. If you're looking for an answer to the early woes, it may be as simple as new faces, shaking the rust off, and a learning curve for some rookies. The good news, these struggles are easily explainable and something that should eventually work itself. It's not like we're looking at a team with any deep issues or weaknesses. They're just not performing.
Both Brian Elliott and Chad Johnson had a rough outing each over the last seven days. Johnson got the extra start after Elliott allowed nine goals over two starts. The season stat lines are real ugly, but it doesn't tell the whole story. Brian put together five straight solid outings allowing two or less goals before taking a beating from Chicago and Los Angeles. Unfortunately, it's taking far longer than anyone would have hoped for him to settle in here.
Looking up front, the Flames top players need to be better. Brian Burke even called the pair out in what can only be described as a tactical move to motivate the duo. Gaudreau has eight points in 14 games, while Monahan has five points. Folks aren't wrong to criticize two guys who just earned lucrative deals. But some of the blame needs to pointed at management. Surprise, surprise, we don't have a consistent linemate for that top line. Did we not learn from the Jiri Hudler era? Calgary went on to sign Troy Brouwer for this exact reason, yet he's down on the third line currently. Instead, we've seen a dose of Alex Chiasson and Michael Frolik. This madness needs to stop. I'm not sure how you fix it exactly, but you might start by sliding Johnny Hockey to the right side, making way for Matthew Tkachuk. Perhaps it's too premature, but if this kid is the future on that top line, you mid as well start prepping him.
Previous Ranking: 20 (-5)
Team Record: (5-6-0)
Player of the Week: G Calvin Pickard (32-save shutout, stopped 44 of 45 shots -two relief appearances)
Special Teams
PP: 8-for-42 (19.0 percent) (13th)
PK: 10-for-48 (79.2 percent) (20th)
It seems fans in Avs nation have already begun to hit the panic button. After storming out of the gates with a perfect preseason and encouraging start to 2016-17, Colorado is since struggling to put together wins. Most concerning of all, they're struggling to score goals. With just 24 goals on the year, the Avalanche are averaging a mere 2.0 goals-per-game. Unless they plan on piling up a mass amount of 2-1 wins, that's something that needs to change. Once those goals start flowing, the PP should also receive a nice boost.
Despite allowing four goals on 25 shots versus Arizona Tuesday, you've gotta wonder whether Calvin Pickard will continue seeing extra time between the pipes. As we've mentioned before, it makes sense with an impending expansion on the way. The Avs need to figure out fairly quickly whether or not Pickard is the future in goal. Well, instead of a goalie battle, it seems Semyon Varlamov is almost forcing Colorado's hand with his terrible play. He has two wins in eight starts with a 3.67GAA and .881 save percentage. If he keeps that up, the Russian will definitely be available for Las Vegas next June.
Looking up front, the big three seem to be doing a fairly good job. Matt Duchene continues to roll with 11 points in 12 games, MacKinnon has a respectable seven points in 12 games, but there's something a little more to be desired overall. Captain Gabriel Landeskog has six points in 12 games, although, again, you want to see more from the Swede.
The real story is which players aren't producing. Jarome Iginla sits with two goals in 12 games. It comes as a bit of a surprise after a late season interview with the Denver Post revealed that Iginla felt re-invigorated as if he had a few good years left in the tank. We'll have to see if the aging veteran can turn things around.
Previous Ranking: 23 (-3)
Team Record: (5-8-1)
Player of the Week: F Daniel Sedin (4gp 2g 1a 3pts)
Special Teams
PP: 4-for-43 (9.3 percent) (29th)
PK: 6-for-40 (85.0 percent) (9th)
We sure took a lot of flack from Canucks fans following the first couple of weeks because we weren't ranking them higher. There was a reason for that. Vancouver had 17 goals through their first 10 games. They've looked better of late scoring 10 goals in their last three, including five versus the Rangers on Tuesday.
The most promising takeaway from the last game was the top line. Loui Eriksson scored his first goal of the year, and things seemed to be clicking the way we had expected after signing that $36 million dollar deal in the offseason. They'll need more than the Sedin twins and Eriksson going though if they hope to make a playoff push. Everyone wondered where the secondary scoring might come from beyond that top line. Guys like Bo Horvat and Brandon Sutter will need to step up to answer those questions.
If you're an optimist, you can take comfort in the fact that both goalies are playing so well. Most teams would love to have one guy going, let alone two. This should create options for GM Jim Benning a little ways down the road. That Ryan Miller contract is a tough sell right now, but as a rental at the deadline at a cheaper price, it could fetch the Canucks a couple decent assets.
Previous Ranking: 25 (-2)
Team Record: (5-6-2)
Player of the Week: D Dennis Seidenberg (3gp 1g 2a 3pts)
Special Teams
PP: 4-for-37 (10.8 percent) (26th)
PK: 11-for-48 (77.1 percent) (25th)
The Islanders should feel very fortunate about finding themselves in the early mix for a Wild-Card spot. Of course, it's still early, but a 5-6-2 record is a blessing based on the way this team has played. Their power play is an embarrassment thus far and the penalty kill isn't doing a whole lot better. There's certainly reason to feel optimistic that things can be turned around, but fans might also have to come to the realization this could a lottery team. After all, I don't care how good Cal Clutterback played alongside John Tavares, there's just no reason that should ever happen. This continual reluctance to find Johnny T proper linemates is going to catch up to this team eventually.
If the Isles hope to make a playoff return, they'll need their goalies to be better. The only way to explain Halak and Greiss thus far is a hit or miss tandem. Both are capable of putting up a solid performance, but you just don't know what to expect from night-to-night as consistency is major issue early on. If Halak can put together a few solid performances and GM Garth Snow is willing to retain part of his contract, a trade could be on the horizon given last week's developments. The extra roster spot for another forward or defenseman would at least make for more accountability up front or on the back end. If someone isn't playing well, they'll sit in the press box.
We should point out one individual on the blue line who is exceeding expectations. Free agent signing Dennis Seidenberg is having a solid bounce back year after being bought out by the Bruins. He's now up to eight points in 13 games, but even more impressive is the +10 plus/minus rating.
Up front, some of the usual suspects have been a point of consistency early on. Tavares has 11 points, Nelson with 10, Clutterbuck and Bailey with seven, while Cizikas and Prince sit at six. The bigger story is which guys aren't producing. Big free agent signing Andrew Ladd is off to a slow start with two points (scored his first goal of the year Sunday), so hopefully it's a sign of things to come after meeting a demotion. Anders Lee also sits with just two points through 13 games. Here's a guy that many thought was ready to surpass his 2014-15 totals of 25 goals (41 points), but at this point, that could an uphill battle. Even a guy like Ryan Strome with five points could do a little more. A disappointment of late is the fall-off of rookie Anthony Beauviller. He came flying out of the gates, disappeared for four games which was met with a healthy scratch, drew back into the lineup, only to be scratched once again on Monday. These hiccups tend to happen with rookies, so let's hope he can bounce back soon.
Previous Ranking: 27 (-1)
Team Record: (5-4-3)
Player of the Week: F Mitch Marner (3gp 3g 1a 4pts)
Special Teams
PP: 8-for-35 (22.9 percent) (6th)
PK: 6-for-42 (85.7 percent) (8th)
Growing pains, that's the only explanation for Tuesday's embarrassing loss at home to Los Angeles. It truly was a team loss with a poorous effort level across the board. Sounds like they were treated to a nice bag skate in the dark on Wednesday after a power issue during practice as a result.
It seems some fans may still need to level expectations. You still hear some fans or analysts murmur the words playoffs. That's not the goal, nor should it even be thought in 2016-17. This year is all about showing signs of improvement and getting a peek at some future talent. From that standpoint, you've gotta be impressed with the early signs. Frederik Andersen is beginning to find his way after an extremely slow start, and the kids are exceeding expectations. Sure, Matthews only has one assist over his last seven games, but we shouldn't read too much into it. Even if Patrik Laine is leading the NHL is scoring, that's not why you selected Auston Matthews. What if five years from now, Laine is Ovechkin tearing up the league on a team that can't win, while Matthews takes a page out of the Toews textbook? That's what management is banking on.
The only real concern at this point early on is this defensive group. While improved play all-around could go a long way in helping, it has become very clear that something is missing. Hopefully, the Maple Leafs can mask this issue in 2016-17 and give a few prospects another year to develop to possibly step in and have an impact. They could also look to the trade market to find another top defender. But let's call that a last resort.
Previous Ranking: 30 (+1)
Team Record: (4-7-0)
Player of the Week: F Max Domi (3gp 1g 3a 4pts)
Special Teams
PP: 4-for-38 (10.5 percent) (27th)
PK: 11-for-41 (73.2 percent) (28th)
I'm not sure why so many people expected the Coyotes to do any better than this in 2016-17. The writing was on the wall. An influx of incoming rookies was bound to cause some growing pains, and Arizona's worst fears have come true with Mike Smith on the shelf (no real surprise). Fans and management had seemingly convinced themselves that Louis Domingue was NHL ready, but a 2.90GAA and .918 save percentage might suggest otherwise. As we stated back in the offseason, this call was one year premature. Domingue needed just one more full year of being an AHL starter. Now, they're got cap constraints due to dead money, and can't do a whole lot to bring in another goalie. What does that mean? Well, all hope is on Louis Domingue. Will he crush and crumble under the pressure? or find a way to secure that starter role? Time will tell.
Looking to the blue line, I'd like to talk about one player in particular. It was exciting to see Anthony DeAngelo get a recent call-up. It was a sneaky good pickup by the Coyotes in the offseason for a guy who has the potential to be an impact offensive player on the back end. He looked good in his debut on Tuesday scoring a goal playing a little over 20 minutes of ice-time.
So, Max Domi won POW honors largely due to his three point performance in Colorado. Truth be told, he was already in the running following the Yotes game against Anaheim. Veteran Ryan Kesler made the mistake of challenging the son of a former NHL enforcer, and found out pretty quickly why you don't mess with a Domi.
Previous Ranking: 28 (-2)
Team Record: (3-5-3)
Player of the Week: F Jordan Staal (3gp 1g 1a 2pts)
Special Teams
PP: 8-for-38 (21.1 percent) (9th)
PK: 4-for-36 (88.9 percent) (5th)
It's still way too early, but I'm feeling comfortable about my 30th place prediction for Carolina after they sit occupied in the NHL's basement after 12 games. Everyone expected the Canes to do a lot better, and fans are still hoping for a turnaround, but truth be told, an opportunity to snag consensus number one Nolan Patrick is exactly what this franchise needs. That franchise number one center is the last piece of the puzzle to building another Cup contender.
On a positive note, Both Cam Ward and Eddie Lack struggled immensely early on, but Ward is finally starting to settle in. He's coming off his best week in which he collected a win over two starts with a 1.85GAA and .941 save percentage. The Canes need to see more of this Cam Ward until Alex Nedeljkovic is ready to step in.
Carolina's blue line will be tested over the next month or so with news that Justin Faulk is out week-to-week with an upper-body injury. It will be a good test for the likes of Jaccob Slavin, Brett Pesce, and Noah Hanifin to fill the void.
Looking up front, we see a number of disappointing starts: Teuvo Teravainen (three points), Elias Lindholm (two assists), Phil Di Giuseppe (0 points in 10 games), Andrej Nestrasil (two poins in seven games), Joakim Nordstrom (two assists), and Viktor Stalberg (two goals). Five goals, six assists between these six guys after 12 games just isn't going to cut it.
Games of the Week (Nov.10-Nov.16)
Thursday, November 10th
Minnesota Wild at Pittsburgh Penguins
The Wild are looking solid early on, but are coming off a long lay-off having played a single game over the last seven days. They'll be tested by the Cup Champion Penguins.
Friday, November 11th
Washington Capitals at Chicago Blackhawks
Both of these teams are playing well of late challenging atop their respective conferences. Look for this to be an exciting match-up.
Saturday, November 12th
San Jose Sharks at Tampa Bay Lightning
The standings don't currently support the notion, but make no mistake, this is two of the NHL's top teams squaring off. Some have even predicted this to be the Stanley Cup Final next Spring.
Sunday, November 13th
Minnesota Wild at Ottawa Senators
This should be a straight-up goaltending duel between two of the hottest goalies of late, Mike Condon and Devan Dubnyk. The team that score a goal or two might be your winner.
New York Rangers at Edmonton Oilers
New York edged the Oilers at home in their first match-up of the season. That could easily change as Connor McDavid and company play host to the Rangers late Sunday night.
Tuesday, November 15th
Tampa Bay Lightning at Detroit Red Wings
A rematch of last year's first round match-up, both of these teams are hungry for wins in the middle of dog fight in the Atlantic Division.
This article originally appeared on