NHL Power Rankings: Eastern Conference Taking Control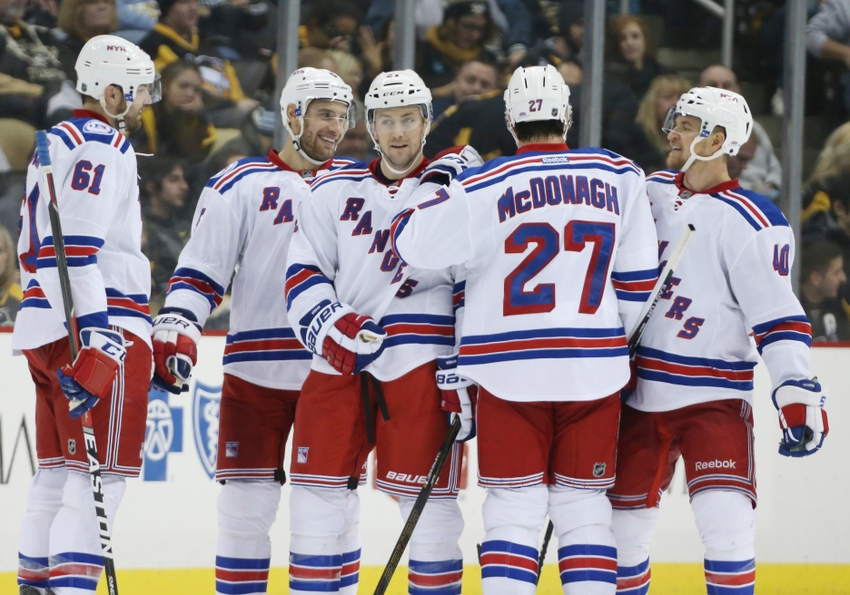 This week's edition of the NHL power rankings has a very Eastern Conference feel to the top of the list
We've had another seven days' worth of action in the books between Blackhawk Up's previous NHL power rankings and today's version. And while the teams haven't done a ton of shuffling, one thing has become abundantly clear.
The Eastern Conference, not so long ago clearly behind the Western Conference as far as team talent, is now ruling the league's roost. Five of the East's teams have 23 or more points. Just one in the West, the Chicago Blackhawks, can say as much.
And it doesn't stop there. But we can find out more by looking at the latest NHL power rankings, which see the same team on top and a new team at the bottom.
Editor's note: All statistics are as of Tuesday morning and do not include tonight's ongoing action.
No. 30: New York Islanders
Previous: 23rd
Season record: 5-8-4 (14 points)
One of the league darlings in previous seasons, New York is back where it was prior to achieving darling status: floundering in the NHL basement. Turns out letting Kyle Okposo walk wasn't the best decision. Though the young forward wouldn't be saving New York on his own this season.
I was actually looking for a reason not to put the Islanders in this spot, but they have the fewest wins in the league, and they've earned one point out of a possible 10 on the road thus far.
It's not like there aren't good pieces here, but having John Tavares (13 points) and Brock Nelson (12) as your only players in double digits 17 games into the season is clearly a problem.
No. 29: Vancouver Canucks
Previous: 25th
Season record: 7-10-2 (16 points)
This is the team I wanted to put at the bottom of this list, if only because of the way it lost 4-3 in overtime to Chicago on Saturday. And, yes, as of this post, that was the last game the Canucks had played. So it's still very much at the forefront.
To recap: A mostly bad Canucks team managed three straight goals against the Western Conference-leading Chicago Blackhawks to carry a 3-0 lead into the third period. They proceeded to prove they were mostly bad by blowing that lead, then losing twice in overtime (the first goal was waved off).
Maybe Vancouver should've sold high on the Sedin twins and Alexander Edler when it was possible. Even with 13 and 12 points, respectively, Daniel Sedin and Henrik Sedin are well past their prime. Edler, meanwhile, is now a breathing pylon in Vancouver. The Blackhawks used and abused him in that third period. He used to be at least half decent (some thought).
No. 28: Arizona Coyotes
Previous: 30th
Season record: 6-9-2 (14 points)
The Coyotes, not the Canucks, are bringing up the rear in the Western Conference. But at least Arizona is coming off a victory, dispatching San Jose 3-2 on Saturday.
The youth movement that showed some promising signs last season hasn't gotten rolling yet in 2016-17. Part of the reason for this is some of those promising signs are now struggling. And another part is the goaltending has been hurt (Mike Smith) or mediocre (Louis Domingue).
After Max Domi's 13 points and Jordan Martinook's 10, though, things are rough for the youngsters. Oliver Ekman-Larsson boasts just eight points. Same for Tobias Rieder. Jakob Chychrun has five. Connor Murphy has four. Anthony Duclair and Michael Stone have three apiece.
These are key players for the organization's present and future. They all need to pick it up at some point or another for Arizona to rise in the standings.
No. 27: Detroit Red Wings
Previous: 14th
Season record: 8-10-1 (17 points)
Something has gone horribly wrong in the Motor City. You could look to goaltender Petr Mrazek, who was supposed to run the show but has instead posted a .901/3.16 slashline.
However, Jimmy Howard is showing a stellar .940/1.85 slashline and has just about the same exact record in net as Mrazek: 4-5-0 versus 4-5-1. What's going on here?
We have to look, again, at youngsters underperforming. Detroit has a reliable veteran in Henrik Zetterberg, who is leading the team with 12 points. But the Wings were going to need much more production from their youth to succeed.
To that end, Gustav Nyquist also has 12 points. And then … Tomas Tatar carries seven points. Dylan Larkin and Luke Glendening have six apiece. Andreas Athanasiou has five. Not helping is the lack of health from guys like Thomas Vanek and Niklas Kronwall. Is the playoff streak nearing its conclusion?
No. 26: Calgary Flames
Previous: 30th
Season record: 8-12-1
Didn't the Flames go out and get Brian Elliott to improve their goaltending? Yeah, that hasn't worked so far.
Calgary carries the most goals allowed in the league at 69, and Elliott's work has certainly contributed to that. The former St. Louis Blue is 3-9-0 with a .882/3.43 slashline. That's absolutely hideous.
The team is surviving on the back of backup Chad Johnson, who has actually been pretty stellar for a second-tier guy (5-3-1, .911, 2.31). Having Johnny Gaudreau out for several weeks is going to keep the Flames on their backsides, too, regardless of whether Elliott turns around his act.
No. 25: Buffalo Sabres
Previous: 26th
Season record: 7-8-4
They've won their last two games and are still 3-5-2 over their last 10 games, so the Sabres temporarily saved themselves from sinking closer to the basement.
It certainly didn't have anything to do with their offense. Every other team in the league has scored more goals than the Sabres' 37, and Buffalo is one of just two teams (Colorado, 39) to not hit 40 goals yet this season.
The aforementioned New York Islanders could certainly use the only guy who is scoring for Buffalo. Kyle Okposo has netted 12 points on the back of an even goals-assists split. No one else on the team has hit 10 points yet, with guys like Evander Kane (two points, minus-7 rating) and Tyler Ennis (two points, minus-6 rating) really struggling hard.
No. 24: Nashville Predators
Previous: 22nd
Season record: 8-7-3
Spending more time at Bridgestone Arena would do wonders for the Predators, apparently. They've posted a solid 6-1-1 record in Smashville. You'll notice the Preds are still right around .500.
The Preds do have five guys with 11 or more points, led by newcomer P.K. Subban and Filip Forsberg, both at 13. Five of Nashville's top six point producers also have double-digit shooting percentages, but I'm sure the Preds would like Forsberg's motley 2.6 mark to rise.
Pekka Rinne is also rounding into form after a sluggish start, though his 7-5-3 record doesn't quite match his .933/2.04 slashline. The team just seems really out of sorts … maybe the loss of Shea Weber was more important than we thought.
No. 23: Colorado Avalanche
Previous: 28th
Season record: 9-9-0
Colorado is going to be absolutely average at everything, it seems, until new coach Jared Bednar can fully incorporate his different culture.
The Avs aren't getting a whole lot of help from anyone on offense, as Nathan MacKinnon, Matt Duchene and Erik Johnson are the only ones who have hit double-digit points. That reflects in the offense, with its aforementioned 39 goals in 18 games.
But the Avs' goal differential is still just minus-10. Calvin Pickard has been really solid in minimal action, while Semyon Varlamov has been … eh. Not as terrible as he was under Patrick Roy, anyway. There's just not much here to be excited about.
No. 22: Philadelphia Flyers
Previous: 18th
Season record: 8-8-3
So many of these teams we've talked about haven't scored a whole lot. That certainly hasn't been a problem for the Flyers, as it usually isn't. The big three of Claude Giroux (17 points), Jakub Voracek (17) and Wayne Simmonds (16) leads a group of seven skaters with at least 10 points.
Incredibly, everyone on the roster has at least one point (minus the goaltenders). So the problem again goes to the defense and goaltending.
Philly can tout Shayne Gostisbehere as the next great blueliner all it wants to (and he is a budding one), but until the team makes an actually commitment to its back end, it won't be improving much.
Steve Mason (.886/3.12) and Michal Neuvirth (.859/3.54) just can't get the job done behind a mostly meh blue line. And that's the end of the story.
No. 21: Winnipeg Jets
Previous: 11th
Season record: 9-10-2
Things haven't been great for the Jets since they used a big third period to mash the Blackhawks last week. In fact, Winnipeg has lost its last three games since then.
Winnipeg has the same issue as Philadelphia in that there are plenty of scoring options but not much to be happy about on the back end. Mark Scheifele and Patrik Laine have both surpassed 10 goals and combined for 41 points. Nikolaj Ehlers has added 18 points.
An increase in skillful youth and speed has been good for the Jets' offense, but the defense is still a work in progress. If that can get worked out, Connor Hellebuyck should be able to lift things from in the net. Good pieces in place, but it's still a growing team.
No. 20: Carolina Hurricanes
Previous: 27th
Season record: 7-6-4
This is what the Hurricanes do, isn't it? They go on streaks to make it seem like they're getting back into the postseason chase, and then they ultimately fall back. This time is currently the former for Carolina.
The team has won its last four games. Victor Rask and Jeff Skinner are doing plenty to help with 15 points apiece, while Cam Ward is trying to find some past spark (.916/2.36). Oh, and former Blackhawk Teuvo Teravainen has 10 points.
Carolina is still in the lower portion of the Eastern Conference standings, but maybe they can actually sustain this current run. Probably not.
No. 19: Toronto Maple Leafs
Previous: 20th
Season record: 8-7-3
Air Canada Centre has been very kind to the Leafs this season, as they've posted a 7-2-0 record there. The youth movement is still a work in progress for coach Mike Babcock's crew, but there are good pieces in place.
First overall pick Auston Matthews' hot start has gotten cooler, as he's sitting on 13 points. But he's also one of seven Leafs with 11 points or more. This Toronto outfit just finds the net a lot, especially on the powerplay. The Leafs have a 21.6 percent success rate, good for ninth in the league.
But, much like seemingly all the teams we've talked about thus far, the back end just won't cut it. Frederik Andersen was brought it to carry the goaltending and has done nothing close to that (.908/3.09). The defense in front of him is a mostly learning group, too.
No. 18: Dallas Stars
Previous: 19th
Season record: 8-7-5
Is Dallas going the route of some previous Florida Panthers teams, that have skated into the playoffs on a ton of overtime points?
That could be the best option for the Stars if their offense continues to be iffy and their goaltending continues to be … what it is.
The former of those two issues is more likely to change. Tyler Seguin is doing better than a point per game (22 in 20), while most everyone else is underperforming. No one has reached 10 goals yet, which is surprising for a mostly unchanged group that went off while shooting the puck last season.
Early injuries to the likes of Jason Spezza, Patrick Sharp and Jiri Hudler also haven't helped. But this all goes back to goaltending for the Stars, as they did nothing to improve on the duo of Antti Niemi (.903/3.17) and Kari Lehtonen (.889/3.31) in the offseason.
No. 17: New Jersey Devils
Previous: 6th
Season record: 9-6-3
Taylor Hall being injured is a serious issue for the Devils. The guy still leads the team in points, and he's missed four games of the season. Not surprising, New Jersey is also the owner of a three-game losing streak.
The Devils, as usual, are being carried by the goaltending of Cory Schneider. But Keith Kinkaid, the backup, has actually been really good as well. Schneider is holding a .923/2.27 slashline, while Kinkaid is at .931/2.24 in limited action.
At the end of the day, this offseason runs through Hall. And while defense and goaltending wins championships, not scoring can be a pretty noticeable problem, as the Devils are finding out.
No. 16: Minnesota Wild
Previous: 13th
Season record: 9-7-2
The goaltending is certainly good in Minnesota. Devan Dubnyk is probably leading the Vezina Trophy race with a crazy .949/1.59 slashline. So there has to be a reason Minnesota is absolutely middling and barely in the wild card race.
That would be the offense. Breaking from the mold of some of our previous entries, the offense is letting down the goaltending (New Jersey can relate). Eric Staal and Ryan Suter both carry 13 points, but the team just doesn't seem to get the puck on net a whole lot.
Minnesota seems destined to be a wild card team yet again.
No. 15: Anaheim Ducks
Previous: 15th
Season record: 9-7-3
The Ducks are on somewhat of a rise despite some pretty "meh" offense so far. Corey Perry and Ryan Getzlaf have shooting percentages of less than 7 (Getzlaf's is 2.9), and Ryan Kesler is the leading goal scorer with eight.
Jonathan Bernier has probably been better than expected in net, carrying a .933/2.06 slashline. But he's not the starter, as John Gibson has drawn 14 of 19 starts. His .908/2.59 slashline is good but not great.
Anaheim's idea of attack is still a physical assault on opposing teams, and it's led to them producing about as many goals as they've given up. That'll probably wind up being OK in what's shaping up to be a weak Pacific Division.
No. 14: Ottawa Senators
Previous: 9th
Season record: 10-7-1
Last season, Ottawa kind of sat around the playoff picture all year despite being an awful defensive team. This might not necessarily be going the same way, but a negative goal differential isn't going to help business.
Two issues right now are a lack of scoring and some issues in net. Only three Senators have hit double digits in points so far, with Erik Karlsson's points not surprisingly leading the way. I don't know who Ryan Dzingel is, but I'm guessing he shouldn't be third on the team in points and second in goals.
Craig Anderson is dealing with his wife's cancer diagnosis, so the fact he's posted a .928/2.26 slashline is pretty incredible. It's just not certain that he'll constantly be around this season. So Mike Condon (.939/1.95 in three games) is going to have to step up, likely.
No. 13: San Jose Sharks
Previous: 10th
Season record: 10-8-1
The Sharks have played quite a bit on the road so far, posting a 5-6-1 record. We should expect some sort of bounceback as they got more time in the Shark Tank (though hopefully not Wednesday against the Blackhawks).
Joe Pavelski continues to roll along for San Jose with a team-best 17 points. Brent Burns (16), Joe Thornton (13) and Logan Couture (10) are also in double digits. The supporting cast just hasn't done a whole lot yet in the offensive end, and Patrick Marleau has also struggled to just six points.
Martin Jones has been solid as well, proving last season was no fluke. His .915/2.17 slashline should be good enough on many nights. The Sharks just need more push from more guys.
No. 12: Florida Panthers
Previous: 21st
Season record: 10-8-1
This group most recently beat the Rangers, so that's definitely worth something. But Jaromir Jagr has less than 10 points, so everything is obviously terrible in Sunrise.
All jokes aside, Florida is hanging low early in the season but can certainly be better. Youngster Jonathan Marchessult has gotten his first season with the Panthers off to a flying start, posting a team-best 15 points. Vincent Trocheck (13) and Aleksander Barkov (11) have also been good supporters.
Roberto Luongo is doing what he usually has since leaving Vancouver: succeed. He's posting a .923/2.24 slashline in front of a defense that seems to be trying to find itself right now.
No. 11: Los Angeles Kings
Previous: 24th
Season record: 10-9-1
Might seem a little high for the Kings, but they're on a three-game win streak and proving they can succeed with a new captain and minus Jonathan Quick.
Peter Budaj is a journeyman goaltender, but he's looking right at home in Los Angeles. His .915/2.11 slashline is pretty good, all things considered. And especially since the Kings looked pretty without an identity early in the Anze Kopitar as captain era.
Kopitar has been out due to injury and is among the Kings underproducing (paging Drew Doughty). When Nic Dowd is your fifth leading point earner, something has gone horribly wrong.
And yet, the team is still succeeding. Look out, when things do start to click (and when Quick gets healthy).
No. 10: Edmonton Oilers
Previous: 12th
Season record: 11-8-1
Yes, I'm ranking a division leader below a team that's currently in an Eastern Conference wild card spot. This NHL season has been a little wonky so far.
The Oilers proved Monday against Chicago they have the skill and speed to go far. Of course, the game requires more than that to win, which is why Edmonton hasn't been able to pull away from a weak division.
We all know the names around here, especially after Monday. Connor McDavid is the real deal, posting 24 points in 20 games. Leon Draisaitl and Jordan Eberle (14 apiece) are also powerful forces on offense. The defense is still finding itself, but Cam Talbot has been serviceable to good so far (.920/2.47).
Beware this team, maybe even later this season.
No. 9: Columbus Blue Jackets
Previous: 17th
Season record: 10-4-3
The plus-16 goal differential is obviously skewed by the 10-goal affair against Montreal, but this team is still proving to be a really exciting one. Which is surprising, considering its coach is at least marginally insane.
But John Tortorella's latest group is indeed succeeding, even if he doesn't know what to do with the team's best player in Brandon Saad. Seven Jackets have 10 or more points, led by Nick Foligno's cool 18. Youngsters Alexander Wennberg (17) and Zach Werenski (15) are also impressing.
Sergei Bobrovsky is also finding his pre-injury form with a nice .931/2.19 slashline. A major issue for recent Jackets teams was Bobrovsky being unable to stay healthy. If the opposite holds true this season, Columbus could be a team to fear. (Also, if Tortorella doesn't meddle too much).
No. 8: Boston Bruins
Previous: 4th
Season record: 11-7-0
Tuukka Rask being good is always positive for the Bruins, who are finding some nice success away from home so far this season.
Boston is sporting a 7-4-0 road record on the backs of Rask and apparently-not-kidding forward Brad Marchand. I figured his success last season was a direct product of playing with Patrice Bergeron, but the latter has just five points while the former has a team-best 17.
Rask is the real story in Beantown so far, though. His .946/1.46 slashline is among the league's best, and it's more or less carrying a team that can probably produce more offensively. Or it could cave in on itself, like last season's team did. We'll see.
No. 7: St. Louis Blues
Previous: 16th
Season record: 10-6-3
Our least favorite team is on a three-game win streak and has played extremely well at Scottrade Center. Maybe it's good the Blues and Blackhawks will meet at Busch Stadium later this season.
Vladimir Tarasenko, as expected, is playing up to his potential. He's potted 19 points in as many games to lead the club in scoring. Kevin Shattenkirk has picked up the offensive pace from the blue line with 14 points.
Alex Pietrangelo hasn't exactly shone as the team's new captain (eight points, minus-9 rating). And the team hasn't entirely made up for the loss of David Backes and Troy Brouwer. But the good news is there's room for improvement.
That's certainly true in net as well. Jake Allen, in his first season as the official starter, hasn't taken the bull by the horns. His .910/2.35 slashline isn't terrible, but he needs to be better for a team that doesn't have a ton of offensive creativity.
No. 6: Washington Capitals
Previous: 7th
Season record: 11-5-2
The Caps have shown a balanced effort no matter where they've played, sitting at 6-3-0 at home and 5-2-2 on the road. But unlike last season, they're doing it almost entirely on the back of their goaltender instead of with help from the offense.
Alex Ovechkin isn't leading the team in points and has just a one-goal lead in the scoring column, so that alone should tell you things aren't perfect in D.C. That's not to say they're bad, of course. Nicklas Backstrom boasts 17 points in 18 games, while Ovechkin (13 points with nine goals) and T.J. Oshie (12 points with eight goals) are also assisting, along with Marcus Johansson (13 points).
Some better players like Evgeny Kuznetsov, Andre Burakovsky and Justin Williams are struggling to produce early. But goaltender Braden Holtby continues to be solid, drumming up a .927/1.99 statline.
No. 5: Pittsburgh Penguins
Previous: 5th
Season record: 11-5-3
Something isn't perfect here, and the Penguins are close to the top of the league with 25 points. That something: a minus-1 goal differential.
The goaltending has been a bit of an issue, since Matt Murray can't stay healthy and Marc-Andre Fleury hasn't been good. So the Pittsburgh offense has had to pick up the slack, and has done so thus far.
The big guns are performing about as expected, with Phil Kessel (18 points), Evgeni Malkin (17) and Sidney Crosby (16) pacing the scoring. Patric Hornqvist (13) has also been good, and Kris Letang (11) somehow keeps producing.
If the team can get its goaltending straightened out, a repeat trip to the Stanley Cup Final should be in the cards.
No. 4: Tampa Bay Lightning
Previous: 8th
Season record: 12-7-1
It may seem a little strange putting Tampa Bay above Washington and Pittsburgh, but the Lightning seem to be having a better run of things despite the worse record.
A 6-3-1 last 10 games has been spurred by a solid 7-5-0 road record and a plus-13 goal differential, among the league's best.
This rank isn't going to be easy to maintain, however, with Steven Stamkos out due to a knee injury. He posted 20 points in just 17 games, still second on the team. Nikita Kucherov has soared to 23 points in 19 games to pace the squad, while Tyler Johnson and Alex Killorn both have seven goals apiece.
Ben Bishop is treated a bit like a black sheep in Tampa, but he may be playing his way out (.908/2.80). Or, more so, backup Andrei Vasilevskiy may be playing his way into the starting job (.953/1.43). It's a strong enough combo to bolster the solid offense.
No. 3: Chicago Blackhawks
Previous: 2nd
Season record: 13-5-2
It's always nice to jump out to a lead in not only your division, but also your conference. The Blackhawks have ridden this to being the best team in the Western Conference, even if the Circus Trip has had an iffy run through Canada.
We know what's going on in Chicago. The team is once again dominating at the United Center (8-1-2). Corey Crawford has been mostly great in net (.921/2.34). And most of the big guns are producing on offense, with Patrick Kane's 20 points and 18 more apiece from Artem Anisimov and Artemi Panarin leading the surge.
On top of that, Marian Hossa has found himself after a tough previous season, and the youngsters are contributing at a fairly consistent rate. Pretty good for a team that was in flux this offseason.
No. 2: New York Rangers
Previous: 3rd
Season record: 14-5-1
This team can fill the net. And any team that has Henrik Lundqvist behind a potent scoring attack is one to be feared. The 29 points and plus-34 goal differential speak to that.
Kevin Hayes and J.T. Miller aren't necessarily what you'd call known commodities, but they both have a team-best 18 points. But it gets ridiculous after that. A whopping 12 guys already have 10 or more points — in addition to Hayes and Miller. There are some teams that hardly have four!
Can they sustain this? Maybe not. But Lundqvist is still among the world's best when healthy. His .918/2.27 line actually isn't that great for him, meaning this team can be even scarier.
No. 1: Montreal Canadiens
Previous: 1st
Season record: 14-3-2
I would honestly say the Rangers are probably the better all-around team, if you had to compare them and the Canadiens. But … Montreal has Carey Price.
I mean, it's not like the team is just Price, but they'd be lost without him. The .950/1.58 statline is absurd, and if he stays healthy and at this level, he should win the Vezina in a walk (sorry, Crow and others).
That said, the Habs do have threats on offense. And the defense has somehow been OK with Shea Weber around instead of P.K. Subban. Weber has had no problem transitioning to his new team, with 15 points early. Alex Galchenyuk (19 points) and the previously problematic Alexander Radulov (16) are also producing.
Montreal spends another week on top of the NHL power rankings from Blackhawk Up, but the New York Rangers are closing in. Regardless of which one is "best" right now, there's no doubt the Eastern Conference is controlling things early in the 2016-17 season.
This article originally appeared on