NHL Power Rankings: Eastern Conference Continues Dominance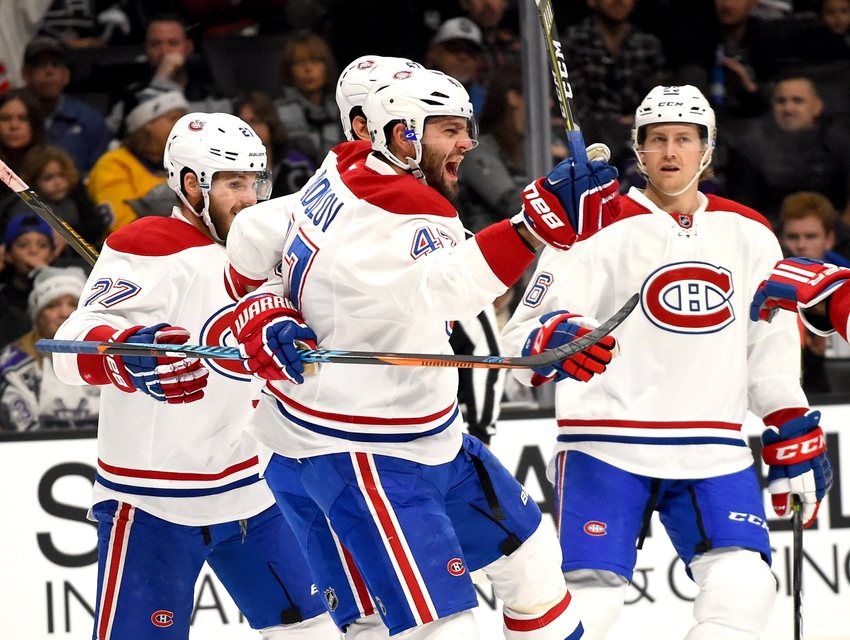 In this week's edition of the NHL power rankings, the top 10 is once again dominated by the Eastern Conference
The power shift in the NHL from the Western Conference to the Eastern Conference continues to roll on as the season moves into the month of December. While the West continues to sort out the bottom half of the league, the top 10 continues to be dominated by the East.
In this week's Blackhawk Up NHL power rankings, how will losing both Jonathan Toews and Corey Crawford affect Chicago's ranking and when, if at all, will they be able to reclaim the top spot in the NHL?
With that, let's get into this week's rankings.
No. 30: Colorado Avalanche
Last Week: 25th
Record: 9-14-1 (19 points)
Over the last 10 games, the Avalanche have gone 3-6-1, including currently riding a six-game losing streak.
No. 29: New York Islanders
Last Week: 30th
Record: 10-10-5 (25 points)
One of the more disappointing teams this season, the Islanders have done well on home ice but have struggled away from the Barclays Center (2-6-1) and haven't been able to string together quality wins.
No. 28: Arizona Coyotes
Last Week: 26th
Record: 8-12-4 (20 points)
The Coyotes are going to be the Coyotes. They've gone 3-4-3 over their last 10 games and are currently struggling with a five-game losing streak.
No. 27: Vancouver Canucks
Last Week: 27th
Record: 11-13-2 (24 points)
The Canucks haven't had a real direction all season, although their effort against the Maple Leafs gives something to hold on to.
No. 26: Buffalo Sabres
Last Week: 29th
Record: 10-10-5 (25 points)
Jack Eichel is back from his ankle injury and that's only going to bring good things to the Sabres moving forward.
No. 25: Detroit Red Wings
Last Week: 24th
Record: 13-11-3 (29 points)
Sitting two points out of a wild card spot and lacking a real hot streak so far this year, the Red Wings might see their Stanley Cup Playoffs appearance streak come to an end this season.
No. 24: Carolina Hurricanes
Last Week: 18th
Record: 10-10-5 (25 points)
Cam Ward has been a bright spot for the Hurricanes as of late, but the team as a whole is lacking. 5-4-1 over its last 10 games and 3-7-5 on the road doesn't help.
No. 23: Toronto Maple Leafs
Last Week: 23rd
Record: 10-9-5 (25 points)
The Maple Leafs might have the brightest future in the NHL, but at the moment, all of their future pieces are just finding their legs in the league. An 8-3-0 record at the Air Canada Centre is a bright spot for the team this year.
No. 22: Florida Panthers
Last Week: 20th
Record: 12-11-4 (28 points)
After firing their head coach in an unceremonious way, the Panthers are having a tough time breaking through in 2016 after winning the Atlantic Division last year.
No. 21: Dallas Stars
Last Week: 16th
Record: 10-11-6 (26 points)
One of the favorites in the Western Conference to begin the season, the Stars have been hampered with injuries that have stalled the first quarter of the year for them. Good for them, though, the entire Western Conference is down this year, so Dallas finds itself just two points out of a playoff spot.
No. 20: Nashville Predators
Last Week: 21st
Record: 12-9-4 (28 points)
Another underachieving Central Division team, the Predators have benefited from the addition of P.K. Subban and have done a great job of playing well at home. On the flip side, a road record of 3-7-2 has put them behind this season.
No. 19: New Jersey Devils
Last Week: 17th
Record: 12-7-6 (30 points)
While Cory Schneider is one of the best goalies in the league, Keith Kinkaid has been playing well in his backup role and has helped the Devils to a position just outside the Stanley Cup Playoff picture. Also, the Devils have yet to lose at home in regulation.
No. 18: Winnipeg Jets
Last Week: 19th
Record: 13-13-3 (29 points)
Bryan Little has been a welcome return for the Jets and they're currently right in the thick of things in the Stanley Cup Playoff race.
No. 17: Anaheim Ducks
Last Week: 15th
Record: 12-9-5 (29 points)
Besides their 8-3 loss Flames, the Ducks have been even-keel throughout the season and currently sit in fourth in the Pacific Division.
No. 16: Calgary Flames
Last Week: 28th
Record: 14-13-2 (30 points)
Johnny Gaudreau returned to action three weeks earlier than expected and had a two-point night in his first game back. The Flames are one point ahead of Anaheim for a guaranteed Stanley Cup Playoff spot, and the addition of Gaudreau come push them ahead.
No. 15: Philadelphia Flyers
Last Week: 22nd
Record: 15-10-3 (33 points)
The Flyers have made statements with their recent wins over the Predators and Blackhawks and sit in a wild card spot in the Eastern Conference, going 7-3-0 in their last 10 games.
No. 14: Boston Bruins
Last Week: 9th
Record: 15-10-1 (31 points)
Boston got off to a slow start this year, but has rebounded nicely, riding a four-game winning streak and a road record of 8-5-1 to boot.
No. 13: Minnesota Wild
Last Week: 14th
Record: 12-8-4 (28 points)
Eric Staal has found his place in Minnesota and Charlie Coyle is getting hot at the right time. Add in that the Wild have the best goal differential in the Central Division and it's no wonder they are in a playoff spot.
No. 12: Los Angeles Kings
Last Week: 10th
Record: 13-10-2 (26 points)
The loss of Jonathan Quick looked to be a dagger, but the Kings have been able to take advantage of great goaltending from Peter Budaj and have gone 6-2-2 over their last 10 games.
No. 11: Edmonton Oilers
Last Week: 13th
Record: 14-10-4 (32 points)
The Oilers had a scare when Connor McDavid had to briefly leave their game against the Wild due to concussion protocol, but he returned and has led Edmonton all season, as predicted. What was not predicted was that the Oilers would be one of the contenders in the Western Conference, yet here they are.
No. 10: St. Louis Blues
Last Week: 5th
Record: 15-7-4 (34 points)
The Blues have been on fire playing at home this year, posting a 12-1-3 record. But away from home ice, the Blues are 3-6-1. They sit in second place in the Central Division, despite a zero goal differential.
No. 9: San Jose Sharks
Last Week: 12th
Record: 15-9-1 (31 points)
The defending Western Conference champions have looked the part again this season, especially posting a 6-3-1 record over their last 10 games, with all 10 games happening in an 18-day span.
No. 8: Tampa Bay Lightning
Last Week: 6th
Record: 14-11-2 (30 points)
The Lightning got off to a fast start, but have begun to fizzle a bit. Going 4-5-1 over their last 10 games has stalled their momentum in a road-heavy schedule so far.
No. 7: Washington Capitals
Last Week: 4th
Record: 14-7-3 (31 points)
Until Tuesday night, Washington was riding a rare, three-game losing streak. The Capitals still currently hold a wild card spot in the contentious Eastern Conference. But they have gone 5-3-2 over their last 10 and still have Alex Ovechkin, so they will manage.
No. 6: Columbus Blue Jackets
Last Week: 8th
Record: 15-5-4 (34 points)
The surprise of the season has been the play of the Blue Jackets. Heading into the 2016-17 season, and especially after how the World Cup of Hockey ended for the John Tortorella-led Team USA squad, the Blue Jackets were not favored to be in a contending spot in the Eastern Conference. But Sergei Bobrovsky and the play of Zach Werenski have led Columbus to a top-three spot in the Metropolitan Division.
No. 5: Chicago Blackhawks
Last Week: 7th
Record: 17-8-3 (37 points)
The Blackhawks are still one of the more dangerous teams in the NHL, but the loss of both Jonathan Toews and Corey Crawford in recent weeks has exposed the true lack of depth for Chicago. Scott Darling will now have to pick up the reigns in net, and top players like Patrick Kane and Marian Hossa will be expected to drive the Blackhawks offensively without Toews.
No. 4: Ottawa Senators
Last Week: 11th
Record: 15-9-2 (32 points)
The story of Craig Anderson and the Ottawa Senators this season is incredible. How he has played at the level he has, while dealing with his wife's cancer diagnosis and treatment, is nothing short of amazing.
No. 3: Pittsburgh Penguins
Last Week: 2nd
Record:16-7-3 (35 points)
Reigning Stanley Cup champions. Sidney Crosby. Evgeni Malkin. Phil Kessel. A goalie tandem of Marc-Andre Fleury and Matt Murray . What more could the Penguins ask for?
No. 2: New York Rangers
Last Week: 3rd
Record: 17-9-1 (35 points)
No one is scoring like the Rangers are scoring. Leading the NHL with 97 goals and a goal differential of plus-28 has the rangers tied atop the Metropolitan Division. Plus, Henrik Lundqvist is still one of the top three goalies in the NHL. Boom.
No. 1: Montreal Canadiens
Last Week: 1st
Record: 17-6-3 (37 points)
A healthy Carey Price, and being on the better end of the P.K. Subban-for-Shea Weber deal. That's how the Canadiens sleep at night.
This article originally appeared on