NHL Power Rankings 2016-17, Week 8: Islanders continue slump, Canadiens on top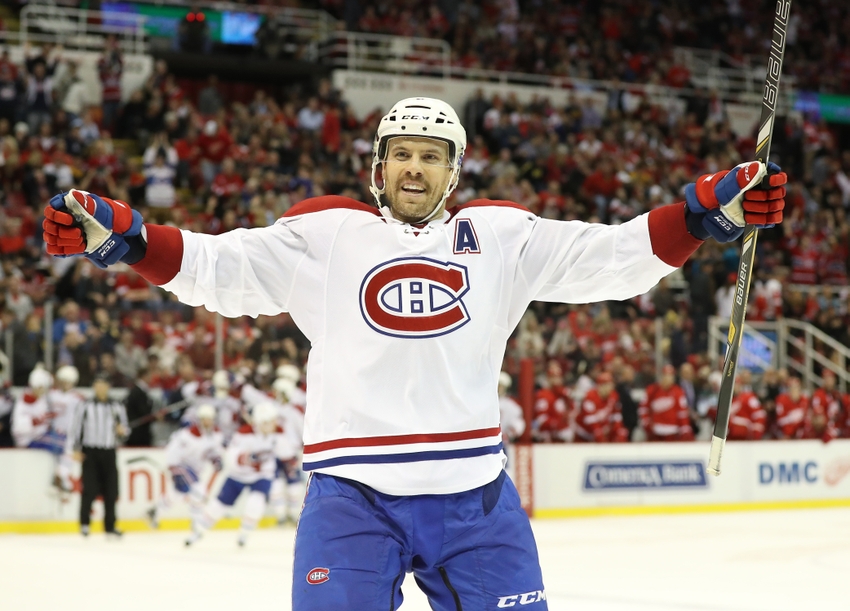 In this week's NHL Power Rankings, the Islanders continue free falling while the Canadiens are still on top. 
Now that the month of November is ending, the NHL season is truly underway. Each team has played roughly 25 percent of their regular season games. The end of the 11th month also serves as a strong measuring point for hockey teams.
While teams still have about 60 games left, climbing out of deficits is quite rare. Last season is a bit of an anomaly, but the Philadelphia Flyers, Florida Panthers, Anaheim Ducks, and Tampa Bay Lightning all made the playoffs after being out of them at the end of November. However, of those teams, only the Ducks and the Flyers were more than four points out of a playoff spot.
If a team is more than four points out after November, let's just say you shouldn't be planning on buying postseason tickets. Is it impossible for a team to overcome such a deficit? Certainly not, but at the same time, the odds are against them.
Last week, 11 of the 16 top point percentage teams were from the Eastern Conference. This week, it's much more balanced with nine of them being from the east and seven from the west. After a weak start, the Western Conference has become much more strong. However, it still has just three teams in the top 10 in point percentage.
These rankings will be compiled by a team's record, who they have beaten, and how they have looked in games. A tough loss to a very good team isn't the worst thing in the world if you play well. The team's record certainly counts, but so do a lot of other things. All stats, unless otherwise noted, are courtesy of Corsica and are at even strength (five on five). If you're curious about expected goals for percentage (xGF percentage), which will be referenced throughout the rankings, here's a good reading.
In case you would like to reference last week's rankings, you can check them out here. Without further ado, let's start this week's NHL power rankings.
30
New York
Islanders
(7-10-4)
Last week:
2-2-0 record
Last rank:
30th
Many thought the Islanders had hit rock bottom last week. Well, maybe they haven't. Their free fall continues, as now they are officially the worst team in the NHL. They have a .429 percent point percentage, the lowest in the league. The Islanders struggle to score (10th fewest goals per game) and allow a lot of goals (seventh most goals allowed per game). Perhaps no team has fallen as hard from grace since 2014-15 than the Isles.
29
Colorado
Avalanche
(9-11-1)
Last week:
0-2-1 record
Last rank:
23rd
The Colorado Avalanche have a lot of depth issues. Sure, Nathan MacKinnon and Matt Duchene have proven to be quality top forwards. Tyson Barrie is a great defenseman. The issue? They don't have too much outside of them. Also, Semyon Varlamov declining hasn't done much to help the issue. However, patience must be preached by the Avalanche. Jared Bednar deserves an extended chance before judgment is given out.
28
Arizona
Coyotes
(8-10-3)
Last week:
2-1-1 record
Last rank:
28th
Arizona is still not in a good shape even after a strong week. They have the lowest xGF percentage in the NHL at 41.20 percent. Not only that, they have the second worst power play in the league and seventh worst penalty kill. That's a recipe for disaster. Alex Goligoski has been a nightmare after signing a huge contract during the offseason. At least the Coyotes still have Max Domi and Anthony Duclair. Not too much else is going well for them this season.
27
Buffalo
Sabres
(8-9-5)
Last week:
1-1-1 record
Last rank:
26th
The Buffalo Sabres offense has been dreadful this season. They're wasting some pretty great goaltending by Robin Lehner and Anders Nilsson. During the month of November, Buffalo has scored fewer than three goals in all but one of their 13 games. Missing Jack Eichel has caught up to them, but how much help can he give? Evander Kane has been a huge disappointment and is killing whatever trade value he had left.
26
Vancouver
Canucks
(10-11-2)
Last week:
3-1-0 record
Last rank:
29th
The Vancouver Canucks are perhaps in the worst kind of spot. They are a team who needs to rebuild, but their front office doesn't quite realize it. Vancouver had a nice run for a bit, but they must look forward to the future. Big free agent acquisition Loui Eriksson has been quite unimpressive so far despite seeing a lot of playing time with the Sedin twins. However, there is some hope for Vancouver. Bo Horvat has been very good so far this season. He might be their future number one center. At worst, Horvat looks like a darn good number two center.
25
Winnipeg
Jets
(11-12-2)
Last week:
2-2-0 record
Last rank:
22nd
After a very strong start to their season, the Winnipeg Jets have fallen off a cliff. While Mark Scheifele and Patrik Laine have been outstanding, they must address their depth. Sure, it's important to have strong top forwards. However, it's equally important, if not more so, to have forward depth. Their defensive depth has also been one of the most shallow in the NHL, even after factoring in the return of Jacob Trouba. Paul Maurice might be on his way out unless things get better soon. But with Gerard Gallant currently available, maybe that's not a bad thing.
24
Calgary
Flames
(10-13-2)
Last week:
2-1-1 record
Last rank:
25th
Don't let their record last week fool you – the Calgary Flames are still a very bad hockey team. They rank in the bottom six in the NHL in xGF percentage (46.98) and have the league's most incompetent power play. Calgary converts on just 10.5 percent of their power plays and kill just 75.8 percent of their penalties. Chad Johnson is the new starting goaltender. With Brian Elliott struggling so much, it's not a guarantee they'll extend him. So both of their goalies are free agents after this season. Certainly not ideal.
23
Dallas
Stars
(9-9-6)
Last week:
1-2-1 record
Last rank:
20th
The Dallas Stars' issues continue. After expecting to be Stanley Cup contenders, injuries and defensive inexperience has led them to a very bad position to be in after November. That said, not all hope is lost for Dallas. Despite their struggles, they remain just a point out of a wild card spot. Their risk in trusting their young defensemen is one that hasn't paid off at all. Julius Honka has been impressive in a small sample size, though.
22
Florida
Panthers
(11-10-2)
Last week:
1-2-1 record
Last rank:
16th
The Florida Panthers are one of the strongest possession teams in the NHL with a 52.01 percent Corsi For percentage (CF percentage). However, Corsi is not the answer, it is merely the beginning of more questions. Their scoring chance percentage (SCF percentage) of 46.57 and xGF percentage of 49.24 tells a different story – this team hasn't been good. Granted, the losses of Nick Bjugstad and Jonathan Huberdeau explain a lot of this. But at the same time, maybe firing Gallant was the right move. Though having the general manager replace the head coach hasn't worked well in recent years.
21
Carolina
Hurricanes
(9-9-4)
Last week:
2-3-0 record
Last rank:
18th
After an excellent week two weeks ago, the Hurricanes have come back down to earth a little bit. Once again, goaltending is their number one concern. That said, there's a lot for Hurricanes fans to be optimistic about. Teuvo Teravainen is thriving in a much larger role than he has previously been in. Jeff Skinner is playing wonderfully. They have some pretty impressive forward depth. But expect them to do something about their goaltending soon. Cam Ward and Eddie Lack aren't cutting it.
20
Detroit
Red Wings
(11-10-2)
Last week:
3-0-1 record
Last rank:
27th
Despite a three win week, the Red Wings got some terrible news. Just when Jimmy Howard was catching fire, perhaps enough to trade him for something rather than have to hope Vegas takes him in the expansion draft, he got injured. Their 48.02 xGF percentage reflects how they're playing. Howard and Petr Mrazek have had to bail them out more often than not. Detroit ranks seventh in fewest goals scored a game and 16th in most goals allowed a game. Not a good combination.
19
Philadelphia
Flyers
(11-10-3)
Last week:
3-2-0 record
Last rank:
23rd
The Flyers still don't have an impressive xGF percentage, as it's the third lowest in the NHL (45.96). Their expected goals for per 60 minutes (xGF60) of 2.31, in the bottom ten in the league, shows maybe their high scoring offense so far isn't sustainable. However, once you calculate it during all situations, it looks much better. This proves the Flyers are relying on their special teams. Steve Mason looked quite good in Tuesday's win over the Boston Bruins, which is encouraging.
18
Boston
Bruins
(12-10-1)
Last week:
1-3-1 record
Last rank:
9th
A terrible week for the Boston Bruins. They are struggling defensively, allowing at least three goals in four of their five games last week. Also, Boston is struggling to score goals as well, since they only scored more than two goals once in five games. The Bruins tend to rely on their top lines and pairings to produce. This is what usually happens when those pairings and lines struggle. The offense is getting carried by David Pastrnak, David Krejci, and Brad Marchand. At some point, some other players have to start helping out.
17
Toronto
Maple Leafs
(10-8-4)
Last week:
2-1-1 record
Last rank:
19th
This was a very impressive week for the Toronto Maple Leafs. Their two wins came against the Washington Capitals and Edmonton Oilers, both of whom are very good teams. Frederik Andersen has looked much better as of late. He's starting to get comfortable in Toronto's system. Auston Matthews had a goal scoring drought, but well, it's over. About their only major issue is their defense. They could really use a top pairing defenseman.
16
New Jersey
Devils
(10-7-5)
Last week:
1-1-2 record
Last rank:
15th
The New Jersey Devils still have some growing to do. Taylor Hall's injury proves the Devils simply aren't deep enough offensively to be a serious Stanley Cup contender. While losing someone like him would hurt any team, New Jersey has been very unimpressive offensively without him. Their xGF percentage of 46.50 is concerning. Cory Schneider and Keith Kinkaid have been bailing out the Devils a lot this season. That's not a very good sign.
15
Tampa Bay
Lightning
(13-10-1)
Last week:
1-3-0 record
Last rank:
4th
The Tampa Bay Lightning had a rough week. It can be attributed primarily to the loss of defenseman Anton Stralman. Their struggles prove just how important he is to their team. However, it also highlights how much they rely on their top defensive pairing. While the Lightning have impressive forward depth, their blue line depth isn't nearly as good. They're top heavy as far as their defensemen. A trade is probably needed to shore up their blue line. They have the cap space to do so due to the injury to Steven Stamkos.
14
Edmonton
Oilers
(12-10-2)
Last week:
1-2-1 record
Last rank:
12th
This week proves how important Connor McDavid is to the Edmonton Oilers. On the other hand, it also proves they rely on him way too much. McDavid has 31 points, which is nearly double Milan Lucic, Jordan Eberle, and Leon Draisaitl (17 points each) in second place. While they score a lot of goals (ninth most per game in the NHL), Edmonton is creeping up the list of most goals allowed (15th most in the NHL). Defensively, they're still a mess.
13
Nashville
Predators
(11-8-3)
Last week:
3-1-0 record
Last rank:
21st
After a very slow start to the 2016-17 NHL season, the Nashville Predators are starting to look like the Stanley Cup contender everyone expected them to be. Their 52.82 percent xGF percentage is impressive. While no one is emerging as the go to guy, maybe that's not a terrible thing for the Predators. Ryan Johansen and Filip Forsberg each have 16 points. James Neal and P.K. Subban have 15 points a piece. Eight of their players have double digit points and two more are at nine points. If Pekka Rinne can be solid in net, the Predators are in good shape.
12
Anaheim
Ducks
(11-8-4)
Last week:
2-1-1 record
Last rank:
10th
This was a very solid week for the Ducks, but a lot of teams did very well this week, which explains the slight drop in the rankings. Their 51.19 xGF percentage is promising, but they are a bit too reliant on Ryan Getzlaf and Corey Perry. Then again, this isn't a new problem for the Ducks. Randy Carlyle has Anaheim playing well. If they can add some more scoring, they might be a serious Stanley Cup contender this NHL season.
11
Minnesota
Wild
(11-8-3)
Last week:
2-1-1 record
Last rank:
13th
Sharing the same record as the Nashville Predators, the Minnesota Wild get the nod because they've been far more consistent this season. More importantly, they have a +15 goal differential compared to the Predators' +7. Also, Minnesota has been better on the road than Nashville. The Wild are defined by their great defense, as they have allowed just 47 goals in 22 games. Minnesota still needs to add another scorer, but they have the resources necessary to trade for one.
10
Los Angeles
Kings
(12-9-1)
Last week:
2-0-0 record
Last rank:
11th
It hasn't been pretty, but the Kings currently have a five game winning streak. As expected, they have relied heavily on their defense, which ranks eight in the NHL in fewest goals allowed per game. Meanwhile, their offense has been a little bit better than anticipated, ranking 15th in the NHL in goals scored per game. Jeff Carter has been amazing this season with 19 points, picking up the slack of Anze Kopitar, who has just nine points so far.
9
San Jose
Sharks
(13-9-1)
Last week:
3-1-0 record
Last rank:
14th
The San Jose Sharks offense still hasn't woken up yet. In their four games last week, they only scored more than two goals once. However, just as in weeks past, their elite defense has covered it up. San Jose has a bit of fight in them, as they proved with their last minute 3-2 win over the New York Islanders. Sure, only Brent Burns, Joe Pavelski, and Logan Couture are scoring. But considering they're without Tomas Hertl, the Sharks are doing a darn good job. And their defense is good enough that they don't need to have a great offense to win games in the NHL.
8
Columbus
Blue Jackets
(12-5-4)
Last week:
2-1-1
Last rank:
7th
Things are definitely looking up for the Columbus Blue Jackets. While their xGF percentage of 49.23 still isn't among the best in the NHL, it's rising, which is an encouraging sign. Columbus is doing a very good job at creating scoring chances and a decent job at limiting them. Sergei Bobrovsky looks like a Vezina Trophy candidate, so decent has been good enough for their defense. Zach Werenski and Seth Jones have transformed their blue line. The NHL doesn't have a comeback player of the year award in the traditional sense, but if it did, Nick Foligno would be a very strong candidate.
7
Ottawa
Senators
(14-8-1)
Last week:
4-1-0
Last rank:
17th
The Ottawa Senators offense is starting to get going. In three of their five games last week, Ottawa scored at least three goals. At the same time, outside of Tuesday's loss to the Buffalo Sabres, their defense has been quite good, allowing one or fewer goals in three of their five games. In order to make the playoffs, they've got to keep on scoring and their defense has to continue to not allow goals. Craig Anderson has been terrific for them.
6
St. Louis
Blues
(13-7-3)
Last week:
3-1-0
Last rank:
8th
It wasn't pretty, but the St. Louis Blues emerged from last week with three ugly wins, including two in overtime. Their defense is starting to break down a bit, as they allowed more than three goals in three of their four games. However, their offense has been up to the task, scoring more than three goals in each of the games as well. The Blues have to get their goaltending situation figured out because Jake Allen and Carter Hutton aren't cutting it.
5
Pittsburgh
Penguins
(13-6-3)
Last week:
2-1-0
Last rank:
6th
The Pittsburgh Penguins are starting to look much better. Sure, they still rely on Sidney Crosby quite a bit, but other players have been doing well too. Marc-Andre Fleury has been awful for them. Meanwhile, Matt Murray has been one of the top goalies in the NHL. So maybe the goaltending controversy in Pittsburgh is over. The Penguins still have some problems defensively, which they need to fix. However, their offense might be good enough to overcome these issues. Starting Murray regularly might help as well.
4
Washington
Capitals
(13-6-2)
Last week:
2-1-0
Last rank:
5th
The Washington Capitals remain one of the top teams in the NHL. Their lone loss came against the Toronto Maple Leafs on the second end of games on consecutive nights. Washington dominated the Blues and the score of 4-3 only occurred because of two late goals by St. Louis. They looked very good against Buffalo in a 3-1 win. Only Anders Nilsson kept it from being a complete blowout.
3
Chicago
Blackhawks
(15-6-3)
Last week:
2-1-1
Last rank:
3rd
There's a lot to like about the Chicago Blackhawks right now. Their best players are producing at an impressive rate. Patrick Kane (23 points), Artemi Panarin (21 points), and Artem Anisimov (20 points) have been outstanding. Moreover, Marian Hossa leads the team in goals with 11 and has been one of the best all-around forwards in the NHL. However, their xGF percentage still isn't too impressive, as it's at 46.50 percent. But if Corey Crawford keeps playing out of his mind, it could be sustainable.
2
New York
Rangers
(16-7-1)
Last week:
2-2-0
Last rank:
2nd
Even without Mika Zibanejad, the Rangers are an extremely good team. They aren't playing their best hockey as of late, but keep in mind losing someone like Zibanejad would hurt just about any NHL team. While they lack a true star skater, New York relies on a very balanced and effective offense that leads the NHL in goals scored. Henrik Lundqvist has overcome a slow start to once again be one of the top goalies in the league.
1
Montreal
Canadiens
(16-5-2)
Last week:
2-2-0
Last rank:
1st
As usual, the Montreal Canadiens rely quite heavily on Carey Price. However, they have been playing rather well around him as well. Shea Weber has cooled off a little bit but still has 18 points in 23 games. Casual NHL fans are finally starting to realize just how great Alex Galchenyuk is. Alexander Radulov remains arguably the best free agent bargain from the offseason.
This article originally appeared on