NHL Playoffs 2017: Nashville vs. St. Louis Series Prediction
Matt Duscharme/FanSided via Puck Prose

Fansided
The Second Round of the 2017 NHL Playoffs Starts on Wednesday. Meaning we are Getting Closer and Closer to the Stanley Cup, Who Will Win it? Follow This Series to Find Out!
BREAKDOWN OF THE TEAMS FIRST ROUND:
When Chicago won their first Pacific Division title they were instant favorites to win the cup, well that didn't happen when Nashville surprised us all and swept them in four games in the 2017 NHL Playoffs. From offense to goaltending the entire team was red hot and with a nice break in between rounds, they are going to be a threat yet again. Another team that surprised was St. Louis, they had a tough opponent in Minnesota who had a tremendous offensive core, defensive core, and goaltending. We were all expecting Minny to come out with the win but Jake Allen and the Blues offense definitely helped them get through that series.
SPECIAL TEAMS: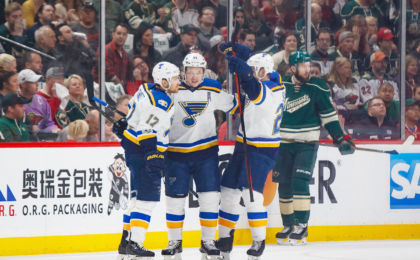 Nashville sits average when it comes to special teams with a power-play that sits 13th in the league at 12.5 percent and a penalty kill that sits 12th in the league at 77.8 percent. Those are two areas that are going to need to improve if the Predators want to get pucks on the net as well as keep some out of there's.
St. Louis's power play isn't much better which is a good thing since it sits 15th in the league at only 6.7 percent, that is a number that is going to need an increase and with the return of Paul Stastny, that may just happen which means scary things for the Predators. Another thing that should worry Nashville is the fact the Blues penalty kill is seventh in the league at 83.3 percent. That's going to make things hard on Nashville come power play time, but with the Preds offensive core, they may be able to surprise.
EDGE: St. Louis
OFFENSE: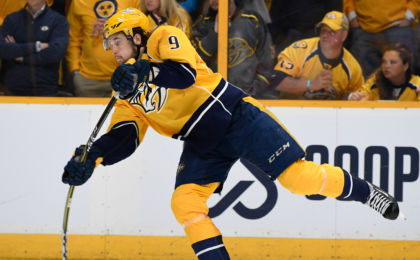 Nashville has done great upfront scoring 13 goals in only four games which are good enough for 10th in the league. And once Craig Smith and Colin Wilson return from their injuries, they become much more deadly up front. And the Blues aren't too far behind since they have scored 11 goals in five games. But with math in place, it's clear the Predators have the offensive edge since they have been able to score two more goals in one less game than the Blues.
EDGE: Nashville
DEFENSE: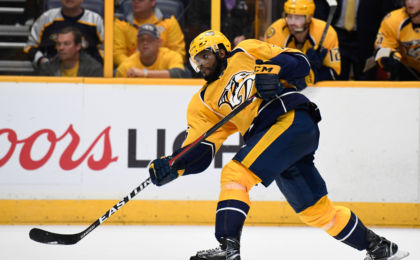 Defense is where Nashville takes a massive lead, they shut down the Blackhawks from everything and gave them no chances, and when the Blackhawks did have a chance, Pekka Rinne was right there to stop it. The Predators only allowed three goals against in the four games they have played so far. St. Louis, on the other hand, has allowed eight in five games. If the Blues defense tightens up and the Preds offense dries up this is an area that can easily see a 360 happen. But that's unlikely as the Preds have had a pretty decent amount of time off to study the Blues. Besides the Predators have a much better defensive core with Ryan Ellis, Mattias Ekholm, P.K. Subban, and Roman Josi leading the way. The Blues have a decent defensive core with Jay Bouwmeester, Colton Parayko, Joel Edmundson, and Alex Pietrangelo. But Nashville has the clear edge since all four of those guys can score at will.
EDGE: Nashville
GOALTENDING: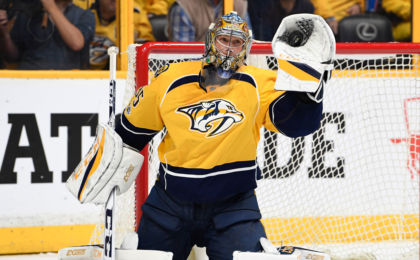 This is another area of the game that is extremely close. Pekka Rinne played in all four games earning all four wins obviously, but what really stands out is his numbers through those games. He has two shutouts, a .976 save percentage and a 0.70 goals-against-average. Those are numbers no offense wants to face because you know you are going to have to try everything just to put the puck in the net. As for St. Louis and Jake Allen, he holds a 4-1 record with a .956 save percentage and a 1.47 goals-against-average. And while those numbers are way beyond decent they're not what Rinne holds. Another thing to keep in mind is the fact Chicago wasn't able to score goals any way possible, Nashville can which is going to really test Allen's abilities.
EDGE: Nashville
SERIES OUTCOME:
When Toronto pushed Washington to the near brink it gave us one of the most exciting matchups so far in this year's playoffs, until now. These two teams are going to go at each other with everything they have. And with the advantages Nashville holds over St. Louis they could very well win this series, but St. Louis is also one of those teams that should not be counted out in any way necessary. Expect a thrilling, long matchup that will come down to goaltending and defensive play since both of these teams can score goals and have almost identical special teams.
FINAL SERIES RECORD: Nashville wins series 4-3.
PREDICTION: WASHINGTON 4-1 OVER TORONTO
ACTUAL OUTCOME: CAPITALS WIN 4-2
PREDICTION PERCENTAGE: 50%
PREDICTION: MONTREAL 4-3 OVER RANGERS
ACTUAL OUTCOME: RANGERS WIN 4-2
PREDICTION PERCENTAGE: 0%
PREDICTION: SAN JOSE 4-2 OVER EDMONTON
ACTUAL OUTCOME: EDMONTON WINS 4-2
PREDICTION PERCENTAGE: 50%
PREDICTION: ANAHEIM 4-2 OVER CALGARY
ACTUAL OUTCOME: DUCKS WIN 4-0
PREDICTION PERCENTAGE: 50%
PREDICTION: BOSTON 4-2 OVER OTTAWA
ACTUAL OUTCOME: SENATORS WIN 4-2
PREDICTION PERCENTAGE: 50%
PREDICTION: PITTSBURGH 4-2 OVER COLUMBUS
ACTUAL OUTCOME: PENGUINS WIN 4-1
PREDICTION PERCENTAGE: 50%
PREDICTION: CHICAGO 4-3 OVER NASHVILLE
ACTUAL OUTCOME: NASHVILLE WINS 4-0
PREDICTION PERCENTAGE: 0%
PREDICTION: MINNESOTA 4-3 OVER ST. LOUIS
ACTUAL OUTCOME: BLUES WIN 4-1
PREDICTION PERCENTAGE: 0%
This article originally appeared on