NHL Goalie Power Rankings Week 2: Braden Holtby starts on top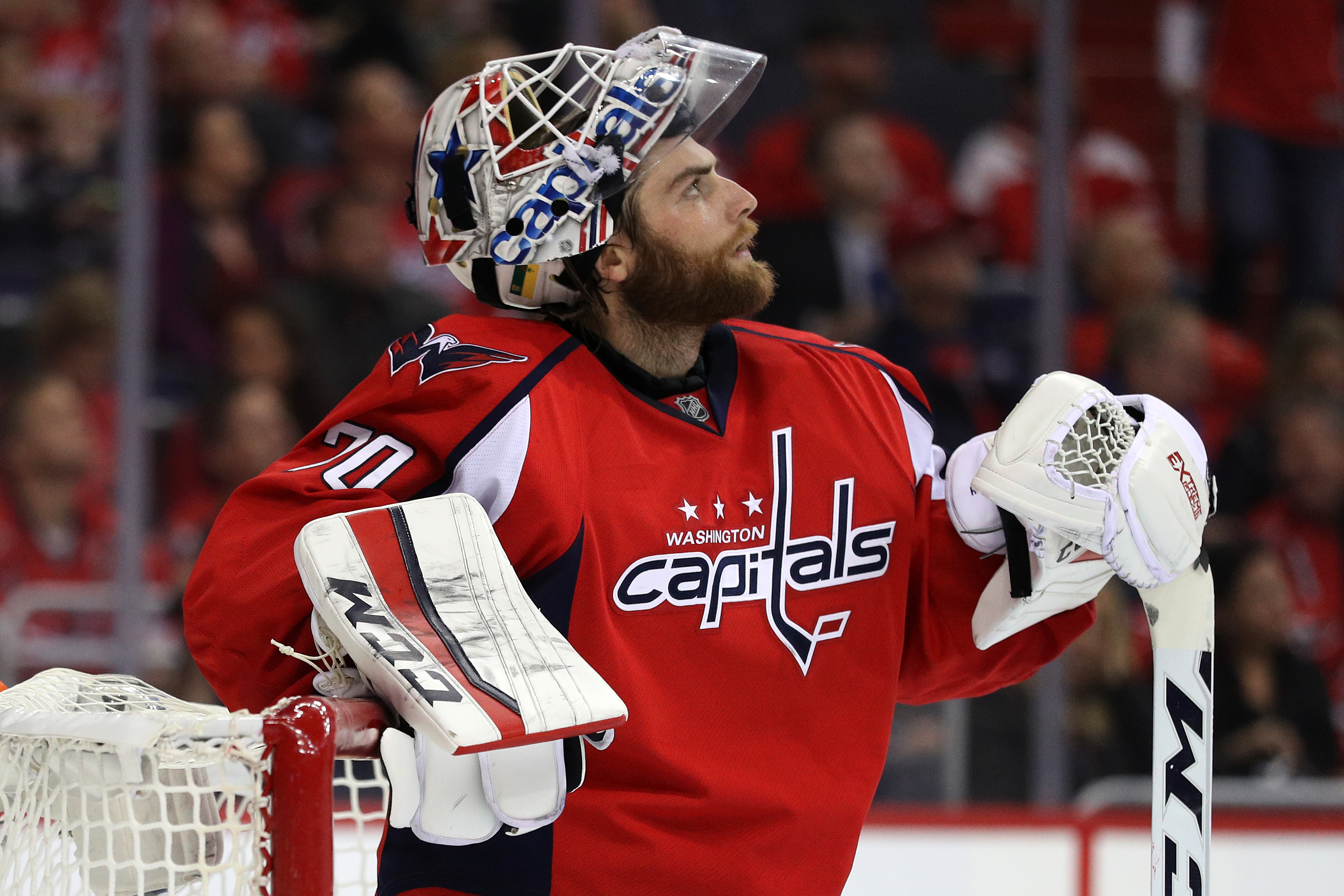 Braden Holtby is the man to beat in this week's NHL Goalie Power Rankings.
They say goaltending is the most valuable position in the NHL. While they aren't scoring goals, goalies are in a very unique position. They can mask their team's flaws. As great as Alex Ovechkin is at scoring goals and as gorgeous as Joe Thornton's passes are, they can't make up for the teammate's failures. Goaltenders are the only players in hockey who can make up for their teammate's mistakes.
Sidney Crosby can't stop a puck from going in if his teammate blows his coverage. Marc-Andre Fleury is the only man on the ice who can make up for his teammate's blown coverage. While the Chicago Blackhawks and Pittsburgh Penguins have proven you don't need an elite goaltender to win in the playoffs, goaltending is still quite important.
These rankings will be calculated using a variety of stats, including save percentage, shots faced per game, and goals saved above average. Only goalies who can be considered their team's starter will be ranked. The rankings will be done looking at the 2016-17 NHL season, but their careers will be considered as well.
With Jonathan Quick out long-term, Jeff Zatkoff will be the Los Angeles Kings starting goalie. He has had a terrible start to his career as the Kings starting goaltender, with subpar performances against the Flyers and the Wild. Zatkoff did his job well as the backup goalie, only allowing one goal in relief of Quick against the Sharks.
The Carolina Hurricanes made a baffling decision this offseason by re-signing Cam Ward. He hasn't been good since at least the 2008-09 season. While he was instrumental in Carolina winning the Stanley Cup in 2005-06, he has been poor over the past few seasons. The trend has continued so far this season. Eddie Lack hasn't been much better. In hindsight, perhaps the Hurricanes should have done something about their goaltending?
Brian Elliott was acquired to help solve the goaltending woes of the Calgary Flames. While two games is a minuscule sample size to judge a goalie, he's been the worst goalie in the league so far this season. Don't expect this to be a regular thing – you don't lead the league in save percentage twice in five seasons by being terrible. But even considering Elliott's resume, he's at the bottom for NHL goaltenders right now.
Connor Hellebuyck might have arguably the best last name in the NHL, but so far, Connor's last name doesn't match his performance. The Jets have given Hellebuyck the starting job after an impressive stretch last season. It's still quite early in the season and the Jets haven't exactly played fantastic in front of him, but the Jets need him to be better to make the playoffs in a very tough Central Division. While Hellebuyck might be getting a baptism by fire, he should be an excellent goalie one day.
Antti Niemi did a horrible job this week. He was pretty good in the Stars opening win over the Anaheim Ducks. However, he had a forgettable evening against the Colorado Avalanche, getting pulled after allowing five goals on 20 shots. The Stars rolled the dice this offseason, hoping Niemi and Lehtonen could be a solid goaltending tandem. It hasn't paid off so far, as their goaltending might be the thing keeping them from winning the Stanley Cup.
After having one of the best seasons a goaltender under the age of 23 has ever had, Gibson is not off to an ideal start to his 2016-17 NHL season. He allowed four goals on 20 shots against the Dallas Stars in his first game. For his second game, he allowed three goals in 30 shots against the New York Islanders. Give credit to Gibson for bouncing back in his second game after a rough start, but he needs to be a lot better for the Ducks to make the playoffs.
Cam Talbot's terrible performance against the Buffalo Sabres was weighed properly. In his defense, he got pulled because it clearly wasn't his night. An injury to his backup forced him back into the game. Talbot rebounded nicely with a great performance against the Carolina Hurricanes. He's a better goalie than most people think.
Steve Mason hasn't been able to bounce back since allowing his infamous soft goal to Jason Chimera in the playoffs. After looking strong in the preseason, Mason has two subpar performances against the Arizona Coyotes and the Chicago Blackhawks. He might losing his starting job to his backup Michal Neuvirth. Mason certainly isn't helping his case to cash in next offseason, as he will be a free agent after this season.
It's Bruce Boudreau's curse. He will never have a good goaltender. Devan Dubnyk has been quite solid the past two seasons, even getting a Vezina nomination in 2014-15. So far this season, he's going down the path of Boudreau's mediocre goalies. Of course, Dubnyk has a strong resume and is fully capable of bouncing back. But so far, he's been terrible.
Robin Lehner of the Buffalo Sabres has certainly not been terrible. He had one of the best nights of his NHL career against the Edmonton Oilers on Sunday. However, the Sabres need him to be great. Whether it's his fault or not, he hasn't been great so far (albeit in a small sample size). Working against him is his durability. If Lehner can stay healthy and be solid, he should climb up these rankings.
Craig Anderson's ranking is hurt because his team allows a ton of shots on goal. In his first two games, Anderson has faced 62 shots, which is at least better than last year when he faced 32 shots on goal per game. Fatigue probably plays a part in his less than stellar numbers. His age is a factor as well, since goalies tend to hit the wall around 35 years old. Anderson is 35 years old.
Semyon Varlamov is very much a Dr. Jekkyl and Mr. Hyde kind of goaltender. You're either going to get a very good performance or an unimpressive one with not too much middle ground. After a Dr. Jekkyl performance against the Dallas Stars, allowing five goals in 28 shots, Varlamov followed it with a Mr. Hyde performance against the Capitals, allowing just three goals on 40 shots. When he's on, he's one of the best goalies in the NHL.
Mike Smith isn't as terrible as most people think. He's not great by any standards, but he's one of the more solid goaltenders in the NHL. Smith did well against the Flyers, turning away a lot of difficult shots. However, his performance against the Ottawa Senators left a lot to be desired. He's still the best Coyotes goaltender, but age is slowly starting to creep up to him.
While Frederik Andersen's -0.48 GSAA looks bad, let's look at some context. Most of it sems from being injured in the preseason. Andersen wasn't himself against the Ottawa Senators because it was his first real game back from injury. He looked much better against the Boston Bruins. After posting a .833 save percentage against Ottawa, Andersen got a .960 save percentage against the Bruins.
Martin Jones has been pretty good in the 2016-17 NHL season for the San Jose Sharks. His lone blunder came against a very good New York Rangers team. That seems to be more of a blip on the radar than anything to be concerned about. The Sharks have a very good defense, which allows Jones to look better than he actually is. But as he proved during the Stanley Cup playoffs, he can carry a team to the Cup. Jones isn't spectacular, but he's solid enough to consistently give his team a good chance of winning.
Sergei Bobrovsky is the victim of the awful Columbus Blue Jackets defense. It wasn't too long ago Bobrovsky won the Vezina Trophy, so he clearly can be a top tier goaltender. However, it's hard for him to look good when his defense isn't helping him at all. Bobrovsky has also had trouble staying healthy in recent seasons. But when he's healthy, he's pretty much the definition of average for NHL goaltenders.
Jaroslav Halak is the modern day Chris Osgood. While he might not be fantastic by any stretch of the definition, he's solid enough to win you games. More often than not, Halak puts his team in a good position to win. And he's capable of turning on the switch and turning into a monster. Just ask the Washington Capitals. He's aging, but the Islanders have arguably the best goaltending depth in the NHL, which could help him perform at a top level for longer.
Jake Allen is the new starter for the St. Louis Blues after the Blues traded Brian Elliott to the Calgary Flames. While critics (this one included) didn't like the trade from the Blues perspective, so far Allen has done better than Elliott. Perhaps there is a tad bit of truth to the Blues defense making Elliott look better than he is. But to be fair, that's likely the case with Allen too. Maybe the Blues strategy is to have cheap goaltenders in front of an elite blue line. That isn't a terrible strategy to employ, but time will tell if it's an efficient strategy.
Allen isn't as athletic as Elliott, but his positioning seems better. Admittedly, Allen isn't as good at making the highlight reel saves as Elliott. But Allen's positioning also creates less chances for those saves. The Blues aren't asking Allen to be elite. They just need him to be great enough to give them a chance to win every night. He's doing this so far.
Technically, Ryan Miller is the starter for the Canucks. But since Miller has only started one game while Markstrom has started two, let's consider the young Markstrom to be the starter. Markstrom has been quite solid for the Canucks so far. He's a pretty significant reason for their early success. The Canucks defense has been remarkably good in front of him, making his job easier. While it's hard to get a good read on Markstrom because of his relative small sample size, his strong start can't be denied.
Let's start off by saying this is no goaltender controversy in Montreal. Much like the Tom Brady situation with the Patriots, everybody knows Carey Price is an elite NHL goaltender. Montoya has been the best goalie in the league in a very small sample size, but Price is the obvious starter when he gets back.
Last season, the Montreal Canadiens couldn't replace Carey Price. Heck, they couldn't even get league average goaltending without Price. This is why the Canadiens signed Al Montoya to be Price's backup. Price has been out with the flu, forcing Montoya to be the starter so far. His resume suggests he likely won't sustain this ranking, but give him some credit. He's been needed early on and he's been there for his team.
Montoya leads the league in GSAA so far, with outstanding performances against the Sabres and Senators. Once Price is healthy, Montoya will likely still get some starts since the Canadiens want to keep Price fresh. Montreal will rest very easy if Price has to miss more time because Montoya is an extremely capable backup. The Canadiens understand the importance of goalie depth after last season.
While it's fun to mock Marc-Andre Fleury for his recent postseason failures, this is the regular season. So for now, Fleury is a very reliable and solid goaltender. He's not elite by any standards, but his consistency is something teams value. Without Matt Murray, Fleury is getting a lot of the starts. He's proven he can handle it short-term, but Murray better get back fast because current backup Mike Condon isn't good. Fleury gets some bonus points for starting both ends of a tough back to back against the Avalanche and Canadiens.
Pekka Rinne is similar to the Black Knight from Monty Python And The Holy Grail. Every time you think he's done, he rebounds. After a rough 2015-16 NHL season, Rinne has had a remarkable 2016-17 NHL season, albeit in a two game sample size. Rinne has a strong enough resume that a bounce back season should surprise no one. But last season has to be considered, so let's wait and see how he does before jumping aboard the Rinne for Vezina bandwagon.
His play against the Blackhawks was encouraging. After a terrible first period where he looked lost, Rinne calmed down and allowed no goals after the first period. His glove is still one of the quickest in the NHL. However, the secret to beating him is painfully obvious – he's slow on the blocker side. Because the Predators practically beg teams to test his glove side to avoid shots on the blocker side, it's a weakness that's kept in line.
The Detroit Red Wings have finally solved their goaltending issue. Granted, it's more like Petr Mrazek did well and Jimmy Howard didn't, but Mrazek has finally made the leap to being a starting NHL goalie. And he's a darn good one too. The Red Wings are counting on him to be stellar because Mrazek will have to carry his team to the postseason. While that's way too much pressure to put on a goaltender, such is life for the best goalies in the world.
In FanSided's Boston Bruins preview, Tuukka Rask's importance to the Bruins was briefly discussed. Rask has been an elite goalie in the past, but he certainly wasn't last season. The Bruins did nothing to address their blue line in the summer. In doing so, they put a lot of faith in Rask to return to being an elite goaltender. So far this NHL season, Rask has been elite.
It's hard to ignore last season and small sample sizes can cause overreactions, so let's see if Rask can repeat what he has done so far. Obviously, a .939 save percentage might be a bit too much to expect from Rask. After all, that's a lofty feat even 2014-15 Vezina Trophy winner Carey Price couldn't accomplish. But if Rask can keep being one of the best goalies in the NHL, the Bruins should make a return to the postseason.
Just as a really good small sample size shouldn't cause people to go crazy, neither should a bad one. Take Ben Bishop's bad performance so far with a grain of salt because his resume suggests he is way better than this small sample size. Bishop has struggled to stay healthy, but this is an issue many tall and lanky goaltenders face. And Bishop is the tallest goalie in NHL history.
He's coming off a Vezina caliber season in 2015-16. That gives him a bit of a longer leash to prove himself. When given a small sample size and a large sample size, the larger one is far more important than the smaller.
Corey Crawford has set a high bar for judgment throughout his career. He's been the cause for many debates on how greatness from goaltenders can be determined. Crawford has an impressive resume, including what should have been a Vezina season in 2015-16. For some reason, Jonathan Quick got more votes from NHL general managers than Crawford, so that wasn't the case.
Even with a terrible start to his 2016-17 NHL season, Crawford is a darn good goalie. He has two Stanley Cups on his resume and he has been impressive during both Stanley Cup runs. Crawford emerged as one of the best goalies in the league last season. The Blackhawks' defense was terrible, forcing Crawford to keep them in games. Crawford did this a lot more often than he didn't.
Obviously, Crawford has to be better for the Blackhawks. And his resume suggests he will be. Crawford wouldn't be the first goalie to experience a huge and unexpected drop in perfromance, but Crawford has enough of a history of being at worst slightly above average that fans shouldn't be too concerned. He should bounce back and many fans will be very surprised if he doesn't. Blackhawks coach Joel Quenneville has too much faith in Crawford to give up on him after a few bad performances.
Vancouver Canucks fans should just stop reading at this point because only sadness exists past this point. The Canucks traded Cory Schneider because they had a lot of faith in Roberto Luongo. While they got a perfectly acceptable return for him (including a first round pick), Schneider has been phenomenal for the Devils while the Canucks have missed him.
Schneider's success is quite different from Martin Brodeur's. While Brodeur is one of the best goalies in the history of the NHL, there's no denying he was greatly assisted by the Devils and their shot suppression. Schneider hasn't gotten the same luxuries, facing a lot of shots each game. In three games so far this season, Schneider has faced 92 shots, turning away all but six of them.
The Devils are relying heavily on Schneider this season because they never appropriately replaced Adam Larsson. While Taylor Hall is the far superior player, don't underestimate how important Larsson was to the Devils defense. So far, Schneider has been good enough to allow the Devils to be competitive even without a good blue line. It's hard to define what an elite goaltender is, but keeping your team in contention even when they don't deserve it is a pretty good start.
Roberto Luongo is so awesome, but he doesn't have a good nickname. How about "The Man Who Age Forgot"? Luongo constantly laughs in the face of age and is the exception to the rule of old goaltenders declining quickly. Even at the age of 37, Luongo is showing no hints of a decline. If anything, he's been like a fine wine, getting better with age.
The Vancouver Canucks have to be kicking themselves for trading Luongo and only getting Markstrom in return. Meanwhile, the Florida Panthers have been the beneficiaries of the Canucks' ill-advised trade. Luongo has been one of the best goalies in the NHL since returning to the Sunshine State.
Could Luongo find himself in the Hockey Hall of Fame when his career is done? Absolutely. While he doesn't have any Vezina Trophies on his resume, that's more of an issue of how goaltenders are judged than anything else. He should have won in the 2010-11 season, but Tim Thomas had a historically great season.
What matters is Luongo has been consistently great for a very long period of time. This is very rare to see from goaltenders. Sure, a Vezina Trophy would help his case, but Luongo doesn't need one to be a Hall of Famer. If nothing else, his Twitter account should be in the Hall of Fame.
Yes, Henrik Lundqvist has been bad so far in his first two games. But the larger sample size of him being an elite goaltender is far more important than two bad games. Perhaps this is the beginning of the end for Lundqvist, but he has done enough to warrant a very long leash in these power rankings.
Lundqvist might go down as the best non-Canadian goaltender to ever play in the NHL. From his rookie season in 2005-06 to the 2014-15 season, Lundqvist never finished below sixth in the Vezina Trophy voting. He has at least a .920 save percentage in seven consecutive seasons, a true mark of consistency and greatness.
If Lundqvist is declining, it's a darn shame because the Rangers never did enough to get him a Stanley Cup. He nearly dragged them to one in 2013-14, but unfortunately, the Rangers ran into the Los Angeles Kings. Even opposing fans have to admit Lundqvist deserves to raise a Stanley Cup.
There is, however, something encouraging. So far, the Rangers defense has been much better than expected. While it's just a three game sample size, perhaps the Rangers defense is finally ready to start helping Lundqvist as he declines. If they can stop him from having to stop over 30 shots on goal a night, maybe King Henrik will get a chance to raise the Stanley Cup.
Braden Holtby of the Washington Capitals is the reigning Vezina Trophy winner. Not only that, he has justified it so far this season, performing extremely well in his first two games. Granted, an improved Capitals defense has helped. But so far, Holtby has been arguably the best goalie in the NHL.
He has only allowed three goals this season. While the Penguins beat the Capitals 3-2 in a shootout, the shootout goal technically doesn't count against a goaltender's statistics. Two of the goals he has allowed have been pure flukes. One has been due to the Penguins having two guys in position to deflect a shot from the point. Holtby could have handled it better, but to be fair, he was being screened and the defense did nothing to help him. His lone goal allowed against the Islanders went off of a teammate's skate.
Holtby should be even better this season because the Capitals seem to be willing to give him more rest. Philip Grubauer, who usually only saw action during back to back games, got the start against the Colorado Avalanche. Grubauer is a very capable backup, so the Caps can afford to give him more playing time. This should help Holtby come playoff time. He seemed to hit a huge wall in the playoffs after the series against the Philadelphia Flyers.
Once Carey Price gets healthy, he will most likely reclaim his throne as the best goalie in the NHL. But Holtby is more than just a placeholder for Price's spot.
This article originally appeared on