NHL Daily: World Cup Profits, Peter Holland, Vegas Minority Owners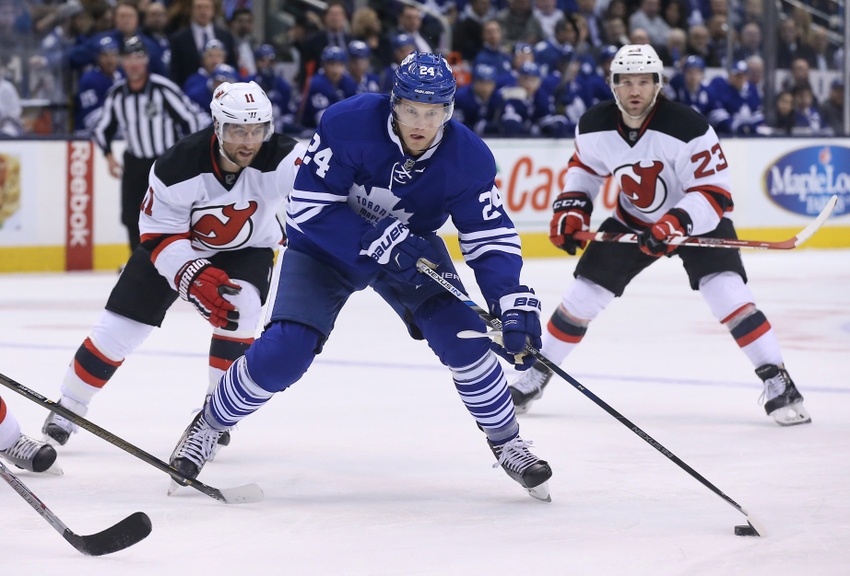 NHL Daily: Ken Campbell of The Hockey News released profit estimates for the World Cup of Hockey, Toronto Maple Leafs F Peter Holland is reportedly on the trade block, Vegas with a long list of notable minority owners, and more! (Morning Coffee Headlines)
Grab your morning cup of coffee and join us here at Puck Prose for a compilation of NHL daily links that will help keep you updated with everything going on in the hockey world.
It was a jam-packed Wednesday schedule with 12 games, which is well above the norm for hump day. Detroit beat the Sabres 2-1 in a shootout. The Devils squeaked out a shootout win versus Toronto 5-4. Washington defeated a tough Blues squad 4-3. Calgary shut out a hot Blue Jackets team 2-0. The Lightning took two points in a 4-2 win vs. Philadelphia. Edmonton toppled the Avalanche 6-3. Vancouver dominated the Coyotes 4-1. Lastly, the Kings edged out the Islanders in a 4-2 victory in the late game.
As per usual, here are your performers of the previous night:
Mike Cammalleri, NJ (1 goal 3 assists)
Milan Lucic, EDM (1 goal 3 assists)
Alex Ovechkin, WSH (3 goals)
Auston Matthews, TOR (2 goals 1 assist)
Sidney Crosby, PIT (2 goals 1 assist)
Travis Zajac, NJ (1 goal 2 assists)
Connor McDavid, EDM (1 goal 2 assists)
Sven Baertschi, VAN (1 goal 2 assists)
Bo Horvat, VAN (1 goal 2 assists)
Vladimir Tarasenko, STL (2 goals)
Jordan Eberle, EDM (2 goals)
Rene Bourque, COL (2 goals)
Anders Lee, NYI (2 goals)
Dwight King, LA (2 goals)
Phil Kessel, PIT (1 goal 1 assist)
Evgeny Kuznetsov, WSH (1 goal 1 assist)
Ivan Provorov (D), PHI (1 goal 1 assist)
Filip Forsberg, NSH (1 goal 1 assist)
James Neal, NSH (1 goal 1 assist)
Ryan Johansen, NSH (1 goal 1 assist)
Leon Draisaitl, EDM (1 goal 1 assist)
Nathan MacKinnon, COL (1 goal 1 assist)
Jake Muzzin (D), LA (1 goal 1 assist)
Zach Hyman, TOR (2 assists)
Nick Bonino, PIT (2 assists)
Andre Burakovsky, WSH (2 assists)
Mikael Granlund, MIN (2 assists)
Ondrej Palat, TB (2 assists)
Brayden Point, TB (2 assists)
Mikko Rantanen, COL (2 assists)
Brent Burns (D), SJ (2 assists)
Trevor Lewis, LA (2 assists)
Chad Johnson, CGY (34-save shutout)
Ryan Miller, VAN (Stopped 35 of 36 shots)
Martin Jones, SJ (Stopped 33 of 34 shots)
Jimmy Howard, DET (Stopped 32 of 33 shots)
Andrei Vasilevskiy, TB (Stopped 29 of 31 shots)
Robin Lehner, BUF (Stopped 23 of 24 shots in SO loss)
NHL Daily: Morning Coffee Headlines
World Cup of Hockey Profits
Ken Campbell of The Hockey News released estimated figures for profits of October's World Cup of Hockey. Each participating player stood to make around $75,000 to $80,000. Every other NHLer who spent all 186 days on an NHL roster in 2015-16 stands to make around $10,000. Teams and federations also split a chunk of money (full details on Yahoo). [Yahoo Sports]
Holland on the Trade Market
Carolina Hurricanes Lines: If I Was BIll Peters For A Day
According to TSN's Darren Dreger, it looks like Leafs F Peter Holland is on the trade block. This could be an attempt to make room for Josh Leivo who is believed to be healthy, but is being kept sidelined so Toronto doesn't have to place him on waivers. [Editor in Leaf]
Golden Knights Minority Owners
The list of notable minority owners is beginning to grow for the NHL's 31st franchise. Investing in Las Vegas so far is NFL's Rob Gronkowski and Prince Amukamara, MLB's Jose Bautista, former NHLers Mark Recchi and Alexei Yashin, and model Carol Alt. [Comcast NE]
Canadiens Forwards Need to Get Going
Kenric Mannette over at A Winning Habit explores the recent scoring struggles of key Canadiens forwards. As he discusses, it's time for Tomas Plekanec, Brendan Gallagher, and Max Pacioretty to step up so Montreal can stop depending so much on Paul Byron, Torrey Mitchell, and Phillip Danault. [A Winning Habit]
Draft Busts Still on NHL Rosters
Allan Mitchell over at Bleacher Report takes a look at eight players that he believes to be draft busts still lurking on NHL rosters. The list includes a number of names, including Ryan Murphy and Mikhail Grigorenko. [Bleacher Report]
Coyotes Offense Still Struggling
Jason Harrison over at Howlin' Hockey takes an in-depth look at the Coyotes scoring struggles. Among the biggest disappointments thus far, F Anthony Duclair, F Christian Dvorak, D Jakob Chychrun, and D Alex Goligoski. [Howlin' Hockey]
NHL Daily Morning Rant
Yesterday, I presented the top potential targets between the pipes for the Vegas Golden Knights in next June's expansion draft. Today, we shift to the blue line. You could argue that it might be Vegas' deepest position to pick from. They won't get their hands on a no.1 defenseman immediately, but they should have a top four that is comparable to many other groups around the league.
Potential Top Targets on the Blue Line in Expansion:
Dennis Wideman (CGY), Trevor van Riemsdyk (CHI), Jack Johnson (CLB), Dan Hamhuis/Johnny Oduya (DAL), Jonas Brodin/or Marco Scandella (MIN), Calvin de Haan/Thomas Hickey (NYI), Kevin Klein (NYR), Marc Methot (OTT), Justin Braun/or Brenden Dillon (SJ), Braydon Coburn/Jason Garrison (TB), Karl Alzner/Nate Schmidt (WSH)
Make sure to like us on facebook and follow us on twitter for more NHL daily updates!
This article originally appeared on