NHL Daily: Thomas Vanek, Maple Leafs Rumors, Heritage Classic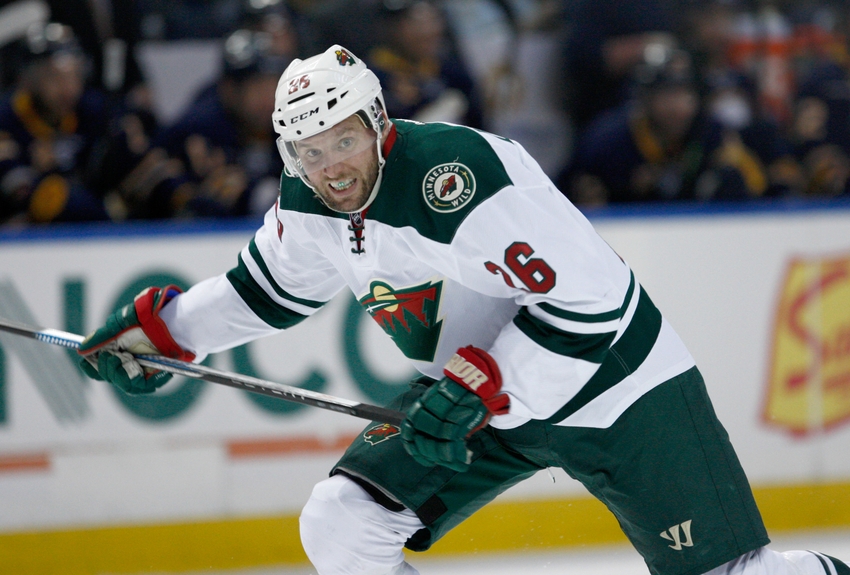 NHL Daily: Thomas Vanek Says Wild Wasn't a Good Fit, Toronto Maple Leafs Rumors, Heritage Classic Update, and More (Morning Coffee Headlines)
Grab your morning cup of coffee and join us here at Puck Prose for a compilation of NHL daily links that will help keep you updated with everything going on in the hockey world.
In today's edition: Thomas Vanek opens up about how Minnesota just wasn't a good fit, Toronto Maple Leafs rumors surrounding free agent Kris Russell and veteran Joffrey Lupul, TD Place not in consideration for Heritage Classic in Ottawa, and much more!
NHL Daily: Morning Coffee Headlines
Leafs Rumors (Russell, Lupul)
Tim Chiasson at Editor in Leaf takes a look at the most recent Toronto Maple Leafs rumors surrounding free agent Kris Russell and veteran Joffrey Lupul. He gives insightful opinions on both players and explains the likely end result for both. [Editor in Leaf]
Vanek: Minnesota Wasn't a Good Fit
Thomas Vanek says that for whatever reason, Minnesota just wasn't a good fit. The aging veteran was bought out earlier this summer, then signed by Detroit in free agency. He's hoping to re-establish his game in Hockeytown. Mike Halford at NBCSports talks about some of those bumps in the road that Vanek faced. [NBC Sports]
Ex-Hawks Forward Brandon Saad Has "No Regrets"
Brandon Saad was reunited with former GM Stan Bowman at the World Cup of Hockey. Both Saad and Bowman spoke to media regarding the trade last summer that sent Brandon to Columbus, with Brandon Saad expressing that he has no regrets even following a tough year with the Blue Jackets. [Blackhawk Up]
Senators Not Looking at TD Place for Heritage Classic
Bruce Garrioch reports that Ottawa is not considering TD Place (currently home to the CFL's Ottawa RedBlacks) as an option for the Heritage Classic in December 2017. Given the historical significance of the event (Canada's 150th Birthday), rumors all along have suggested the Senators would love to host a game on Parliament Hill. [Ottawa Sun]
Team USA Has Lessons to be Learned
Danny Lambert over at Gone Puck Wild talks about how Team USA has lessons to learn from their opening performance at the World Cup of Hockey. He talks about where the team went wrong and what they can do differently to knock off the juggernaut Canadians on Tuesday. [Gone Puck Wild]
Ranking NHL Teams With Most Depth
Lyle Richardson of Bleacher Report released his top eight rankings of the teams with most depth heading into 2016-17. He talks about the strengths and weaknesses of those squads in a very interesting countdown. [Bleacher Report]
Stars Without Seguin
Allison Scott over at Blackout Dallas talks about how there's no definite timetable on a return for Tyler Seguin and explores life without their star center. That's a lot of production to replace, but to be fair, the Dallas Stars are loaded with talent down in AHL Texas. [Blackout Dallas]
Las Vegas Sells Out for 2017-18
Las Vegas began selling tickets back in 2015 as part of their bid to be awarded a franchise. 18 months later, owner Bill Foley announced they have received 16,000 season ticket deposits for 2017-18. [USA Today Sports]
NHL Daily Morning Rant
Get the FanSided App
Let's delve into the Joffrey Lupul situation today since it's one of the stranger stories from around the league. The 32-year-old still has two years remaining on his contract at $5.25 million dollar/year.
Since signing his new deal, Joffrey has missed 75 games over the past three seasons. Toronto opted not to buy out his contract (perhaps having something to do with players not being allowed to be bought out if they can't pass a physical), didn't invite him to the team's charity golf tournament, and when Lou was asked about his status earlier in the summer, the Leafs GM responded by saying "he's on our roster and that's all I'll say".
Rumors speculate that Toronto will find a CBA loophole similar to the way they relieved themselves of Stephane Robidas, but it may not be so simple. The team might not want him, but if he's healthy, he needs to play somewhere. Could the Maple Leafs bury his contract in the AHL similar to what Philadelphia did last year to Andrew MacDonald's $5 million dollar cap hit? Possibly.
With no urgency to win this upcoming season, or even 2017-18 for that matter (when his deal is set to expire), Toronto mid as well dress the goal-scorer if he's on the books. A buyout would be a lot cheaper next summer.
Make sure to like us on facebook and follow us on twitter for more daily NHL updates!
This article originally appeared on