NHL Daily: Steven Stamkos, Shootout Changes, St. Louis Blues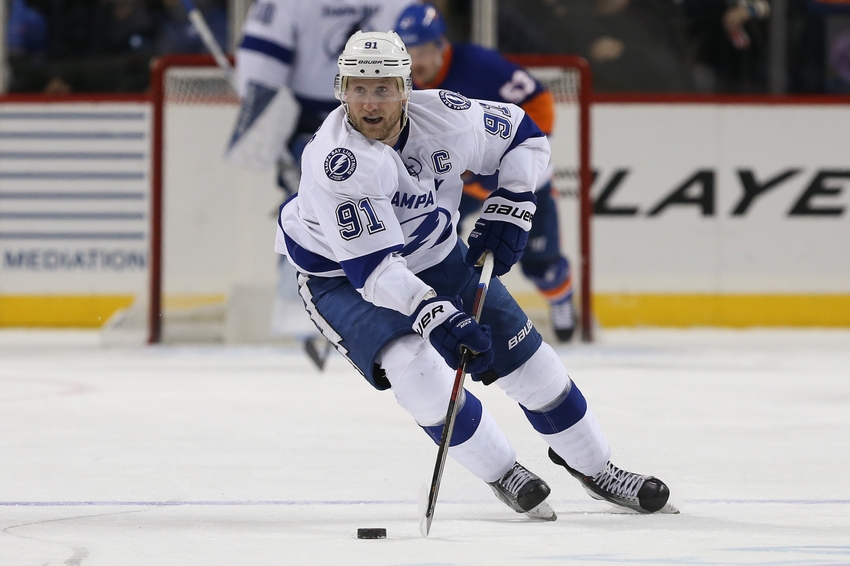 NHL Daily: Steven Stamkos left Tuesday night's game with a lower-body injury, GMs propose changes to the current shootout format, St. Louis Blues could be in store for big changes if losing trend continues, and more! (Morning Coffee Headlines)
Grab your morning cup of coffee and join us here at Puck Prose for a compilation of NHL daily links that will help keep you updated with everything going on in the hockey world.
26 of 30 teams were in action on Tuesday. Among the notable results, Cam Ward helped carry Carolina to a 1-0 shutout at home versus San Jose. Columbus kept rolling with a 2-1 win against Washington. Florida edged the Canadiens 4-3 on the road (MTL's first loss at home). Winnipeg shut out the Blackhawks 4-0 at home. Lastly, the Rangers kept lighting the lamp with a 7-2 dismantling of the Canucks.
As per usual, here are you performers of the previous night:
James van Riemsdyk, TOR (3 goals 1 assist)
Tyler Bozak, TOR (4 assists)
Nikita Kucherov, TB (2 goals 1 assist)
Mitch Marner, TOR (1 goal 2 assists)
Mats Zuccarello, NYR (1 goal 2 assists)
Kevin Hayes, NYR (2 goals)
J.T. Miller, NYR (2 goals)
Nikita Nesterov (D), TB (1 goal 1 assist)
Ryan Sproul (D), DET (1 goal 1 assist)
David Desharnais, MTL (1 goal 1 assist)
Patrick Wiercioch (D), OTT (1 goal 1 assist)
Vladislav Namestnikov, TB (2 assists)
Colton Parayko (D), STL (2 assists)
Kevin Shattenkirk (D), STL (2 assists)
Nikolaj Ehlers, WPG (2 assists)
Mika Zibanejad, NYR (2 assists)
Kevin Klein (D), NYR (2 assists)
Jesper Fast, NYR (2 assists)
Corey Perry, ANA (2 assists)
Connor Hellebuyck, WPG (27-save shutout)
Chad Johnson, CGY (27-save shutout)
Cam Ward, CAR (22-save shutout)
NHL Daily: Morning Coffee Headlines
Stamkos Injured
Tampa Bay Lightning superstar Steven Stamkos left Tuesday night's game in the first period and did not return. He suffered a lower-body injury and will be re-evaluated on Wednesday, but the team is hoping it's only minor. [CBC]
Blues Facing Changes?
San Jose Sharks Forward Depth Keeps Matt Nieto Scratched
Todd Panula over at Bleedin' Blue discusses why the St. Louis Blues are in store for big changes if the losing trend continues. As he points out, it's the manner in which this team is losing that is most disturbing. [Bleedin' Blue]
GMs Looking at Shootout Tweaks?
The topic of shootouts was discussed at Tuesday's GM meetings in Toronto. Blues GM Doug Armstrong suggested the NHL adopt the international format for selecting shooters. That means teams would use three different skaters to start, then could go back to the same shooters after the third round. [TSN]
5 Players to Watch in 2017 Draft
Janik Beichler over at The Canuck Way did a nice spotlight on five players to watch in the 2017 draft class. Consensus number one Nolan Patrick and OHL star Gabriel Vilardi are just a couple that are featured. [The Canuck Way]
Missing Puck
ESPN's Joe McDonald is looking for a piece of history the Hockey Hall of Fame would love to get their hands on. Missing is the game-winning puck from the historic 1980 miracle on ice game versus the Soviet Union in which Mike Eruzione scored. [ESPN]
Islanders Failed Youth Movement
Michel Anderson over at Eyes on Isles takes a look at the failed youth movement for the New York Islanders in 2016-17. It's a tough blow after these kids were expected to help fill the voids left by guys like Kyle Okposo and Frans Nielsen. [Eyes on Isles]
NHL Daily Morning Rant
The idea of changing the shootout format actually makes a ton of sense. Is there any worse feeling for a fan when they're deep into a shootout and see their number five defenseman skating out to take a shot? Look at the drama that was caused by T.J. Oshie at the Sochi Olympics. If the SO was indeed created to add a little flavor for the fans, this is a logical switch.
Make sure to like us on facebook and follow us on twitter for more NHL daily updates!
This article originally appeared on