NHL Daily: Roberto Luongo, Jimmy Vesey, Calgary Flames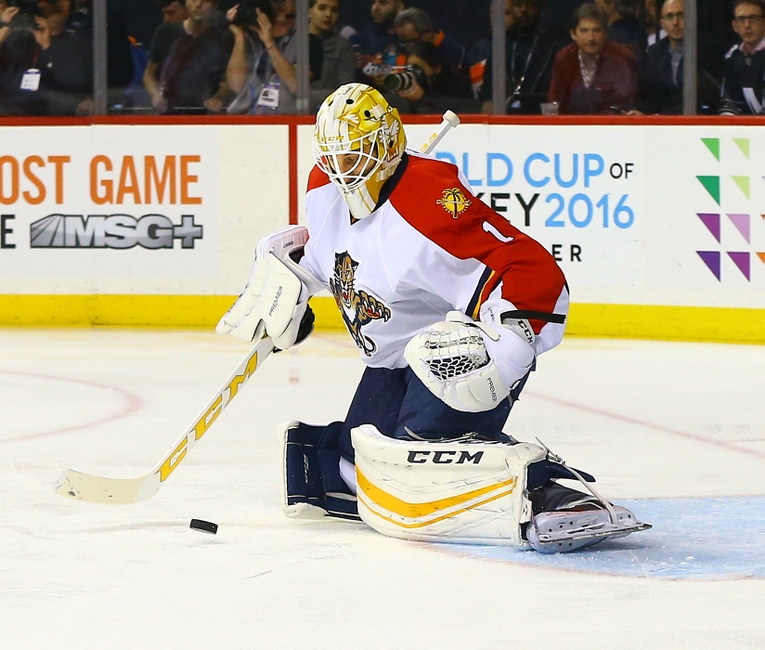 NHL Daily: Florida Panthers Netminder Roberto Luongo Passed Jacques Plante on the All-Time Wins List, Jimmy Vesey Providing a Spark for the New York Rangers, Calgary Flames Broadcast Interrupted, and More (Morning Coffee Headlines)
Grab your morning cup of coffee and join us here at Puck Prose for a compilation of NHL daily links that will help keep you updated with everything going on in the hockey world.
Before turning to the headlines, as per usual, we highlight the performers of the previous night. There were 13 games on the 1st Saturday night of NHL action in 2016-17. The sloppy defense/goaltending continued, which must frustrate coaches. Things tend to be a little scattered at the start of a new season until newer players can get adjusted to structured defensive systems.
Friday Night Performers:
F Joe Colborne, COL (3 goals)
F Richard Panik, CHI (3 goals)
F Tyler Seguin, DAL (2 goals 1 assist)
F Jonathan Marchessault, FLA (1 goal, 2 assists)
F Daniel Winnik, WSH (2 goals)
D Jeff Petry, MTL (2 goals)
F Ryan Dzingel, OTT (1 goal 1 assist)
F Mark Scheifele, WPG (1 goal 1 assist)
F Chris Stewart, MIN (1 goal 1 assist)
F Chris Kreider, NYR (1 goal 1 assist)
F Mika Zibanejad, NYR (1 goal 1 assist)
F Paul Stastny, STL (1 goal 1 assist)
F Vladimir Tarasenko, STL (1 goal 1 assist)
D Brent Seabrook, CHI (1 goal 1 assist)
F Jamie Benn, DAL (1 goal 1 assist)
F Brett Ritchie, DAL (1 goal 1 assist)
F Devin Shore, DAL (1 goal 1 assist)
F Nathan MacKinnon, COL (1 goal 1 assist)
D Tyson Barrie, COL (1 goal 1 assist)
F Martin Hanzal, ARZ (1 goal 1 assist)
D Chris Wideman, OTT (2 assists)
F Ryan Getzlaf, ANA (2 assists)
F Tyler Bozak, TOR (2 assists)
D Brent Burns, SJ (2 assists)
D Dustin Byfuglien, WPG (2 assists)
F Patrick Kane, CHI (2 assists)
D Duncan Keith, CHI (2 assists)
F Patrick Eaves, DAL (2 assists)
D Francois Beauchemin, COL (2 assists)
D Brandon Manning, PHI (2 assists)
NHL Daily: Morning Coffee Headlines
Luongo Passes Plante on All-Time Wins List
Florida Panthers goaltender Roberto Luongo passed Jacques Plante on the All-Time Wins list on Saturday. He needs 10 more wins to pass Terry Sawchuk for 5th, 17 to pass Curtis Joseph for 4th, and 47 to overtake Ed Belfour at 3rd. [The Score]
Unexpected Interruption During Flames Broadcast
As fans were watching the Battle of Alberta between Calgary and Edmonton, an unexpected visitor made its way onto fans tv screens. A fly was captured walking across the camera lens, and NHL.com managed to tweet a gif of the moment. [Flame for Thought]
Vesey Already Having Impact with Rangers
Although the former Hobey Baker winner is yet to record a point in two games of NHL action, Jimmy Vesey is making an early impact with the Rangers. He's keeping things relatively simple as he adjusts to the pro style game, and looks poised to have a productive season once he settles in a little more. [ESPN]
Marner Scores 1st NHL Goal
Toronto Maple Leafs rookie Mitch Marner scored his first NHL goal on Saturday night. It was a beauty as the elusive winger continues to prove he belongs. Toronto wound up beating the Bruins 4-1 in their home opener (video). [FanSided]
Wendel Clark Pens Letter to Leafs Rookie
Wendel Clark knows all too well the pressure that comes along with being a 1st overall selection in the city of Toronto. Clark wrote a letter to Leafs rookie Auston Matthews speaking about his experiences, giving some insight into what life will be like. [Sports Illustrated]
Lehner Needs to Step Up for Sabres
Now that the Buffalo Sabres are without Jack Eichel and Evander Kane, the team is looking for some players to step up. Richard Spalding over at Sabre Noise suggests that Robin Lehner needs to enter God Mode to rack up some wins. [Sabre Noise]
Want your voice heard? Join the Puck Prose team!
NHL Daily Morning Rant
Re: Robin Lehner
Richard Spalding is correct when he suggests that Robin Lehner needs to be a real difference maker or x-factor if the Sabres want to rack up enough points to stay in contention while Eichel and Kane are sidelined.
Just don't panic if he needs some time to settle in.
It's been a wild past 12 months for Robin Lehner. He was lost to a serious injury in the season opener in 2015-16, spent significant time on the shelf (IR) and wound up suffering setbacks that ultimately delayed his return. He looked good upon return, but the ankle never recovered properly. The nagging injury kept him out of the World Cup of Hockey.
Noticing that his body wasn't holding up, Lehner made significant changes in the offseason to his diet/nutrition and fitness regime. Reports suggest he lost nearly 50 pounds going from around 250lbs to the 200lbs range.
Similar to Toronto's Frederik Andersen, Robin will need a little extra time to shake the rust off. Sabres fans need to be patient with their starter. His arrival as a top-tier starter is long overdue, but it shouldn't be long now before the Swedish netminder begins turning some heads.
Make sure to like us on facebook and follow us on twitter for more NHL daily updates!
This article originally appeared on