NHL Daily: Philip Larsen, 2017 NHL Draft, New York Rangers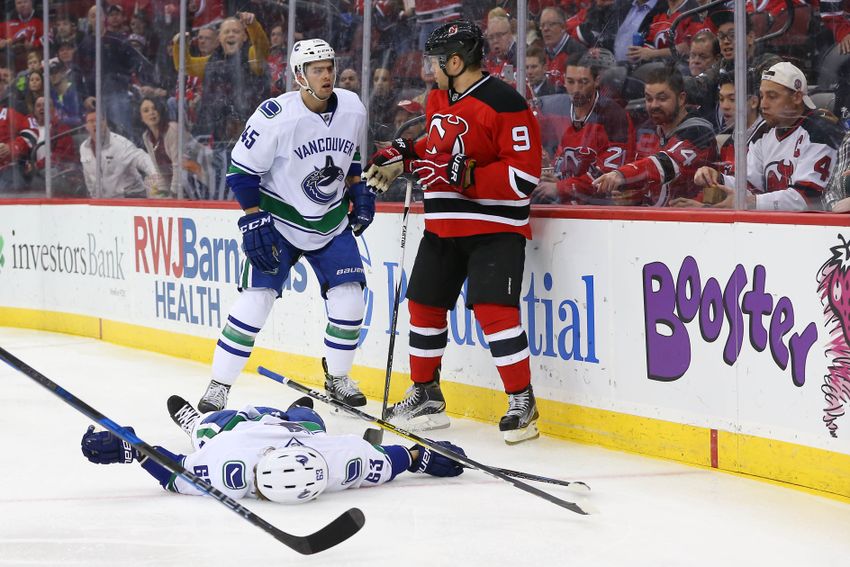 NHL Daily: Vancouver Canucks defenseman Philip Larsen left Tuesday night's game on a stretcher following a hit from Devils forward Taylor Hall, 2017 NHL Draft class shaping up to be rather lackluster, New York Rangers snubbed in the Fandom250 countdown, and more! (Daily Headlines)
Welcome back to our NHL daily links, where we regularly keep you updated on the biggest headlines within the hockey world.
Eight teams square off on Wednesday night. The Toronto Maple Leafs play host to the Minnesota Wild at 7:30 pm (et). Boston heads to Washington to take on the Capitals at 8pm (et). Later on, the San Jose Sharks welcome the Ottawa Senators at 10:30 (et), while at the same time, Carolina will be in Anaheim to face the Ducks.
Here is your highlight of the night from Tuesday:
That pass 👌 pic.twitter.com/E2KInGOGb2

— NHL (@NHL) December 7, 2016
NHL Daily: Latest Headlines
Larsen Leaves Game on Stretcher
Vancouver Canucks defensemen Philip Larsen left Tuesday night's match-up on a stretcher following a hit from New Jersey Devils forward Taylor Hall. We never like to see guys goes down like this, but it's worth noting that several experts have already weighed in calling it a clean hit. Latest updates say Larsen is being released from hospital, we wish him a quick and speedy recovery. [CBC]
FanSided's Fandom 250
On Tuesday, FanSided released their Fandom 250 list, which spreads across sports, entertainment, lifestyle, etc. Six NHL teams made the list, but unfortunately the New York Rangers were not one of them. [Blue Line Station]
2017 Draft Class
Kevin McGran over at The Star talks about the upcoming 2017 NHL Draft. He discusses the lackluster amount of talent at the top of the draft. To a degree, he's correct as Nolan Patrick has drawn 1st overall talent comparisons to that of Ryan Nugent-Hopkins. That being said, this year's class is still supposed to have a bit of depth through the first 2-3 rounds. [The Star]
Pain Coming for Colorado
Mark Kinz over at Mile High Sticking sees pain coming for the Colorado Avalanche. In fact, he walks fans through the Maple Leafs situation that led to their recent rebuild and proposes the question, "is Matt Duchene our Dion Phaneuf?". [Mile High Sticking]
NHL Headquarters Moving
The National Hockey League has plans to move its main headquarters to a new location in New York City. They've leased five floors of a new skyscraper being developed in Manhattan, which is expected to be completed in 2019. [CTV News]
Can Wild Win it All?
Danny Lambert over at Gone Puck Wild wonders if Minnesota can win it all with solid defense and goaltending. The Wild are struggling to score goals/find their offense, but with the way Devan Dubnyk and Ryan Suter have performed, they're not conceding many either. [Gone Puck Wild]
NHL Daily Rant
To answer Mr. Lambert's question. No, the Minnesota Wild cannot win on solely defense and goaltending. That being said, the Wild aren't far off from being a legitimate Cup contender. The problem isn't so much in that top six forward group. Believe it or not, Eric Staal has helped round that group out quite nicely. Sure, fans would love to see them score a few more goals, but that should come together over time.
The real issue is a lack of secondary scoring. Minnesota might be wise to give a few guys down in Iowa a look. Teemu Pulkinnen couldn't get it done early on with the Wild, but has since lit it up down in the minors. He may deserve another look. Although, they'd be much better suited to call upon Alex Tuch and Mario Lucia. Tuch can offer an offensive spark, while Lucia is more of a power forward that can contribute a bit.
Make sure to like us on facebook and follow us on twitter for more NHL daily updates!
This article originally appeared on