NHL Daily: Oscar Klefbom, Cory Conacher, Coaches on the Hot Seat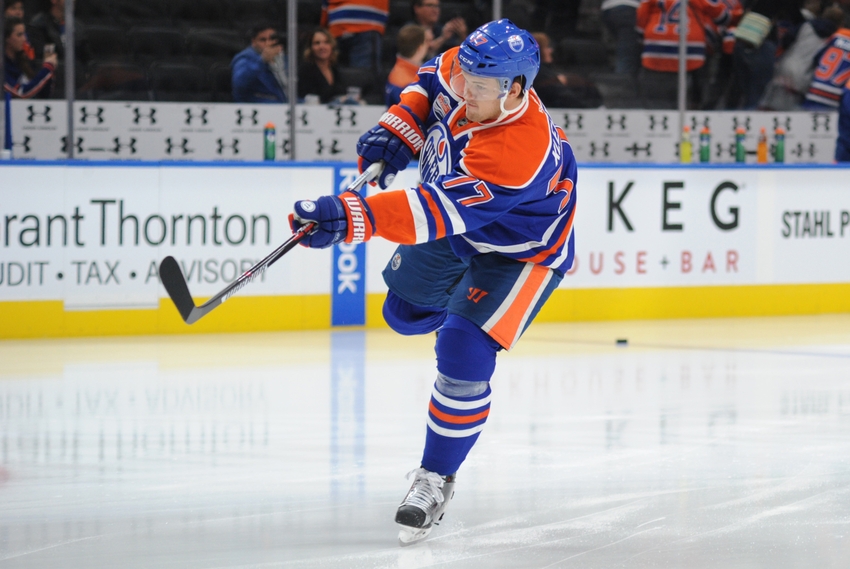 NHL Daily: Oscar Klefbom is playing shutdown hockey for the Edmonton Oilers right now, Tampa Bay sent Cory Conacher back down to AHL Syracuse, NHL coaches on the early hot seat, and more! (Morning Coffee Headlines)
Grab your morning cup of coffee and join us here at Puck Prose for a compilation of NHL daily links that will help keep you updated with everything going on in the hockey world.
Three games were on the schedule on Wednesday night. The Columbus Blue Jackets notched a home victory in a 3-2 OT win over Anaheim, the Ottawa Senators grabbed two points on the road in Buffalo in a shootout victory, while Chicago/St. Louis also went the distance with the Blackhawks edging the Blues 2-1 in overtime.
As per usual, here are you performers of the previous night:
Brandon Saad, CLB (1 goal 1 assist)
Artemi Panarin, CHI (1 goal 1 assist)
Zach Werenski (D), CLB (Game-Winning Goal)
Sergei Bobrovsky, CLB (Stopped 30 of 32 shots)
Mike Condon, OTT (Stopped 31 of 32 shots)
Robin Lehner, Buf (Stopped 28 of 29 shots in SO loss)
Corey Crawford, CHI (Stopped 27 of 28 shots)
Jake Allen, STL (Stopped 28 of 30 shots in OT loss)
NHL Daily: Morning Coffee Headlines
Coaching Hot Seat
We're starting to enter that time of the year when teams start making changes behind the bench. Of NHL coaches on the early hot seat, the most notable names might include Willie Desjardins (VAN), John Tortorella (CLB), and Jack Capuano (NYI). [Toronto Sun]
Conacher Sent Back to Syracuse
After getting hit with a recent injury bug, TB called up Cory Conacher for Tuesday's contest. He was subsequently sent back down immediately following the game after serving as a healthy scratch versus the Panthers. [Bolts by the Bay]
Oilers, Canadiens Starting Strong
One season after all seven Canadian teams missed the playoffs, two teams are exceeding expectations north of the border. Both Montreal and Edmonton have looked very impressive through the first four-plus weeks of the schedule. [SI.com]
Klefbom Playing Shutdown Hockey
Several players deserve a lot of credit for the Oilers early success. But perhaps the one unsung hero receiving little praise is Oscar Klefbom. Sammi Silber over at Oil on Whyte discusses how Oscar has proven himself a reliable shutdown defender so far in 2016-17. [Oil on Whyte]
Sophomore Stock Watch
Allan Mitchell over at Bleacher Report takes a look at the stock watch for certain second-year players around the league. The list includes the likes of Anthony Duclair, Colton Parayko, Sam Reinhart, and Connor McDavid (among several others). [Bleacher Report]
No More Excuses for Philly D/G
Despite being healthy now, the Flyers defense and goaltending is seemingly struggling of late. They're scoring tons of goals, but can't seem to keep the puck of the net. Marc Naples over at Broad Street Buzz thinks this team is out of excuses. [Broad Street Buzz]
NHL Daily Morning Rant
In the spirit of changing things up as we do from time to time. I'd like to present my top 5 list of players most deserving of a call-up from the American Hockey League (AHL):
1. Brendan Leipsic, Toronto (Toronto)
10gp 4g 11a 15pts
2. Charles Hudon, St. John's (Montreal)
12gp 8g 4a 12pts
3. Anthony Mantha, Grand Rapids (Detroit)
10gp 8g 2a 10pts
4. A.J. Greer, San Antonio (Colorado)
12gp 4g 8a 12pts
5. Jake Guentzel, Wilkes-Barre/Scranton (Pittsburgh)
10gp 5g 7a 12pts
Make sure to like us on facebook and follow us on twitter for more NHL daily updates!
More from Puck Prose
This article originally appeared on