NHL Daily: Nikita Kucherov, Barclays Center, Buffalo Sabres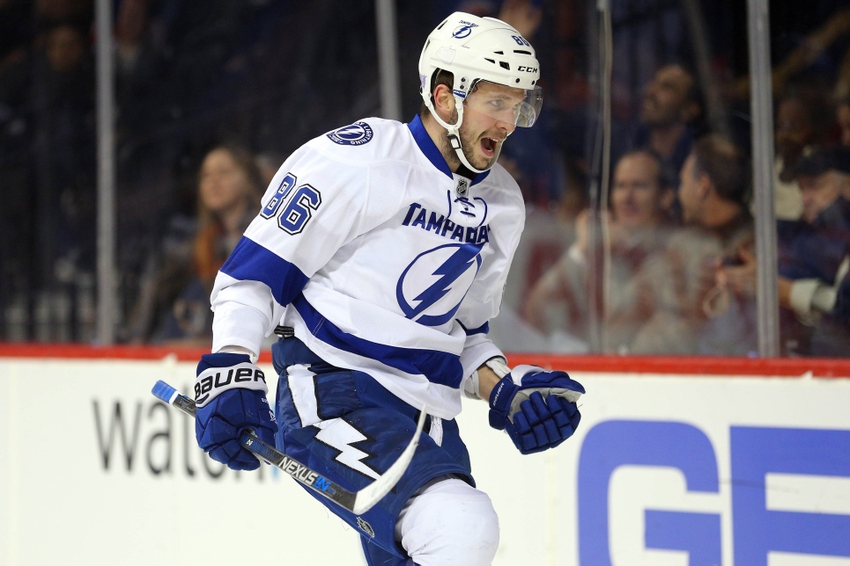 NHL Daily: Was Nikita Kucherov's four-point performance versus the Isles a sign of things to come after a slow start? NHL reportedly will investigate the ice at Barclays Center after multiple complaints that it doesn't meet NHL ice standards, Buffalo Sabres getting some help between the pipes, and more! (Morning Coffee Headlines)
Grab your morning cup of coffee and join us here at Puck Prose for a compilation of NHL daily links that will help keep you updated with everything going on in the hockey world.
Three games were on the schedule on Wednesday night. Apologies as the late game had not concluded at the time this was written. In the first two games, Philadelphia knocked off the Red Wings 4-3 at home, while the Montreal Canadiens shut out the Canucks for a 3-0 win as Price continues his dominant play between the pipes.
As per usual, here are you performers of the previous night:
Mark Streit, PHI (1 goal 1 assist)
Alex Galchenyuk, MTL (2 assists)
Brendan Gallagher, MTL (2 assists)
Brayden Schenn, PHI (2 assists)
Jakub Voracek, PHI (game-winning goal)
Carey Price (42-save shutout)
NHL Daily: Morning Coffee Headlines
Ice at Barclays Center
Following multiple complaints and reports of improper piping, the NHL is sending experts to the Barclays Center to see if the ice meets minimum NHL standards. Recent rumors suggest the issue is due to the use of PVC piping compared to a traditional steel piping system. [NBC Sports]
Kucherov Ready to Contribute?
After a slow start to the season, Nikita Kucherov made some noise vs. the Isles posting two goals, two assists. Chase Kimball over at Bolts by the Bay wonders if this is perhaps a sign of things to come moving forward. [Bolts by the Bay]
Best Goals of 2016-17
Allan Mitchell over at Bleacher Report put together a nice little slide show featuring the best goals early on in 2016-17. Auston Matthews' beautiful second goal in his NHL debut ranks 7th on the list. [Bleacher Report]
Sabres Getting Help Between the Pipes
Richard Spalding over at Sabre Noise talks about how Buffalo is benefiting from solid play in the crease. After a rough start to the year where he likely needed to shake off some rust following an eventful offseason of recovering from injury and changing his diet/nutrition and fitness plan, Lehner is starting to look a lot more comfortable. [Sabre Noise]
Stats That Won't Hold
We're only 10 games into the new season, and with that, we can expect some odd statistical numbers that are likely to change. Among some of those pointed out by USA Today, how about a PK efficiency of 53.8 percent for the Blackhawks? or a 3.30GAA and .891 save percentage for Ben Bishop? [USA Today]
FanSided Sports Fan of the Year
In case you missed our post on it, or the social media push, FanSided is holding a contest to find the Sports Fan of the Year. The winner and a guest will win a trip to New York City to attend the annual Sports Illustrated Sportsperson of the Year event. [Causeway Crowd]
NHL Daily Morning Rant
On a thought from Tuesday night's game between Toronto and Edmonton: You have to wonder whether teams will start game planning the Oilers a little differently. By having someone shadow Connor McDavid and get under his skin, the Leafs were effectively able to take several players out of the game. Teams may start to use this approach and it could prove extra effective for the Brad Marchand/Brendan Gallagher's of the world. It will be up to McDavid's linemate Milan Lucic to send an early message to the opposition or teams may start taking liberties against the young phenom.
Make sure to like us on facebook and follow us on twitter for more NHL daily updates!
More from Puck Prose
This article originally appeared on