NHL Daily: Michal Neuvirth, Marco Scandella, Trade Rumors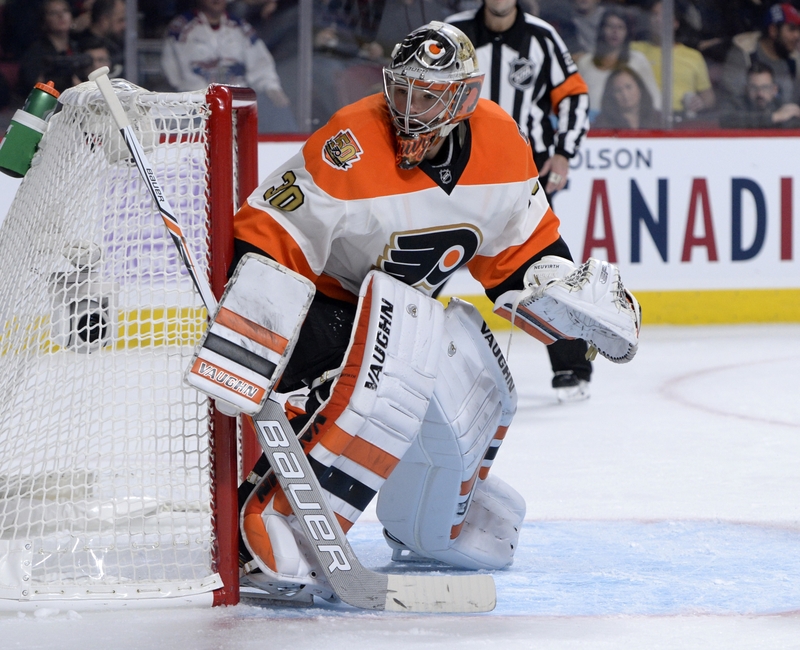 NHL Daily: Philadelphia Flyers goaltender Michal Neuvirth expected to miss the next 4-6 weeks with an injury, Marco Scandella injury could impact his future in Minnesota, GMs ready for some trade talk, and more! (Morning Coffee Headlines)
Grab your morning cup of coffee and join us here at Puck Prose for a compilation of NHL daily links that will help keep you updated with everything going on in the hockey world.
Six games were on the schedule Sunday. Winnipeg beat Los Angeles 3-2 at home, Vancouver scored an abundance of goals to come out on top 5-4 versus Dallas. Boston also shut out the Avalanche 2-0 with a road victory.
As per usual, here are you performers of the previous night:
Tyler Seguin, DAL (3 assists)
Patrick Eaves, DAL (2 goals)
Michael Grabner, NYR (2 goals)
Adam Lowry, WPG (1 goal 1 assist)
Antoine Roussel, DAL (1 goal 1 assist)
Markus Granlund, VAN (1 goal 1 assist)
Bo Horvat, VAN (1 goal 1 assist)
Brandon Sutter, VAN (1 goal 1 assist)
David Krejci, BOS (1 goal 1 assist)
Toby Enstrom (D), WPG (2 assists)
Alex Burrows, VAN (2 assists)
Tuukka Rask, BOS (20-save shutout)
Semyon Varlamov, COL (Stopped 44 of 45 shots in loss)
Henrik Lundqvist, NYR (Stopped 38 of 39 shots)
Devan Dubnyk, MIN (Stopped 35 of 36 shots)
Craig Anderson, OTT (Stopped 40 of 42 shots in loss)
Connor Hellebuyck, WPG (Stopped 27 of 29 shots)
Peter Budaj, LA (Stopped 27 of 29 shots in SO loss)
Corey Crawford, CHI (Stopped 21 of 23 shots)
NHL Daily: Morning Coffee Headlines
Neuvirth out 4-6 Weeks
Philadelphia Flyers goaltender Michal Neuvirth left Saturday night's game versus Minnesota with an apparent lower-body injury. It has been reported that he's expected to miss 4-6 weeks. [The Score]
Scandella Injury Could Impact His Future
Danny Lambert over at Gone Puck Wild discusses how the recent injury to defenseman Marco Scandella could ultimately impact his future. Minnesota is facing some very difficult decisions regarding the expansion draft. [Gone Puck Wild]
When All the Hits are Gone
Larry Brooks over at New York Post wrote a great piece about what will happen when hitting is completely eradicated from the game. The league seems to be trending that way with talk of eliminating blindsided hits. [New York Post]
Bruins Picking it Up
Players such as Torey Krug, David Krejci, and Matt Beleskey had slow starts for Boston in 2016-17. Over the last week, the trio has begun to turn things up. The B's new line of David Krejci, David Backes, and Ryan Spooner is looking particularly good. [Causeway Crowd]
Trade Talks to Open Up?
NHL GMs meet on Tuesday at their annual meeting. As Bruce Garrioch of the Ottawa Sun points it, it makes for some interesting conversations in the hallways and on lunch break as teams discuss possible trades. Will anything transpire? We'll have to wait and see. [Ottawa Sun]
Paul Byron Not a Long-Term Option on Top Line
Kenny MacMillan over at A Winning Habit talks about the recent promotion of bottom-six forward Paul Byron to the top line. He also discusses why there's no way it can be a long-term option for the Habs. [A Winning Habit]
NHL Daily Morning Rant
It doesn't look good when Habs coach Michel Therrien is taking a page out of Jack Capuano's book. The Isles coach has Cal Clutterbuck on the top line with John Tavares in a last-ditch effort to save his job.
I get the idea coaches have with this type of move because it allows you to spread out the talent a little more, but it typically comes with mixed results. The top line is reserved for your most talented forwards. If the answer isn't obvious, you might have a hole that needs to be addressed.
Make sure to like us on facebook and follow us on twitter for more NHL daily updates!
This article originally appeared on