NHL Daily: Michael Grabner, Kevan Miller, Olympics Participation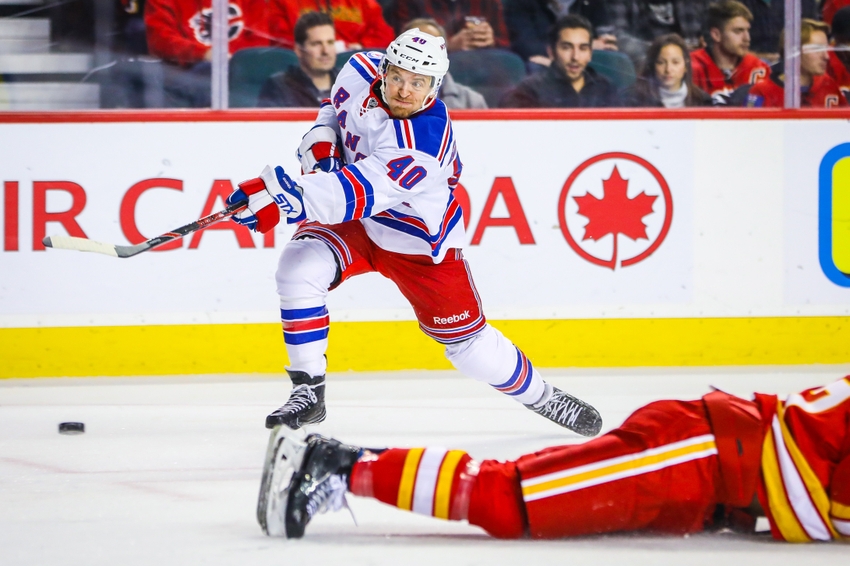 NHL Daily: Michael Grabner experiment is working out on Broadway, Kevan Miller back with the Boston Bruins, discussing the possibility of a CBA extension for player participation at the 2018 Olympics, and more! (Morning Coffee Headlines)
Grab your morning cup of coffee and join us here at Puck Prose for a compilation of NHL daily links that will help keep you updated with everything going on in the hockey world.
It was a light schedule on Wednesday night. In the much-anticipated Crosby vs. Ovechkin match-up, the Capitals won in a lopsided affair toppling the Pens 7-1. In the late game, Calgary pulled off a 2-1 win over Arizona without Johnny Gaudreau.
As per usual, here are you performers of the previous night:
Nicklas Backstrom, WSH (2 goals 3 assists)
T.J. Oshie, WSH (2 goals 2 assists)
Michael Frolik, CGY (1 goal 1 assist)
Braden Holtby, WSH (Stopped 25 of 26 shots)
Chad Johnson, CGY (Stopped 20 of 21 shots)
Mike Smith, ARZ (Stopped 22 of 24 shots in OT loss)
NHL Daily: Morning Coffee Headlines
CBA Extension?
Elliotte Friedman wonders if the NHLPA might consider a CBA extension in order to ensure player participation at the 2018 Olympics. It could make sense, the same thing happened back in 1998 at Nagano, and you don't exactly want a work stoppage with a brand new franchise on board. [Sportsnet]
Miller Returns to Bruins
29-year-old Bruins defenseman Kevan Miller is set to make his return on Thursday night. He began the year on the IR but will make his season debut against the red-hot Minnesota Wild. A strong season could catch the attention of George McPhee and company in Las Vegas. [Causeway Crowd]
Stamkos Out Indefinitely
Yesterday, we were wondering what the fate of Steven Stamkos would be following an early exit from Tuesday's game. It appears he suffered a meniscus tear and will be out indefinitely, a tough blow for the Lightning. [ESPN]
Grabner Experiment
It's been an up-and-down career for Michael Grabner. Thinks didn't work out in Vancouver, he had a couple of good years with the Isles, and most recently underwhelmed with the Maple Leafs in 2015-16. Now, with 10 goals in 17 games, Grabner looks ready to surpass his career-high of 34 goals back in 2010-11. [Blue Line Station]
Panthers-Ducks Trade
In a minor deal on Wednesday, the Florida Panthers sent forward Logan Shaw to the Anaheim Ducks in exchange for forward Michael Sgarbossa. Sgarbossa led the OHL in scoring with 102 points back in 2011-12. [NHL.com]
Blackhawks: Who's Hot, Who's Not
The team over at Blackhawk Up put together a nice "who's hot, who's not" list on Wednesday. They take a look at both struggling players and those who are off to sizzling starts in Chicago, such as Corey Crawford and Marian Hossa. [Blackhawk Up]
NHL Daily Morning Rant
Wednesday was another tough day for injuries. Steven Stamkos and Johnny Gaudreau are out indefinitely. Taylor Hall will miss 3-4 weeks. You could even add Darren Helm's name to the list, who will be out six weeks. Lots of holes need to be filled, which means opportunity knocks for numerous individuals. So, who might be looked at to fill the voids, maybe even worth a pickup in your fantasy hockey pool if they're on the waiver wire?
Let's have a look:
Steven Stamkos – Look for Valtteri Filppula to fill the void on that top line. He's been a consistent threat for the Lightning and could be a suitable replacement.
Johnny Gaudreau – Michael Frolik and Matthew Tkachuk will need to pick up the slack. Surprisingly enough, both did just that on Wednesday night creating all of Calgary's offense. They'll need more of the same moving forward.
Taylor Hall – Rookie Pavel Zacha could be the man in line for extra minutes. He plays both center and left wing and this could be his chance to lockdown a top-six spot.
Darren Helm – Riley Sheahan or Luke Glendening can slide into that third line center spot. It might open up a slot for Anthony Mantha to assume a few extra minutes. He hasn't had a lot of big chances, so this could be exactly what the Red Wings top prospect needs.
Make sure to like us on facebook and follow us on twitter for more NHL daily updates!
This article originally appeared on