NHL Daily: Las Vegas Team Name, Johnny Gaudreau Contract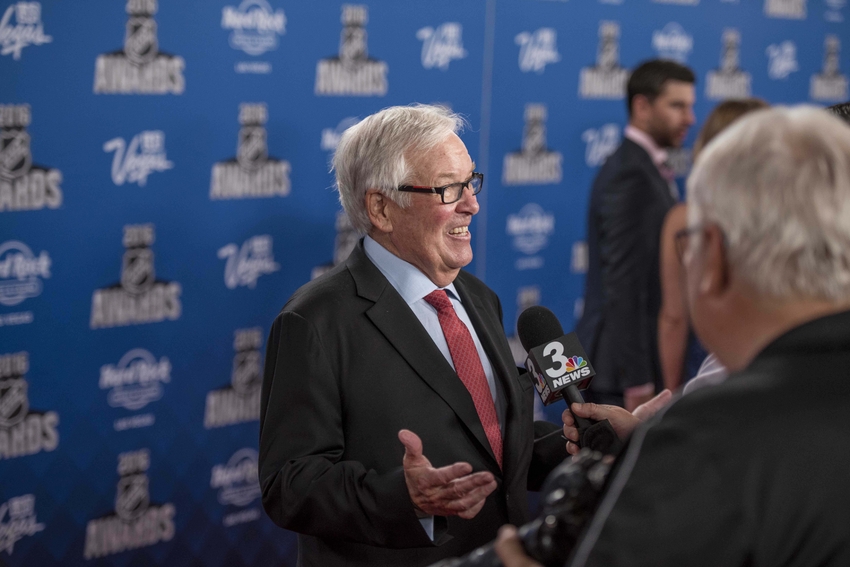 NHL Daily: Las Vegas Team Name Down to Three Choices, Johnny Gaudreau Reportedly Seeking $8 Million Dollars/Year, Jay Rosehill, Patrick Kaleta, and More (Morning Coffee Headlines)
Grab your morning cup of coffee and join us here at PuckProse for a compilation of NHL daily links that will help keep you updated with everything going on in the hockey world.
In today's edition, Bill Foley announced that Las Vegas will announce a team name in October, and has it down to three potential choices (of their three trademarked names). Reports surfaced that Johnny Gaudreau is seeking roughly $8 million dollars/year in negotiations (roughly $1.5 million dollars apart with the club). We also have an interview with Jay Rosehill, Patrik Kaleta seeking an NHL return, and much more!
NHL Daily: Morning Coffee Headlines
Las Vegas Will Be Named "Something" Knights
An announcement is expected to be made next month (October) for the new Las Vegas team name. In an interview, owner Bill Foley said the decision is down to three of their trademarked choices, which include Silver, Golden, and Desert Knights. [Sportsnet.ca]
Blues Defensive Prospects Getting Chance to Make Impression
It seems Kevin Shattenkirk's time in St.Louis is running out as the 27-year-old is set to hit free agency next summer. If you include the fact that Jay Bouwmeester and Carl Gunnarsson are getting older, STL will be turning to their prospect pool in coming years to fill the holes.
Colton Parayko did an excellent job making Shattenkirk expendable, and Joel Edmundson is poised to do the same with other veterans. [Bleedin' Blue]
Interview with Former NHLer Jay Rosehill, Now Playing in the UK's Elite Ice Hockey League (EIHL)
Ex-NHLer Jay Rosehill signed with the Elite Ice Hockey League (EIHL) in the United Kingdom. Evening Times UK Writer Scott Mullen caught up with the former enforcer to discuss the different style of play and adjusting his game to help extend his hockey career. [Evening News UK]
Lightning Sign 3-Year Extension with French Club Lyon HC
If you were to ask the casual fan how many minor league affiliates NHL teams have, they'll usually respond with "one", the American Hockey League (AHL). What a lot of people don't realize is that NHL teams can sometimes have numerous amount of affiliations (AHL, ECHL, Europe, etc.). On Friday, the Tampa Bay Lightning announced a three-year extension with their French Club affiliate Lyon HC. [Bolts By The Bay]
Patrick Kaleta Aiming For NHL Contract
Remember 30-year-old Patrick Kaleta? The once highly-effective Sabres agitator disappeared over the past couple of seasons and spent the entire 2015-16 campaign with AHL Rochester. Latest reports suggest Kaleta is working hard with Sabres teammates this offseason in hopes of earning a new lease on NHL life. [Buffalo News]
Gaudreau Asking Price Reportedly $8 Million/Year
Not that we can expect a deal to happen anytime soon considering Gaudreau announced he would not negotiate during the World Cup, but rumors surfaced on Friday regarding Johnny Hockey's asking price. Johnny Gaudreau is apparently seeking $8 million dollars/year while the Calgary Flames are offering $6.5 million/year. [Fansided]
Want your voice heard? Join the Puck Prose team!
Morning Rant
If the decision for Las Vegas comes down to the three selections listed above, Desert Knights has an interesting sound, and could open it up for some creative logo designs. Nevada is called the Silver State, though. 
Get the FanSided App
Regarding the Blues back end, it would not be surprising if a trade is made prior to puck drop on opening night. The numbers simply don't add up at this point, and there's a chance that younger prospects are ready to step up.
We wouldn't be surprised if Patrick Kaleta earns at least a PTO somewhere. After all, there is no risk or commitment on a professional tryout offer, so what's the harm? Maybe he had a solid offseason in the gym, who knows?
Lastly, we come to Johnny Hockey. Whether the rumors are true or not, it's time for the Calgary Flames to pay up. Gaudreau is hovering towards elite superstar status in the NHL, and it makes a lot more sense to pay $8 or $9 million dollars now opposed to $12 or $13 million two or three years down the road when average salaries continue to climb. What happens if he agrees to less money on a bridge deal and then wins the Art Ross Trophy?
This article originally appeared on