NHL Daily: Las Vegas Team Name, Goalie Equipment Rule Changes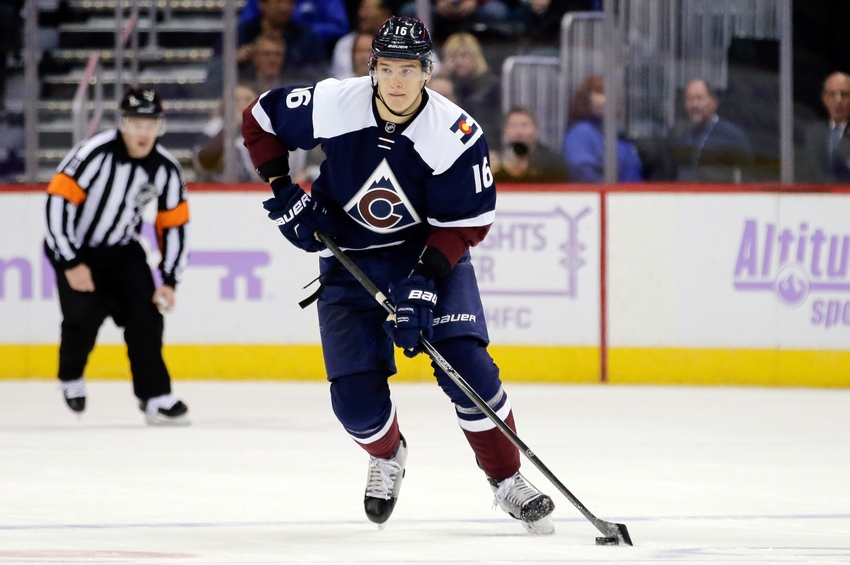 NHL Daily: Las Vegas, the NHL's 31st franchise, is set to announce their team name on Tuesday, goaltenders being left in the dark for information in regards to equipment changes, three broken players on the Avalanche roster, and more! (Morning Coffee Headlines)
Grab your morning cup of coffee and join us here at Puck Prose for a compilation of NHL daily links that will help keep you updated with everything going on in the hockey world.
Five games were on the schedule Friday. Pittsburgh edged the Islanders 3-2, Washington shut out the Red Wings 1-0 at home, Columbus kept rolling with a big 3-2 win over the Rangers, Carolina beat the juggernaut Canadiens 3-2, and Chicago came out on top 3-2 on the road versus Calgary.
As per usual, here are you performers of the previous night:
Kris Letang (D), PIT (1 goal 1 assist)
Sidney Crosby, PIT (1 goal 1 assist)
William Karlsson, CLB (1 goal 1 assist)
Jeff Petry (D), MTL (1 goal 1 assist)
Victor Rask, CAR (1 goal 1 assist)
Sam Bennett, CGY (1 goal 1 assist)
Sean Monahan, CGY (1 goal 1 assist)
Chris Kunitz, PIT (2 assists)
Andrei Markov (D), MTL (2 assists)
Ron Hainsey (D), CAR (2 assists)
Braden Holtby, WSH (25-save shutout)
Cam Ward, CAR (Stopped 31 of 33 shots)
Corey Crawford, CHI (Stopped 28 of 30 shots)
Jimmy Howard, DET (Stopped 27 of 28 shots in loss)
Sergei Bobrovsky, CLB (Stopped 25 of 27 shots)
NHL Daily: Morning Coffee Headlines
Las Vegas Team Name
After being pushed back numerous times, it seems Las Vegas is finally set to announce their team name at an event on Tuesday. Early rumors peg "Desert Knights" as the favorite from three choices. [Yahoo Sports]
Ghost Scratching a Desperate Reaction
Marc Naples over at Broad Street Buzz discusses the healthy scratch of Flyers D Shayne Gostisbehere, aka "The Ghost". He believes the benching is a desperate reaction from a frustrated coach and explains why. [Broad Street Buzz]
Goalies Left in the Dark With Rule Changes
The New York Post caught up with Henrik Lundqvist to discuss the proposed equipment changes that could be sprung on netminders halfway through the season. The goaltending fraternity is less than impressed with the lack of communication and timing of the situation. [New York Post]
3 Broken Avs Players
The Colorado Avalanche are struggling of late, especially in the goal-scoring department. Jeremy Lambert over at Mile High Sticking takes a look at three Avs players who he describes as "broken". [Mile High Sticking]
Best Rookie Ever?
Sportsnet wrote a nice piece comparing some of the best rookie performances of all-time. They look at five in particular: Sidney Crosby, Alex Ovechkin, Teemu Selanne, Wayne Gretzky, and Mario Lemieux. Cast your vote in their poll at the bottom. [Sportsnet]
Rangers Winning for a Reason
For the first time in their 90-year history, the Rangers have won 13 of their first 17 games in a season. As John Williams over at Blue Line Station says, "don't expect them to cool off too much". [Blue Line Station]
NHL Daily Morning Rant
NHL rookies are stealing the spotlight as we near the quarter mark of the 2016-17 season. Several are on pace to put up massive numbers, but we expect some of these guys to cool off a bit as the year goes on. At the same time, others should emerge, much like Shayne Gostisbehere did in 2015-16. Here's my updated list for rookie scoring projections (keep in mind this isn't a Calder Trophy prediction):
1. Patrik Laine, WPG – (42G-21A-63PTS)
2. Mitch Marner, TOR – (22G-33A-55PTS)
3. Jimmy Vesey, NYR – (22G-26A-48PTS)
4. Zach Werenski (D), CLB – (15G-32A-47PTS)
5. Auston Matthews, TOR (18G-28A-46PTS)
6. William Nylander, TOR (17G-26A-43PTS)
7. Pavel Zacha, NJ (13G-28A-41PTS)
8. Travis Konecny, PHI (14G-26A-40PTS)
9. Sebastian Aho, CAR (12G-28A-40PTS)
10. Anthony Beauvillier, NYI (14G-24A-38PTS)
Make sure to like us on facebook and follow us on twitter for more NHL daily updates!
This article originally appeared on