NHL Daily: Justin Faulk, Kevin Lebanc, Matt Irwin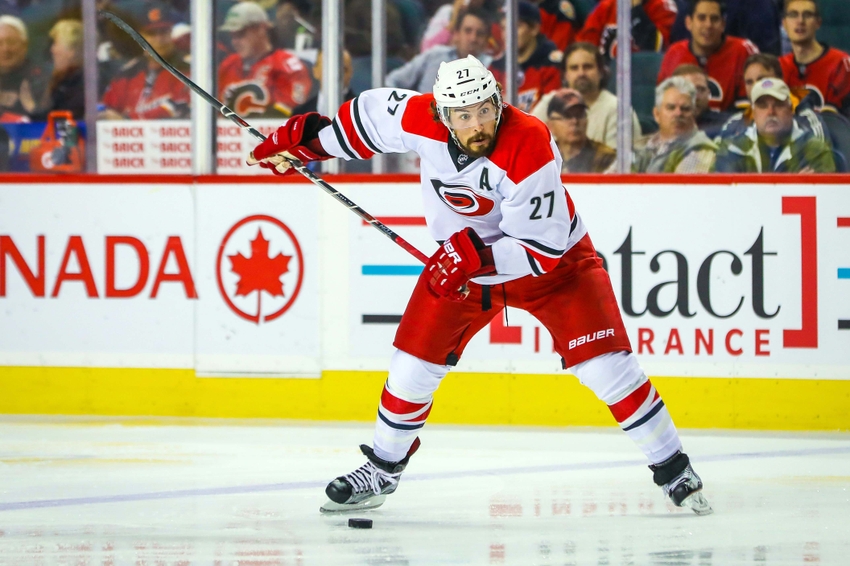 NHL Daily: Carolina Hurricanes defenseman Justin Faulk expected to be out week-to-week with an upper-body injury, Kevin Lebanc made his NHL debut with the San Jose Sharks, Matt Irwin looking to secure position with Nashville Predators, and more! (Morning Coffee Headlines)
Grab your morning cup of coffee and join us here at Puck Prose for a compilation of NHL daily links that will help keep you updated with everything going on in the hockey world.
We had 10 games on the schedule Tuesday night. Among some of the notable performances: Loui Eriksson finally scored his first goal of the season as Vancouver broke out for 5-3 win versus a tough Rangers squad. A couple of teams recorded shutouts, with San Jose knocking off the Capitals 3-0 and Los Angeles demolishing the Maple Leafs 7-0. Lastly, Patrik Laine netted his second hat-trick of the year and added a helper for a league-lead 11 goals in a dominant 8-2 win for Winnipeg over Dallas.
As per usual, here are you performers of the previous night:
Patrik Laine, WPG (3 goals 1 assist)
Mark Scheifele, WPG (2 goals 2 assists)
Jordan Eberle, EDM (2 goals 1 assist)
Pavel Buchnevich, NYR (1 goal 2 assists)
Max Domi, ARZ (1 goal 2 assists)
Connor McDavid, EDM (3 assists)
Derek Forbort (D), LA (3 assists)
Alex Burrows, VAN (2 goals)
Conor Sheary, PIT (2 goals)
Jeff Carter, LA (2 goals)
Jordan Martinook, ARZ (2 goals)
Sven Baertschi, VAN (1 goal 1 assist)
Henrik Sedin, VAN (1 goal 1 assist)
Patrick Maroon, EDM (1 goal 1 assist)
Joe Thornton, SJ (1 goal 1 assist)
Paul Byron, MTL (1 goal 1 assist)
Alex Galchenyuk, MTL (1 goal 1 assist)
Tyler Toffoli, LA (1 goal 1 assist)
Dwight King, LA (1 goal 1 assist)
James Neal, NSH (1 goal 1 assist)
P.K. Subban (D), NSH (1 goal 1 assist)
Patrick Eaves, DAL (1 goal 1 assist)
Andrew Copp, WPG (1 goal 1 assist)
Jakub Voracek, PHI (2 assists)
Alex Radulov, MTL (2 assists)
Tyler Myers (D), WPG (2 assists)
Nic Petan, WPG (2 assists)
Nikolaj Ehlers, WPG (2 assists)
Radim Vrbata, ARZ (2 assists)
Martin Jones, SJ (24-save shutout)
Peter Budaj, LA (19-save shutout)
Carey Price, MTL (Stopped 41 of 43 shots)
Pekka Rinne, NSH (Stopped 33 of 34 shots)
NHL Daily: Morning Coffee Headlines
Faulk Injured
Carolina Hurricanes defenseman Justin Faulk is expected to be out week-to-week with an upper-body injury. This is a tough loss for a team that was already struggling early on in 2016-17. [NHL.com]
Irwin Looking to Secure Spot
Philadelphia Flyers: No More Excuses for Defense and Goaltending
Matt Irwin was one of three free agent signings on the back end for the Preds. After starting the year in the minors, he's now looking to secure a spot with the big club. Following a recent call-up, the 29-year-old has accumulated four points in five games. [Predlines]
Lebanc Makes NHL Debut
Former OHL standout for the Barrie Colts, Kevin Lebanc, made his NHL debut on Tuesday night against Washington. The 20-year-old has quickly climbed the Sharks prospect pool ever since being drafted. [SI Live]
Avs Scoring Woes
With the Colorado Avalanche's recent struggles, some fans have begun to hit the panic button. Daniel Henderson over at Mile High Hockey discusses why it's not the right time for fans to lose their minds. [Mile High Hockey]
Rangers/Panthers Trade
The New York Rangers and Florida Panthers made a deal on Tuesday. FLA sent defenseman Steven Kampfer and a conditional draft pick to the NYR in exchange for top prospect on the back end, Dylan McIlrath. [NHL.com]
Ladd Goal on Monday
New York Islanders big free agent signing Andrew Ladd had a slow start to the year. It was met with a recent demotion, but luckily the veteran scored his first goal on Monday night. Michel Anderson over at Eyes on Isles looks at why it was such a significant moment moving forward. [Eyes on Isles]
NHL Daily Morning Rant
While a story did break today that Winnipeg Jets D Jacob Trouba has rescinded his trade request, I think we should read very little into it. After hearing that statement, and captain Blake Wheeler saying Jacob would be accepted back into the dressing room with no hard feelings, it felt scripted. It seemed like something the organization concocted to improve the overall image.
Personally, I fully expect a trade to follow at some point in 2016-17. The $3 million dollar cap hit could already have changed the landscape. However, If teams want to see him perform, who knows how long it'll take to completely shake the rust off after missing training camp, preseason, and the opening month of the season.
Make sure to like us on facebook and follow us on twitter for more NHL daily updates!
More from Puck Prose
This article originally appeared on