NHL Daily: Jersey Ads, James van Riemsdyk, Shea Weber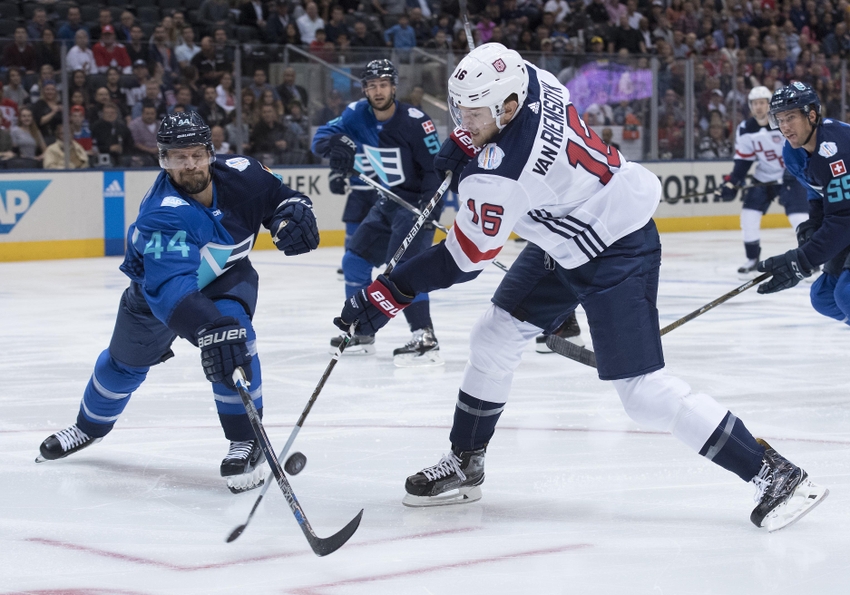 NHL Daily:  Jersey Ads at World Cup of Hockey, Disallowed Derek Stepan Goal on James van Riemsdyk Redirect, Shea Weber, and More (Morning Coffee Headlines)
Grab your morning cup of coffee and join us here at Puck Prose for a compilation of NHL daily links that will help keep you updated with everything going on in the hockey world.
In today's edition: How will fans respond to jersey ads at the World Cup of Hockey? Explaining why the disallowed US goal by Derek Stepan on a James van Riemsdyk redirect was the right call, exploring that invisible wall around Shea Weber, and much more!
NHL Daily: Morning Coffee Headlines
How Will Fans React to Jersey Ads?
The NHL is experimenting with jersey ads at the World Cup of Hockey in Toronto to gauge fans opinion. Ads on uniforms is a very common practice around the world, and could allow the league to generate more revenue, but Timothy Dewhirst at Globe and Mail isn't convinced that fans will be so accepting. [The Globe and Mail]
Oilers' Puljujarvi, Ellis Off to Hot Start at Young Stars Classic
As mentioned in yesterday's edition, prospects have gathered in Penticton, British Columbia for the annual Young Stars Classic featuring top young players from the Canucks, Flames, Oilers, and Jets. 2016 4th overall pick Jesse Puljujarvi and goaltender Nick Ellis stole the show in Edmonton's opener. [Oil on Whyte]
James van Riemsdyk Redirect Leading to Disallowed Goal was Right Call
The only thing Team USA should be upset about regarding the Derek Stepan disallowed goal was the way it shifted momentum in their loss to Team Europe. While it was the right call due to JVR's redirect, as explained by Adam Gretz at NBCsports, you have to wonder if the script would have gone any differently if it were a good goal. [NBCSports]
Consistency Key to Preds Success?
If the Nashville Predators want to be the next NHL franchise to get over the hump to make a Stanley Cup Finals appearance, they'll need team consistency. Ben Nixon over at Predlines released his list of five specific areas/players that need to be among the most dependable in 2016-17. [Predlines]
Playing Against Shea Weber
Chris Jones at ESPN writes, "The Weber Circumference defines one of hockey's most notorious circles of pain." Chris takes a deeper look at Montreal Canadiens offseason addition Shea Weber and gets comments from fellow Team Canada teammates regarding what it's like to play against the punishing defender. [ESPN]
Dylan Strome Ready to Have NHL Impact
Quote from Arizona Coyotes prospect Dylan Strome, "I obviously feel like I'm done with junior and I don't want to be there next year." Jason Harrison over at Howlin' Hockey takes a look at the Strome situation from three different perspectives (Strome's, Coyotes', and fans). [Howlin' Hockey]
Las Vegas Continues to Build NHL's 31st Franchise
Things have been fairly quiet down in Las Vegas lately. A team name is expected to be announced sometime next month and owner Bill Foley continues to build his management/business team behind the scenes. Las Vegas Review-Journal talks about some of those recent hirings and other news/updates. [Las Vegas Review-Journal]
Dallas Stars Change Center Ice Logo
The Stars made a significant change for the upcoming 2016-17 season. Their center ice logo was their new(ish) green logo, but it's received a recent makeover that one could argue is now among the flashiest looking in the league. [Blackout Dallas]
NHL Daily Morning Rant
I'm not too sure why people debate on how jersey ads might be received. Truth be told, it doesn't matter what fans think anyways.
Sports is a business, and frankly, it's shocking that it's taken this long for ads to appear. They litter every other area of the sporting experience, so it should go virtually unnoticed anyways. Think about how much extra revenue European soccer leagues or Asian baseball leagues make with ads all across their uniforms, or in certain cases naming teams after sponsors.
If the NHL has more money, they can conceivably produce a better product and perhaps greater fan experience. Embrace the change folks, it's coming whether we like or not.
Make sure to like us on facebook and follow us on twitter for more daily NHL updates!
This article originally appeared on