NHL Daily: Jacob Trouba, Ryan Miller, David Desharnais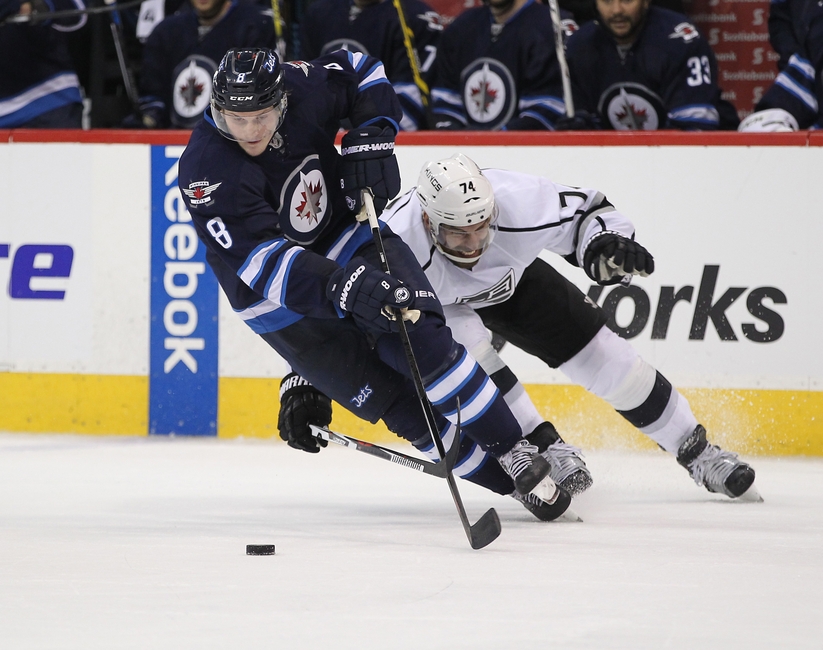 NHL Daily: Winnipeg Jets could still sign Jacob Trouba and trade him later on, Ryan Miller just one of many to be ejected in Maple Leafs/Canucks tilt, Habs need to stop relying on David Desharnais, and more! (Morning Coffee Headlines)
Grab your morning cup of coffee and join us here at Puck Prose for a compilation of NHL daily links that will help keep you updated with everything going on in the hockey world.
We had a full schedule on Saturday with 26 teams in action. Calvin Pickard notched a shutout in the 1-0 afternoon win for Colorado over Minnesota. Later on, Robin Lehner stole the show against his old team, the Ottawa Senators with a 2-1 Sabres win. Toronto and Vancouver skated to 157 penalty minutes (161 total) in the third period after a rash of scrums, questionable hits, fights, and eventually a line brawl.
Apologies as the Flames/Kings and Penguins/Sharks had not concluded at the time this was written.
As per usual, here are you performers of the previous night:
Tyler Bozak, TOR (2 goals 1 assist)
Derek Stepan, NYR (1 goal 2 assists)
James van Riemsdyk (3 assists)
T.J. Oshie, WSH (2 goals)
Michael Grabner, NYR (1 goal 1 assist)
Shayne Gostisbehere (D), PHI (1 goal 1 assist)
Andrei Markov (D), MTL (1 goal 1 assist)
Patrick Maroon, EDM (1 goal 1 assist)
Shane Prince, NYI (1 goal 1 assist)
Victor Hedman (D), TB (1 goal 1 assist)
Nikita Kucherov, TB (1 goal 1 assist)
Mitch Marner, TOR (1 goal 1 assist)
Alex Ovechkin, WSH (1 goal 1 assist)
Patrick Kane, CHI (1 goal 1 assist)
Matt Irwin (D), NSH (1 goal 1 assist)
Jakub Voracek, PHI (2 assists)
Matthew Benning, EDM (2 assists)
Dennis Seidenberg (D), NYI (2 assists)
Jannik Hansen, VAN (2 assists)
Nate Schmidt, WSH (2 assists)
Calvin Pickard, COL (32-save shutout)
Ben Bishop, TB (Stopped 37 of 38 shots)
Robin Lehner, BUF (Stopped 32 of 33 shots)
Carter Hutton, STL (Stopped 20 of 21 shots)
NHL Daily: Morning Coffee Headlines
Jacob Trouba Update
Elliotte Friedman reported on Saturday that Winnipeg could still sign Jacob Trouba before December 1st, and then worry about finding a trade partner. He referenced a prior client of Kurt Overhardt – Kyle Turris – who signed with Phoenix (now Arizona) in late November only to be traded on December 17th that same year. [Sportsnet]
Habs Need to Stop Relying on David Desharnais
Kenny MacMillan over at A Winning Habit discusses how the Montreal Canadiens need to stop relying so much on David Desharnais. Apparently some still view the veteran as a top-six forward. [A Winning Habit]
Leafs/Canucks Brawl
After posting just four penalty minutes between both teams in the first two periods, things got out of control in the third between Toronto and Vancouver on Saturday night. Questionable hits, scrums, fights, and even a line brawl erupted totaling 157 PIM in the final 20 minutes. Both starting goaltenders, Ryan Miller and Frederik Andersen were ejected with roughly five minutes remaining. [The Score]
McDavid/Puljujarvi Combo?
Back before the preseason started, I had proposed the idea of potential new duos that would be exciting to see. One of them was phenom Connor McDavid with Finnish standout Jesse Puljujarvi. After some recent struggles and history of line juggling, it may just be a matter of time before we see the kids together. [Oil on Whyte]
McDavid Embracing New Role
Daniel J. Friedman over at SI.com talks about how Edmonton Oilers new captain Connor McDavid is embracing his new role in just his second NHL season, and how it has helped fuel his success early on. [SI.com]
Five Things Working for the Flames
Ramina Shlah over at Flame for Thought explores five things that are working for the Calgary Flames early on despite the 5-7-1 record. Among the list, and perhaps most important, quality goaltending after a shaky start. [Flame for Thought]
NHL Daily Morning Rant
Reports surfaced on Saturday that Winnipeg Jets forward Alex Burmistrov is on the trade block. This comes as little surprise to be honest. They have little hope of protecting him in expansion, but most importantly, he isn't fitting in. This might be one of those rare scenarios where a change of scenery is what's best for the player. In Winnipeg, he can often get lost in the mix with a number of similar quality players vying for ice-time.
Best Fits for Alex Burmistrov: Carolina Hurricanes, Chicago Blackhawks, Dallas Stars, Montreal Canadiens
Make sure to like us on facebook and follow us on twitter for more NHL daily updates!
This article originally appeared on