NHL Daily: Ilya Kovalchuk, Eric Lindros, Winter Classic Rosters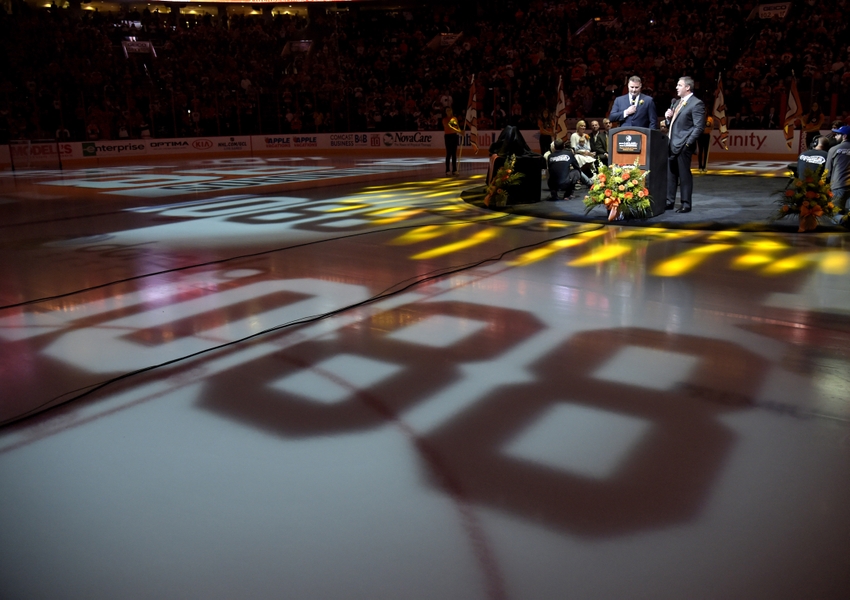 NHL Daily: Let the rumors begin again after Ilya Kovalchuk says that an NHL return is not out of the realm of possibilities, breaking down the Eric Lindros trade that sent him from Quebec to Philadelphia, St. Louis Blues reveal Winter Classic roster, and more! (Morning Coffee Headlines)
Grab your morning cup of coffee and join us here at Puck Prose for a compilation of NHL daily links that will help keep you updated with everything going on in the hockey world.
10 games were on the schedule on Thursday night. The Minnesota Wild pulled off a tough win on the road in Pittsburgh 4-2, Montreal found a way to beat the seemingly unstoppable of late Peter Budaj, knocking off the Kings 4-1 at home. San Jose picked up a road victory against the Panthers, while the Preds kept rolling as they turn things around with a 3-1 win over St. Louis.
As per usual, here are you performers of the previous night:
Jakob Silfverberg, ANA (2 goals 2 assists)
Eric Staal, MIN (1 goal 2 assists)
Steven Stamkos, TB (1 goal 2 assists)
Ryan Kesler, ANA (2 goals)
Jason Demers (D), FLA (2 goals)
Calle Jarnkrok, NSH (2 goals)
Jamie Benn, DAL (2 goals)
Johnny Gaudreau, CGY (2 goals)
David Backes, BOS (1 goal 1 assist)
Matt Beleskey, BOS (1 goal 1 assist)
Austin Czarnik, BOS (1 goal 1 assist)
Charlie Coyle, MIN (1 goal 1 assist)
Nino Niederreiter, MIN (1 goal 1 assist)
Tyler Johnson, TB (1 goal 1 assist)
Antoine Roussel, DAL (1 goal 1 assist)
David Krejci, BOS (2 assists)
Andrew Cogliano, ANA (2 assists)
Phil Kessel, PIT (2 assists)
Henrik Zetterberg, DET (2 assists)
Max Pacioretty, MTL (2 assists)
Radek Faksa, DAL (2 assists)
Brett Kulak (D), CGY (2 assists)
Jimmy Howard, DET (Stopped 36 of 37 shots)
Andrei Vasilevskiy, TB (Stopped 31 of 32 shots)
Carey Price, MTL (Stopped 23 of 24 shots)
Pekka Rinne, NSH (Stopped 23 of 24 shots)
Devan Dubnyk, MIN (Stopped 39 of 41 shots)
NHL Daily: Morning Coffee Headlines
Blues Winter Classic Roster
St. Louis announced their Alumni Winter Classic roster with a number of former stars. Wayne Gretzky and Brett Hull headline the list. Among the other notables: Keith Tkachuk, Adam Oates, Scott Mellanby, Al MacInnis, and Chris Pronger. Things are weak between the pipes considering they called for Martin Brodeur. [NHL.com]
Martinook Making Most of Opportunity
Arizona Coyotes forward Jordan Martinook has been given a rare top-six opportunity to open the season. He seems to be making the most of it too now up to five goals (eight points) in 13 games. [Howlin' Hockey]
Kovalchuk Rumors
We've heard this one before, but Igor Eronko asked Ilya Kovalchuk about a possible NHL return. His response, "Why not? Anything can happen". Unfortunately, there are complications to that. All 30 teams would need to sign off and the Devils still technically own his rights. [Fox Sports]
Lindholm Disappoints Early on
Surprise, surprise, it seems Carolina Hurricanes forward Elias Lindholm is off to yet another slow start. Here's a guy that continues to fall just short of expectations, although fans hope he can still turn a corner. [Cardiac Cane]
Trade That Sent Lindros to Philly
With Eric Lindros set to be inducted into the Hall-of-Fame (long overdue), the Globe and Mail take a look back in history at the trade that sent the Big E to Broad Street. It cost the Flyers Peter Forsberg, Mike Ricci, Ron Hextall, Steve Duchesne, Chris Simon, Kerry Huffman, two first-round picks and $15 million dollars. [Globe and Mail]
Avs Will Make Trade if Team Doesn't Improve
Ross Sellers over at Mile High Hockey discusses how the Colorado Avalanche could soon be faced with difficult decisions. He talks about how Joe Sakic won't be shy to make a deal to shake things up if necessary. [Mile High Hockey]
Want your voice heard? Join the Puck Prose team!
NHL Daily Morning Rant
It's funny that Ross brings up the potential for an Avs trade. Truth be told, this is something that should have occurred long ago.
This is the same writer that deemed Calvin Pickard "NHL ready" shortly before making the full-time jump to the big club. Let's not forget who suggested that Colorado trade Matt Duchene just before those rumors broke in 2015-16 (linked here).
There's been a dynamic at play that isn't working and a glaring weakness that when put together create this losing formula. Having two number one center's is a problem. They split time up the middle, one tends to play a little more on the wing (Duchene these days) and it's just not a chemistry that works. MacKinnon needs that space to be the no.1 guy without having to look over his shoulder or give up time at center.
What am I saying? The exact same thing I said around this time a year ago. The Avs need to look to move their top scorer Matt Duchene. His trade value is at a premium at the moment, and while a big loss, fans need to think about the potential return haul. A top-six winger could fill the void up front, and maybe Colorado can get their hands on a top-four defenseman that can eat up big minutes to fill that glaring need on the back end (plus whatever other assets come in the deal). Joe Sakic needs to think about that.
Make sure to like us on facebook and follow us on twitter for more NHL daily updates!
This article originally appeared on