NHL Daily Fantasy Sports: DFS Picks of the Day (Jan.20)
Ryan Ritchie/FanSided via Puck Prose

Fansided
NHL Daily Fantasy Sports: DFS Picks/Lineup of the Day – Only six games are scheduled Friday night: The Blackhawks head to Boston, Buffalo plays host to Detroit, Pittsburgh travels to Raleigh to take on the Hurricanes, New Jersey welcomes Al Montoya and the Habs, Nashville continues their western road trip heading north to play the Oilers, and Vancouver faces off against a familiar face in Roberto Luongo and the Panthers .
NHL daily fantasy sports (DFS) continues to grow in popularity despite the uncertainty surrounding the industry. Companies like Fan Duel and Draft Kings are still immersed in legal battles and in turn are unable to offer their services in certain American states.
Even with restrictions, the DFS community continues to thrive and in likelihood will emerge victorious when all is said and done. Just think of the way fantasy sports, in general, has evolved over the last 15-20 years. Daily fantasy sports is just the next step. Instead of drafting a team, spending an entire season tweaking and adjusting your lineup, you can select a roster of players for that given night and compete against other individuals.
Welcome back to my NHL daily fantasy sports series intended to help give fans an edge selecting their DFS rosters today. I'm targeting one player at each position (center, winger, defense, goalie) that make for quality value picks that won't break the bank. I've also included results from yesterday's picks and a bonus lineup of the day.
NHL Daily Fantasy Sports: DFS Picks of the Day (Friday, January 20th)
NHL Schedule (Friday, Jan.20)
Chicago Blackhawks at Boston Bruins (7pm et)
Detroit Red Wings at Buffalo Sabres (7pm et)
Pittsburgh Penguins at Carolina Hurricanes (7pm et)
Montreal Canadiens at New Jersey Devils (7:30pm et)
Nashville Predators at Edmonton Oilers (9pm et)
Florida Panthers at Vancouver Canucks (10pm et)
*Important Note: Prices/Scoring Format from DraftKings.com
Center – Tanner Kero, Chicago Blackhawks $3,400 (at BOS)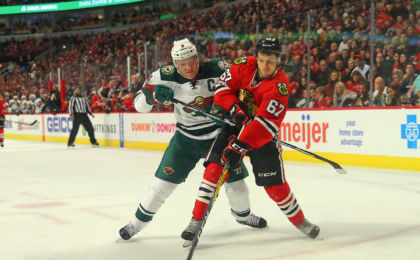 The Hawks third-line center is having some recent success as Chicago continues to shuffle their lines. Kero is coming off a monster two goal, three-point performance in his last outing and now has five points in his last five contests. Until Marcus Kruger returns to the lineup, Kero makes for an intriguing daily option.
Winger – Beau Bennett, New Jersey Devils $3,600 (vs. MTL)
With Carey Price struggling, the Habs turn to backup Al Montoya on Friday night. He's definitely capable of stealing games as he's shown earlier in the season, but I don't foresee a low-scoring affair. This match-up feels like one of those 3-2 or 4-3 type one-goal games. If that's the case, it might be worth taking a flyer on Devils forward Beau Bennett. He only has 10 points in 37 games so far in 2016-17, but he's currently riding a two-game point streak and is averaging between 13-15 minutes of ice-time/game.
Defense – Nikita Tryamkin, Vancouver Canucks $3,000 (vs. FLA)
Buyer beware on this one because you're really swinging for the fences. Here's a guy who couldn't even draw into the lineup to start the year, but mounting injuries eventually created an opportunity for the hulking 6'7 defender. Tryamkin only has five points in 36 games this year, but he's seeing an uptick in ice-time of late and even logged north of 20 minutes in a few contests over his last 10.
Even if he doesn't manage to find the scoresheet, the Russian regularly blocks shots and doesn't mind shooting it himself either, both of which will earn you fantasy points.
Goaltender – Anders Nilsson, Buffalo Sabres $7,400 (vs. BUF)
Despite being listed as day-to-day with an illness, Nilsson is expected to command the crease on Friday night when Buffalo plays host to Detroit.
Listen, if you're gonna select a Sabres netminder in DFS, make sure they're playing at home. Both of these guys have much better stats in their own building. For example, Nilsson boasts a 3.30GAA and .905 save percentage on the road with a 2-5-3 record. Whereas at home, Anders is 5-1-1 with a 1.84GAA and .947 save percentage. Couple that with the fact that Buffalo is facing a less than stellar Red Wings squad, there's an opportunity for big points here.
NHL Daily Fantasy Sports: DFS Lineup of the Day Using Value Picks
C Sidney Crosby, PIT $8,100 (at CAR)
C Evgeni Malkin, PIT $7,300 (at CAR)
W Patrick Kane, CHI $7,500 (at BOS)
W Kyle Palmieri, NJ $4,400 (vs. MTL)
W Beau Bennett, NJ $3,600 (vs. MTL)
D Justin Schultz, PIT $5,200 (at CAR)
D Nikita Tryamkin, VAN $3,000 (vs. FLA)
G Anders Nilsson, BUF $7,400 (vs. DET)
UTIL Tanner Kero, CHI $3,400 (at BOS)
This article originally appeared on