NHL Daily Fantasy Sports: DFS Picks of the Day (Feb.4)
Ryan Ritchie/FanSided via Puck Prose

Fansided
NHL Daily Fantasy Sports: DFS Picks/Lineup of the Day – 13 games in total are on the Schedule Saturday. We've got three early matinees, followed by 10 more contests later in the evening.
NHL daily fantasy sports (DFS) continues to grow in popularity despite the uncertainty surrounding the industry. Companies like Fan Duel and Draft Kings are still immersed in legal battles and in turn are unable to offer their services in certain American states.
Even with restrictions, the DFS community continues to thrive and in likelihood will emerge victorious when all is said and done. Just think of the way fantasy sports, in general, has evolved over the last 15-20 years. Daily fantasy sports is just the next step. Instead of drafting a team, spending an entire season tweaking and adjusting your lineup, you can select a roster of players for that given night and compete against other individuals.
NHL Schedule: Saturday, February 3rd
*Not including early games for our daily picks (WSH at MTL, LA at PHI, WPG at COL)
Toronto Maple Leafs at Boston Bruins (7pm et)
Ottawa Senators at Buffalo Sabres (7pm et)
Carolina Hurricanes at New York Islanders (7pm et)
Anaheim Ducks at Tampa Bay Lightning (7pm et)
New Jersey Devils at Columbus Blue Jackets (7pm et)
Chicago Blackhawks at Dallas Stars (8pm et)
Pittsburgh Penguins at St. Louis Blues (8pm et)
Detroit Red Wings at Nashville Predators (8pm et)
Minnesota Wild at Vancouver Canucks (10pm et)
Arizona Coyotes at San Jose Sharks (10:30pm et)
*Important Note: Prices/Scoring Format from DraftKings.com
NHL DFS Picks of the Day (Feb.4)
Top Pick: C John Tavares, NYI $7,300 (vs. CAR)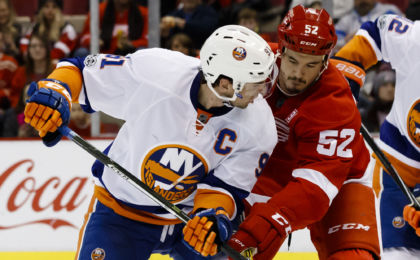 Despite taking their first loss under new coach Doug Weight, Johnny T had another multi-point night on Friday. He'll look to keep rolling against a Hurricanes squad that is also playing a back-to-back, as Carolina defeated Edmonton 2-1 last night. Tavares is riding a four-game point streak (six points over that span) and has 11 points in his last eight games.
Value Pick: C Ryan Spooner, BOS $3,600 (vs. TOR)
The Toronto Maple Leafs are struggling of late and they'll look to bounce back against a team that has largely dominated the head-to-head series for quite a while now. Although Spooner is without a point in two games versus Toronto in 2016-17, the youngster could be due. He has 25 points in 53 games so far, including four helpers over his last seven contests.
Top Pick: W Joe Pavelski, SJ $7,000 (vs. ARZ)
The struggling Arizona Coyotes head to San Jose on Saturday night for the late game. Not only should the Sharks win this game (even if Aaron Dell mans the crease), but it could be a lopsided affair. San Jose captain Joe Pavelski already has a goal and an assist in three games versus the Coyotes in 2016-17 and has six points in his last eight contests.
Value Pick: W Ryan Dzingel, OTT $3,900 (at BUF)
Dzingel is having a stellar year with 26 points in 49 games so far. 14 of those 26 points have come on the road and he's got six points in his last 10 contests. You're definitely rolling the dice picking any Sens players today, as I imagine Sabres netminder Robin Lehner has more than enough motivation for this one, but with a goal in three games vs. Ottawa, it might be worth the risk.
Top Pick: D P.K. Subban, NSH $5,700 (vs. DET)
Subban's DFS value is slowly working its way up again since returning from injury. Still, $5,700 is somewhat of a bargain for a defender with the capabilities of going off for a monster offensive performance.
P.K. only has a goal and an assist since returning six games ago, but the Preds as a whole are looking much better of late. What better way to fully shake off the rust than a breakout game versus Detroit? It's also worth noting that Subban found the back of the net in Nashville's only game vs. the Red Wings in 2016-17.
Value Pick: D Jack Johnson, CLB $3,500 (vs. NJ)
While some experts believe that Johnson's two-point effort on Friday was simply a blip on the radar, I respectfully disagree. He posted a helper in the game prior as well and if there's one thing I've learned about Jack, his production is very streaky/inconsistent. Long story short, if he's riding a two-game point streak, it might be worth rolling the dice to see if he can extend it. History would suggest he can since he tends to pile up the points in bunches.
This article originally appeared on