NHL Daily Fantasy Sports: DFS Picks of the Day (Feb.3)
Ryan Ritchie/FanSided via Puck Prose

Fansided
NHL Daily Fantasy Sports: DFS Picks/Lineup of the Day – Only five games are scheduled Friday: Pittsburgh plays host to Columbus, NY Islanders head to Motown to take on the Red Wings, Edmonton looks to bounce back versus the Hurricanes, New Jersey welcomes Calgary to town, and Anaheim heads to the Sunshine State to take on the Panthers.
NHL daily fantasy sports (DFS) continues to grow in popularity despite the uncertainty surrounding the industry. Companies like Fan Duel and Draft Kings are still immersed in legal battles and in turn are unable to offer their services in certain American states.
Even with restrictions, the DFS community continues to thrive and in likelihood will emerge victorious when all is said and done. Just think of the way fantasy sports, in general, has evolved over the last 15-20 years. Daily fantasy sports is just the next step. Instead of drafting a team, spending an entire season tweaking and adjusting your lineup, you can select a roster of players for that given night and compete against other individuals.
NHL Schedule: Friday, February 3rd
Columbus Blue Jackets (34-11-6) at Pittsburgh Penguins (31-13-5) – 7pm et
New York Islanders (22-17-9) at Detroit Red Wings (20-21-9) – 7:30pm et
Edmonton Oilers (28-17-8) at Carolina Hurricanes (22-20-7) – 7:30pm et
Calgary Flames (26-24-3) at New Jersey Devils (21-21-9) – 7:30pm et
Anaheim Ducks (28-15-9) at Florida Panthers (22-19-10) – 7:30pm et
*Important Note: Prices/Scoring Format from DraftKings.com
NHL DFS Picks of the Day (Feb.3)
Top Pick: C Vincent Trocheck, FLA $6,200 (vs. ANA)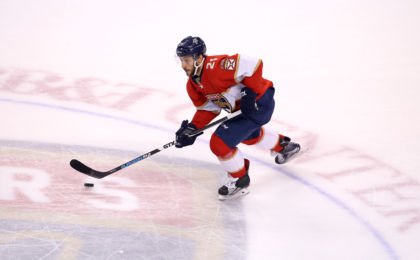 The Ducks are a much better team at home (17-6-3), but seem to struggle on the road (11-9-6). They embark on a long road trip starting in Florida, and while Anaheim could certainly win this game, the odds suggest the Panthers should score a few goals. Trocheck, in particular, is on fire with six goals, five assists (11 points) in his last 10 games. Don't be surprised if he has a multi-point effort in this one.
Value Pick: C Carter Rowney, PIT $2,800 (vs. CLB)
You're definitely rolling the dice with players worth less than $3,000. That being said, they're usually AHL call-ups that can have a short-term impact. Such is the case with a former U of North Dakota product Carter Rowney. He made his NHL debut on Wednesday skating on a line with Carl Hagelin and Bryan Rust. Although left off the scoresheet in his debut, Rowney has plenty of talent to play with and has a chance to record his first NHL point on Friday night.
Top Pick: W Taylor Hall, NJ $6,100 (vs. CGY)
New Jersey plays host to a Calgary squad that is red-hot right now. The last time these two met was a night after an emotional return to Edmonton for Taylor Hall. New Jersey actually managed to grab all four points on their Alberta road trip with Hall potting a goal versus the Flames. Taylor has two goals, six assists (eight points) in his last 10 games and could easily be in line for a big night versus Calgary.
Value Pick: W Anthony Beauvillier, NYI $3,200 (at DET)
It's been a tough rookie season for Beauvillier. At times, he has found himself in the press box. He also spends a lot of time in a limited 4th line role. All of that being said, he's still a supremely talented prospect and the Isles are surging under new head coach Doug Weight. Anthony Beauvillier has three assists over his last seven games, so it might be worth the risk at such a low cost.
Top Pick: D Kris Letang, PIT $6,000 (vs. CLB)
Letang sits at the top as the most expensive defender on Friday night. Still, it might be worth the investment given a couple of different factors: First, he was left off the scoresheet in his return and should be hungry to start producing again. Second, Blue Jackets goaltenders could be in for a tough night. Sergei Bobrovsky is taking a beating of late, and while Korpisalo has looked sharp, he too is due for a rough outing.
Value Pick: D Adam Larsson, EDM $3,300 (at CAR)
Instead of spending around $4,500 or more on the likes of Andrej Sekera or Oscar Klefbom, why not invest in another Oilers defender that has arguably been just as productive over the last few weeks. Larsson has one goal, five assists (six points) in his last 10 contests and posted seven or more FPTS (fantasy points) in two of his last five games.
This article originally appeared on