NHL Daily: Corey Perry, Rick Nash, Taylor Hall, Coyotes Prospects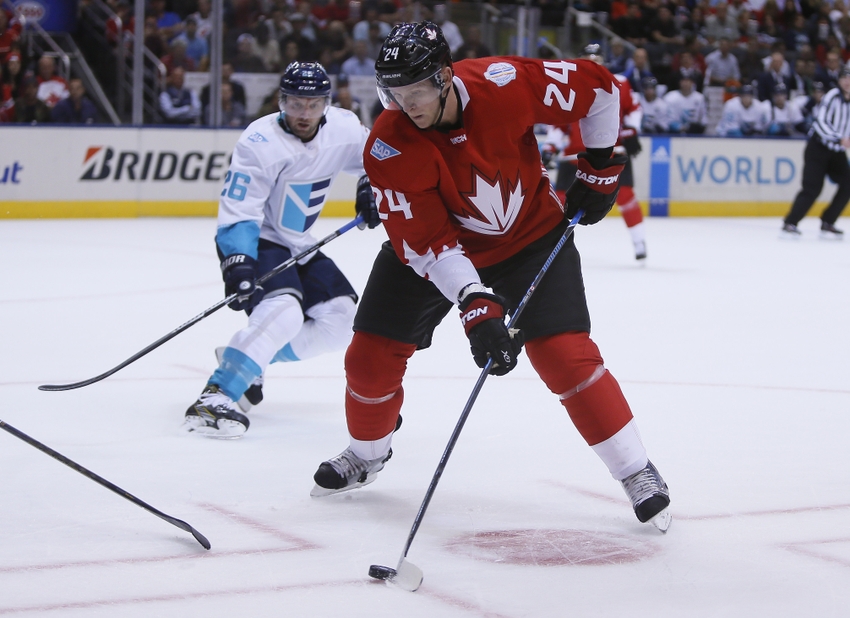 NHL Daily: Corey Perry Chance to Join Exclusive Club, Rick Nash Feeling Pressure to Perform, Taylor Hall Feels Resentment Towards Oilers (Morning Coffee Headlines)
Grab your morning cup of coffee and join us here at Puck Prose for a compilation of NHL daily links that will help keep you updated with everything going on in the hockey world.
In today's edition: Corey Perry has an opportunity to join an exclusive club that includes just one member, Scott Niedermayer, Rick Nash is feeling pressure to perform on Broadway if he hopes to extend his NHL career, Taylor Hall stills feels resentment towards the Oilers following blockbuster summer deal, and much more!
NHL Daily: Morning Coffee Headlines
Perry Hoping to Join Niedermayer in Hockey History
Anaheim Ducks forward Corey Perry has an opportunity to join an exclusive club that only includes defensive legend Scott Niedermayer. As it stands, Scott is the only player to have won a Stanley Cup, World Hockey Championship, Olympic gold, World Junior Championship, Canada Cup/World Cup title, and Memorial Cup. If the Canadians emerge victorious, Perry joins Niedermayer in hockey history. [The Hockey News]
Hall Still Holds Resentment Towards Oilers
Former Oilers forward Taylor Hall expressed he still holds resentment towards Edmonton following the blockbuster summer trade, in an interview with NJ.com writers. Sammi Silber of Oil on Whyte explains how she and others in the Oilers community have a difficult time sympathizing. After all, something of significance had to occur. [Oil on Whyte]
Nash Feeling Pressure to Perform
Rick Nash spoke with media at the first day of training camp. He expressed that he believes he's "in a battle to stay with the Rangers". Nash has been the topic of trade rumors in recent months, but he made it clear that he wants to stay in New York as long as possible. [Newsday]
Projecting Coyotes Rookies for Opening Night
Jonathan King over at Howlin' Hockey released his predictions for how Arizona Coyotes lines might look on opening night. Among rookies, obvious inclusions are Christian Dvorak and Dylan Strome, but you might be surprised to see which third prospect he thinks will crack the roster. [Howlin' Hockey]
Red Wings Coach Jeff Blashill Praises Prospect Tyler Bertuzzi
Detroit Red Wings head coach Jeff Blashill was asked about Tyler Bertuzzi in Traverse City. He sees him simply as a hockey player, "By that, I mean some guys, they just know how to play hockey, they find ways to come up with pucks, they might not have the prettiest skill set or might not skate the fastest and they might not be the tallest or might not have the fanciest hands.". Nephew of former NHLer Todd Bertuzzi, Tyler is likely headed back to Grand Rapids for his second AHL season in 2016-17. [Detroit News]
Mikhail Grabovski Expected to Start Year on IR
It sounds as though Islanders forward Mikhail Grabovski is still dealing with post-concussion symptoms and will start the new season on the IR. Michel Anderson at Eyes on Isles looks at this as an opportunity for certain players to step up in his absence. [Eyes on Isles]
Will Online Course for Hockey Parents Actually Work?
Get the FanSided App
A course called "respect in sport" is a new mandatory for parents with kids who play hockey in Ontario, Canada. It's a one-hour online session that must be taken in order for one's child to lace up the skates. Parents in the GTHL (Greater Toronto Hockey League) however are skeptical that it will change anything in the heat of an emotional moment. [CBC]
Leafs Prospect on the Hot Seat
The focus at Maple Leafs training camp will be on prospects such as Mitch Marner, Auston Matthews, William Nylander, and so on. Tim Chiasson at Editor in Leafs discusses how three other players are on the hot seat as Toronto will soon need to make decisions on other prospects. [Editor in Leaf]
NHL Daily Morning Rant
Normally, I like to comment on the stories of the day but sometimes I'll switch gears a bit to discuss something on my mind. With NHL training camps underway, here is a list of five prospects not expected to crack the NHL but could be on the opening night roster anyways:
D Brandon Montour (Anaheim Ducks)
F Sergey Tolchinsky (Carolina Hurricanes)
F Dominik Simon (Pittsburgh Penguins)
F Travis Konecny (Philadelphia Flyers)
F Ivan Barbashev (St.Louis Blues)
Make sure to like us on facebook and follow us on twitter for more daily NHL updates!
This article originally appeared on