NHL Daily: Clarke MacArthur, Kris Versteeg, Gordie Howe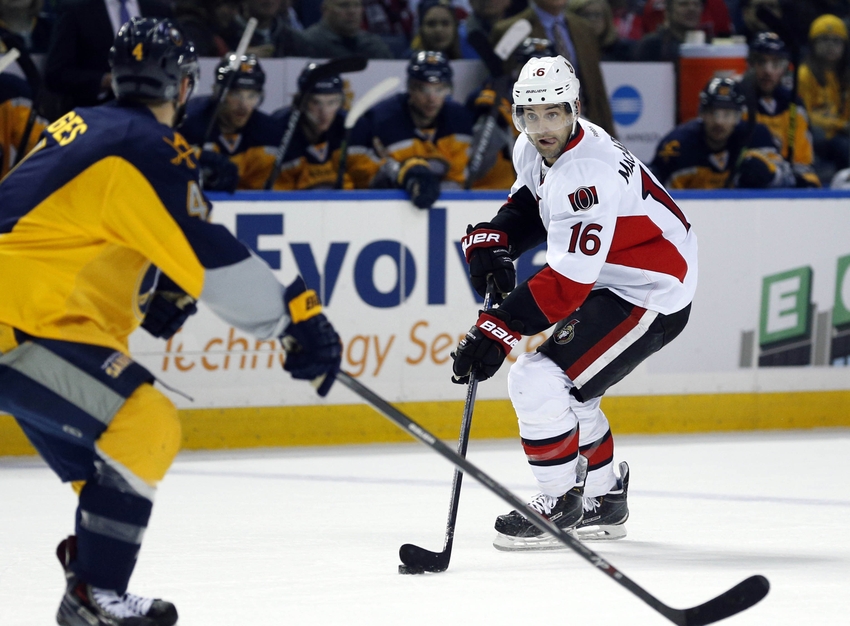 NHL Daily: Clarke MacArthur Injured Again, Kris Versteeg Looking to Make Impression at Oilers Camp, Gordie Howe's Ashes Laid to Rest (Morning Coffee Headlines)
Grab your morning cup of coffee and join us here at Puck Prose for a compilation of NHL daily links that will help keep you updated with everything going on in the hockey world.
In today's edition: Senators prospect Patrick Sieloff took a cheap shot on Clarke MacArthur, who has missed the last calendar year with post-concussion syndrome, Kris Versteeg looking to make the most of his professional tryout offer in Edmonton, NHL legend Gordie Howe's ashes are laid to rest in Saskatchewan, Canada, and much more!
NHL Daily: Morning Coffee Headlines
MacArthur Helped Off Ice
Ottawa traded Alex Chiasson back in June to Calgary in exchange for hard-nosed defender Patrick Sieloff. Safe to say, his tenure is likely to be short-lived after delivering a cheap shot on Clarke MacArthur in training camp. Bobby Ryan was the first to drop the gloves with Sieloff, but he wasn't the only one to mix it up with the 22-year-old. [The Score]
Arizona Coyotes Must Pursue Jacob Trouba
Intriguingly enough, both Arizona and Toronto were originally included in my "potential trade scenarios for Jacob Trouba", released yesterday. Ultimately, both teams wound up being crossed off based on an inability to offer a strong enough package in comparison to other teams. Alex Temes over at Howlin' Hockey has the right idea when it comes to what the Coyotes would need to give up including names such as Laurent Dauphin and Tobias Rieder. Winnipeg would also want an NHL quality defender in return, with Temes offering names such as Klas Dahlbeck, Kevin Connauton, or Jarred Tinordi. That's where any deal falls apart. One of Connor Murphy or Michael Stone would need to be included, although neither would make sense since both shoot right-handed anyways. [Howlin' Hockey]
Versteeg Confident He Can Contribute to Oilers
PTO invite Kris Versteeg is a seasoned veteran at over 600 games in his career. When talking to media recently, Kris expressed his belief in himself that he can still contribute and produce at a very high level as he heads into Oilers training camp. [Edmonton Sun]
Maple Leafs Perfect Trade Partners for Jacob Trouba
Tim Chiasson over at Editor in Leaf hit the nail on the head. This might be the most ideal fit of all 30 teams in the NHL. Only problem? It's almost impossible to find a suitable package for both sides. Toronto isn't about to give away a first round pick and the prospects they'd be comfortable trading aren't likely of much interest to Winnipeg. If Adam Larsson can fetch Taylor Hall, you have to imagine a significant return haul for Trouba – and not sure the Leafs would be willing to pay the hefty asking price. [Editor in Leaf]
Howe's Ashes Laid to Rest
On Sunday, Mr. Hockey Gordie Howe and his wife Colleen's ashes were interred in a statue outside the SaskTel Centre in Saskatchewan during a private family ceremony. This will be the final resting place for one of hockey's greatest ambassadors ever. [Global News]
In Steve Mason We Trust
Marc Naples over at Broad Street Buzz goes to bat for Philadelphia Flyers netminder Steve Mason. The former Calder Trophy winner (2008-09) seems to get very little respect from fans and experts across the league, but Marc believes that Mason will be the last man standing once the dust settles in 2016-17. [Broad Street Buzz]
Quenneville Ready to Make NHL Jump?
Joe Yerdon at NHL.com talks about how New Jersey Devils prospect John Quenneville is out to prove that he can make the jump to the NHL level. It might be a year premature to think he's ready to step up after another campaign with WHL Brandon, but it could make things very interesting if he makes it through to the final rounds of cuts. [NHL.com]
Injuries Decimating Dallas Stars Before Season Starts
Josh Clark over at Blackout Dallas jokingly suggests the Stars oughta cancel training camp/preseason now. This comes after a rash of injuries both at the World Cup of Hockey and early skating sessions. [Blackout Dallas]
NHL Daily Morning Rant
Get the FanSided App
There is bound to be an extremely long list of teams interested in Winnipeg Jets D Jacob Trouba. Of that list, there are several teams that could desperately use the services of a quality right-handed defenseman. Unfortunately, some of those teams don't have what it takes to get a deal done for various reasons.
Let's quickly explore that list:
Arizona Coyotes – As explained above, there's already plenty of RH depth, so unless the Yotes are willing to part ways with Connor Murphy or Michael Stone as part of a package, this is unlikely.
Boston Bruins – B's have enough right-handed depth as is, so they'd need to be comfortable swapping Colin Miller with other pieces for an upgrade, but then you have to convince Winnipeg they need another RH shot.
Edmonton Oilers – They were forced to give up Taylor Hall for a similar quality upgrade on the blue line. We're talking about potentially giving up on upwards of three years of 1st overall picks to address the back end, not likely.
Toronto Maple Leafs – If you're the Jets, there's only one player you'd circle on this Leafs roster and say, "he must be part of any deal", and that's Jake Gardiner. That's exactly where the conversation both starts and stops.
Make sure to like us on facebook and follow us on twitter for more daily NHL updates!
This article originally appeared on