NHL Daily: Brendan Perlini, Marek Svatos, Nikolai Kulemin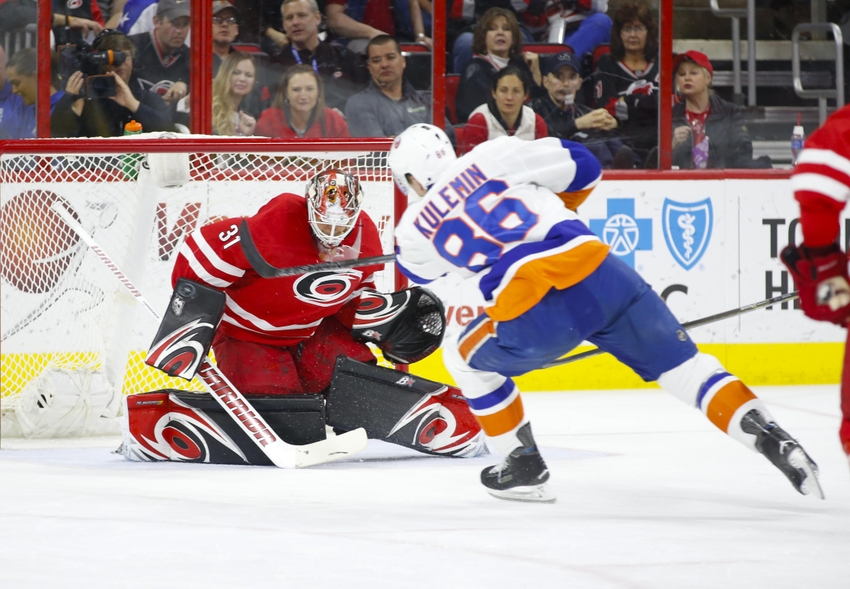 NHL Daily: Arizona Coyotes prospect Brendan Perlini made his NHL debut on Monday night, autopsy on Former Avs forward Marek Svatos tells a sad story, New York Islanders F Nikolai Kulemin is reportedly on the trade block, and more! (Morning Coffee Headlines)
Grab your morning cup of coffee and join us here at Puck Prose for a compilation of NHL daily links that will help keep you updated with everything going on in the hockey world.
Eight teams were in action on Monday night. The Boston Bruins edged the Florida Panthers 4-3 in overtime. Bryan Rust scored a hat-trick in Pittsburgh's 8-5 win versus Ottawa. The Capitals grabbed an extra point in OT in a 3-2 victory against the Sabres. Then, in the late game, Columbus kept their winning ways going with an easy 4-1 win over Arizona.
Here is your highlight of the night:

NHL Daily: Morning Coffee Headlines
Svatos Died of Drug Overdose
Following an autopsy of former Avs forward Marek Svatos, it was revealed that his cause of death was a drug overdose. It was a fatal mix of codeine, morphine, and anti-anxiety medication that wound up as a deadly cocktail. Coroners wouldn't speculate on whether they believed it to be intentional or accidental. [The Score]
Bortuzzo Can't Catch a Break
St. Louis Blues defenseman Robert Bortuzzo can't seem to catch a break. As Todd Panula over at Bleedin' Blue explains, Robert has struggled to find his way into the lineup due to a combination of factors. Unfortunately, he now finds himself on the shelf week-to-week with a lower body injury (suffered versus Winnipeg). [Bleedin' Blue]
Perlini Makes NHL Debut
Brendan Perlini is perhaps the most talented Coyotes prospect that folks likely forgot about due to the likes of Max Domi, Anthony Duclair, Dylan Strome, and Christian Dvorak. The talented winger made his NHL debut on Monday as he racked up two penalty minutes and a hit in 13:45 of ice-time. [Tucson News]
Canucks Trade Rumors
Janik Beichler over at The Canuck Way takes a look at three potential forwards that GM Jim Benning might be wise to pursue. Among the list is one of the newer names in recent trade rumors, Bruins F Ryan Spooner (among others). [The Canuck Way]
Smirnov on NHL's Radar
NCAA hockey is in full swing this year and we've had a number of emerging college prospects. Among them, Penn State freshman Denis Smirnov, who went undrafted in 2016, is currently third in the nation in points. The Russian is starting to garner plenty of NHL interest and should be selected as a 19-year-old in 2017. [Centre Daily Times]
Kulemin on the Trade Block
The latest rumors out of Brooklyn suggest the New York Islanders have placed Nikolai Kulemin on the trade block. They can certainly try to move that massive contract worth $4,187,500 dollars over the next two seasons, but it doesn't mean another team will necessarily be interested. It might be a tough sell even if they're willing to retain part of his salary. [Eyes on Isles]
Want your voice heard? Join the Puck Prose team!
NHL Daily Morning Rant
Tom McGhee of the Denver Post provided the update on Marek Svatos. He also stated that Svatos had a history of heroin use and had gone through drug rehabilitation. Marek also "had suspected depression, prior suicidal ideation, and recent life stressors" according to McGhee.
This was obviously incredibly sad news losing another one of our own in the hockey world. I do believe there's something to be said with the coroner's findings. If this were a former enforcer or someone who was known to drop the gloves, folks would be using this as fuel in their CTE arguments. He took a few big hits over his career, but Svatos hardly played a style that might take significant years off his life. Yet, we've got another guy in our game who suffered from the same emotional issues that many normal folks deal with on a daily basis.
Point being, as horrible a tragedy as it is to lose Marek Svatos. There might be a lesson learned here. We might be dealing with professional athletes, but they're still 100 percent human. And with that comes the same everyday problems that both you and I might have to deal with. So, when something horrible like this happens, we can't sit there and look for reasons to blame the sport (and even worse, force change because of it).
Make sure to like us on facebook and follow us on twitter for more NHL daily updates!
This article originally appeared on