NHL Daily: Auston Matthews, Patrice Bergeron, Mikhail Grigorenko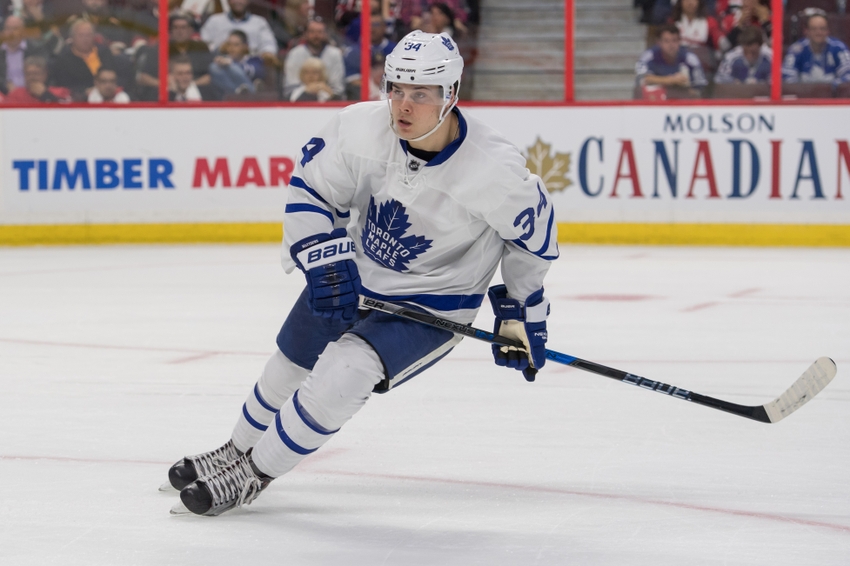 NHL Daily: Toronto Maple Leafs Rookie Auston Matthews Scored 4 Goals in His NHL Debut – And Consumed Twitter in the Process, Boston Bruins Forward Patrice Bergeron is Expected to Miss the Season Opener, Colorado Avalanche Forward Mikhail Grigorenko Ready for a Breakout Season, and More (Morning Coffee Headlines)
Grab your morning cup of coffee and join us here at Puck Prose for a compilation of NHL daily links that will help keep you updated with everything going on in the hockey world.
Before delving into the headlines, let's take a look back at the highlights from the first night of NHL action in 2016-17:
Wednesday Night Wrap-Up
Another NHL season got underway on Wednesday (Oct.12). It was a memorable night to kick off the centennial year as eight teams accounted for 30 goals in the first four games played. That's an average of 7.5 goals-per-game, giving you almost a nostalgic feel to the days when players put up monster numbers on a regular basis.
Speaking of monster numbers, Leafs 1st overall pick put up a record four goals in his NHL debut, becoming the first player in the modern history to do so. The Leafs fell short in overtime to the Senators in a 5-4 loss, but it certainly is an encouraging sign for Toronto. Auston Matthews set the twitter-sphere ablaze becoming the top trending topic.
The other stud performer, Oilers phenom Connor McDavid, racked up two goals (one of which came on a penalty shot) and an assist in a 7-4 victory over Calgary.
St. Louis toppled the Blackhawks 5-2 thanks to a three-point effort from Vladimir Tarasenko, while in the late game, San Jose's Logan Couture and Brent Burns each had two points in a close 2-1 victory over the Kings.
NHL Daily: Morning Coffee Headlines
Player Reactions to Matthews on Twitter
CBS Sports tracked down some of the tweets that were shared by both former and current NHL players following Auston Matthews outstanding four-goal performance in his debut. Several notable names praised the Leafs rookie, including Martin St. Louis, Tyler Seguin, and many others. [CBS Sports]
Bergeron Out for Season Opener
Boston received some bad news ahead of their season opener. It appears the Bruins will be without their star center Patrice Bergeron to start the year. GM Don Sweeney also announced that Kevan Miller will miss an estimated six weeks. [Causeway Crowd]
Reasons to Watch in 2016-17
Fox Sports released their list of reasons to watch the NHL in 2016-17. It's a list of six things, and leading it at no.1 reason is budding superstar Connor McDavid. There is a legitimate reason to be excited if you're a hockey fan – you don't even need to be an Oilers fan to appreciate what he brings to the table. [Fox Sports]
Mikhail Grigorenko Ready for Breakout Season?
Ross Sellers over at Mile High Hockey thinks that Avs forward Mikhail Grigorenko is primed for a breakout year in 2016-17. His game came together nicely late in 2015-16 and continued his solid play into preseason this Fall. Ross does a great job explaining why Mikhail should have every opportunity to succeed in the upcoming season. [Mile High Hockey]
Former NHLer Diagnosed With Inoperable Brain Cancer
Former NHLer Sasha Lakovic, 45, has been diagnosed with inoperable brain cancer and says he's only been given months to live. Lakovic played for Calgary in 1996-97 and New Jersey between 1997 to 1999. Sasha has a family and young daughter, and insists he'll keep fighting one day at a time. [Global News]
Rangers Look Back in History to 1972
Tony Griffo over at Blue Line Station took a walk back in history to honor one of the greatest New York Rangers lines ever. Nicknamed the "GAG" line (goal-a-game), Jean Ratelle, Vic Hadfield, and Rod Gilbert led the NYR in 1971-72 with 312 points. [Blue Line Station]
NHL Daily Morning Rant
Alright ladies and gentlemen, I've made a couple different predictions for the regular season standings (once before the World Cup of Hockey, another at the start of preseason). Let's call this my final projections with a new season now officially underway.
Atlantic Division
1. Tampa Bay Lightning (106pts)
2. Montreal Canadiens (99pts)
3. Florida Panthers (98pts)
4. Boston Bruins (95pts)
5. Buffalo Sabres (88pts)
6. Detroit Red Wings (85pts)
7. Ottawa Senators (81pts)
8. Toronto Maple Leafs (73pts)
Metropolitan Division
1. Washington Capitals (111pts)
2. Pittsburgh Penguins (102pts)
3. New York Rangers (97pts)
4. New Jersey Devils (94pts)
5. Philadelphia Flyers (90pts)
6. Columbus Blue Jackets (85pts)
7. New York Islanders (80pts)
8. Carolina Hurricanes (71pts)
Central Division
1. Dallas Stars (103pts)
2. St. Louis Blues (102pts)
3. Nashville Predators (99pts)
4. Chicago Blackhawks (97pts)
5. Minnesota Wild (93pts)
6. Winnipeg Jets (84pts)
7. Colorado Avalanche (80pts)
Pacific Division
1. San Jose Sharks (100pts)
2. Anaheim Ducks (96pts)
3. Calgary Flames (94pts)
4. Los Angeles Kings (91pts)
5. Edmonton Oilers (86pts)
6. Arizona Coyotes (81pts)
7. Vancouver Canucks (74pts)
Make sure to like us on facebook and follow us on twitter for more NHL daily updates!
This article originally appeared on