NHL Daily: Andrew Shaw, Las Vegas, Untapped Chinese Market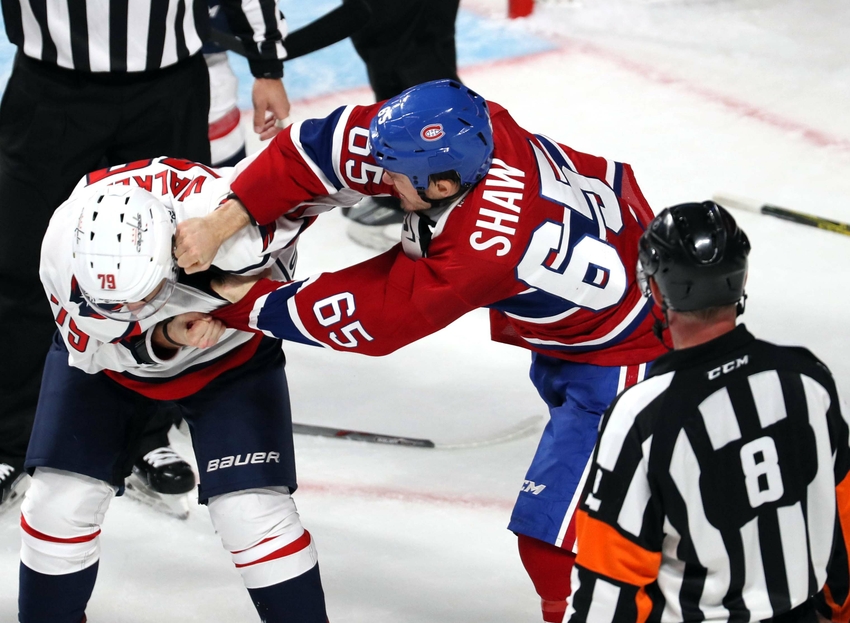 NHL Daily: Andrew Shaw Potentially Facing Suspension, Las Vegas Plans to Hold Mock Drafts, Untapped Market in China, and More (Morning Coffee Headlines)
Grab your morning cup of coffee and join us here at Puck Prose for a compilation of NHL daily links that will help keep you updated with everything going on in the hockey world.
In today's edition: Andrew Shaw could be hearing from the department of player safety after a questionable hit on Tuesday night, Las Vegas plans to hold monthly mock drafts throughout the season, NHL looking at ways to generate revenue through the untapped Chinese market, and much more!
NHL Daily: Morning Coffee Headlines
Andrew Shaw Potentially Facing Suspension
Canadiens new acquisition Andrew Shaw is in hot water following Tuesday's preseason match-up against the Capitals. He was ejected in the second period and assessed a major for boarding for a nasty hit on Connor Hobbs following a slew-foot on the Habs forward. [NBC Sports]
What Would a Rangers Package Look Like for Jacob Trouba?
John Williams over at Blue Line Station attempts to piece together a suitable package for Winnipeg Jets D Jacob Trouba. Names such as Dylan McIlrath, Kevin Hayes, J.T. Miller, and talk of premium draft picks are among a few of the suggestions. [Blue Line Station]
Las Vegas to Hold Monthly Expansion Draft
In preparation for next June's expansion Draft, Las Vegas GM George McPhee plans to hold monthly expansion drafts with his management and scouting team. This should help the NHL's 31st franchise in their evaluation process in figuring which players to focus on. [The Score]
Reports surfaced on Tuesday that Artemi Panarin is seeking a six-year deal at upwards of $6 million dollars/year. Colin Likas at Blackhawk Up discusses how the reports are eerily reminiscent of the Brandon Saad ordeal. GM Stan Bowman has some difficult decisions to make if he plans to keep Panarin long-term. [Blackhawk Up]
NHL's Interest in Chinese Market to Influence Olympic Participation?
Get the FanSided App
Even if the NHL decides to skip South Korea in 2018, there's no way they'll miss out on Beijing in 2022. Mark Zeisberger discusses how the NHL has big plans to dip its feet in the untapped market of China with a population of 1.35 billion. [National Post]
Dallas Stars Goals for 2016-17
The offensively potent Dallas Stars have their sights set on a Stanley Cup Finals appearance in 2016-17. Allison Scott over at Blackout Dallas discusses four major goals that must be achieved in order to make that happen. [Blackout Dallas]
NHL May Dump Team North America, Europe in 2020
Gary Bettman made it seem as though the going-in intention was for Team North America/Europe to be one-time bids at the World Cup of Hockey. Comments on Tuesday during the Centennial press conference reiterated that idea suggesting the NHL will turn to a qualifying process for those final two spots in 2020. [Yahoo Sports]
Will Jakob Chychrun be on Coyotes Opening Night Roster?
With Kevin Connauton out indefinitely, Jonathan King over at Howlin' Hockey believes Jakob Chychrun could be in line to begin the year in Arizona. It could be one of those scenarios where the Coyotes use the 9-game window before sending him back to junior. [Howlin' Hockey]
NHL Daily Morning Rant
John Williams at Blue Line Station made a trade proposal of Dylan McIlrath, Kevin Hayes/or J.T. Miller, and a first round draft pick. It's a relatively decent offer, but it's difficult to gauge proper trade value when you have personal attachments to players on your favorite team.
Here's what it might take:
D Brady Skjei (probably the only defenseman that'll get a deal done)
(1) of – J.T. Miller, Oscar Lindberg
2017 1st round pick/or 2018 2nd round pick + prospect
Still interested Rangers fans?
Make sure to like us on facebook and follow us on twitter for more daily NHL updates!
This article originally appeared on